1979 QLD GPS Head of the River
The 1979 GPS Head of the River was conducted on April 7th 1979 at Hinze Dam, Gold Coast.
Below are articles by The Courier-Mail and the Telegraph written in the lead-up to the regatta:
"Young stroke leads eight
Andrew Burke, 15, who has been rowing only 14 months will stroke the Brisbane Grammar School first eight at the G.P.S. rowing championships on the Hinze Dam, Nerang, on Saturday.
Burke, a member of the school's first four last year, is believed to be the youngest person to stroke Grammar's first eight. The Grammar crew which toured New Zealand in January, has an impressive record this season of 15 wins from 20 starts. But despite their success, Grammar are only second favourite for Saturday's race behind the impressive Southport crew. Southport have beaten Grammar at their only two meetings this season, the last being at the Gold Coast regatta at Nerang two weeks ago. That race was the only time all six G.P.S. crews have raced together with Southport recording a close win over Grammar and Brisbane State High."
Page 21, The Courier-Mail, Thursday April 5th 1979 Edition
"Sporting gesture in GPS Rowing
A generous sporting offer by Brisbane Grammar coach Alan Bromiley allowed the race for first eights at the GPS rowing championships on the Hinze Dam this afternoon to be rowed over the full 2000 metres.
Southport coach "chick" graham yesterday objected to his crew having to row in lane six because the weed infestation near the start was heavier than he had anticipated. He wanted the race shortened so that his crew could move to fairer water. Crews had been training for a full 2000 metre course and a shorter distance was not acceptable to most coaches. Despite several meetings in an effort to resolve the issue the fair race committee was unable to reach a solution.
The matter was finally resolved when Alan Bromiley offered to swap his crew's lane four with Southport and the offer was accepted. Grammar had several practice starts from their new lane and seemed to be in no difficulty."
Page 4, The Telegraph, Saturday April 7th 1979 Edition
---
Organising Committee:
Great Public Schools Association

---
All Schools' Championship First Eight
The O'Connor Cup
Distance: 2000 Metres
Winning Time: 6:19.20
Margins:
+ 1.3s (1-2)
+ 6.1s (2-3)
1st Brisbane Grammar School - Bow: Stephen G. Cook, 2: Rod W. Yann, 3: Russell D. Robertson, 4: Dennis K. Stunden, 5: Andrew D. Phillips-Turner, 6: Rob R. Weaver, 7: Steven B. Cleasby, Str: Andrew W. Burke, Cox: Richard H. Somerville, Coach: Alan Bromiley
2nd The Southport School
3rd Church of England Grammar School - Bow: B. C. Maxwell, 2: T. J. Job, 3: C. J. Paterson, 4: R. L. Thompson, 5: D. Castsoulis, 6: D. J. Fisher, 7: A. H. Walker, Str: S. W. Louks, Cox: D. W. Dell-Allen, Coach: J. D. Powell
Other Competing Crews:
5th Gregory Terrace - Bow: A. Buckley, 2: M. Facey, 3: P. Roberts, 4: G. Baxter, 5: D. Kelly, 6: D. Frawley, 7: P. Facey, Str: D. Wright, Cox: N. Macrossan
1979 Victorious Brisbane Grammar School First VIII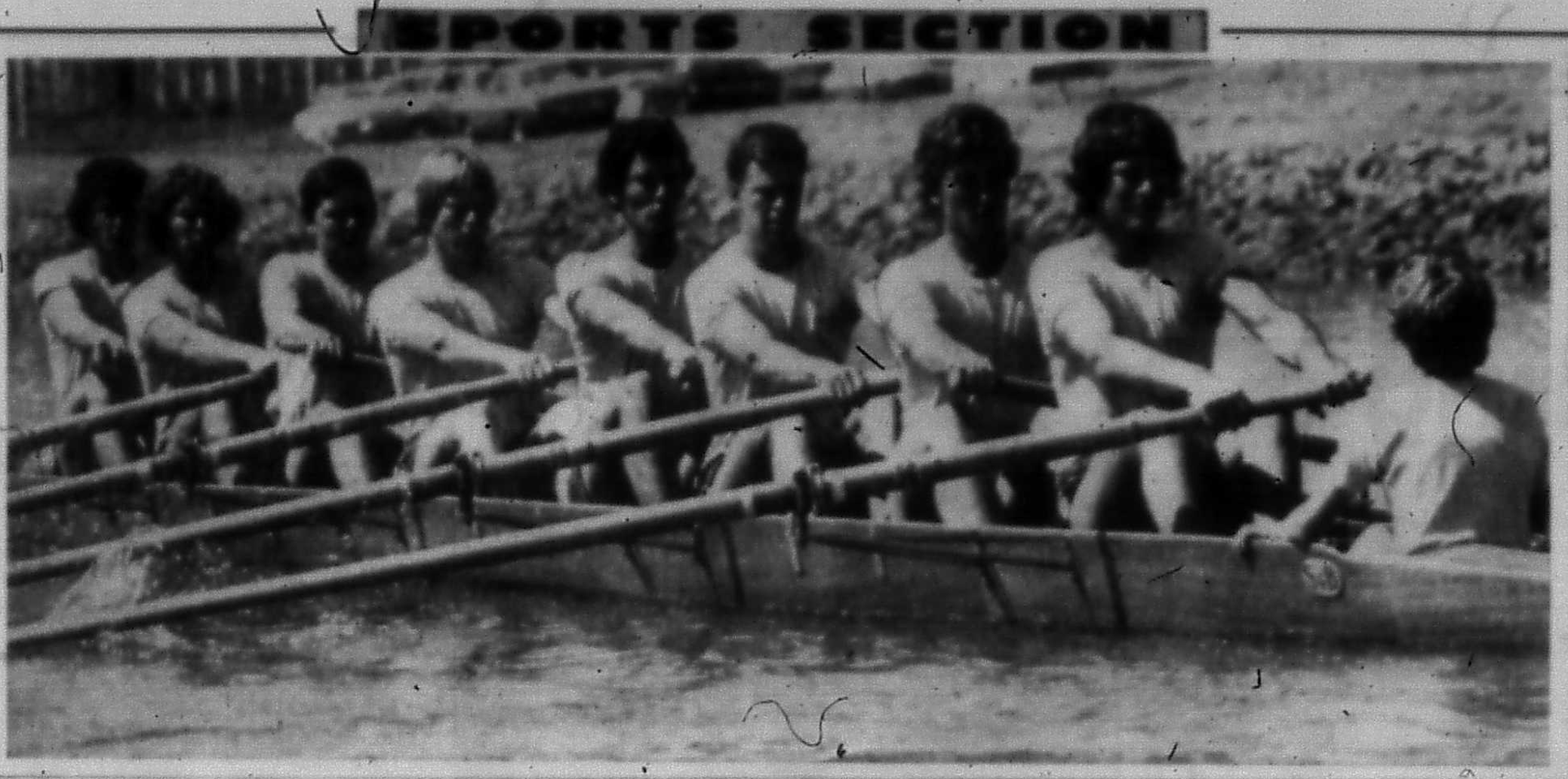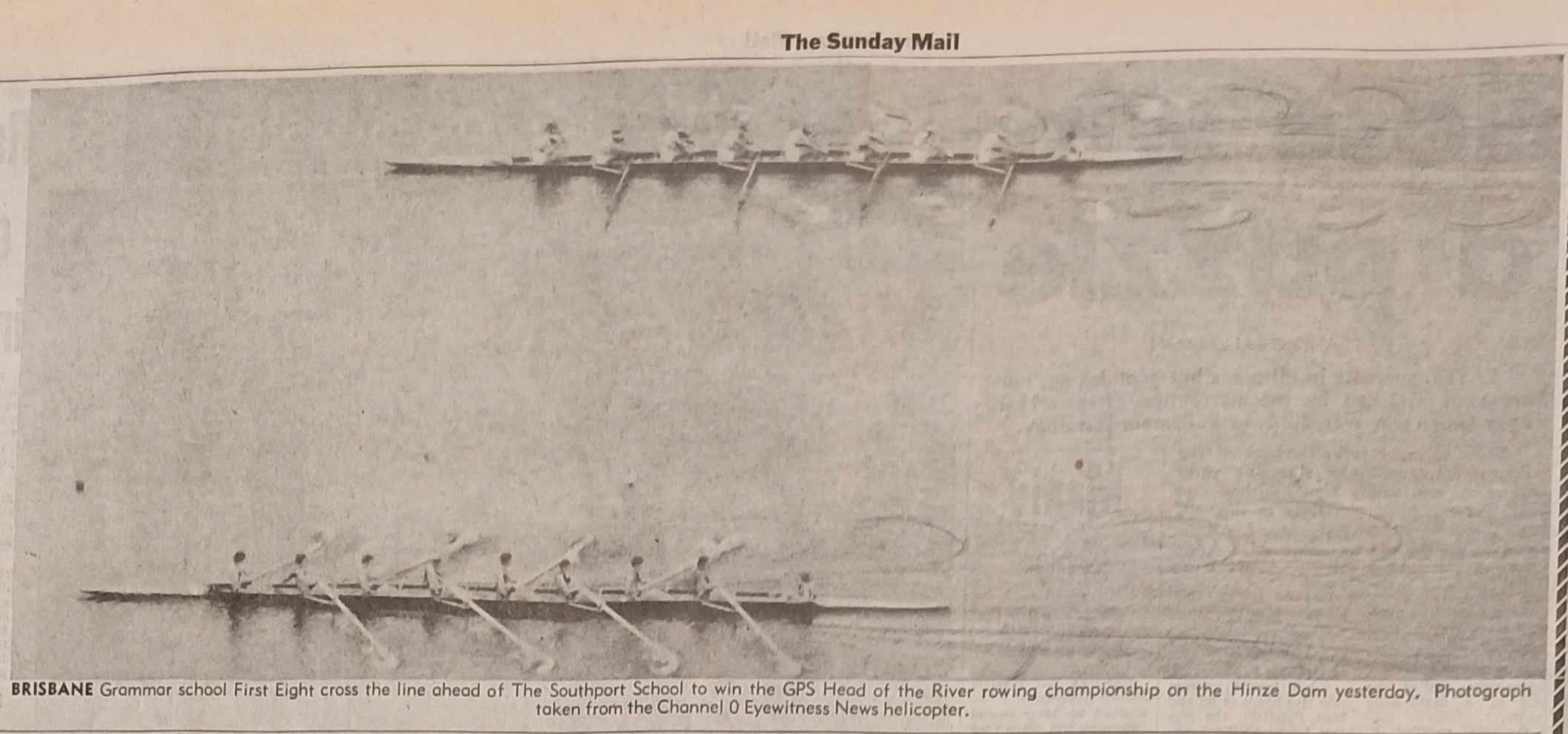 1979 Church of England Grammar School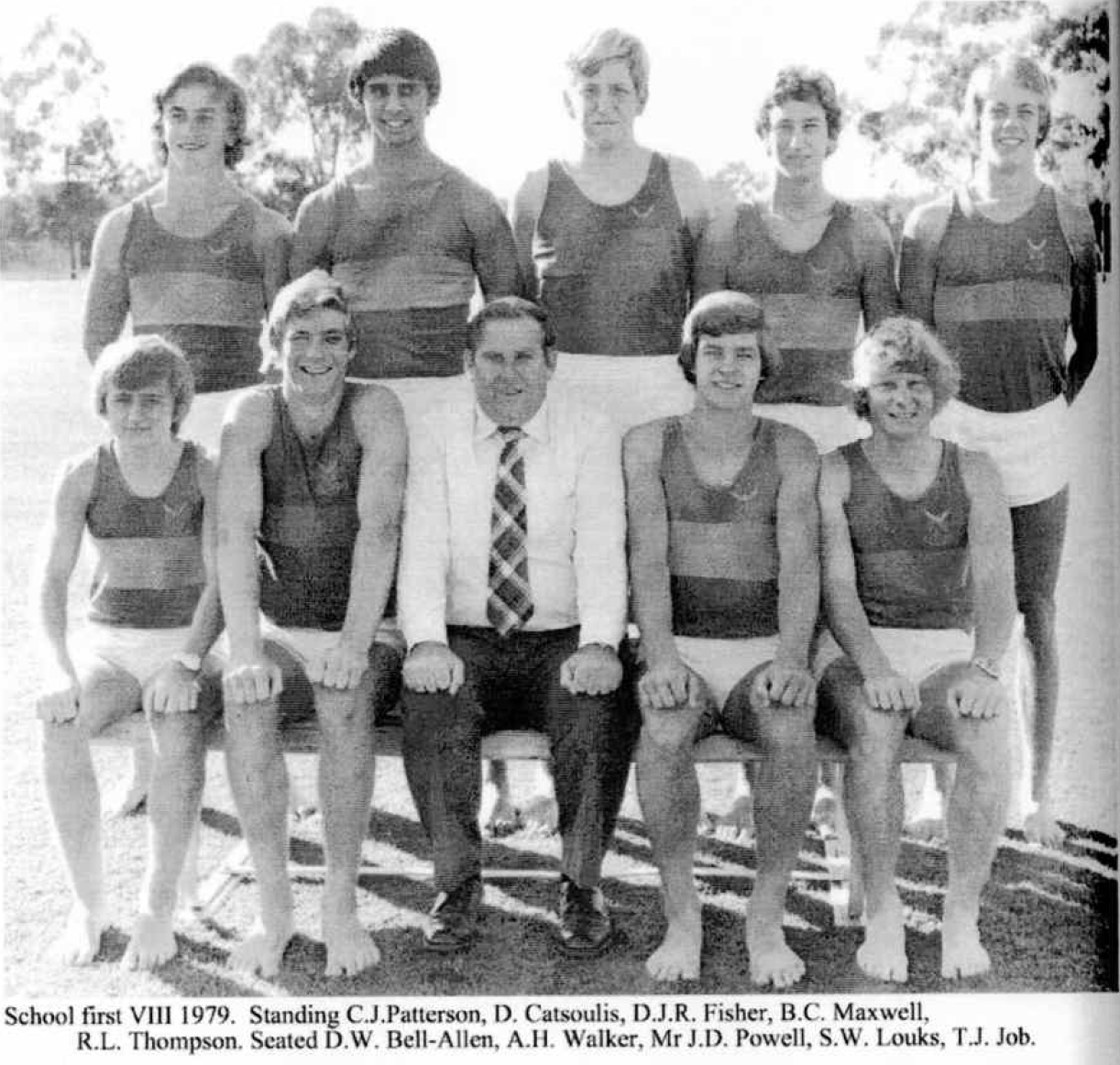 In 1984, Anglican Church Grammar School honoured their 1979 First VIII Six Seat, Duncan Fisher. The six racing pairs were obtained by the school during the 1980s were all named for old boys or close associates who had represented Australia in rowing in one or other role. In 1984, Fisher represented Queensland in the King's Cup. In 1981 (winners) and 1982 Fisher competed in the Noel F. Wilkinson Youth Eight Trophy alongside R. L. Thompson (Four seat of same 1979 Churchie Crew). His Queensland representation also included the 1983 and 1984 Australian Rowing Championships where he competed in the Under 23 Coxed Four and the Senior Coxless Four respectively. Fisher then represented Australia at the 1984 Los Angeles Olympic Games in the Men's Coxless Four in which crew he was coached by Peter Shakespeare. Sadly he was killed in a car accident soon after.
1979 Gregory Terrace First VIII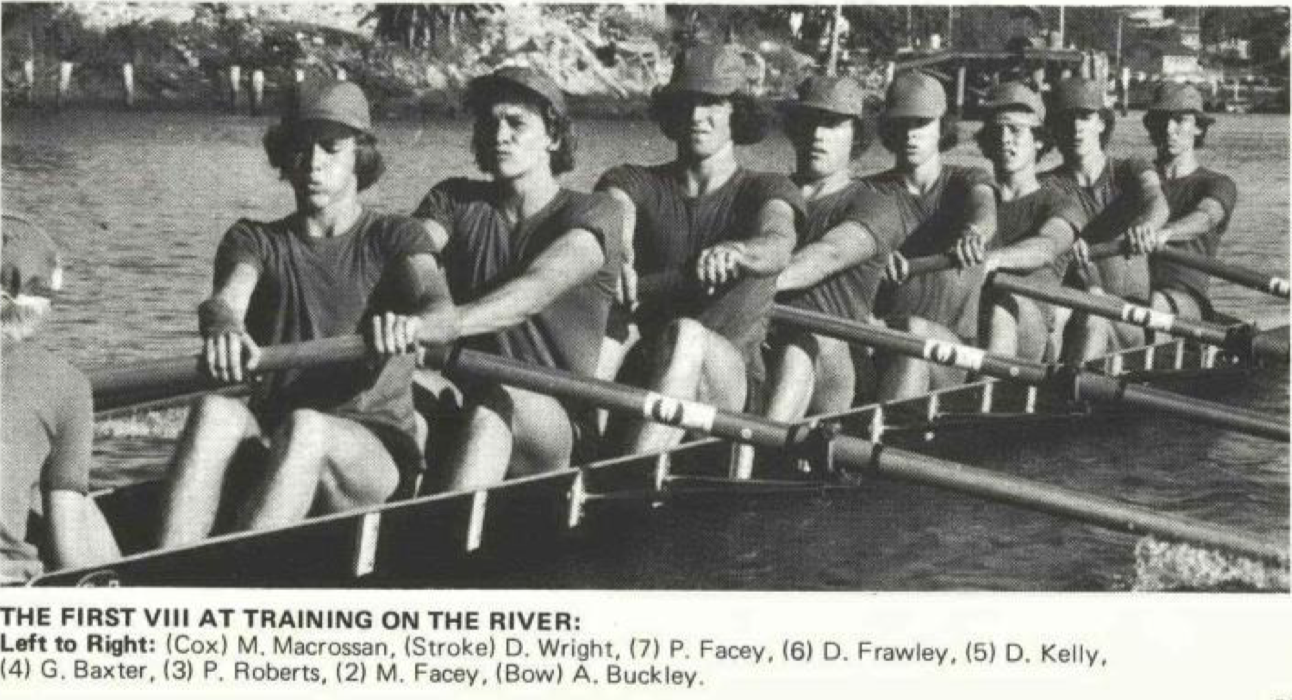 ---
The Race Described
The O'Connor Cup
"Hard work and loads of confidence laid the foundation for a great win by Brisbane Grammar School in the GPS Head of the River rowing championships on the Hinze Dam yesterday.
Grammar rowing coach Alan Bromiley said his first eight had been confident enough to take the worst possible lane when there was some controversy about conditions. Bromily said officials had wanted to shorten the course from 2000 to 1900 m when it was thought that lane six was at a distinct disadvantage over the long course.
"We were keen to row over the '2000' so we decided we would change lanes with The Southport School who had drawn lane six.
Southport then went into the favoured lane four but still could not match Grammar.
"The boys were confident they would win from any lane and they proved that right." Bromiley said.
Grammar recorded 6min 19.2 sec in beating Southport by 1.3 sec with Churchie a further 6.1 sec behind, third. After the race Bromiley paid a special tribute to 15-year-old stroke, Andrew Burke.
"Andrew is only 15 but I thought he was good enough to be stroke in the big race. I asked him to have us about a length behind at the 1000m mark and that's exactly what he did." Burke is the only member of the Grammar eight who will still be at school next year. Bromiley said a new rowing tour by Grammar late in January had obviously paid dividends.
"The crew rowed against top competition in New Zealand and it helped them to form a very good combination. But in the long run their success was really due to all the hard work they've done. It's been a tremendous effort by the crew for a long period since the middle of last year." He said.
Page 42, The Sunday Mail, Sunday April 8th 1979 Edition
---
All Schools' Second Eight
Distance: 1900 Metres
1st The Southport School
2nd Brisbane Grammar School
3rd Church of England Grammar School - Bow: W. G. Denny, 2: J. E. Karamisheff, 3: R. C. Stone, 4: S. D. Hall, 5: B. R. Purssey, 6: N. T. Spencer, 7: S. R. Webber, Str: H. G. Oriti, Cox: A. R. Kynaston, Coach: D. James
4th Gregory Terrace - Bow: S. McNamee, 2: J. Gambaro, 3: P. Mills, 4: J. Kormendy, 5: M. Arnold, 6: P. Cullinan, 7: D. Holt, Str: P. Slater, Cox: S. Carroll
---
All Schools' Third Eight
Distance: 1500 Metres
1st The Southport School
2nd Brisbane Grammar School
3rd Church of England Grammar School - Bow: A. B. Paskin, 2: R. J. Denny, 3: I. B. Donovan, 4: W. J. Argent, 5: M. J. Howard, 6: R. A. Paterson, 7: E. C. Ringrose, Str: D. P. Wadsworth, Cox: I. C. Willis, Coach: G. J. Kernot
Other Competing Crews:
Gregory Terrace - Bow: V. De Ruos, 2: H. Kranen, 3: W. Grau, 4: P. Lynch, 5: J. Greig, 6: R. Hegarty, 7: J. Venables, Str: J. Murphy, Cox: A. Cullen
---
All Schools' Fourth Crew
Distance: 1000 Metres
1st The Southport School
2nd Brisbane State High School
3rd Brisbane Boys' College
Other Competing Crews
5th Church of England Grammar School - Bow: A. T. Feez, 2: A. J. Page, 3: G. P. Doran, Str: S. van der Kreek, Cox: M. J. Laidlaw, Coach: C. White
---
All Schools' Fifth Crew
Distance: 1000 Metres
1st The Southport School
2nd Church of England Grammar School - Bow: A. G. Akers, 2: D. R. James, 3: V. van der Kreek, Str: A. D. Roach, Cox: W. I. Ringrose, Coach: C. White
3rd Brisbane State High School
---
All Schools' Sixth Crew
Distance: 1000 Metres
1st Brisbane Grammar School
2nd Church of England Grammar School - Bow: W. Brough, 2: S. J. Pilcher, 3: M. B. Wareham, Str: C. J. Williams, Cox: D. A. Quayle, Coach: D. G. Ethell
3rd The Southport School
---
All Schools' Seventh Crew
Distance: 1000 Metres
1st The Southport School
2nd Brisbane State High School
3rd Brisbane Boys' College
Other Competing Crews:
Church of England Grammar School - Bow: N. D. Stubbs, 2: A. A. Leahy, 3: R. C. McAdam, Str: N. J. Reynolds, Cox: B. M. O'Carroll, Coach: D. Ethell
---
All Schools' Eighth Crew
Distance: 1000 Metres
1st Brisbane Grammar School
2nd Brisbane State High School
3rd Church of England Grammar School - Bow: R. J. Emmett, 2: J. C. Jefferies, 3: J. van der Kreek, Str: J. E. Hayne, Cox: T. J. Rowland, Coach: D. Ethell
---
All Schools' Ninth Crew
Distance: 1000 Metres
1st Brisbane Grammar School
2nd Brisbane State High School
3rd The Southport School
4th Church of England Grammar School - Bow: I. K. McCamley, 2: J. W. Warneke, 3: S. R. Hornibrook, Str: A. T. Grant, Cox: A. C. Duguid, Coach: A. Gunn
---
All Schools' Tenth Crew
Distance: 1000 Metres
1st Brisbane Grammar School
2nd Brisbane State High School
3rd Church of England Grammar School - Bow: S. R. Boyd, 2: M. S. Robinson, 3: D. J. Gunn, Str: D. R. Clowes, Cox: G. M. Boyd, Coach: T. Byatt
---
All Schools' Eleventh Crew
Distance: 1000 Metres
1st Brisbane Grammar School
2nd Church of England Grammar School - Bow: P. Ross, 2: M. Purdie, 3: G. Webber, Str: D. G. Marshall, Cox: A. Catsoulis, Coach: T. Byatt
3rd The Southport School
---
All Schools' Twelfth Crew
Distance: 1000 Metres
1st Brisbane Grammar School
2nd Church of England Grammar School - Bow: N. J. Reynolds, 2: D. A. Paul, 3: M. W. Reedman, Str: T. Catsoulis, Cox: E. C. Ringrose
3rd The Southport School
---
Sources
Page 21, The Courier-Mail, Thursday April 5th 1979 Edition https://archive.org/details/050479
Page 4, The Telegraph, Saturday April 7th 1979 Edition https://archive.org/details/070479e
Page 40, The Sunday Mail, Sunday April 8th 1979 Edition https://archive.org/details/1979_20210613
Page 42, The Sunday Mail, Sunday April 8th 1979 Edition https://archive.org/details/1979-photo
Page 58-60, St. Joseph's College, Gregory Terrace 1979 Edition https://media.digistormhosting.com.au/sjgt-au-qld-91-oldboys/documents/1979-St-Joseph-College-Terrace.pdf?mtime=20180403151638
Churchie Rowing by Peter Jell, Published by Anglican Church Grammar School