1978 QLD GPS Head of the River
The 1978 GPS Head of the River was conducted on Saturday April 1st 1978 at Hinze Dam, Gold Coast.
Below is an article by the The Courier-Mail written in the lead up to the regatta.
"Heavies 'Head' hotshots
THE heavyweight Southport eight should start outright favourites for the Head of the River rowing classic if conditions are even on Hinze Dam, Nerang, tomorrow.
The Southport eight, which averages 79.1 kg (12st 6lbs) has one of the heaviest oarsmen to appear in a Head regatta in recent years - 101 kg (15st 12lb) No. 4 rower Steve Bingham. Bingham's bulk and power is just one reason why Southport has dominated schoolboy rowing in most regattas so far this season. The Southport School is particularly strong in rowing depth this year and in one recent regatta the School took out the treble - the first, second and third eights.
The School has drawn the middle lane, No. 3 for the Head, which starts at 4 p.m. and, in even conditions should be unbeatable. But certain wind conditions on the dam can favour the No. 1 lane on the northern bank.
If these conditions happen on Saturday then defending champions Brisbane Grammar could cause an upset. Grammar has drawn No. 1 lane. Grammar eight are a strong inconsistent crew. Southport's biggest headache should come from the powerful State High crew, which has performed well in recent regattas. Besides having the heaviest schoolboy rower in recent years, the Head also has one of the smallest - Brisbane Grammar's R. Somerville. Somerville weighed in at 36 kg, a mere 5st 9lb.
The 12-event programme starts at 1.15 p.m."
Page 16, The Courier-Mail, Friday March 31st 1978 Edition
---
Organising Committee:
Great Public Schools' Association

---
All Schools' Championship First Eight
The O'Connor Cup
Distance: 2000 Metres
Winning Time: 6.13.50
Margins:
+ 0.3s (1-2)
+ 6.5s (2-3)
1st The Southport School - Bow: Ken R. Winter, 2: Gary R. Hughes, 3: Kevin A. Albany, 4: Steven R. Bingham, 5: Leo Young, 6: Brian R. Battersby, 7: Duncan C. Ethel, Str: Ian P. M. Lambert, Cox: Lachlan Pegler, Coach: R. Chic Graham
2nd Brisbane State High School - Bow: Simon Wellington, 2: Allan Threlfall, 3: Ian Edmunds, 4: Murray Maclachlan, 5: Peter Anderson, 6: Glenn Bailey, 7: Ian Wells, Str: Greg Kewley, Cox: Paul Andrew
3rd Brisbane Grammar School
4th Church of England Grammar School - Bow: A. G. Weatherstone, 2: R. E. White, 3: R. J. Webber, 4: G. M. Williams, 5: D. Catsoulis, 6: B. Armstrong, 7: N. T. Spencer, Str: S. W. Louks, Cox: M. W. Jowett, Coach: J. D. Powell
5th Brisbane Boys' College
6th Gregory Terrace - Bow: B. Green, 2: W. Hinze, 3: C. Hodda, 4: D. Toohey, 5: D. Frawley, 6: A. Byrne, 7: M. Sneesby, Str: T. Douglass, Cox: N. Macrossan

1978 Brisbane State High School First VIII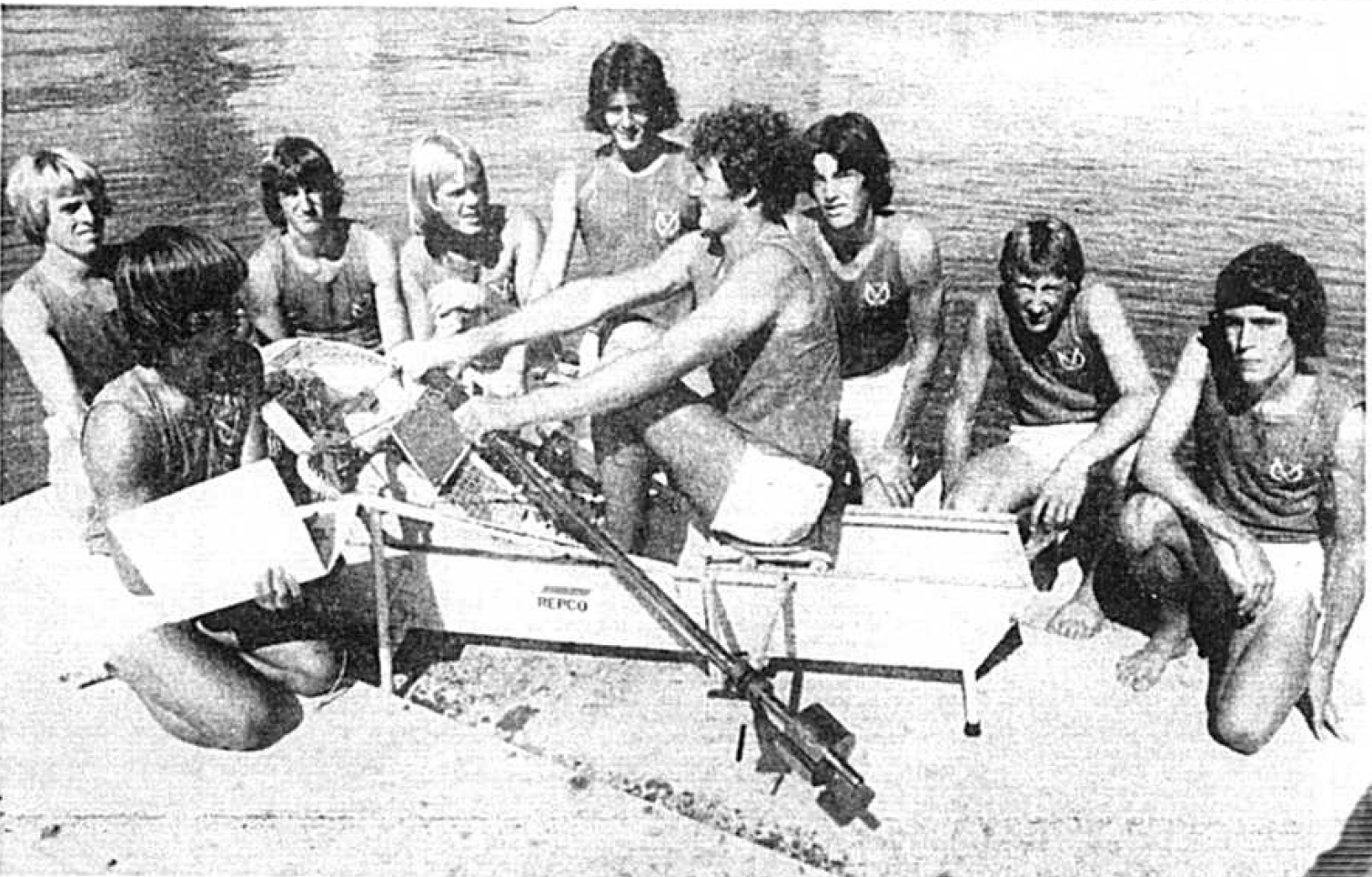 1978 Church of England Grammar School First VIII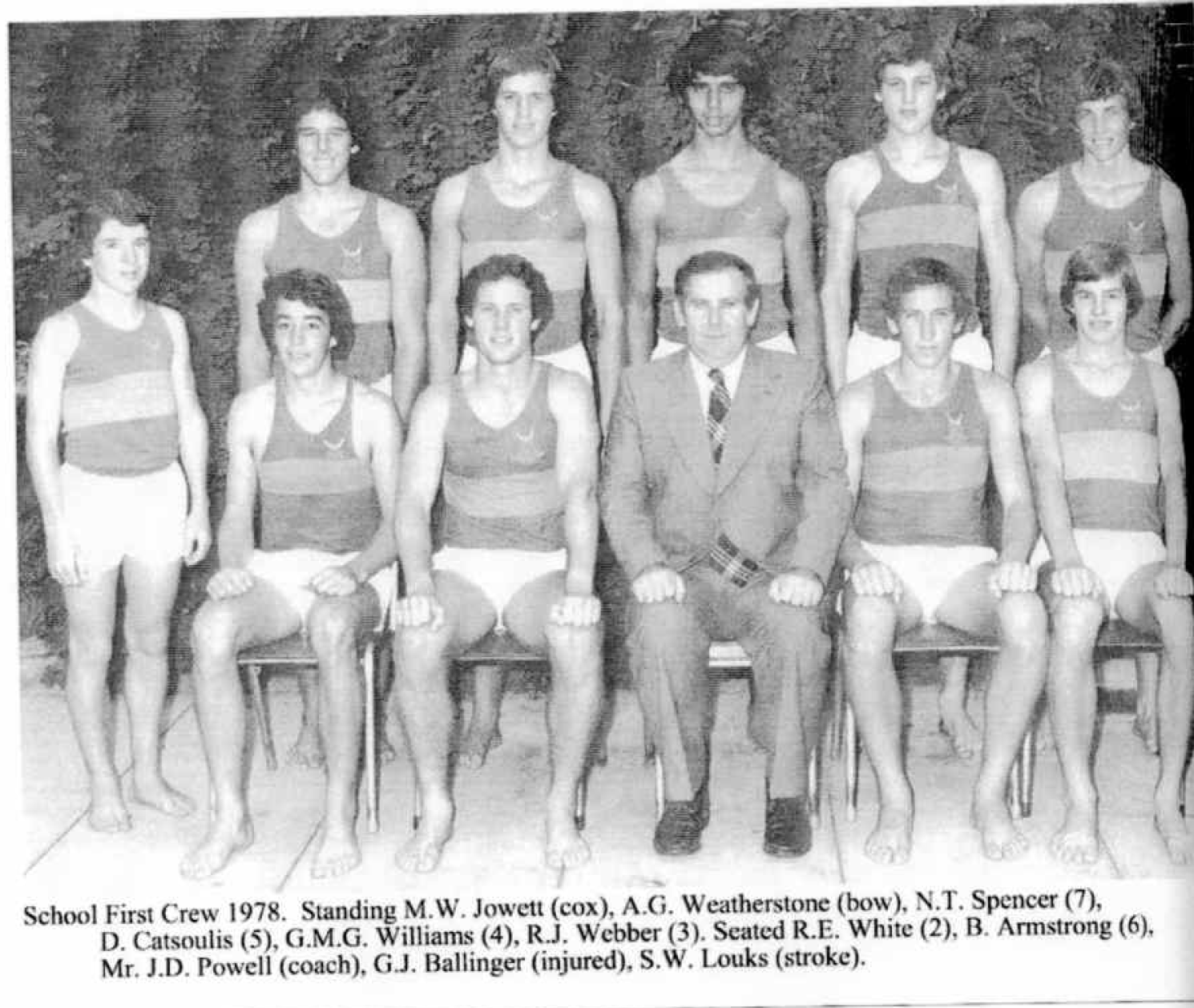 Mike W. Jowett, the Cox of the 1978 Anglican Church Grammar School VIII had a distinguished rowing career after leaving Churchie. He represented Queensland a total of eight times in the King's Cup (1979, 1980, 1981, 1982, 1984, 1991, 1993 & 1995). Jowett also coxed the 1980 Senior Lightweight Coxed Four at the Australian Rowing Championships
B. Armstrong, the six seat in the 1978 Anglican Church Grammar School First VIII was the recipient of the 1978 Sylvia Dixon Cup awarded to the Churchie sportsman who most demonstrates leadership and skill whilst representing the school in sport that year.
1978 Gregory Terrace First VIII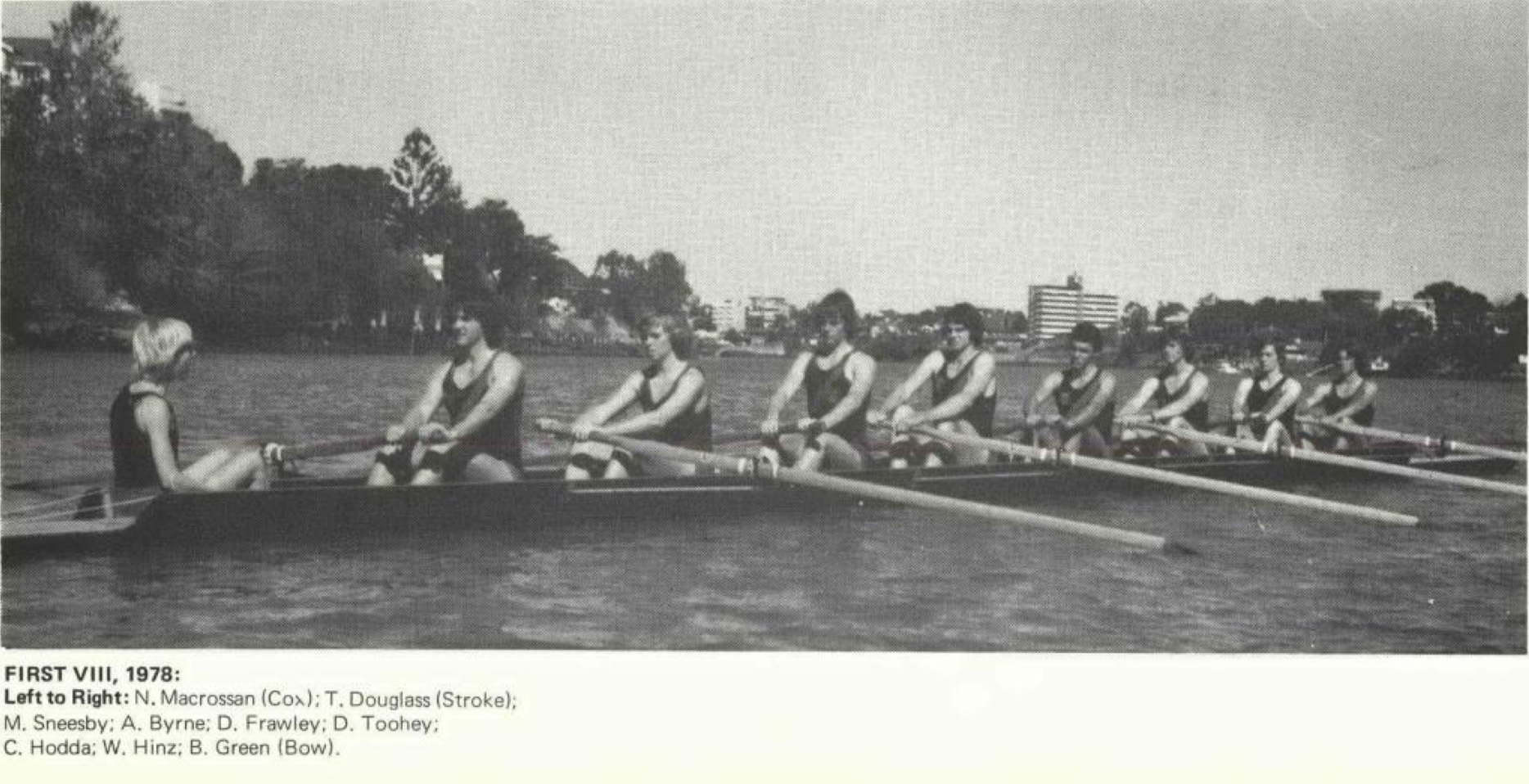 ---
The Race Described
"Heart rules Head
Nerang - A lightweight schoolboy with a "heart as big as a horse" led the Southport School to its first Head of the River rowing victory in eight years on Hinze Dam near here yesterday.
Ian Lambert, one of the lightest oarsmen in the race, guided his superb eight to the narrowest of wins over State High only half a canvas or 0.3 sec. away. Third were Brisbane Grammar a further 6.5 sec. away. Lambert at 71 kg, the lightest man in this heavyweight crew with an average of 79 kg, lifted the crew to a superb effort over the last few metres of a 2000m race.
That effort deprives State High of winning its first Head since the last race went in eight oared boats in 1955.
Southport's win was a great personal triumph for coach Chick Graham, a former Queensland oarsman. Graham took over Southport's first eight three years ago. In his first year the crew placed third, last year it was second, and this year, victory. But Graham gave all the credit to his crew, particularly to stroke Lambert.
"Lambert is a real champion," Graham said. "He's the lightest man in the crew and he has a heart as big as a horse."
Page 40, The Sunday Mail, Sunday April 2nd 1978 Edition
---
All Schools' Second Eight
Distance: 2000 Metres
Winning Time: No Time Recorded
Margins:
+ 0.3s (1-2)
+ 9.5s (2-3)
1st The Southport School
2nd Brisbane Boys' College
3rd Brisbane State High School
Other Competing Crews:
Gregory Terrace - Bow: R. Gregg, 2: G. Ryan, 3: S. Wilson, 4: I. McLeod, 5: D. Kelly, 6: G. Baxter, 7: R. Woo, Str: M. Green, Cox: M. Pozzi
Church of England Grammar School - Bow: n/a, 2: C. D. Ross, 3: n/a, 4: Maxwell, 5: P. T. Hodgkinson, 6: D. Karamisheff, 7: F. J. Kirkegard, Str: T. J. Charlton, Cox: D. W. Bell-Allen
---
All Schools' Third Eight
Distance: 1500 Metres
Winning Time: 4:56.00
Margins:
+ 0.8s (1-2)
+ 4.4s (2-3)
1st Brisbane Grammar School
2nd The Southport School
3rd Church of England Grammar School - Bow: N. J. Collyer, 2: H. G. Oriti, 3: F. A. Spencer, 4: R. I. MacPherson, 5: M. R. Daly, 6: P. J. Meissner, 7: T. J. Maxwell, Str: T. J. Job, Cox: D. R. Cottle
Other Competing Crews:
Gregory Terrace - Bow: B. Gardiner, 2: T. Morgan, 3: D. Holt, 4: J. Gambaro, 5: P. Slater, 6: P. Roberts, 7: A. Buckley, Str: D. Wright, Cox: M. Kelly
---
All Schools' Fourth Crew
Distance: 1000 Metres
Winning Time: 3:35.00
Margins:
+ 3.0s (1-2)
+ 0.2s (2-3)
1st The Southport School
2nd Church of England Grammar School - Bow: J. L. Hyne, 2: A. A. Buchanan, 3: J. Karamisheff, Str: M. I. Batzloff, Cox: P. J. Harwood
3rd Brisbane State High School
Other Competing Crews:
Gregory Terrace
- Bow: P. Lynch, 2: J. Murphy, 3: J. Greig, Str: P. Feeney, Cox: A. Bartlett
---
All Schools' Fifth Crew
Distance: 1000 Metres
Winning Time: 3:34.00
Margins:
+ 1.5s (1-2)
+ 5.5s (2-3)
1st Brisbane Grammar School
2nd The Southport School
3rd Brisbane State High School
Other Competing Crews:
Church of England Grammar School - Bow: S. VanDerKreek, 2: W. G. Denny, 3: R. C. Stone, Str: A. H. Walker, Cox: A. R. Kynaston
Gregory Terrace - Bow: D. Crisp, 2: G. Ryan, 3: M. Facey, Str: P. Facey, Cox: B. Williams
---
All Schools' Sixth Crew
Distance: 1000 Metres
Winning Time: 3:32.00
Margins:
+ 0.5s (1-2)
+ 9.5s (2-3)
1st The Southport School
2nd Brisbane Grammar School
3rd Church of England Grammar School - Bow: D. A. Paul, 2: V. S. M. Kalwij, 3: A. H. Goode, Str: P. R. Fischer, Cox: M. J. Laidlaw
Other Competing Crews:
Gregory Terrace - Bow: P. Rush, 2: R. Hegarty, 3: P. Mills, Str: J. Kormendy, Cox: S. Carroll
---
All Schools' Seventh Crew
Distance: 1000 Metres
Winning Time: 3.38.50
Margins:
+ 0.2s (1-2)
+ 3.0s (2-3)
1st The Southport School
2nd Brisbane Grammar School
3rd Brisbane State High School
Other Competing Crews:
Church of England Grammar School - Bow: S. W. Norton, 2: W. D. Brough, 3: S. D. Hall, Str: N. J. Reynolds, Cox: R. D. MacIntosh
Gregory Terrace - Bow: B. Gooch, 2: S. McNamee, 3: R. Postle, Str: R. Rodger, Cox: M. Backstrom
---
All Schools' Eighth Crew
Distance: 1000 Metres
Winning Time: 3:38.00
Margins:
+ 2s (1-2)
+ 3.4s (2-3)
1st Brisbane State High School
2nd The Southport School
3rd Brisbane Grammar School
Other Competing Crews:
Church of England Grammar School - Bow: A. J. Page, 2: M. E. White, 3: S. A. Leahy, Str: A. A. Gill, Cox: S. V. Cox
Gregory Terrace - Bow: M. Arnold, 2: S. McNamee, 3: R. Postle, Str: R. Rodger, Cox: M. Backstrom
---
All Schools' Ninth Crew
Distance: 1000 Metres
Winning Time: 3:41.00
Margins:
+ 5.2s (1-2)
+ 3.2s (2-3)
1st Church of England Grammar School - Bow: J. I Purvis, 2: R. M. Porteous, 3: D. J. Fisher, Str: B. R. Purssey, Cox: S. C. Padget
2nd The Southport School
3rd Brisbane Grammar School
Other Competing Crews:
Gregory Terrace
- Bow: J. McIvor, 2: H. Kranen, 3: W. Grau, Str: D. Dempsey, Cox: A. Owen
---
All Schools' Tenth Crew
Distance: 1000 Metres
Winning Time: 3:04.00
Margins:
+ 6.2s (1-2)
+ 1.2s (2-3)
1st The Southport School
2nd Church of England Grammar School - Bow: S. C. Lingard, 2: G. J. Magoffin, 3: D. A. Perrins, Str: L. M. Duckworth, Cox: M. R. Grimmer
3rd Brisbane Grammar School
Other Competing Crews:
Gregory Terrace
- Bow: D. McNamara, 2: J. Hinch, 3: B. Murphy, Str: S. Watt, Cox: G. O'Sullivan
---
All Schools' Eleventh Four
Distance: 1000 Metres
Winning Time: 3:43.50
Margins:
+ 2.7s (1-2)
+ 1.7s (2-3)
1st Brisbane Grammar School
2nd The Southport School
3rd Church of England Grammar School - Bow: I. B. Donovan, 2: E. C. Ringrose, 3: R. L. Thompson, Str: M. B. Wareham, Cox: W. F. Nutting
Other Competing Crews:
Gregory Terrace
- Bow: A. Holland, 2: M. Jones, 3: J. Venables, Str: V. de Ruos, Cox: S. Goulmy
---
All Schools' Twelfth Crew
Distance: 1000 Metres
Winning Time: 3:52.00
Margins:
+ 1.8s (1-2)
+ 1.9s (2-3)
1st The Southport School
2nd Brisbane Grammar School
3rd Brisbane State High School
Other Competing Crews:
Church of England Grammar School - Bow: J. J. Howard, 2: A. G. Akers, 3: M. A. Stafford, Str: A. T. Feez, Cox: G. J. Way
Gregory Terrace - Bow: B. Muller, 2: J. Fox, 3: R. Gyergyak, Str: N. Howard, Cox: S. McIntyre