1984 QLD GPS Head of the River
The 1984 GPS Head of the River was conducted on Saturday 24th March 1984 at Hinze Dam, Queensland.
---
Organising Committee:
Great Public Schools Association
---
Open Championship First Eight
The O'Connor Cup
1st Brisbane Grammar School - Bow: Geoff N. Robson, 2: Harry A. Bundock, 3: Rob J. Buchanan, 4: Alastair E. Savage, 5: Steve C. Austin, 6: Peter C. Hildebrand, 7: Mark R. Trist, Str: Mark K. Stunden, Cox: Wayne Jenvey, Coach: Alan Bromiley
2nd The Southport School
3rd Gregory Terrace - Bow: Keith Taylor, 2: Anthony Vitanza, 3: Michael Cumes, 4: Trent Richard-Smith, 5: Tim Browne, 6: Greg Hesse, 7: Nigel Walsh, Str: Gary Migotto, Cox: Andrew Lincoln
4th Church of England Grammar School - Bow: R. G. Hewitt, 2: D. G. Maxwell, 3: J. C. Mudge, 4: J. F. Collins, 5: T. F. Wood, 6: A. A. Richards, 7: T. I. Herbert, Str: B. C. Cox, Cox: P. J. Tierney, Coach: G. Petelin
1984 Gregory Terrace First VIII
1984 Church of England Grammar First VIII
In 1985, Anglican Church Grammar named a new four oared boat the Tim Herbert. Tim was a member of the 1st VIII in 1984 and son of Reverend Ron Herbert who was a member of the school staff from 1960 to 1970 and coached some fine and victorious IVs during that period. In 1985 Tim won the Australian Junior coxless pair championship and represented Australia in that event at the World Junior Championships. He represented Queensland in the 1986 Noel F. Wilkinson Youth VIII Trophy and in the 1987 King's Cup. He also won numerous Queensland Championships in an illustrious rowing career.
In the previous year, Churchie honoured their 1984 First VIII coach, George Petelin by naming a racing pair in his honour. The six racing pairs obtained by the school during the 1980s were all named for old boys or close associated who had represented Australia in rowing in one or other role. Petelin represented Australia at the World Championships of 1974 in the single scull.
---
Photos Courtesy of Gregory Terrace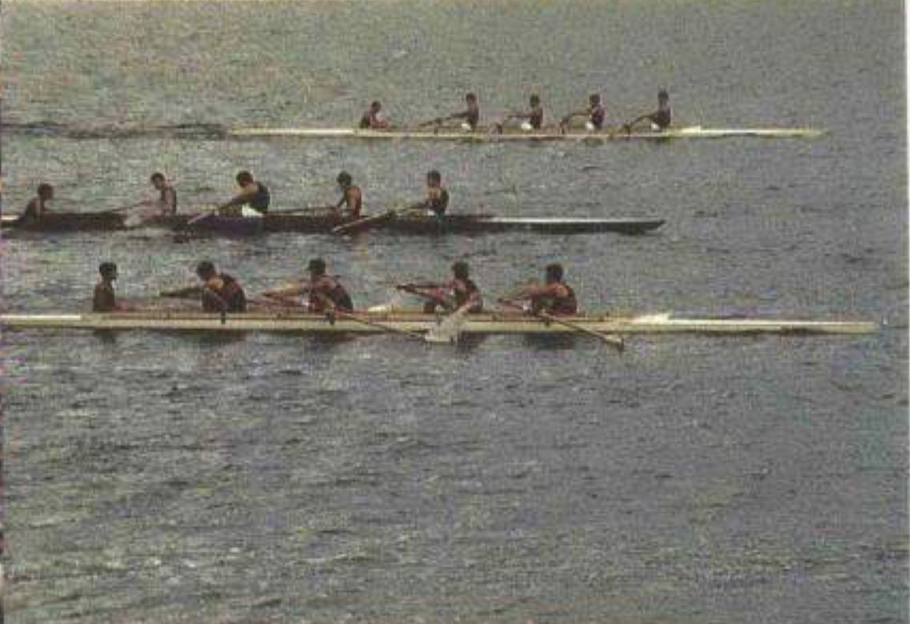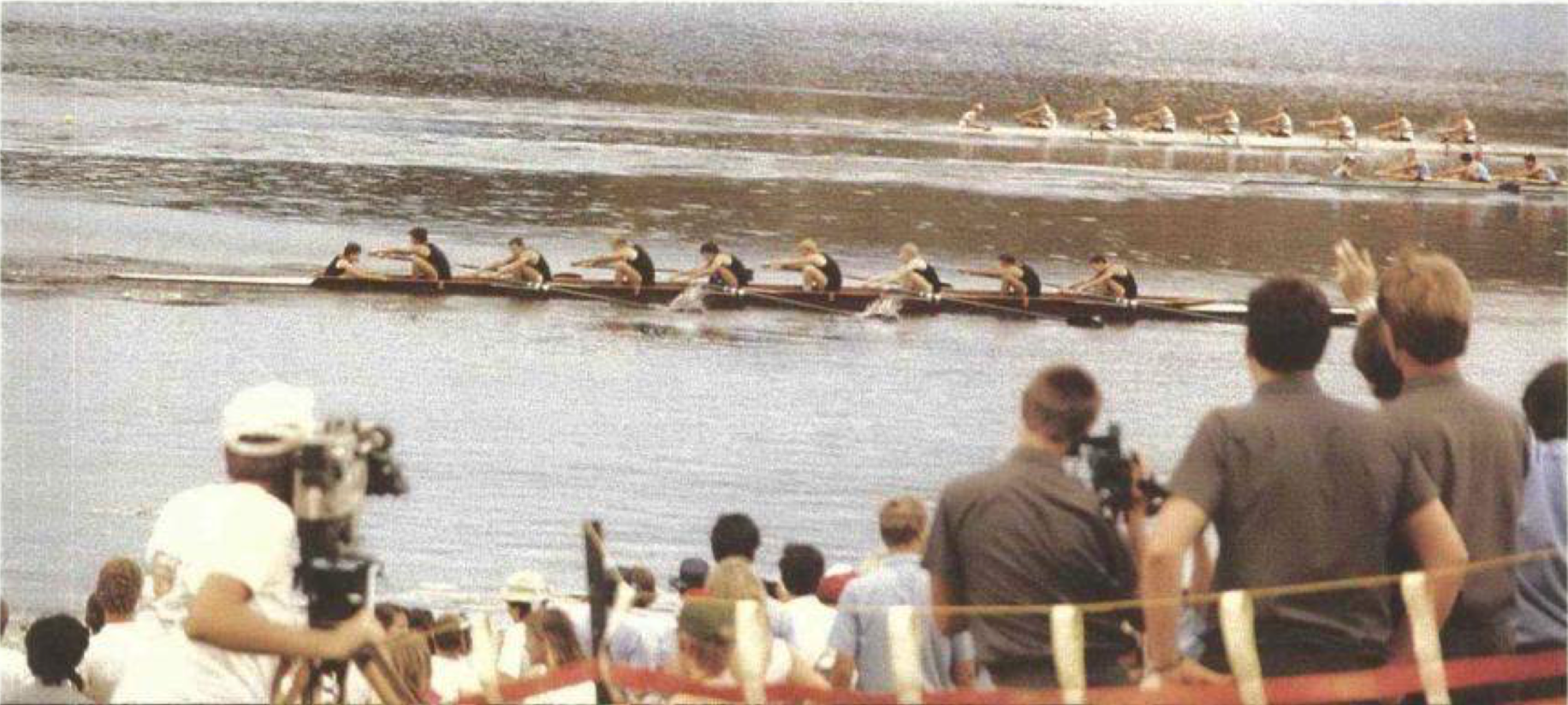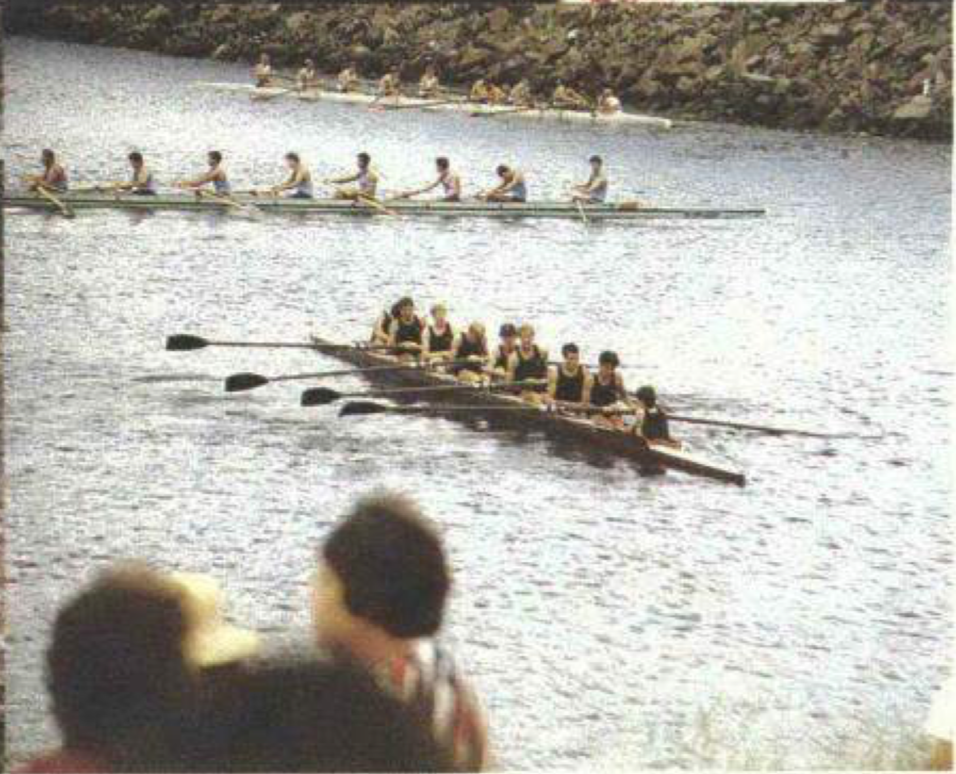 ---
Open Second Eight
Distance: 2000 Metres
1st The Southport School
2nd Brisbane Boys' College
3rd Brisbane Grammar School
4th Church of England Grammar School - Bow: D. J. Borthwick, 2: C. R. Brandon, 3: B. J. Downes, 4: J.Stone, 5: R. T. Birks, 6: M. J. Tierney, 7: C. Francis, Str: C. J. Cunningham, Cox: M. W. Weekes, Coach: T. Leigh
5th Brisbane State High School
6th Gregory Terrace - Bow: Damian Hackett, 2: Tony Moynihan, 3: Paul Leichsenring, 4: Anthony Lee, 5: Michael Wilkinson, 6: John O' Keeffe, 7: Clayton Bauman, Str: Brendan Wessely, Cox: Nicholas Musgrave
---
Open First Four
Distance: 1000 Metres
1st The Southport School
2nd Church of England Grammar School - Bow: R. C. Foots, 2: H. Frith, 3: A. F. Ridgway, Str: C. G. Morris, Cox: T. A. Davies, Coach: N. Stevens
3rd Brisbane Boys' College
---
Open Second Four
Distance: 1000 Metres
1st The Southport School
2nd Brisbane Boys College
3rd Brisbane Grammar School
4th Church of England Grammar School - Bow: S. P. Knights, 2: A. R. Ellison, 3: R. J. Hefter, Str: J. P. Pollard, Cox: L. J. Campbell, Coach: N. Stevens
---
Open Third Four
Distance: 1000 Metres
1st The Southport School
2nd Brisbane Grammar School
3rd Brisbane Boys' College
4th Church of England Grammar School - Bow: M. Ellis, 2: A. St. Baker, 3: M. Magnusson, Str: B. F. Hinckfuss, Cox: P. Waugh, Coach: R. Magnusson
---
Open Fourth Four
Distance: 1000 Metres
1st The Southport School
2nd Brisbane Boys' College
3rd Gregory Terrace
4th Church of England Grammar School - Bow: M. V. Oakes, 2: A. E. Tucker, 3: W. G. Woo, Str: P. C. Thomas, Cox: A. Cox, Coach: R. Birks
---
Under 16 First Eight
Distance: 1500 Metres
1st Brisbane Boys' College
2nd The Southport School
3rd Brisbane Grammar School
Other Competing Crews:
Church of England Grammar School - Bow: A. J. Wightman, 2: A. T. Magub, 3: D. P. Young, 4: E. A. Young, 5: M. J. Skerl, 6: S. A. Donovan, 7: S. M. Cool, Str: S. Kay, Cox: A. C. Keating, Coach: J. D. Morice
Gregory Terrace - Bow: ,Earl-John Taylor 2: Ben Gardiner, 3: Andrew Douglas, 4: David Mills, 5: Sean Greentree, 6: Brendan Cassidy, 7: Tim Cooney, Str: John O'Kane, Cox: Paul McCrossin
---
Under 16 First Four
Distance: 1000 Metres
1st Church of England Grammar School - Bow: A. J. Alexander, 2: S. B. Schmidt, 3: S. J. Harris, Str: J. S. Crew, Cox: A. J. Minson, Coach: A. Dunlop
2nd Brisbane Boys' College
3rd The Southport School
---
Under 16 Second Four
Distance: 1000 Metres
1st The Southport School
2nd Church of England Grammar School - Bow: W. H. Ellison, 2: A. H, Apel, 3: D. L. Miles, Str: S. C. Garraway, Cox: W. L. Earnshaw, Coach: A. Dunlop
3rd Brisbane Boys' College
---
Under 16 Third Four
Distance: 1000 Metres
1st Brisbane Grammar School
2nd The Southport School
3rd Church of England Grammar School - Bow: B. J. Clifford, 2: M. W. Earwaker, 3: A. J. Winter, Str: I. L. Hawley, Cox: A. J. Brown, Coach: B. Harwood
---
Under 16 Fourth Four
Distance: 1000 Metres
1st Brisbane Grammar School
2nd The Southport School
3rd Brisbane Boys' College
Other Competing Crews:
Church of England Grammar School - Bow: W. J. McCarthy, 2: D. G. Kidd, 3: M. D. McAuley, Str: S. J. Hartley, Cox: D. H. Cotton, Coach: B. Harwood
---
Under 15 First Four
Distance: 1000 Metres
1st The Southport School
2nd Brisbane Grammar School
3rd Church of England Grammar School - Bow: K. P. Ridgway, 2: P. M. Stevens, 3: C. M. Harris, Str: B. A. James, Cox: P. J. Cook, Coach: G. Amezdroz
Other Competing Crews:
Gregory Terrace - Bow: Michael Howard, 2: Simon Daly, 3: Sean McManus, Str: Chris Ryall, Cox: T. Cumes
---
Under 15 Second Four
Distance: 1000 Metres
1st The Southport School
2nd Brisbane Grammar School
3rd Gregory Terrace
Other Competing Crews:
5th Church of England Grammar School - Bow: G. Batchelor, 2: D. Brandon, 3: D. Lilley, Str: P. Gosbell, Cox: S. Watkins, Coach: A. Gofrey
---
Under 15 Third Four
Distance: 1000 Metres
1st The Southport School
2nd Brisbane Boys' College
3rd Brisbane Grammar School
Other Competing Crews:
Church of England Grammar School - Bow: S. H. Apel, 2: S. Schmidt, 3: J. G. Alexander, Str: A. J. Wightman, Cox: T. A. Davies
---
Under 15 Fourth Four
Distance: 1000 Metres
1st Brisbane Grammar School
2nd The Southport School
3rd Brisbane Boys' College
Other Competing Crews:
6th Church of England Grammar School - Bow: M. Gavin, 2: J. Sturgeon, 3: D. Thornton, Str: B. Cory, Cox: P. Whatmore, Coach: D. A. Johnson