1991 QLD GPS Head of the River
The 1991 Head of the River was conducted on Saturday 23rd March 1991 at Lake Wivenhoe, Queensland.
In 1991 it was decided the official races for the premiership would be the Open 1st to 3rd VIIIs, u16 1st and 2nd VIIIs, U16 1st and 2nd IVs and U15 1st to 6th IVs. At the same time it was decided that the VIIIs' races would carry double the points of a IVs' race. Thus the maximum was then 42 points in each of the Open (3x14), u16 (2x14 + 2x7) and U15 (6x7) age groups so everyone who competed was able to contribute evenly.
---
Organising Committee:
Great Public Schools Association
---
Open Championship First Eight
The O'Connor Cup
1st The Southport School - Bow: Matthew J. Martin, 2: Addam B. Halstead, 3: Fletcher R. Norman, 4: Hamish W. K. Backus, 5: Hamish D. MacGregor, 6: Tim J. Kent, 7: Andrew O'Shanesy, Str: Tom D. Ray, Cox: Wally W. H. Cooper, Coach: Islay Lee
2nd Brisbane Boys' College
3rd Church of England Grammar School - Bow: B. Quarterman, 2: S. Davis, 3: R. R. Fleming, 4: J. R. Morton, 5: C. R. Howe, 6: R. J. Barton, 7: P. Peterson, Str: A. MacLeod, Cox: C. Anderson, Coach: B. Greenland
4th Gregory Terrace - Bow: N. Holland, 2: M. Serafini, 3: C. Boucousis, 4: N. Stiles, 5: D. Campbell, 6: M. Alford, 7: L. Smith, Str: O. Bourne, Cox: J. Purcell
1991 Anglican Church Grammar School First VIII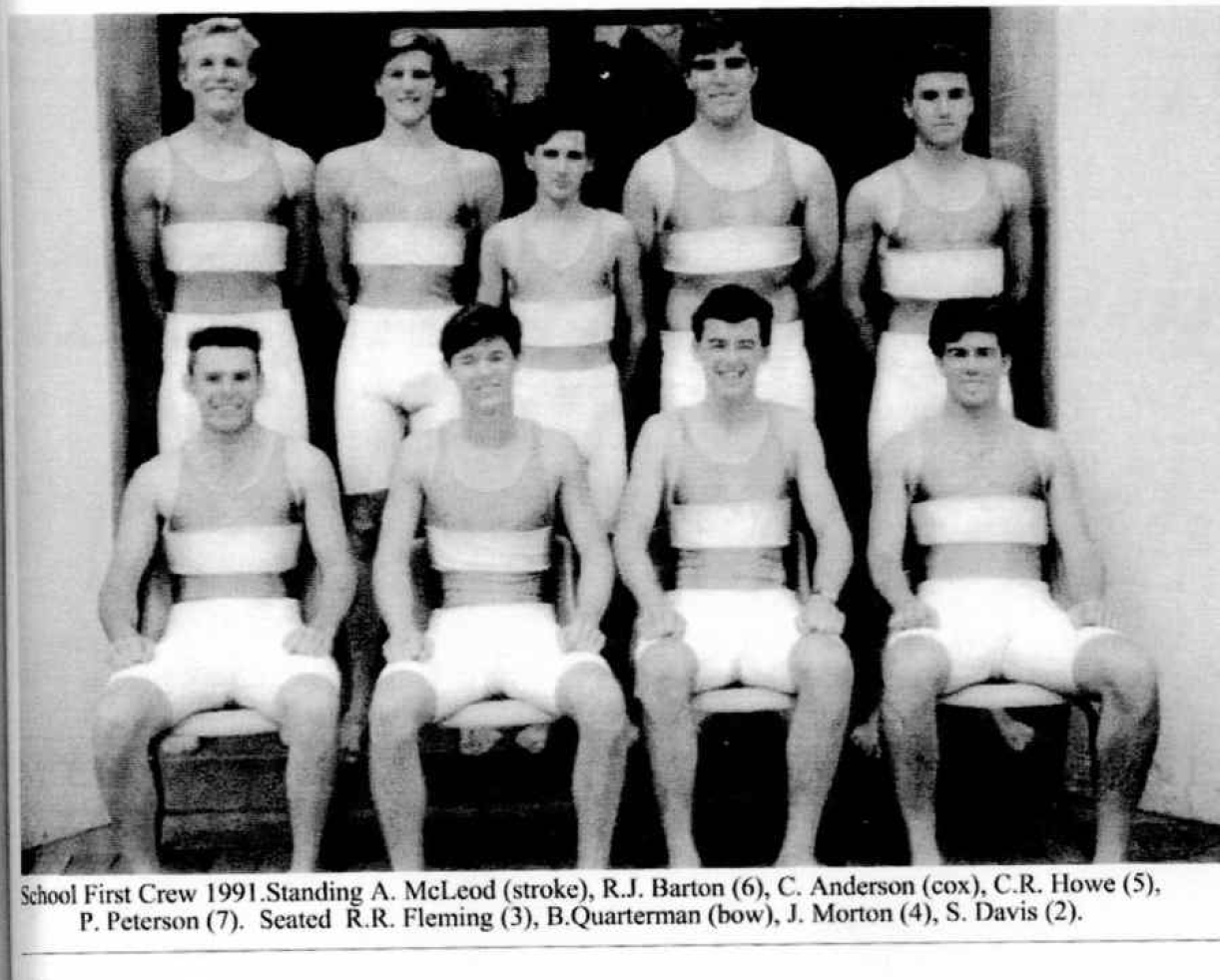 Julian R. Morton, Richard J, Barton and Christian Anderson, the four, six and cox seat respectively in the 1991 Anglican Church Grammar First VIII, represented Queensland in the Noel F. Wilkinson Youth VIII Trophy.
1991 Gregory Terrace First VIII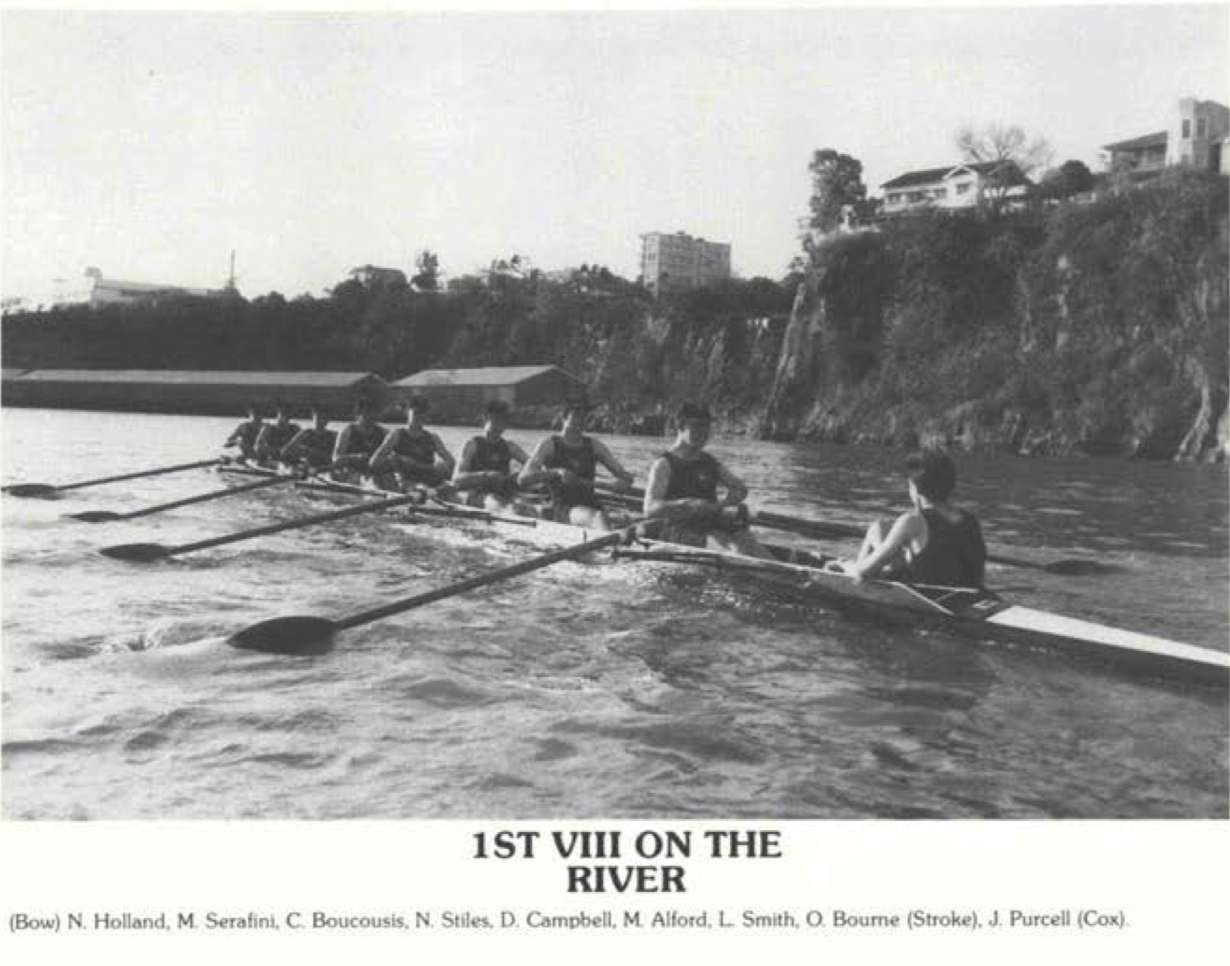 ---
Open Second Eight
Distance: 2000 Metres
1st Gregory Terrace - Bow: V. Marchese, 2: M. Feros, 3: S. Fraser, 4: J. Houghton, 5: H. Pervan, 6: P. Effeney, 7: R. Dunworth, Str: P. Sherwood, Cox: R. Ohlrich
2nd Brisbane Boys' College
3rd Anglican Church Grammar School - Bow: T. M. Hasker, 2: R. Becconsall, 3: B. Sommer, 4: R. Hartland, 5: A. Feather, 6: M. Mathieson, 7: L. Higgins, Str: G. Skeates, Cox: L. Thiele, Coach: G. Burley
1991 Victorious Gregory Terrace Second VIII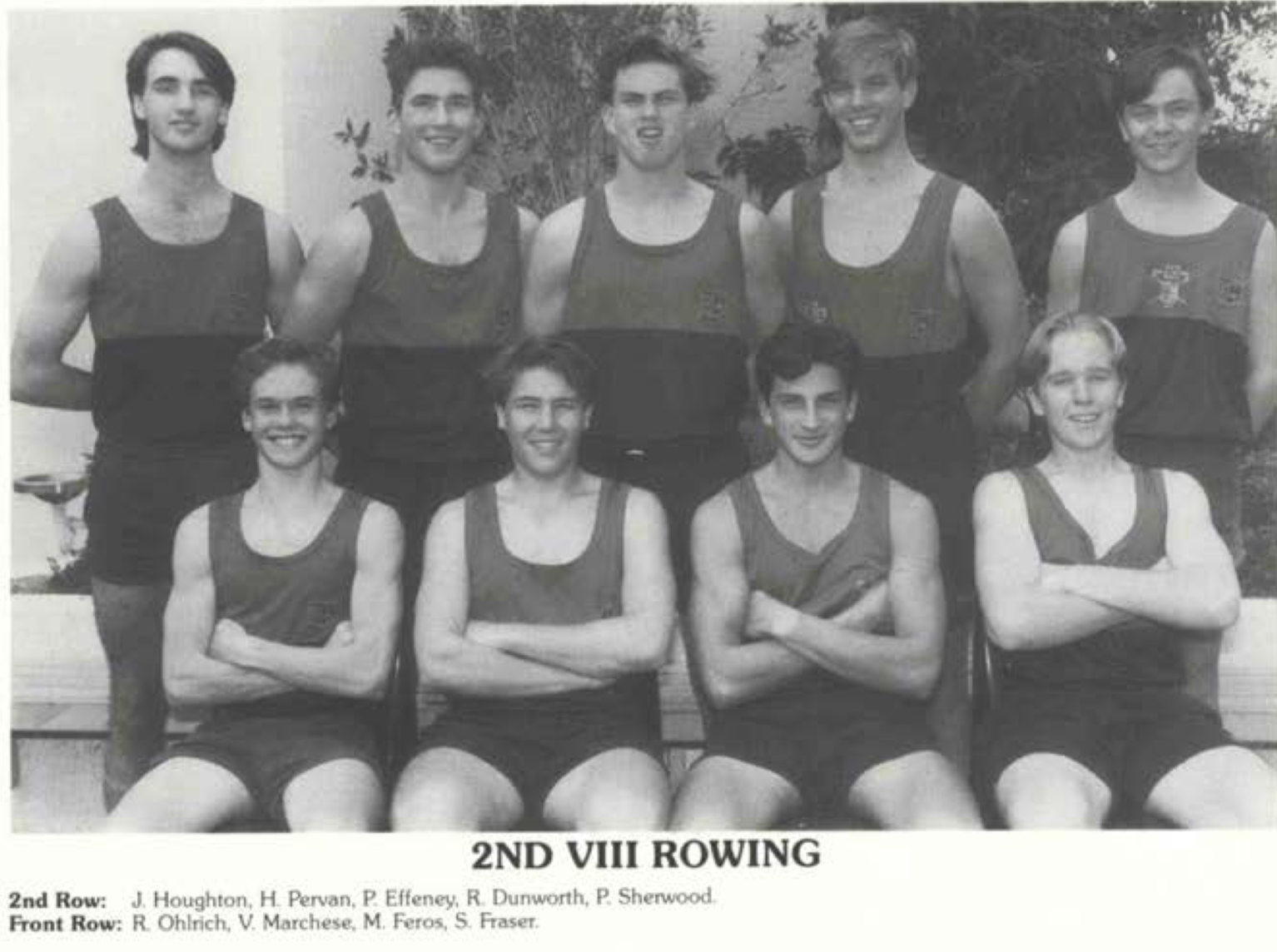 ---
Open Third Eight
Distance: 1500 Metres
1st Anglican Church Grammar School - Bow: A. Ridgway, 2: A. Winter, 3: S. Doyle, 4: S. A. Juniper, 5: B. Airey, 6: P. McCarthy, 7: K. Grant, Str: M. Hanson, Cox: D. Mischke, Coach: G. Edmonds
2nd The Southport School
3rd Brisbane Boys' College
Other Competing Crews:
Gregory Terrace - Bow: J. Manners, 2: J. Rollston, 3: A. Weale, 4: N. Shanahan, 5: S. Curtain, 6: P. Dooley, 7: S. Bowden, Str: A. Alberti, Cox: R. Ohlrich
---
Under 16 First Eight
Distance: 1500 Metres
1st The Southport School
2nd Anglican Church Grammar School - Bow: C. Craddock, 2: R. Wilson, 3: B. Spring, 4: L. Fryer, 5: N. Parr, 6: T. Murphy, 7: R. Backus, Str: B. Corbould, Cox: N. Bliss, Coach: W. T. South
3rd Brisbane Boys' College
Other Competing Crews:
Gregory Terrace - Bow: L. Taylor, 2: J. Brooks, 3: D. Cavallucci, 4: N. West, 5: M. Doyle, 6: B. Wilson, 7: B. Daly, Str: S. Kennedy, Cox: A. Gibson
---
Under 16 Second Eight
Distance: 1500 Metres
1st Anglican Church Grammar School - Bow: G. Worrell, 2: M. Schmidt, 3: A. Carroll, 4: S. Simpson, 5: B. Prior, 6: J. Coburn, 7: M. MacTaggart, Str: D. Chenoweth, Cox: D. Corfe, Coach: T. Rowan
2nd The Southport School
3rd Gregory Terrace - Bow: A. Auld, 2: M. Young, 3: M. Chong, 4: R. Cavallucci, 5: C. Christensen, 6: A. Saunders, 7: J. Britton, Str: B. Cavallaro, Cox: A. Gibson
---
Under 16 First Four
Distance: 1000 Metres
1st Anglican Church Grammar School - Bow: B. Roughan, 2: I. Persini, 3: M. Frazer-Ryan, Str: A. Carmichael, Cox: A. White, Coach: P. J. Tierney
2nd Brisbane Grammar School
3rd The Southport School
Other Competing Crews:
Gregory Terrace - Bow: R. Darbyshire, 2: A. McGruther, 3: M. Scanlan, Str: J. Beale, Cox: D. Clarke
---
Under 16 Second Four
Distance: 1000 Metres
1st Anglican Church Grammar School - Bow: B. Collins, 2: W. Williams, 3: J. Douglas, Str: S. Williamson, Cox: L. Cashman, Coach: C. Lawler
2nd Brisbane Grammar School
3rd The Southport School
Other Competing Crews:
Gregory Terrace - Bow: A. Oneto, 2: M. Toon, 3: S. Sorbello, Str: D. Fletcher, Cox: D. Clarke
---
Under 15 First Four
Distance: 1000 Metres
1st Brisbane Boys' College
2nd Brisbane State High School
3rd Anglican Church Grammar School - Bow: A. Stephenson, 2: J. Davis, 3: A. Van Eps, Str: A. MacLeod, Cox: A. Wood, Coach: P. A. Jell
---
Under 15 Second Four
Distance: 1000 Metres
1st Anglican Church Grammar School - Bow: B. Dodd, 2: B. Hunter, 3: P. Allen, Str: I. Evans, Cox: J. Pollack, Coach: P. A. Jell
2nd Brisbane Boys' College
3rd Gregory Terrace
---
Under 15 Third Four
Distance: 1000 Metres
1st Brisbane State High School
2nd Brisbane Boys' College
3rd Anglican Church Grammar School - Bow: A. McLean, 2: M. Burns, 3: M. Walker, Str: R. Joseph, Cox: R. Reeves, Coach: J. Craddock
---
Under 15 Fourth Four
Distance: 1000 Metres
1st Anglican Church Grammar School - Bow: C. Quarterman, 2: B. Behrend, 3: C. Robinson, Str: A. Hodgetts, Cox: A. Walsh, Coach: J. Craddock
2nd Brisbane Grammar School
3rd Brisbane State High School
---
Under 15 Fifth Four
Distance: 1000 Metres
1st Brisbane Grammar School
2nd Brisbane Boys' College
3rd Anglican Church Grammar School - Bow: A. McMaugh, 2: D. Scott, 3: A. Bryant, Str: A. Thallon, Cox: B. McDonald, Coach: B. & J. Douglas
---
Under 15 Sixth Four
Distance: 1000 Metres
1st Anglican Church Grammar School - Bow: M. Lewis, 2: A. Romanowski, 3: S. Barrett, Str: S. Peterson, Cox: J. Hayne, Coach: B. & J. Douglas
2nd The Southport School
3rd Brisbane Boys' College