1990 QLD GPS Head of the River
The 1990 Head of the River was conducted on Saturday 7th April 1990 at Lake Wivenhoe, Queensland.
---
Organising Committee:
Great Public Schools Association
---
Open Championship First Eight
The O'Connor Cup
1st Brisbane Boys' College - Bow: Andrew D. McGregor-Stephen, 2: Robert B. McPhee, 3: Stuart Richardson, 4: James A. Graham, 5: Randal M. Martin, 6: John H. Pettigrew, 7: Adrian D. Banks, Str: Cy B. Pearson, Cox: Matthew J. Lawson, Coach: Ian Luxford
2nd The Southport School
3rd Anglican Church Grammar School - Bow: J. Douglas, 2: R. J. Barton, 3: T. J. Roberts, 4: A. Macleod, 5: T. F. Pincus, 6: S. T. Wood, 7: P. R. Anderson, Str: C. R. Howe, Cox: C. M. Pollack, Coach: W. T. South
4th Gregory Terrace - Bow: M. Fogarty, 2: C. Auld, 3: M. Musgrave, 4: W. Pattie, 5: A. Pattie, 6: N. Stile, 7: A. Rich, Str: M. Steele, Cox: T. McCormac, Coach: J. Bentley
1990 Victorious Brisbane Boys' College First VIII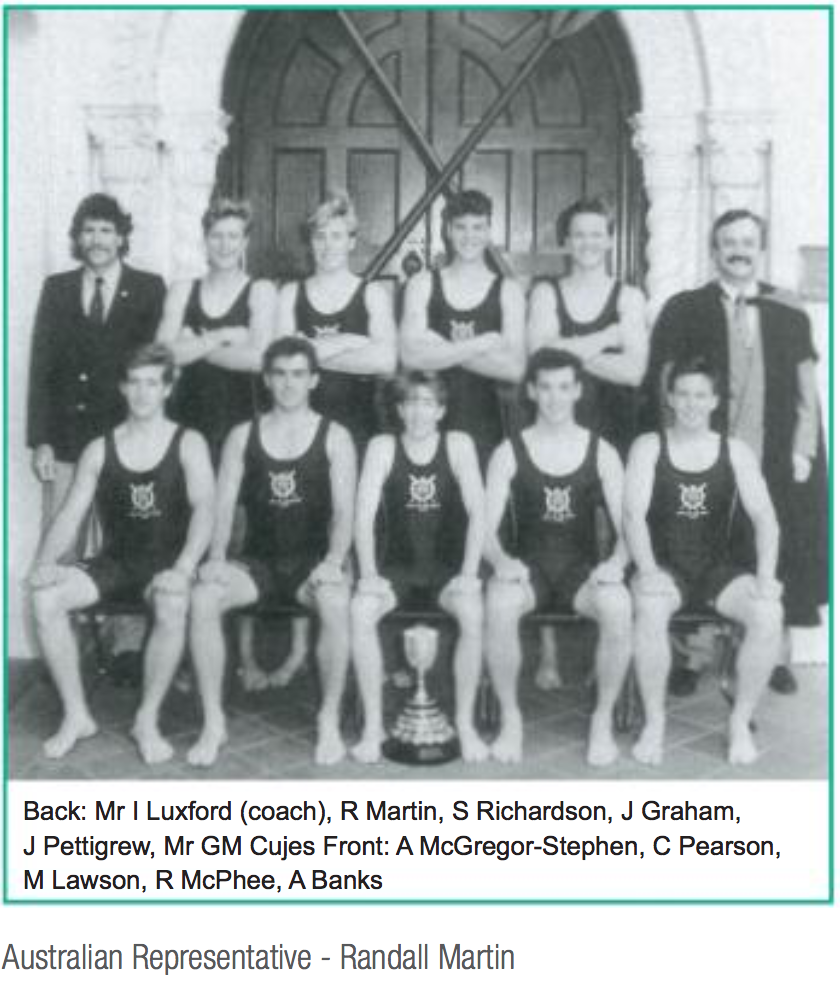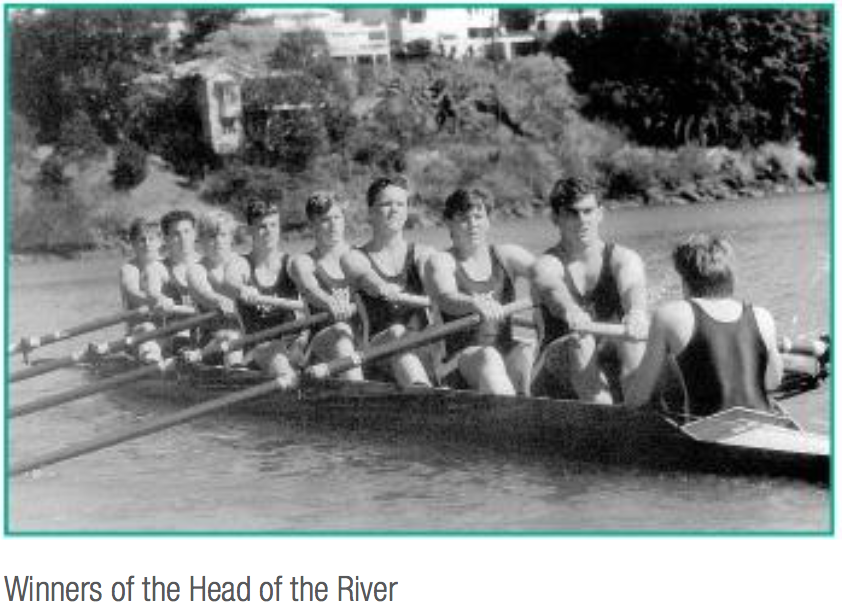 1990 Anglican Church Grammar School First VIII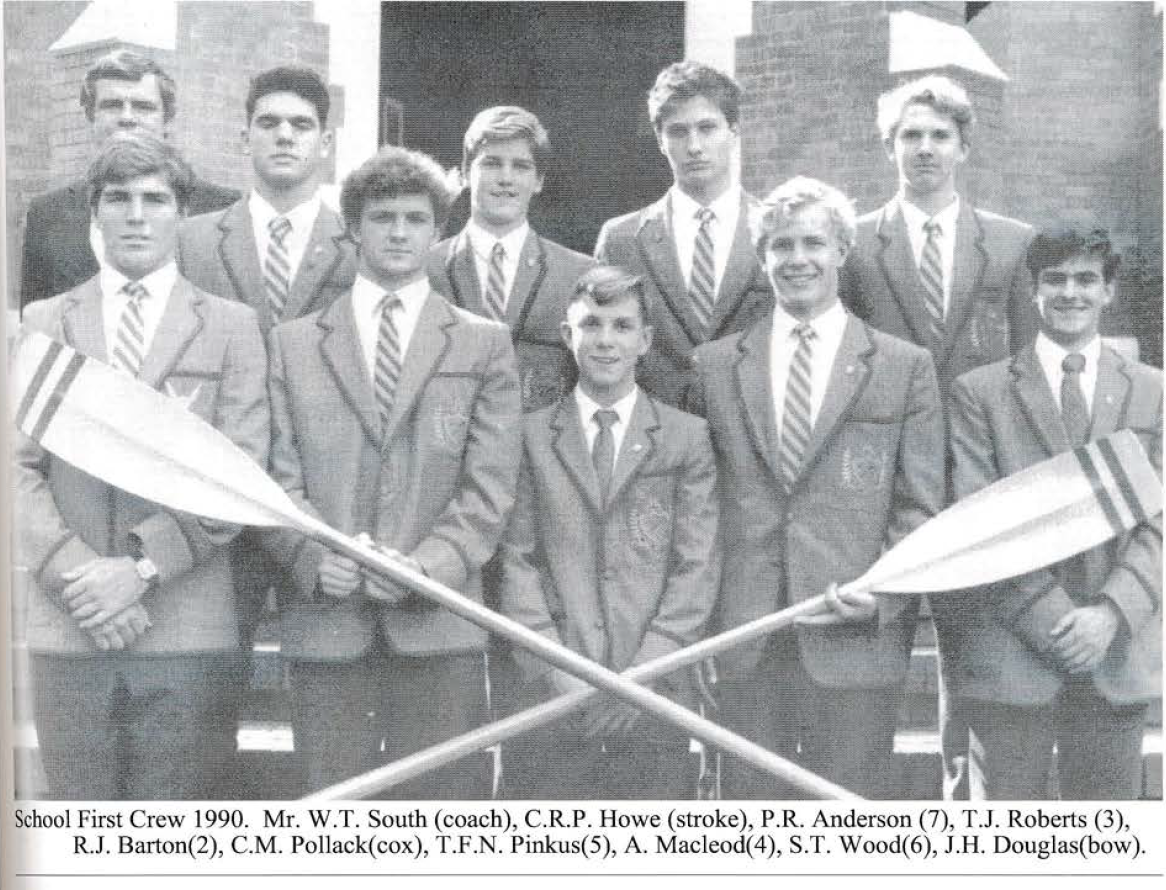 1990 Gregory Terrace First VIII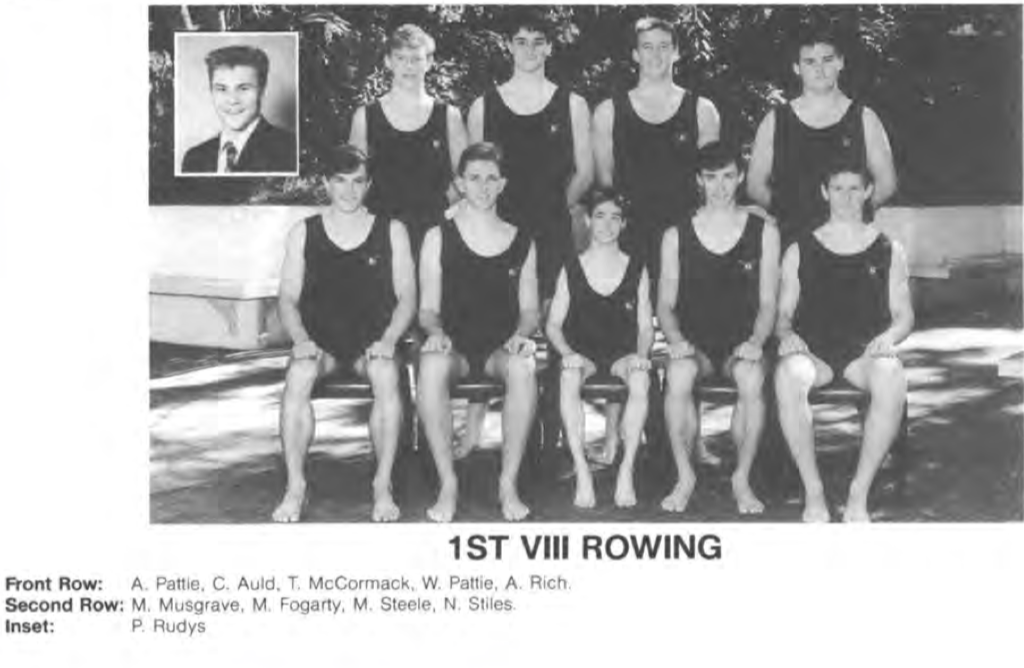 Toby Roberts, the three seat in the 1990 Anglican Church Grammar School First VIII, represented Queensland in both the Noel F. Wilkinson Youth Eight Trophy and the 1993 & 1995 King's Cup.
---
Open Second Eight
Distance: 2000 Metres
1st Brisbane Grammar School
2nd Gregory Terrace - Bow: M. Stapleton, 2: J. McIntyre, 3: A. Hearghty, 4: M. Durack, 5: L. Atkinson, 6: R. Effeney, 7: S. Waters, Str: D. O'Keefe, Cox: J. Purcell
3rd The Southport School
Other Competing Crews:
5th Anglican Church Grammar School - Bow: A. Lee, 2: B. Joyce, 3: E. Atkins, 4: D. J. Rodwell, 5: M. B. Corfe, 6: M. K. Trivett, 7: J. C. Wall, Str: T. C. Christmas, Cox: C. Anderson, Coach: D. Maxwell
---
Open Third Eight
Distance: 1500 Metres
1st Brisbane Boys' College
2nd The Southport School
3rd Brisbane Grammar School
Other Competing Crews:
Gregory Terrace - Bow: B. McNamee, 2: R. Gallagher, 3: N. Patrick, 4: L. O'Shea, 5: N. Everingham, 6: G. Bishop, 7: M. Feros, Str: S. Conroy, Cox: P. Saunders
Anglican Church Grammar School - Bow: G. Collyer, 2: H. Benson, 3: S. Dunlop, 4: G. Keith, 5: A. Hall, 6: S. Dalton, 7: M. Urquhart, Str: S. Grant, Cox: A. Walpole, Coach: W. Hughes
---
Open Fourth Eight
Distance: 1500 Metres
1st Gregory Terrace - Bow: C. Scuderi, 2: M. Lawson, 3: L. O'Rourke, 4: M. Hackett, 5: C. Jenson, 6: M. Fogarty, 7: H. Innes, Str: M. Bliss, Cox: C. Thompson
2nd Brisbane Grammar School
3rd Brisbane Boys' College
Other Competing Crews:
Anglican Church Grammar School - Bow: C. MacBarron, 2: J. A. Drake, 3: A. Feather, 4: J. Newman, 5: S. Barnett, 6: R. A. Caro, 7: S. A. Woods, Str: R. W. South, Cox: J. M. Bliss, Coach: D. Murray
---
Under 16 First Eight
Distance: 1500 Metres
1st The Southport School
2nd Gregory Terrace - Bow: N. Holland, 2: M. Sarafini, 3: M. Alford, 4: R. Dunworth, 5: L. Smith, 6: C. Boucousis, 7: D. Campbell, Str: O. Bourne, Cox: J. Manners
3rd Anglican Church Grammar School - Bow: B. Quarterman, 2: J. Morton, 3: R. Fleming, 4: S. Davis, 5: B. Sommer, 6: D. Pearson, 7: P. Peterson, Str: M. Mathieson, Cox: C. Creighton, Coach: G. Burley
---
Under 16 First Four
Distance: 1000 Metres
1st Brisbane Boys' College
2nd Anglican Church Grammar School - Bow: T. Hasker, 2: N. Kalinin, 3: S. Vavasour, Str: L. Higgins, Cox: D. Mischke, Coach: A. Rowan
3rd The Southport School
---
Under 16 Second Four
Distance: 1000 Metres
1st Anglican Church Grammar School - Bow: B. Airy, 2: T. Jeffrey, 3: C. Ballinger, Str: R. Becconsall, Cox: L. Theile, Coach: T. Meyer
2nd Brisbane Boys' College
3rd The Southport School
---
Under 16 Third Four
Distance: 1000 Metres
1st Anglican Church Grammar School - Bow: R. I. Hartland, 2: A. J. Peel, 3: K. Grant, Str: S. I. Doyle, Cox: J. H, Earnshaw, Coach: C. Lawler
2nd Brisbane Boys' College
3rd The Southport School
---
Under 16 Fourth Four
Distance: 1000 Metres
1st Brisbane Grammar School
2nd Gregory Terrace
3rd Brisbane Boys' College
Other Competing Crews:
5th Anglican Church Grammar School - Bow: K. N. Lee, 2: A. C. Winter, 3: T. N. Woodman, Str: S. A. Juniper, Cox: R. Reeves, Coach: P. J. Tierney
---
Under 15 First Four
Distance: 1000 Metres
1st Brisbane State High School
2nd Anglican Church Grammar School - Bow: A. Carroll, 2: N. Parr, 3: B. Spring, Str: B. Corbould, Cox: N. Bliss, Coach: P. A. Jell
3rd Brisbane Boys' College
---
Under 15 Second Four
Distance: 1000 Metres
1st The Southport School
2nd Anglican Church Grammar School - Bow: R. Lederhose, 2: D. Douglas, 3: R. Wilson, Str: R. Backus, Cox: C. Griffith, Coach: P. A. Jell
3rd Brisbane Grammar School
---
Under 15 Fourth Four
Distance: 1000 Metres
1st Anglican Church Grammar School - Bow: G. Worrell, 2: A. Cameron, 3: A. Lee, Str: D. Chenoweth, Cox: D. Corfe, Coach: J. Craddock
2nd Gregory Terrace - Bow: M. Auld, 2: L. Frost, 3: A. Saunders, Str: S. Kennedy, Cox: P. Wilkins, Coach: Hughie Morrison
3rd The Southport School
---
Under 15 Third Four
Distance: 1000 Metres
1st Anglican Church Grammar School - Bow: Ben Pryor, 2: Tim Murphy, 3: Lachlan Fryer, Str: James Coburn, Cox: Scott Peterson, Coach: G. Edmonds
2nd The Southport School
3rd Brisbane Grammar School
1990 Anglican Church Grammar School Under 15 Third IV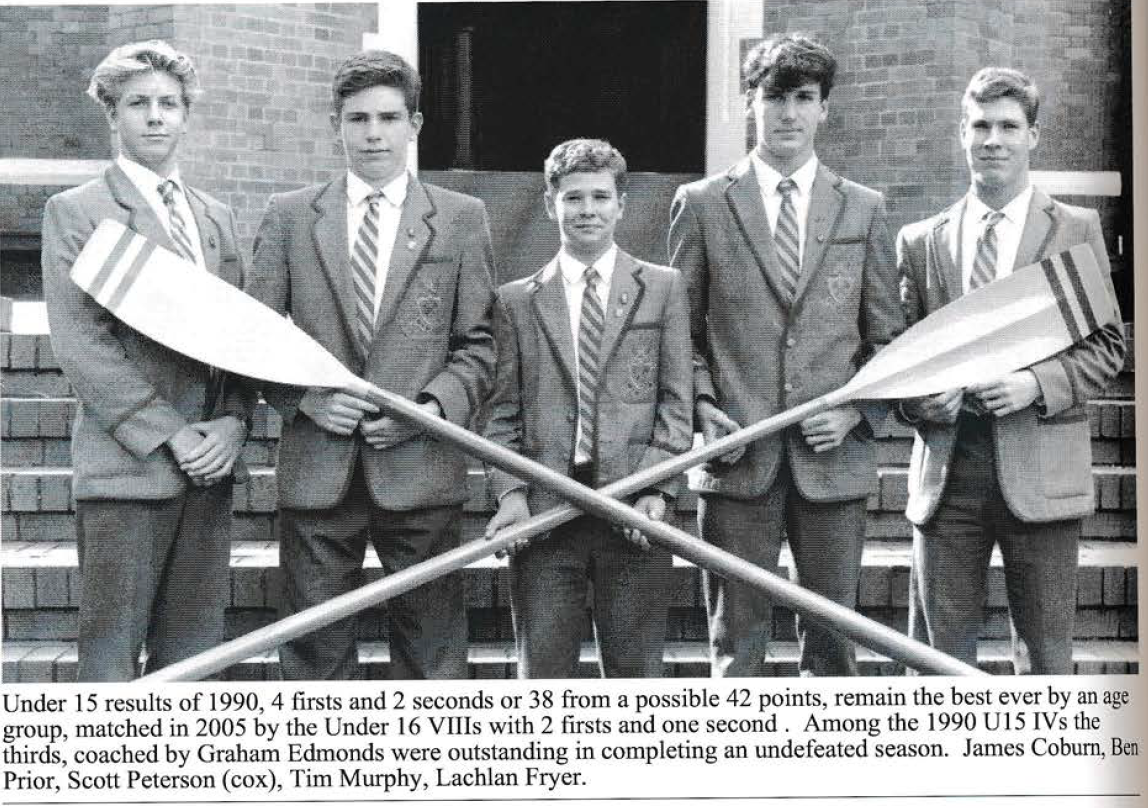 ---
Under 15 Fifth Four
Distance: 1000 Metres
1st Anglican Church Grammar School - Bow: B. Roughan, 2: B. Wilson, 3: M. Frazer-Ryan, Str: S. Simpson, Cox: A. Rowe, Coach: B. Douglas
2nd Brisbane State High School
3rd Brisbane Grammar School
---
Under 15 Sixth Four
Distance: 1000 Metres
1st Anglican Church Grammar School - Bow: J. Park, 2: A. Carmichael, 3: M. Mactaggart, Str: C. Craddock, Cox: A. White, Coach: J. Craddock
2nd Brisbane State High School
3rd Brisbane Grammar School