1977 QLD GPS Head of the River
The 1977 GPS Head of the River was conducted on Saturday April 2nd 1977 at Hinze Dam, Gold Coast.
This was the inaugural regatta held at Hinze Dam which presented a number of advantages and was quickly adopted for the Head of the River racing. Although it is a greater distance from Brisbane in the Gold Coast Hinterland, near Advancetown, it is fairly close to TSS which generally acted as a host school during its use. It had sufficient width to allow all competing schools in one event, it had good facilities for spectators, and has a good racing course although it is exposed to the prevailing southeasterly winds and can be rough at times.
Below is a an article written by the Courier-Mail in the lead up to the event.
"Head of River in balance
Brisbane Grammar School rowing eight face the starter as the "heavies" of the head of the River at Nerang on Saturday.
The crew averages more than 79 kg a man. 2kg heavier than the next crew. Brisbane State High School at 77kg. Both the heavyweight crews carry one man tipping the scales at more than 90kgs - No. 5 man P. Dall for Grammar at 90.2 kg and State High No. 7 L. Campbell at 90 KG. But there is a 'midget' among the heavyweights from State High, stroke S Liewelyn who at 62 kg is the lightest in the six crew field.
The new rowing site, the Hinze Dam at Nerang is reported to be protected from all winds. But some Brisbane rowing officials are not so sure after a school regatta there earlier this year. They claim winds that day favoured some lanes. If this is the case a heavy crew would have an advantage in rowing going.
Draw for the Head which starts at 4 p.m. is Gregory Terrace, Churchie, State High, The Southport School, Brisbane Grammar, Brisbane Boys College.
Final Trial
All crews are expected to have a final trial on the new course tomorrow but this will be restricted and mainly without coaches on the water. Under a local Authority ruling only two power boats are allowed on the dam at one time. These belong to the authority, and are driver by local Authority men.
In normal training sessions each crew is followed by the coach in a power boat. Restrictions notwithstanding, local rowing officials will be working overtime to help G.P.S. officials stage a successful regatta. For they hope to stage major regattas on the dam, including the King's Cup."
Brisbane Grammar School attained their second successive O'Connor Cup.
---
Organising Committee:
Great Public Schools' Association
---
All Schools' Championship First Eight
The O'Connor Cup
Distance: 2000 Metres
Winning Time: 6:15.00
Margins:
+ 3s (1-2)
+ 3.6s (2-3)
1st Brisbane Grammar School - Bow: Anthony J. Overstead, 2: Graham R. Bendich, 3: John B. Wills, 4: David M. Rose, 5: Peter W. Dall, 6: Richard T. Powell, 7: William R. Phillips-Turner, Str: John B. Woolcock, Cox: David W. Wright, Coach: Alan Bromiley
2nd The Southport School
3rd Brisbane State High School
4th Church of England Grammar School - Bow: B. A. Gunn, 2: G. R. Free, 3: T. A. Ford, 4: J. T. Giddens, 5: A. E. Paxton-Hall, 6: J. A. Woodgate, 7: S. M. Craig, Str: H. McLeod, Cox: M. W. Jowett, Coach: J. D. Powell
5th Brisbane Boys' College
6th Gregory Terrace - Bow: J. Galis, 2: B. Roberts, 3: M. Cornwell, 4: B. Ryan, 5: D. Smith, 6: B. Bartlett, 7: J. Rynne, Str: J. Greig, Cox: N. Macrossan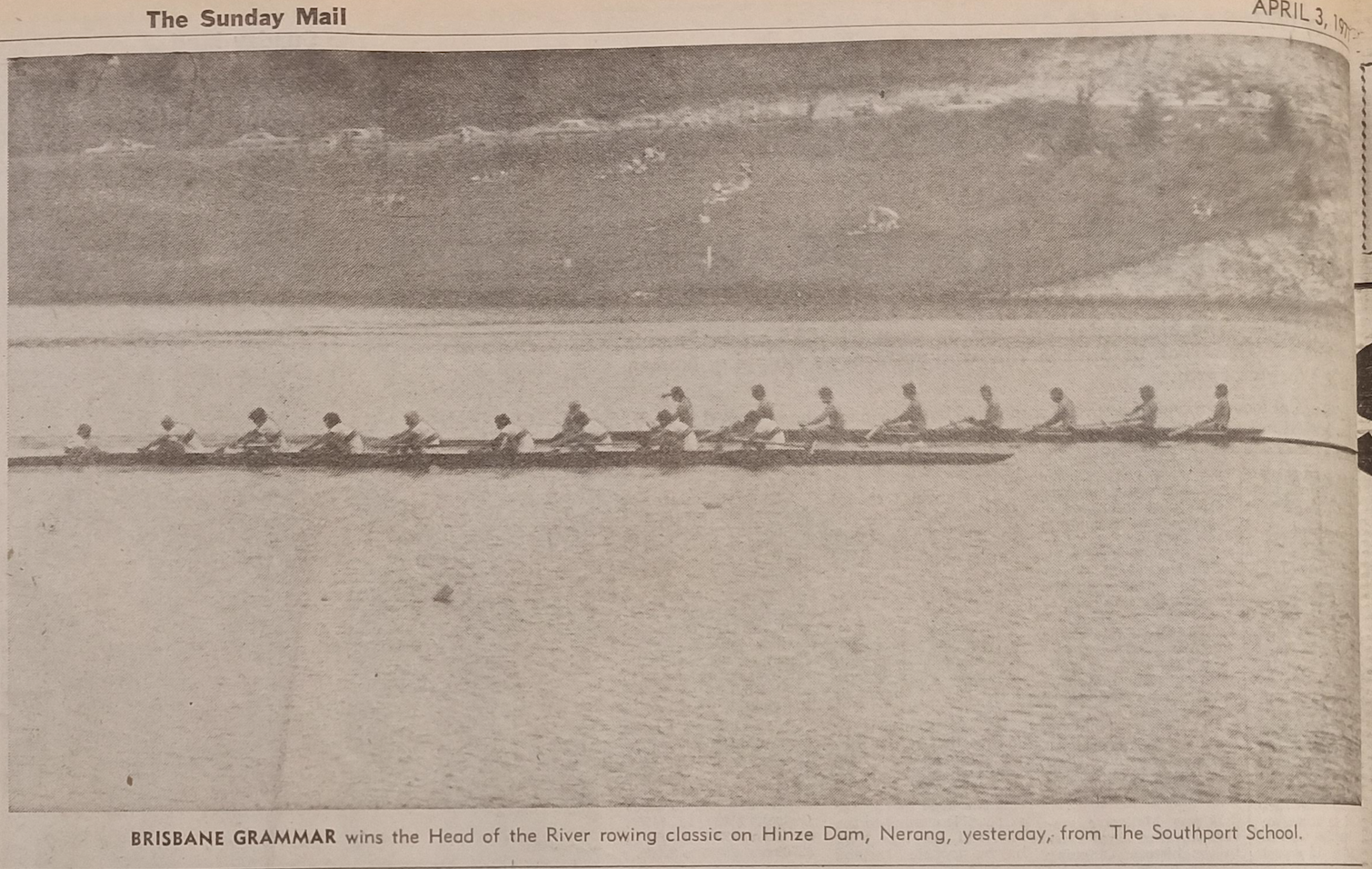 1977 Church of England Grammar School First VIII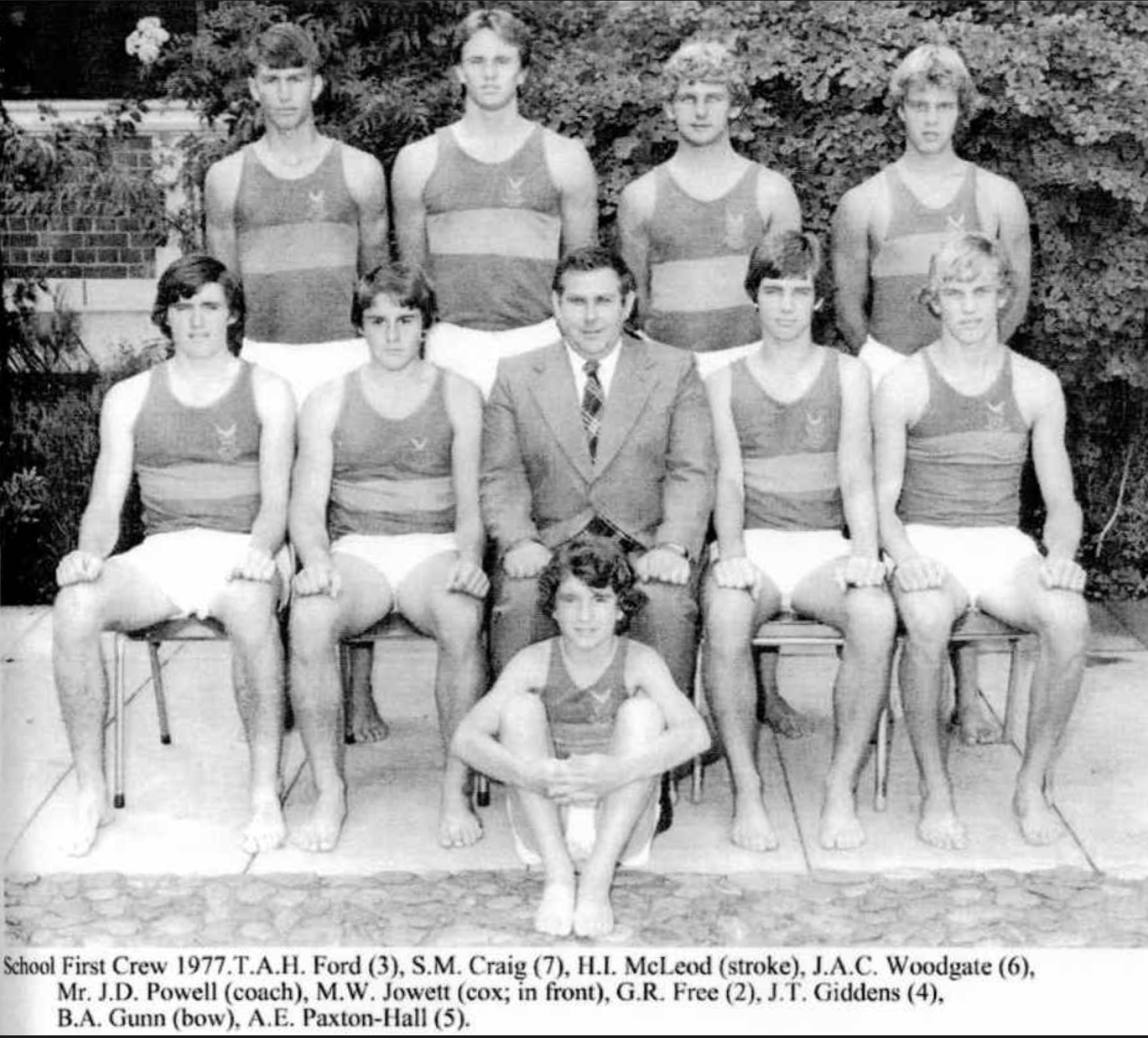 ---
The Race Described
"Nerang - Brisbane Grammar School overcame a minor virus epidemic to win the Head of the River rowing classic here yesterday.
The Grammar crew, stroked perfectly by John Woolcock, took its second successive Head by half a length from the Southport School, with State High third, 3.6 sec. away.
During the week it was doubtful if Grammar would be able to present its eight in tact, because three oarsman were suffering from a virus.
Stroke Woolcock, number four man David Rose, and number three man, John Wills caught the virus but did not let it interrupt the crew's training schedule. "They were magnificient" coach Alan Bromliey said after yesterday's win. "It was a worrying time with the virus but they kept on going and they came through brilliantly."
It was the crew's eighth straight victory this season.
Despite the virus outbreak, Grammar were confident of this win because the 200 metre race on the new Hinze Dam, which is probably the best rowing course in Australia for spectators as well as rowers. Stroke Woolcock said later his crew new it could win despite being behind for almost three quarters of the race. "We were always in a handy position. We've been in that position in most of our races this season and still won. So when we were rowing so close to the front, we were confident that we could win, and we did."
Grammar sat behind smugly while Southport and State High battled for the lead for the majority of the first 1500 metres. But once they hit the 1500 metre mark, Grammar moved away with power and precision. Coach Bromley said: "They rowed according to plan. They rowed their own race and did not let the other crews pressure them."
Grammar had the race in the bad with 500 metres to go when they edged ahead of the leading crews."
Page 44, The Sunday Mail, Sunday April 3rd 1977 Edition
---
All Schools' Second Eight
Distance: 2000 Metres
Winning Time: 6:26.00
Margins:
+ 1.8s (1-2)
+ 1.6s (2-3)
1st Brisbane Grammar School
2nd The Southport School
3rd Brisbane State High School
4th Gregory Terrace - Bow: T. Douglass, 2: J. Leighton, 3: I. Halligan, 4: D. Toohey, 5: M. McCluskey, 6: A. Rush, 7: E. Cullinan, Str: A. Oakes, Cox: P. Mewing
5th Church of England Grammar School - Bow: R. J. Webber, 2: D. A. Spring, 3: C. B. Fisher, 4: P. G. Kelly, 5: R. B. Giles, 6: L. A. Templeton, 7: A. M. Feez, Str: M. R. Dowling, Cox: I. M. Duckworth
6th Brisbane Boys' College
---
All Schools' Third Eight
Distance: 1500 Metres
Winning Time: 7:56.00
Margins:
+ 3s (1-2)
+ 1.8s (2-3)
1st The Southport School
2nd Church of England Grammar School - Bow: S. J. Jukes, 2: A. P. Perkins, 3: A. P. Weatherstone, 4: A. C. Lester, 5: I. A. Burley, 6: L. W. Hillhouse, 7: A. E. Barrett, Str: H. J. McIntosh, Cox: S. C. Lingard
3rd Brisbane Grammar School
---
All Schools' Fourth Crew
Distance: 1000 Metres
Winning Time: 3:33.50
Margins:
+ 3.8s (1-2)
+ 0.3s (2-3)
1st Brisbane Grammar School
2nd Brisbane State High School
3rd The Southport School
4th Church of England Grammar School - Bow: G. J. Ballinger, 2: T. J. Charlton, 3: G. M. Williams, Str: C. D. Ross, Cox: D. R. Cottle
---
All Schools' Fifth Crew
Distance: 1000 Metres
Winning Time: 3:37.50
Margins:
+ 1.2s (1-2)
+ 6.5s (2-3)
1st Brisbane Grammar School
2nd Brisbane State High School
3rd Church of England Grammar School - Bow: J. P. Pastellas, 2: M. R. Dawson, 3: S. J. Law, Str: M. J. Job, Cox: R. B. Winsen
---
All Schools' Sixth Crew
Distance: 1000 Metres
Winning Time: 4:01.00
Margins:
+ 2.1s (1-2)
+ 2.2s (2-3)
1st Brisbane State High School
2nd Brisbane Grammar School
3rd The Southport School
4th Church of England Grammar School - Bow: J. F. Kirkegard, 2: P. T. Hodgkinson, 3: A. J. Drysdale, Str: B. Armstrong, Cox: S. B. Welsh
---
All Schools' Seventh Crew
Distance: 1000 Metres
Winning Time: 3:57.00
Margins:
+ 1.2s (1-2)
+ 5.1s (2-3)
1st Brisbane State High School
2nd The Southport School
3rd Brisbane Grammar School
4th Church of England Grammar School - Bow: J. F. Arnold, 2: B. P. Wright, 3: N. T. Spencer, Str: G. M. Bond, Cox: A. Moneypenny
---
All Schools' Eighth Crew
Distance: 1000 Metres
Winning Time: 3:50.50
Margins:
+ 3.2s (1-2)
+ 2.8s (2-3)
1st Church of England Grammar School - Bow: A. A. Buchanan, 2: R. C. Stone, 3: P. R. Fischer, Str: S. W. Louks, Cox: M. C. Lennon
2nd Brisbane State High School
3rd The Southport School
---
All Schools' Ninth Crew
Distance: 1000 Metres
Winning Time: 3:50.00
Margins:
+ 4.5s (1-2)
+ 3.9s (2-3)
1st Brisbane State High School
2nd Brisbane Grammar School
3rd The Southport School
4th Church of England Grammar School - Bow: A. F. Cory, 2: K. J. Barrett, 3: R. N. Humphries, Str: P. J. Meissner, Cox: R. S. Skellet
---
All Schools' Tenth Crew
Distance: 1000 Metres
Winning Time: 3:52.50
Margins:
+ 6.2s (1-2)
+ 0.3s (2-3)
1st Brisbane State High School
2nd The Southport School
3rd Brisbane Grammar School
4th Church of England Grammar School - Bow: N. J. Collyer, 2: F. A. Spencer, 3: D. Karamoscheff, Str: W. J. Cuneo , Cox: A. R. Kynaston
---
All Schools' Eleventh Crew
Distance: 1000 Metres
Winning Time: No Time Recorded
Margins:
+ 4.7s (1-2)
+ 1.7s (2-3)
1st Brisbane State High School
2nd Church of England Grammar School - Bow: J. Karamischeff, 2: H. G. Oriti, 3: A. H. Walker, Str: R. Daly, Cox: D. W. Bell-Allen
3rd Brisbane Grammar School
---
All Schools' Twelfth Crew
Distance: 1000 Metres
Winning Time: No Time Recorded
Margins:
+ 5.2s (1-2)
+ 2.9s (2-3)
1st Church of England Grammar School - Bow: N. J. Reynolds, 2: D. A. Paul, 3: M. W. Reedman, Str: T. Catsoulis, Cox: E. C. Ringrose
2nd Brisbane State High School
3rd The Southport School