1933 South Australian Schools' Head of the River
Saturday, 29 April – Torrens Lake:
The 1933 Head of the River featured the following events on the Torrens Lake:
- First Eight
- Open Tub Fours (Slides)
- Open Tub Fours (Fixed)
- Under 16 Tub Fours (Fixed)
- Under 15 Tub Fours (Fixed)
The Advertiser reported that 6,000 people crowded the banks of Torrens Lake. After winning a very tight heat by just 2 feet against St. Peter's College, Prince Alfred College won the Head of the River by 1¼ lengths against Adelaide High. This ensured that P.A.C. won both the Blackmore Shield and Gosse Shield for the second year in-a-row.
---
First Eight
The Advertiser reported of Prince Alfred College's back-to-back win of the SA Head of the River:
"The final was rowed shortly before 5 p.m. The win of Princes in eight seconds faster time than Adelaide High's victory over Scotch, made Princes start favourites for the final. Adelaide High, however, made Princes row well out. At the Morphett Street Bridge, Princes had a lead of half a length. High hung on gamely to a better finish by Princes by one and a quarter lengths."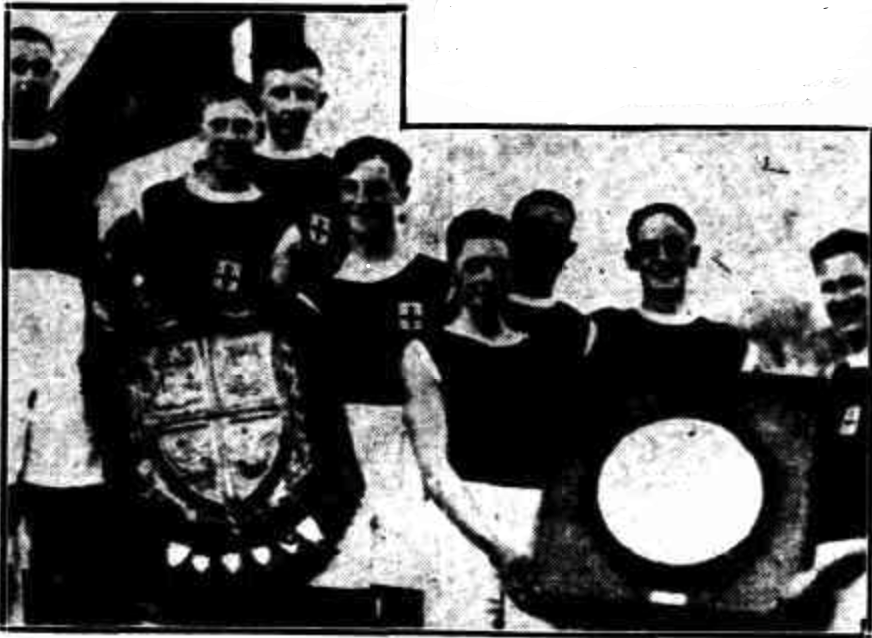 Prince Alfred College winning the Gosse and Blackmore Shields for the second year in-a-row
(Source: The Advertiser, 1 May 1933)

Organising Committee:
South Australian Rowing Association
Officials:
Starters: Mr. C. R. Cudmore, Mr. M. Fotheringham & Mr. H. V. Menz
Judges: Mr. W. R. Bayly, Mr. F. W. Porter & Mr. R. H. Wallman
Umpires: Mr. C. R. Cudmore & Mr. C. T. Madigan
½ mile
Time: 3 min 9½ sec
Margin: 1¼ length
1st Prince Alfred College – Bow: A. J. King, 2: M. J. Barrett, 3: A. K. Trott, 4: R. K. Dunn, 5: J. T. Hiatt, 6: F. A. Hamilton, 7: J. S. T. T. Hill, Stroke: D. O. Compton, Cox: D. O. Glasson
2nd Adelaide High School – Bow: A. J. Berry, 2: A. J. Huispel, 3: D. O. Nightingale, 4: R. M. Nightingale, 5: R. M. Stanway, 6: C. F. Milbank, 7: L. C. Harrison, Stroke: D. A. Dowie, Cox: D.A. Maxen-Wright

(Knocked out in heat by Prince Alfred College):
St. Peter's College – Bow: H. N. Hayter, 2: J. A. Smeaton, 3: G. O. McEwin, 4: F. F. Espie, 5: K. Viner-Smith, 6: W. H. Wallace, 7: S. G. W. Burston, Stroke: K. L. Milne, Cox: N. M. Cudmore
(Knocked out in heat by Adelaide High School):
Scotch College – Bow: G. K. Arnold, 2: P. W. Hayward, 3: J. B. Norman, 4: M. D. Dawe, 5: W. L. Ledgerwood, 6: B. W. Shearer, 7: E. H. Burgess, Stroke: P. C. R. Goode, Cox: G. B. Kelly
---
Open Tub Four (Slides)
¼ mile
Time: unknown
Margin: unknown
1st St. Peter's College –
2nd Prince Alfred College –
(Knocked out in heat by St. Peter's College):
Adelaide High School –
---
Open Tub Four (Fixed)
¼ mile
Time: unknown
Margin: ¼ length
1st Scotch College – Bow: D. M. McDonald, 2: A. L. Sandland, 3: B. A. Pile, Stroke: F. H. Sanders, Cox: J. B. Tyson
2nd St. Peter's College –
(Knocked out in heat by Scotch College):
Adelaide High School –
(Knocked out in heat by St. Peter's College):
Prince Alfred College –
---
Under 16 Tub Four (Fixed)
¼ mile
Time: unknown
Margin: 2 lengths
1st St. Peter's College – Bow: H. Brown, 2: P. G. Brooks, 3: J. Syme, Stroke: R. H. Wallace, Cox: W. D. McWorthy
2nd Prince Alfred College – Bow: L. R. Barrett, 2: W. M. Fong, 3: C. L. Gilbert, Stroke: K. P. Filmer, Cox: R. H. Burden
(Knocked out in heat by St. Peter's College):
Adelaide High School –
---
Under 15 Tub Four (Fixed)
¼ mile
Time: unknown
Margin: 2 lengths
1st Prince Alfred College – Bow: K. V. Pelham, 2: D. G. Phelps, 3: C. F. Dunn, Stroke: J. Tregonne, Cox: B. E. C. Ford
2nd Adelaide High School – Bow: M. Jones, 2: J. Hooper, 3: A. Watson, Stroke: P. Lower, Cox: H. Cox
(Knocked out in heat by Prince Alfred College):
St. Peter's College –
---
Sources
PRINCES AGAIN HEAD OF RIVER (1933, 1 May), The Advertiser (Adelaide, SA: 1931 – 1954), p. 11, Retrieved July 20 2023, from https://trove.nla.gov.au/newspaper/article/41482470