1932 South Australian Schools' Head of the River
**
From 1932 onwards, the SA Head of the River returned to just one regatta in the year.
1932 was also the first time the Gosse Shield was awarded for the victorious Schoolboy First Eight, a perpetual trophy presented by Sir John Gosse and his family.
**
Tuesday, 4 May – Torrens Lake:
The 1932 Head of the River featured the following events on the Torrens Lake:
- First Eight
- Open Tub Fours (Slides)
- Open Tub Fours (Fixed)
- Under 16 Tub Fours (Fixed)
- Under 15 Tub Fours (Fixed)
According to The Advertiser, 4,000 people lined the banks of Torrens Lake to watch the regatta. Prince Alfred College were the inaugural winners of the Gosse Shield, winning the First Eight race by a three-quarter length margin. P.A.C. also won the Blackmore Shield (the shield for the winners of the First crews between P.A.C and St. Peter's College dating back to 1893) for the very first time.
St. Peter's College also had a successful regatta, winning all four remaining events in the programme.
---
First Eight
The Advertiser provided this detailed report of Prince Alfred College's inaugural win of the SA Head of the River:
"The final tie of the Head of the River race was rowed at 5pm. As the members of each crew left the clubhouses they received an ovation.P.A.C. had the north side and Adelaide High the south.High had the better of the start, and got away at 36 strokes to the minute, dropping down to 34 after the first dozen. P.A.C. were rowing splendidly, end gradually overhauled the half length lead of High approaching Morphett street. The crews came through with P.A.C. a canvas out, both rowing at 32. P.A.C. quickened nicely past toe Mercantile shed, but High hung on grimly. The latter's blade work was better, but the P.A.C. boat was running well between strokes, end their rivals were rushing slightly. Entering the straight, P.A.C. were title first to quicken for the run home, and there was a thrilling tussle over the last 300 yards. P.A.C. stuck to their lead and got home with three-quarters of a length to spare, in 3 min 1 3-5 sec."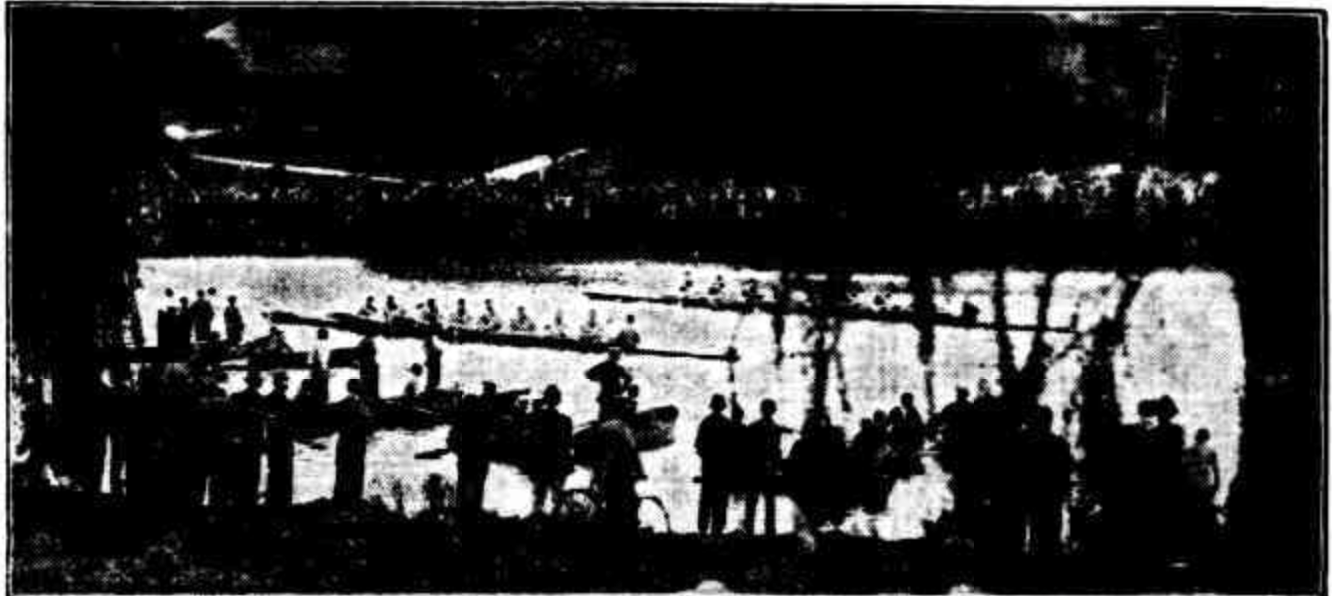 Prince Alfred College winning the inaugural Gosse Shield for First Eights at the SA Head of the River
(Source: The Advertiser, 4 May 1932)
Organising Committee:
South Australian Rowing Association
Officials:
Starters: Mr. M. Fotheringham & Mr. H. V. Menz
Judges: Mr. W. R. Bayly, Mr. F. W. Porter & Dr. J. R. Muirhead
Umpires: Mr. R. H. Wallman, Mr. P. R. Forgan & Mr. C. T. Madigan
Timekeepers: Mr. H. G. Freeman & Mr. V. S. Murphy
½ mile
Time: 3 min 1 3/5 sec
Margin: ¾ length
1st Prince Alfred College – Bow: P. A. Henstridge, 2: D. O. Crompton, 3: J. S. T. T. Hill, 4: R. B. Ward, 5: R. H. T. Cox, 6: J. R. Craven, 7: C. E. Eunge, Stroke: J. C. Williams, Cox: H. E. Freburg
2nd Adelaide High School –
(Knocked out in heat by Prince Alfred College):
St. Peter's College –
(Knocked out in heat by Adelaide High School):
Scotch College –
---
Open Tub Four (Slides)
¼ mile
Time: 2 min 1 2/5 sec
Margin: ¾ length
1st St. Peter's College –
2nd Adelaide High School –
(Knocked out in heat by St. Peter's College):
Scotch College –
(Knocked out in heat by Adelaide High School):
Prince Alfred College –

---
Open Tub Four (Fixed)
¼ mile
Time: 1 min 25 4/5 sec
Margin: 3 lengths
1st St. Peter's College –
2nd Prince Alfred College –
(Knocked out in heat by St. Peter's College):
Adelaide High School –
---
Under 16 Tub Four (Fixed)
¼ mile
Time: 1 min 25¼ sec
Margin: 4 lengths
1st St. Peter's College –
2nd Prince Alfred College –
(Knocked out in heat by St. Peter's College):
Adelaide High School –
---
Under 15 Tub Four (Fixed)
¼ mile
Time: 1 min 35 4/5 sec
Margin: 4 lengths
1st St. Peter's College –
2nd Prince Alfred College –
(Knocked out in heat by St. Peter's College):
Adelaide High School –
---
Sources
P.A.C. HEAD OF RIVER (1932, 4 May), The Advertiser (Adelaide, SA: 1931 – 1954), p. 16, Retrieved July 14 2023, from https://trove.nla.gov.au/newspaper/article/46856496