2006 National Championships—Lake Barrington TAS
The regatta was run on a great course by a superb Organising Committee headed by Susan Stegman. The weather was good for the first two days but suffered strong head winds on the next two days which resulted in 2 1/2 hours of postponements on the third day. The course again behaved itself on the last two days of this event.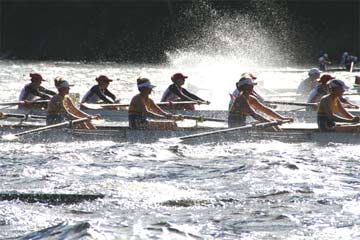 ---
Organising Committee and Officials
Organising Committee
Susan Stegman (Chairman), Paul Christensen (TRC President and Sponsorship), Jim Gibson (Finance), John Oakley & Mick Goodger (Regatta Control), Rod and Annette Dolbel (Secretary & Programming), Jack Ellings (RA Liason), Chris Grummitt & David Pitt (Timing), Greg Hall (Venue Manager), Ivan Dolbey (Catering), Peter Wade (Media), Helen Street (Protocol), Alan Kitto (Communications), David Pitt (IT), Peter Wade (Volunteer Management) and 120 volunteers.
Jury
Andrew Guerin (VIC - President of the Jury), Michael Banks (TAS), Ron Beattie (NSW), Michael Eastaughffe (SA), Rod Florence (VIC), Phil Fraser (TAS), Roy Hinchy (QLD), Peter Huggett (QLD), Nick Hunter (ACT), Craig James (WA), Rene Klupacs (VIC), Tony Levick (QLD), Paul Logan (SA), Reg McKay (VIC), Greg Melbourne (SA), Brian Nash (WA), Bob Pennington (SA), Norm Saunders (SA), Caroline Schomberg (QLD), Tim Wainman (NSW), Brett Woolfitt (WA).
---
New Perpetual Trophies
Two new perpetual trophies were awarded at this regatta. The first trophy is the Ted Bromley Memorial Trophy in honour of the Late Ted Bromley who pioneered men's coxless pair oared racing in Australia and did so much to promote pair oared rowing in all divisions through the establishment of the Bromley Trust. The Trust provides substantial funds to Australian representative pair oared crews.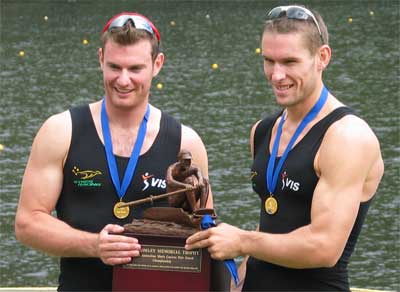 James Marburg and Cameron McKenzie-McHarg being presented with the Ted Bromley Memorial Trophy
The Bromley trophy is a bronze statue of Australia's most successful pair oared rower, James Tomkins. Most recently James was of course Olympic Champion in the pair in Athens. Prior to that, James was a World Champion in the coxless pair in both 1999 and 2003.
The second trophy honours Bob Aitken, the first elected President of Rowing Australia, the first life member of Rowing Australia, a fine oarsman, a successful Olympic coach, long standing Australian selector, initiator of the Rowing Australia umpires committee and superb administrator who oversaw some critical changes to Rowing Australia including the integration of the men's and women's federations to form the current body.
Drew Ginn, David Crawshay, Sam Conrad and Hardy Cubash presented with the Bob Aitken Memorial Trophy
Both new trophies recognise the great work of two individuals to the sport and were presented to Rowing Australia by Mercantile Rowing Club.
Open Men's Single Scull
Final E
09:16.23
09:51.93
10:06.68
10:15.36
Final D
08:32.00
08:34.42
08:35.28
08:41.50
08:45.27
08:47.49
Final C
08:15.22
08:21.32
08:23.17
08:25.48
08:27.45
08:34.64
Final B
08:04.89
08:05.46
08:11.80
08:14.83
08:18.35
08:21.10
Final A
07:51.45
07:52.74
07:54.67
07:55.18
07:59.18
08:03.31
Final E
1st Canberra Rowing Club - Laurence Sandral, Cch: Paul Cowan, Ian Mongan
2nd Murray Bridge Rowing Club - Chris Martin, Cch: Zoltan Shepherd
3rd Lindisfarne Rowing Club - David Emmett
4th Commercial Rowing Club - Andy Menzies
Final D
1st Richmond Rowing Club - Dmitri Colebatch, Cch: Ian Taylor
2nd Latrobe University Rowing Club - Stuart Davies, Cch: Andy Botting
3rd Sale Rowing Club - Paul Kelly, Cch: Frank Stone
4th North Esk Rowing Club - Patrick Bird, Cch: Paul Bird
5th Mercantile Rowing Club - Henry Edgar, Cch: Tom Courtney
6th Canberra Rowing Club - Trent Rodgers, Cch: Paul Cowan, Ian Mongan
Final C
1st Canberra Rowing Club (AIS) - Mitchell Punch, Cch: Brian Richardson
2nd Tamar Rowing Club (TIS) - Brendan Long
3rd Adelaide Rowing Club (SASI) - Trent Collins, Cch: Adrian David
4th University Of Queensland Boat Club - Dan Ellice-Flint, Cch: Brian Richardson
5th Melbourne University Boat Club - Nicholas Phelps, Cch: Chris O'Brien
6th Sydney University Boat Club - Nicholas Hudson, Cch: Phillip Bourguignon, Marty Rabjohns
Final B
1st Sydney Rowing Club - Patrick Stormon, Cch: John Bowes
2nd Swan River Rowing Club (WAIS) - David Kelly, Cch: Jason Lane
3rd UTS Rowing Club Inc - Nick Baxter, Cch: Glenn Bates, Tim McLaren
4th Melbourne University Boat Club - Jason Heard, Cch: Ian Wright
5th Melbourne University Boat Club - Joshua Nalder, Cch: Ian Wright
6th Adelaide Rowing Club (SASI) - Tim Hennessy, Cch: Adrian David
Final A
1st Lindisfarne Rowing Club (TIS) - Scott Brennan, Cch: Darren Balmforth
2nd Mercantile Rowing Club (VIS) - David Crawshay, Cch: Chris O'Brien
3rd Sydney University Boat Club (AIS) - Daniel Noonan, Cch: Brian Richardson
4th Mosman Rowing Club - Peter Hardcastle, Cch: Nick Garratt
5th Adelaide University Bc (SASI) - Christopher Morgan, Cch: Adrian David
6th Canberra Rowing Club (AIS) - Craig Jones, Cch: Brian Richardson
Open Men's Double Scull
Final A
06:27.89
06:29.58
06:30.35
06:32.23
06:37.84
06:45.42
Final A
1st Lindisfarne/Tamar (TIS) - Bow: Brendan Long [TAMAR], Str: Scott Brennan [LINDF], Cch: Darren Balmforth
2nd Adelaide Uni (SASI) - Bow: Tim Hennessy [ADEL], Str: Christopher Morgan [ADLUN], Cch: Adrian David
3rd Sydney University/Crc (AIS) - Bow: Craig Jones [CANB], Str: Daniel Noonan [SUBC], Cch: Brian Richardson
4th Mosman/UTS - Bow: Nick Baxter [UTS], Str: Peter Hardcastle [MOSM], Cch: Tim McLaren, Nick Garratt
5th Crc/Richmond Rc (AIS) - Bow: Dmitri Colebatch [RCHMD], Str: Mitchell Punch [CANB]
6th Melbourne University Boat Club - Bow: Joshua Nalder, Str: Jason Heard, Cch: Ian Wright
Open Men's Quadruple Scull
Final A
05:49.35
05:52.03
05:54.96
06:06.37
Final A
1st Murray Bridge/Adelaide/Adelaide - Bow: Tim Hennessy [ADEL], 2: Trent Collins [ADEL], 3: Christopher Morgan [ADLUN], Str: James McRae [MBRC], Cch: Adrian David
2nd Sydney University/Crc/Lindisfarne - Bow: Craig Jones [CANB], 2: Anthony Males [LINDF], 3: Dan Ellice-Flint [UQBC], Str: Daniel Noonan [SUBC], Cch: Brian Richardson
3rd Mosman/Sydney/Sydney University - Bow: Patrick Stormon [SRC], 2: Nicholas Hudson [SUBC], 3: Nick Baxter [UTS], Str: Peter Hardcastle [MOSM], Cch: Tim McLaren, Nick Garratt, John Bowes
4th Mercantile Rc/Latrobe Uni (VIS) - Bow: Henry Edgar [MERC], 2: Stuart Davies [LURC], 3: Alister Taylor [MERC], Str: David Crawshay [MERC]
Open Men's Coxless Pair
Final B
07:58.50
08:01.73
08:03.81
08:04.31
08:23.92
08:28.53
Final A
07:39.91
07:43.63
07:44.22
07:52.99
07:56.44
07:57.19
Final B
1st Swans/Sydney University (WAIS) - Bow: Francis Hegerty [SUBC], Str: Stefan Szczurowski [SRRC], Cch: Glenn Bates, Tim McLaren
2nd Swan River Rowing Club (WAIS) - Bow: James Gatti, Str: Steven Fletcher, Cch: Antonio Maurogiovanni
3rd Sydney University/Uni Of Qld (Qas) - Bow: David Galley [UQBC], Str: Ian Allsop [SUBC], Cch: Marty Rabjohns, Sam Conrad, Phillip Bourguignon
4th UTS/Sydney University - Bow: Fergus Pragnell [SUBC], Str: David Mathews [UTS], Cch: Tim McLaren, Marty Rabjohns
5th Adelaide University Bc - Bow: Alister Walsh, Str: Alexander Worthington, Cch: Roger Moore
6th UTS Rowing Club Inc - Bow: Cameron Winklevoss, Str: Tyler Winklevoss, Cch: Tim McLaren
Final A
1st Melbourne University Boat Club - Bow: Lachlan McPherson, Str: Cameron McKenzie-McHarg, Cch: Chris O'Brien
2nd Surfers/Mercantile Rc (VIS/QAS) - Bow: Drew Ginn [MERC], Str: Duncan Free [GUSP], Cch: Chris O'Brien
3rd Melbourne University Boat Club - Bow: Christian Ryan, Str: Karsten Forsterling, Cch: Chris O'Brien
4th Sydney University/UTS - Bow: James Chapman [UTS], Str: Matthew Ryan [SUBC], Cch: Tim McLaren, Glenn Bates
5th University Of Queensland Boat Club - Bow: Hardy Cubasch, Str: Sam Conrad, Cch: Tim Conrad
6th Mosman Rowing Club - Bow: Jaxon Rudduck, Str: Thomas Laurich, Cch: Nick Garratt
Open Men's Coxless Four
Final A
05:56.01
05:57.82
06:00.41
06:01.84
06:03.69
06:04.11
Final A
1st Mercantile Rc/Uni Of Qld/Surfers - Bow: Hardy Cubasch [UQBC], 2: Sam Conrad [UQBC], 3: Duncan Free [GUSP], Str: Drew Ginn [MERC], Cch: Tim Conrad
2nd Melbourne University Boat Club - Bow: Christian Ryan, 2: Cameron McKenzie-McHarg, 3: James Marburg, Str: Karsten Forsterling, Cch: Ian Wright, Chris O'Brien
3rd UTS/Sydney University (WAIS) - Bow: James Chapman [UTS], 2: Matthew Ryan [SUBC], 3: Francis Hegerty [SUBC], Str: Stefan Szczurowski [UTS], Cch: Tim McLaren, Glenn Bates
4th Swan River Rowing Club (WAIS) - Bow: Peder Olsen, 2: Brenton Jenke, 3: James Gatti, Str: Steven Fletcher, Cch: Antonio Maurogiovanni
5th Swan River Rowing Club (WAIS) - Bow: Perry Ward, 2: Ross Brown, 3: Ben Cureton, Str: Todd Skipworth, Cch: Antonio Maurogiovanni
6th Mosman Rowing Club - Bow: Kieran Kobelke, 2: Peter Hardcastle, 3: Jaxon Rudduck, Str: Thomas Laurich, Cch: Nick Garratt
Open Men's Coxed Four
Final A
06:22.50
06:25.80
06:34.40
06:42.79
Final A
1st Sydney University/UTS/Uni Of Qld - Bow: Cameron Winklevoss [UTS], 2: Tyler Winklevoss [UTS], 3: David Galley [UQBC], Str: Ian Allsop [SUBC], Cox: , Cch: Tim McLaren, Phillip Bourguignon, Marty Rabjohns
2nd Adelaide University Bc - Bow: Michael Shannon, 2: Alister Walsh, 3: Alexander Worthington, Str: Will Jeffries, Cox: , Cch: Roger Moore
3rd Richmond Rowing Club - Bow: Dennis Beck, 2: Martin Foster, 3: Dmitri Colebatch, Str: Jarred Rouhan, Cox: , Cch: Ian Taylor
4th Adelaide Rowing Club - Bow: Tom Hodkinson, 2: Tom Shelton, 3: Alexander Silz, Str: Danny Barrera, Cox: , Cch: Phil Mangelsdorf, Zoltan Shepherd
Open Lightweight Men's Single Scull
Final C
09:33.12
09:37.41
09:53.49
09:54.52
10:08.47
10:54.77
Final B
09:21.08
09:27.00
09:31.13
09:43.65
09:56.25
09:57.13
Final A
08:57.83
09:03.04
09:04.53
09:07.67
09:15.10
09:15.44
Final C
1st Sydney Rowing Club - Jeremy Anderson, Cch: John Bowes
2nd Australian National University - Daniel Coombes, Cch: Andrew MacKenzie
3rd Swan River Rowing Club - Christopher Hesford, Cch: George Xouris, Neville Kempton
4th Melbourne University Boat Club - Pete Kupcis, Cch: Ian Wright
5th Leichhardt Rowing Club - Joe Rogers, Cch: Frank Thorn
6th Leichhardt Rowing Club - Will Schouten, Cch: Frank Thorn
Final B
1st Melbourne University Boat Club - Mark Patterson, Cch: Ian Wright
2nd Leichhardt Rowing Club - Ben Johnson, Cch: Frank Thorn
3rd Melbourne University Boat Club - Tim Smith, Cch: Brian Richardson
4th Melbourne University Boat Club - Howard Sharp, Cch: Ian Wright
5th Mosman Rowing Club - Gregory McLaughlin, Cch: Nick Garratt, Mark Beer
6th Sydney University Boat Club - Oliver Mahony, Cch: Phillip Bourguignon, Marty Rabjohns
Final A
1st Huon Rowing Club (TIS) - Tom Gibson, Cch: John Driessen
2nd Lindisfarne Rowing Club (TIS) - Samuel Beltz, Cch: John Driessen
3rd University Of Queensland Boat Club - Michael McBryde, Cch: Brian Richardson
4th North Esk Rowing Club (TIS) - Deon Birtwistle, Cch: Paul Bird
5th Glenorchy Rowing Club (TIS) - Shaun Finlayson, Cch: Darren Balmforth
6th St George Rowing Club - Roderick Chisholm, Cch: Ron Batt
Open Lightweight Men's Double Scull
Final A
06:43.56
06:57.79
07:00.78
07:01.56
07:20.58
Final A
1st Huon/North Esk (TIS) - Bow: Deon Birtwistle [NESK], Str: Tom Gibson [HUON], Cch: John Driessen
2nd Melbourne Uni/Glenorchy (Tis/VIS) - Bow: Shaun Finlayson [GLNHY], Str: Howard Sharp [MUBC], Cch: Ian Wright, Darren Balmforth
3rd Leichhardt Rowing Club - Bow: Ben Johnson, Str: Joe Rogers, Cch: Frank Thorn
4th Crc/Power House Rc - Bow: Nick Inglis, Str: Craig Graham
5th Swans/Bunbury - Bow: Alexander Sokolov [BRC], Str: Christopher Hesford [SRRC], Cch: Neville Kempton
Open Lightweight Men's Quadruple Scull
Final A
06:10.47
06:12.06
06:12.08
06:19.43
06:23.95
Final A
1st Newcastle/Leichhardt/Sydney - Bow: Joe Rogers [LEICH], 2: Ben Johnson [LEICH], 3: Simon Nola [SRC], Str: Hugh McLeod [NEWC], Cch: John Bowes, Frank Thorn
2nd Drummoyne/Sydney University/Mosman - Bow: Oliver Mahony [SUBC], 2: Gregory McLaughlin [MOSM], 3: Scott Coleman [DRC], Str: Matthew Rice [DRC]
3rd Tamar/Lindisfarne (TIS) - Bow: Matthew Roach [LINDF], 2: Nick Baker [LINDF], 3: Blair Tunevitsch [TAMAR], Str: William Breier [TAMAR], Cch: James Russell
4th Australian National University - Bow: Daniel Coombes, 2: Cameron O'Neil, 3: Christopher Ritchie, Str: Mack Wilcox, Cch: Andrew MacKenzie
5th Sydney University/Nepean - Bow: Tymon Hughes [NEPN], 2: Jonathan Cole [NEPN], 3: Jeremy Anderson [SRC], Str: James Anderson [SUBC], Cch: Lindsay Callaghan
Open Lightweight Men's Coxless Pair
Final B
08:18.04
08:54.27
Final A
07:50.43
07:54.84
07:59.37
08:15.73
08:33.46
Final B
1st Drummoyne Rowing Club - Bow: Matthew Rice, Str: Scott Coleman,
2nd Australian National University - Bow: Cameron O'Neil, Str: Ben Stiel, Cch: Andrew MacKenzie
Final A
1st Swan River Rowing Club (WAIS) - Bow: Ben Cureton, Str: Todd Skipworth, Cch: Antonio Maurogiovanni
2nd Melbourne University Boat Club - Bow: Sam Waley, Str: Tim O'Callaghan, Cch: Chris O'Brien
3rd Swan River Rowing Club (WAIS) - Bow: Ross Brown, Str: Perry Ward, Cch: Antonio Maurogiovanni
4th Australian National University - Bow: Christopher Ritchie, Str: Mack Wilcox, Cch: Andrew MacKenzie
5th Sydney University Boat Club - Bow: Oliver Zuk, Str: James Wilmott, Cch: Marty Rabjohns, Phillip Bourguignon
Open Lightweight Men's Coxless Four
Final A
06:14.39
06:18.59
06:27.64
06:37.92
Final A
1st Melbourne University Boat Club - Bow: Tim Smith, 2: Sam Waley, 3: Tim O'Callaghan, Str: Josh Fahy, Cch: Ian Wright
2nd Swan River Rowing Club (WAIS) - Bow: Perry Ward, 2: Ross Brown, 3: Ben Cureton, Str: Todd Skipworth, Cch: Antonio Maurogiovanni
3rd Drummoyne/St George/Sydney - Bow: Thomas Warren [STGEO], 2: Jeremy Anderson [SRC], 3: Scott Coleman [DRC], Str: Matthew Rice [DRC], Cch: Ron Batt
4th Australian National University - Bow: Daniel Coombes, 2: Cameron O'Neil, 3: Christopher Ritchie, Str: Mack Wilcox, Cch: Andrew MacKenzie
Open Lightweight Men's Coxed Eight
Final A
05:49.78
05:52.04
05:56.94
05:59.22
Final A
1st Huon/Ulverstone/Friends/Lindisfarne - Bow: Shane Broad [URC], 2: Mark Rippon [TFNDS], 3: Samuel Beltz [LINDF], 4: James Baker [HUON], 5: Shaun Finlayson [GLNHY], 6: Sam Waley [LINDF], 7: Deon Birtwistle [NESK], Str: Tom Gibson [HUON], Cox: Graeme Wertheimer [HUTCH], Cch: John Driessen
2nd Melbourne Uni/Mercantile Rc/Nestles - Bow: Tom Nickson [MERC], 2: Pete Kupcis [MUBC], 3: Eduardo Inostroza [MERC], 4: Mark Patterson [MUBC], 5: Howard Sharp [MUBC], 6: Tommy Bertrand [NESTL], 7: Tim Smith [MUBC], Str: Josh Fahy [MUBC], Cox: Tim Deveson [MUBC], Cch: Tom Courtney, Ian Wright
3rd Sydney University Boat Club - Bow: Asher Hammond, 2: Joe Power, 3: William Townsend, 4: Oliver Mahony, 5: James Wilmott, 6: Oliver Zuk, 7: Tim O'Callaghan, Str: Edward Alexander, Cox: Toby Lister, Cch: Phillip Bourguignon, Marty Rabjohns
4th Toowong/Commercial/Tweed (QAS) - Bow: Jack Price [TOOW], 2: Paul Burns [TOOW], 3: Bob Hoyes [COMM], 4: Matthew Bolster [TWEED], 5: Tom Gethin-Jones [TOOW], 6: Darryn Purcell [TOOW], 7: Tim Gunthorpe [TOOW], Str: Thomas Croagh [TOOW], Cox: Michael Toon [TOOW], Cch: Robert McNeill
Under 23 Men's Single Scull
Final E
08:37.52
08:44.82
08:46.38
08:52.06
08:54.26
08:58.84
09:05.22
Final D
08:31.36
08:34.37
08:35.53
08:37.20
08:42.39
08:47.71
08:55.12
Final C
08:19.03
08:21.59
08:24.32
08:26.01
08:30.51
08:33.31
08:38.61
Final B
08:07.39
08:08.60
08:13.07
08:14.52
08:15.21
08:20.61
08:21.04
Final A
07:49.23
07:53.15
07:54.49
07:56.27
08:01.50
08:08.20
Final E
1st Huon Rowing Club - Fraser Gehrich, Cch: Darryl Smith
2nd Balmain Rowing Club - Liam James, Cch: Keith Swanson
3rd Swan River Rowing Club - Peter Platell, Cch: George Xouris, Neville Kempton
4th Sydney University Boat Club - Patrick Wilson, Cch: Marty Rabjohns, Phillip Bourguignon
5th Commercial Rowing Club - Ben Fortune, Cch: Bill Caldwell
6th Melbourne Rowing Club - Christopher Jones, Cch: Mark Baxter, John Chestney
7th Mercantile Rowing Club - Courtney Date, Cch: Tom Courtney, Simon Harrison
Final D
1st Huon Rowing Club (AIS) - Nicholas Harris, Cch: Reinhold Batschi
2nd Sydney University Boat Club - Miles Foran, Cch: Marty Rabjohns, Phillip Bourguignon
3rd Canberra Rowing Club (ACTAS) - Ben Davis, Cch: Andrew MacKenzie
4th University Of Queensland Boat Club - Charlie Ohtomo, Cch: Joe Rodrigues
5th Commercial Rowing Club - Rowan Steinkamp, Cch: Bill Caldwell
6th Mercantile Rowing Club - Andrew Pascoe, Cch: Simon Harrison, Tom Courtney
7th Tamar Rowing Club - Alister Foot, Cch: James Russell
Final C
1st Sydney Rowing Club (AIS) - David Neuhaus, Cch: Reinhold Batschi
2nd Adelaide University Bc (SASI) - Ned Kinnear, Cch: Zoltan Shepherd
3rd Mosman Rowing Club - Kieran Kobelke, Cch: Mark Beer, Nick Garratt
4th Commercial Rowing Club (QAS) - Gareth Salkield, Cch: Benjamin Shaw
5th Bunbury Rowing Club - Jayden Edwards, Cch: John Seroka, Jamie Jones
6th Nepean Rowing Club - Chadd Pamer, Cch: Lindsay Callaghan
7th Mercantile Rowing Club - Simon Booth, Cch: Tom Courtney
Final B
1st Mercantile Rowing Club - Nicholas Mitchell, Cch: Tom Courtney
2nd Somerset Boat Club - Jackson Price, Cch: Peter Miller
3rd Adelaide University Bc (SASI) - Matthew Bolt, Cch: Zoltan Shepherd
4th Commercial Rowing Club - David Dancer, Cch: Joe Rodrigues
5th Bunbury Rowing Club - Josh Williams, Cch: John Seroka, Jamie Jones
6th Sydney Rowing Club - Thomas Ing, Cch: John Bowes
7th Wendouree - Ballarat Rowing Club - Blair Brown, Cch: Reinhold Batschi
Final A
1st Murray Bridge Rowing Club (SASI) - James McRae, Cch: Adrian David
2nd Lindisfarne Rowing Club (Tis/AIS) - Anthony Males, Cch: Brian Richardson
3rd University Of Queensland Boat Club - Sam Renton, Cch: Joe Rodrigues
4th Sydney University Boat Club - William Chambers, Cch: Marty Rabjohns, Phillip Bourguignon
5th St George Rowing Club - Danjels Reedman, Cch: Ron Batt
6th Sydney University Boat Club - Mitchell Estens, Cch: Reinhold Batschi
Under 23 Men's Double Scull
Final A
06:40.06
06:42.32
06:44.68
06:45.34
06:51.91
06:52.58
Final A
1st Sydney University/St George - Bow: Danjels Reedman [STGEO], Str: William Chambers [SUBC], Cch: Phillip Bourguignon, Marty Rabjohns, Ron Batt
2nd Adelaide University Bc (SASI) - Bow: Ned Kinnear, Str: Matthew Bolt, Cch: Zoltan Shepherd
3rd Bunbury Rowing Club - Bow: Jayden Edwards, Str: Josh Williams, Cch: Jamie Jones, John Seroka
4th University Of Queensland Boat Club - Bow: Sam Renton, Str: Jared Bidwell, Cch: Joe Rodrigues
5th Huon/Sydney University (AIS) - Bow: Mitchell Estens [SUBC], Str: Nicholas Harris [HUON], Cch: Reinhold Batschi
6th Mercantile Rowing Club - Bow: Simon Booth, Str: Nicholas Mitchell, Cch: Tom Courtney
Under 23 Men's Quadruple Scull
Final A
06:03.59
06:08.93
06:10.72
06:11.31
06:20.47
Final A
1st Sydney University/St George - Bow: Thomas Ing [SRC], 2: Miles Foran [SUBC], 3: Danjels Reedman [STGEO], Str: William Chambers [SUBC], Cch: Ron Batt, Marty Rabjohns, John Bowes
2nd Commercial Rowing Club - Bow: Brenton Canning, 2: Rowan Steinkamp, 3: Ben Fortune, Str: Samuel Fortune, Cch: Bill Caldwell
3rd Sydney University/Huon/Wendouree - Bow: Nicholas Harris [HUON], 2: Blair Brown [WENDB], 3: David Neuhaus [SRC], Str: Mitchell Estens [SUBC], Cch: Reinhold Batschi
4th Mercantile Rowing Club - Bow: Andrew Pascoe, 2: Christopher Riddell, 3: Simon Booth, Str: Nicholas Mitchell, Cch: Tom Courtney
5th Sydney/St George/Mosman - Bow: Thomas Warren [STGEO], 2: Timothy Buckland-Kerr [MOSM], 3: Alistair Matthews [MOSM], Str: Luke Woods [SRC], Cch: Nick Garratt, Ron Batt, John Bowes
Scratched Uni Of Qld/Surfers/Commercial - Bow: Kane Ramon [GUSP], 2: David Dancer [COMM], 3: Benjamin Cook [UQBC], Str: Charlie Ohtomo [UQBC], Cch: Joe Rodrigues
Under 23 Men's Coxless Pair
Final C
08:32.01
08:48.20
08:50.76
09:03.61
Final B
08:23.82
08:26.28
08:27.24
08:33.44
08:34.18
08:47.17
Final A
07:59.61
08:05.42
08:11.79
08:17.04
08:20.62
08:23.22
Final C
1st Sydney Rowing Club - Bow: Alexander Dowd, Str: Ry Kehlet, Cch: John Bowes
2nd Mosman Rowing Club - Bow: Lachlan Allen, Str: Alistair Matthews, Cch: Mark Beer, Nick Garratt
3rd Melbourne University Boat Club - Bow: Chip Delaney, Str: James Adams, Cch: Ian Wright
4th Mercantile Rowing Club - Bow: Samuel Ashton, Str: Thomas Abramowski, Cch: Simon Harrison, Tom Courtney
Final B
1st Torrens/Adelaide (SASI) - Bow: Mitchell Oliver [ADEL], Str: Jarrad Schar [TORR], Cch: Zoltan Shepherd
2nd Toowong Rowing Club - Bow: Mike Smith, Str: Steve Cook, Cch: Greg Brown
3rd University Of Queensland Boat Club - Bow: Graham Kolb, Str: Ben Farrell, Cch: Joe Rodrigues
4th North Esk Rowing Club - Bow: Luke Van Tienen, Str: Damien Godfrey, Cch: Darrrell Fowler, Glen Myler, Grant Pryor
5th Adelaide Uni (SASI) - Bow: Bryn Coudraye [ADEL], Str: Nick Andrew [ADLUN], Cch: Zoltan Shepherd
6th Adelaide Rowing Club - Bow: Tom Hodkinson, Str: Tom Shelton, Cch: Zoltan Shepherd, Phil Mangelsdorf
Final A
1st Sydney University Boat Club - Bow: Edward Boyce, Str: Terrence Alfred, Cch: Marty Rabjohns, Phillip Bourguignon
2nd Sydney University Boat Club - Bow: Richard Allsop, Str: Andrew Heffer, Cch: Phillip Bourguignon, Marty Rabjohns
3rd University Of Queensland Boat Club - Bow: Harrison Law, Str: Kevin Pattison, Cch: Joe Rodrigues
4th UUABC/Swans (WAIS) - Bow: Peder Olsen [SRRC], Str: Robert Alderman [UWABC], Cch: Jason Lane
5th Melbourne University Boat Club - Bow: Tom Larkins, Str: Tom Paton, Cch: Ian Wright
6th Wendouree-Ballarat Rc/Mercantile - Bow: Alexander Machin [MERC], Str: Tom Swann [WENDB], Cch: Tom Courtney
Under 23 Men's Coxless Four
Final A
06:18.78
06:19.98
06:22.43
06:26.37
06:27.65
06:37.21
Final A
1st Bunbury/UWABC/Swans (WAIS) - Bow: Robert Alderman [UWABC], 2: Peder Olsen [SRRC], 3: Jayden Edwards [BRC], Str: Josh Williams [BRC], Cch: Jamie Jones, Jason Lane, John Seroka
2nd Sydney University Boat Club - Bow: Richard Allsop, 2: Terrence Alfred, 3: Edward Boyce, Str: Andrew Heffer, Cch: Marty Rabjohns, Phillip Bourguignon
3rd Adelaide Uni/Torrens (SASI) - Bow: Jarrad Schar [TORR], 2: Mitchell Oliver [ADEL], 3: Bryn Coudraye [ADEL], Str: Nick Andrew [ADLUN], Cch: Zoltan Shepherd
4th Sydney University/Mercantile Rc - Bow: Patrick Wilson [SUBC], 2: Christopher Clyne [SUBC], 3: Christopher Riddell [MERC], Str: Ian Allsop [SUBC], Cch: Phillip Bourguignon, Tom Courtney, Marty Rabjohns
5th University Of Queensland Boat Club - Bow: Harrison Law, 2: Graham Kolb, 3: Ben Farrell, Str: Kevin Pattison, Cch: Joe Rodrigues
6th Scots/Nepean/Mosman - Bow: Chadd Pamer [NEPN], 2: Dean Robinson [NEPN], 3: Lachlan Allen [MOSM], Str: Alistair Matthews [SCOTS], Cch: Lindsay Callaghan, Nick Garratt
Under 23 Men's Coxed Four
Final A
06:25.78
06:29.91
06:32.24
06:33.46
06:42.05
06:47.34
Final A
1st Sydney University Boat Club - Bow: Richard Allsop, 2: Terrence Alfred, 3: Edward Boyce, Str: Andrew Heffer, Cox: Toby Lister, Cch: Marty Rabjohns, Phillip Bourguignon
2nd Melbourne University Boat Club - Bow: Chip Delaney, 2: James Adams, 3: Tom Larkins, Str: Tom Paton, Cox: Tim Deveson, Cch: Ian Wright
3rd Wendouree-Ballarat Rc/Adelaide - Bow: Tom Shelton [ADEL], 2: Tom Hodkinson [ADEL], 3: Alexander Machin [MERC], Str: Tom Swann [WENDB], Cox: Nick Giulianetti [ADEL], Cch: Zoltan Shepherd
4th Sydney Rowing Club - Bow: Ry Kehlet, 2: Alexander Dowd, 3: Benjamin Tyrrell, Str: Dominic Grimm, Cox: David McMonnies, Cch: John Bowes
5th North Esk Rowing Club - Bow: Andrew Godfrey, 2: Max Sondermeyer, 3: Mark Barrett, Str: Nicholas Cassidy, Cox: Alex Taylor, Cch: Darrrell Fowler, Paul Bird
6th Mercantile Rc/Melbourne Rc - Bow: Christopher Jones [MELB], 2: Courtney Date [MERC], 3: Thomas Abramowski [MERC], Str: Samuel Ashton [MERC], Cox: David McGrath [MERC], Cch: Simon Harrison, Tom Courtney
Under 23 Men's Eight
Final A
05:39.17
05:39.98
05:42.36
05:47.22
05:53.90
05:56.73
Final A
1st Swans/Bunbury (WAIS) - Bow: Peter Platell [SRRC], 2: Jayden Edwards [BRC], 3: Josh Williams [BRC], 4: David Kelly [SRRC], 5: Peder Olsen [SRRC], 6: Brenton Jenke [SRRC], 7: James Gatti [SRRC], Str: Steven Fletcher [SRRC], Cox: Hugh Rawlinson [SRRC], Cch: Jamie Jones, Jason Lane, Antonio Maurogiovanni
2nd Adelaide Uni/Torrens (SASI) - Bow: Ned Kinnear [ADLUN], 2: Jarrad Schar [TORR], 3: Mitchell Oliver [ADEL], 4: Will Jeffries [ADLUN], 5: Michael Shannon [ADLUN], 6: Matthew Bolt [ADLUN], 7: Bryn Coudraye [ADEL], Str: Nick Andrew [ADLUN], Cox: Nick Giulianetti [ADEL], Cch: Adrian Oest, Zoltan Shepherd, Roger Moore
3rd Sydney University Boat Club - Bow: Richard Allsop, 2: Terrence Alfred, 3: Patrick Wilson, 4: William Chambers, 5: Edward Boyce, 6: Christopher Clyne, 7: Mitchell Estens, Str: Ian Allsop, Cox: Toby Lister, Cch: Phillip Bourguignon, Marty Rabjohns
4th University Of Queensland Boat Club - Bow: Henry Bryan, 2: Charlie Ohtomo, 3: Sam Renton, 4: Harrison Law, 5: Graham Kolb, 6: Ben Farrell, 7: Kevin Pattison, Str: Jared Bidwell, Cox: Jirik Haselgrove, Cch: Joe Rodrigues
5th Mercantile Rc/Wendouree-Ballarat - Bow: Alexander Machin [MERC], 2: Thomas Abramowski [MERC], 3: Simon Booth [MERC], 4: Courtney Date [MERC], 5: Tom Swann [WENDB], 6: Andrew Pascoe [MERC], 7: Nicholas Mitchell [MERC], Str: Christopher Riddell [MERC], Cox: David McGrath [MERC], Cch: Simon Harrison, Tom Courtney
6th Sydney/St Josephs/Mosman (AIS) - Bow: Luke Woods [SRC], 2: Alexander Dowd [SRC], 3: David Neuhaus [STJOE], 4: Kieran Kobelke [MOSM], 5: Benjamin Tyrrell [STJOE], 6: Dominic Grimm [SRC], 7: Ry Kehlet [SRC], Str: Thomas Ing [SRC], Cox: David McMonnies [SRC], Cch: John Bowes
Under 23 Lightweight Men's Single Scull
Final F
10:01.17
10:06.49
Final E
09:37.83
09:40.99
09:42.28
09:49.97
09:50.18
10:08.12
Final D
09:03.44
09:06.24
09:08.52
09:15.44
09:38.76
09:42.95
Final C
09:15.27
09:22.27
09:29.91
09:35.38
09:53.91
Final B
09:11.13
09:13.31
09:15.12
09:34.79
Final A
09:11.30
09:11.48
09:22.89
09:23.04
09:24.12
09:25.89
Final F
1st Sale Rowing Club - Jack Lawlor-Anderson, Cch: Frank Stone, Sophie Bradshaw, Paul Kelly
2nd Sydney University Boat Club - James Anderson, Cch: Marty Rabjohns, Phillip Bourguignon
Final E
1st Toowong Rowing Club - Paul Burns, Cch: Robert McNeill
2nd Surfers Paradise Rowing Club - Kane Ramon, Cch: Duncan Free
3rd Canberra Rowing Club - Tom Watkins, Cch: Paul Cowan, Ian Mongan
4th Toowong Rowing Club - Jack Price, Cch: Robert McNeill
5th Commercial Rowing Club - Jack Greenland, Cch: Benjamin Shaw
6th Curtin University Boat Club - Michael Jones
Final D
1st Commercial Rowing Club - Tim McDonnell, Cch: Benjamin Shaw
2nd Lindisfarne Rowing Club - Mark Rippon, Cch: Mark Roach, Darren Balmforth
3rd Commercial Rowing Club - Samuel Fortune, Cch: Bill Caldwell
4th Toowong Rowing Club - Tom Gethin-Jones, Cch: Robert McNeill
5th St George Rowing Club - Thomas Warren, Cch: Ron Batt
6th Balmain Rowing Club - Gregory Brogan, Cch: Malcolm Campbell
Final C
1st Mercantile Rowing Club - Thomas Betrand, Cch: Peter Somerville
2nd Huon Rowing Club - James Baker, Cch: Paul Newbon
3rd Lindisfarne Rowing Club - Matthew Roach, Cch: Darren Balmforth, Mark Roach
4th Adelaide Rowing Club (SASI) - Andrew Jackson, Cch: Zoltan Shepherd
5th Mercantile Rowing Club - Tom Nickson, Cch: Peter Somerville
Scratched Commercial Rowing Club - Paul Barber, Cch: Benjamin Shaw
Final B
1st Tamar Rowing Club - William Breier, Cch: James Russell
2nd Mercantile Rowing Club - Eduardo Inostroza, Cch: Peter Somerville
3rd North Esk Rowing Club - Max Sondermeyer, Cch: Paul Bird
4th Commercial Rowing Club - Bob Hoyes, Cch: Bill Caldwell
Scratched University Of Queensland Boat Cl - Henry Bryan, Cch: Joe Rodrigues
Scratched Ecu Perth Rowing Club (WAIS) - Perrin Franks, Cch: Jason Lane
Final A
1st Tamar Rowing Club (TIS) - Blair Tunevitsch, Cch: James Russell
2nd Tweed Heads Rowing Club - Matthew Bolster, Cch: Lincoln Handley
3rd Toowong Rowing Club (QAS) - Darryn Purcell, Cch: Robert McNeill
4th Sydney Rowing Club - Simon Nola, Cch: John Bowes
5th Newcastle Rowing Club - Hugh McLeod, Cch: Daniel Bishop
6th Lindisfarne Rowing Club - Nick Baker, Cch: Darren Balmforth, Mark Roach
Under 23 Lightweight Men's Double Scull
Final A
06:40.92
06:44.88
06:45.08
06:49.48
06:52.48
06:53.35
Final A
1st Commercial/Tweed - Bow: Matthew Bolster [TWEED], Str: Bob Hoyes [COMM], Cch: Bill Caldwell, Lincoln Handley
2nd Yarra Yarra/Ecu Perth (WAIS) - Bow: Perrin Franks [PRC], Str: Eduardo Inostroza [YARRA], Cch: Peter Somerville, Jason Lane
3rd Newcastle/Sydney - Bow: Simon Nola [SRC], Str: Hugh McLeod [NEWC], Cch: John Bowes, Daniel Bishop
4th Mercantile Rowing Club - Bow: Tom Nickson, Str: Thomas Betrand, Cch: Peter Somerville
5th Commercial Rowing Club - Bow: Paul Barber, Str: Tim McDonnell, Cch: Benjamin Shaw
6th North Esk Rowing Club - Bow: Karl Fenger, Str: Max Sondermeyer, Cch: Paul Bird, Alex Fowler
Under 23 Lightweight Men's Coxless Pair
Final B
08:44.78
09:47.51
Final A
08:34.89
08:41.08
08:42.64
08:43.41
08:46.96
Final B
1st Adelaide Rowing Club (SASI) - Bow: James Browne, Str: James Martin, Cch: Zoltan Shepherd, Phil Mangelsdorf
2nd Sandy Bay Rowing Club - Bow: Alistair Deane, Str: Daniel Causon, Cch: Daryl Balding, Lindsay Ims
Final A
1st Torrens/Adelaide Uni (SASI) - Bow: Andrew Swift [ADLUN], Str: Beau Gora [TORR], Cch: Zoltan Shepherd
2nd Sydney University Boat Club - Bow: Asher Hammond, Str: Joe Power, Cch: Phillip Bourguignon, Marty Rabjohns
3rd Toowong Rowing Club - Bow: Tim Gunthorpe, Str: Thomas Croagh, Cch: Robert McNeill
4th Sydney University Boat Club - Bow: William Townsend, Str: Edward Alexander, Cch: Phillip Bourguignon, Marty Rabjohns
5th Nepean Rowing Club - Bow: Tymon Hughes, Str: Jonathan Cole, Cch: Lindsay Callaghan
Under 23 Lightweight Men's Coxless Four
Final A
06:28.90
06:33.06
06:37.53
06:42.09
06:43.90
06:55.38
Final A
1st Toowong Rowing Club (QAS) - Bow: Tom Gethin-Jones, 2: Thomas Croagh, 3: Tim Gunthorpe, Str: Darryn Purcell, Cch: Robert McNeill
2nd Tamar/Lindisfarne (TIS) - Bow: Blair Tunevitsch [TAMAR], 2: Matthew Roach [LINDF], 3: Nick Baker [LINDF], Str: William Breier [TAMAR], Cch: James Russell
3rd Sydney University Boat Club - Bow: Asher Hammond, 2: Joe Power, 3: William Townsend, Str: Edward Alexander, Cch: Marty Rabjohns, Phillip Bourguignon
4th Torrens/Adelaide/Adelaide Uni - Bow: James Browne [ADEL], 2: James Martin [ADEL], 3: Andrew Swift [ADLUN], Str: Beau Gora [TORR], Cch: Zoltan Shepherd
5th Sydney University/Nepean - Bow: Tymon Hughes [NEPN], 2: Jonathan Cole [NEPN], 3: Simon Nola [SRC], Str: James Anderson [SUBC], Cch: Lindsay Callaghan
6th New Norfolk/Lindisfarne - Bow: Thomas Lamberton [NWNFK], 2: Ashley Woodcock [NWNFK], 3: Mark Rippon [LINDF], Str: Daniel Spence [NWNFK], Cch: Kelly Graham
Under 19 Men's Single Scull
Final A
07:22.92
07:25.47
07:29.50
07:31.62
07:36.54
07:37.55
Final A
1st The Kings School - Cameron Girdlestone, Cch: Marty Rabjohns, Phillip Bourguignon
2nd Sydney Rowing Club - Kurt Spencer, Cch: Phillip Cayzer
3rd Bunbury Rowing Club - Adam Seroka, Cch: John Seroka, Jamie Jones
4th UQBC - Hugo Struss, Cch: Joe Rodrigues
5th Mosman Rowing Club - Luke Freeman, Cch: Mark Beer, Nick Garratt
6th Surfers Paradise - Daniel Blank, Cch: Robert Thomason
Under 19 Men's Double Scull
Final A
06:47.34
06:49.59
06:50.47
06:53.29
06:54.36
07:01.19
Final A
1st Uni Of Qld/Toowong - Bow: John Dickson [TOOW], Str: Hugo Struss [UQBC], Cch: Joe Rodrigues
2nd Canberra Rowing Club - Bow: Zac Cleaver, Str: Reece Graham, Cch: Andrew MacKenzie, Ian Mongan
3rd Bunbury Rowing Club - Bow: Adam Seroka, Str: Rhys Gelmi, Cch: John Seroka, Jamie Jones
4th Adelaide/Pulteney (SASI) - Bow: Sterling Barker [PG], Str: Turon White [ADEL], Cch: Zoltan Shepherd
5th Mosman Rowing Club - Bow: Luke Freeman, Str: Adam de Koning, Cch: Mark Beer, Nick Garratt
6th Huon Rowing Club - Bow: Byron Gehrich, Str: Mark Smith, Cch: Darryl Smith
Under 19 Men's Quad Scull
Final A
06:18.38
06:20.80
06:23.87
06:26.54
06:27.64
06:30.73
Final A
1st Pulteney/Adelaide/Commercial - Bow: Turon White [ADEL], 2: Brenton Canning [COMM], 3: Sam Martin [MBRC], Str: Sterling Barker [PG], Cch: Zoltan Shepherd
2nd Bunbury/Swans - Bow: Shaun Dee [SRRC], 2: Chris Bond [SRRC], 3: Rhys Gelmi [BRC], Str: Adam Seroka [BRC], Cch: Gonzalo Briones, Jamie Jones, Mike Quinn
3rd Mercantile Rc/Corio Bay - Bow: Tim Wright [CORIO], 2: Alexander Scharp [MERC], 3: Jonathon Day [MERC], Str: Joseph Braden [MERC], Cch: Simon Harrison, Tom Courtney
4th North Esk Rowing Club - Bow: Benjamin James, 2: Andrew Hadley, 3: Jarrod Matthews, Str: Alex Fowler, Cch: Glen Myler, Darrrell Fowler
5th Mosman/St George - Bow: Mitchell Tilley [STGEO], 2: Cadeyrn Neville [MOSM], 3: Luke Freeman [MOSM], Str: Adam de Koning [MOSM], Cch: Nick Garratt, Ron Batt
6th Scotch College - Bow: Lachlan McKenzie, 2: Nicholas Cathie, 3: Oliver Baxter, Str: Will Emmett, Cch: Jeff Watt
Under 19 Men's Coxless Pair
Final A
08:03.68
08:07.66
08:09.75
08:22.01
08:27.43
08:57.05
Final A
1st Hutchins Rowing Club - Bow: Adam Wertheimer, Str: Jonothan Hookway, Cch: Russell Hookway
2nd North Esk Rowing Club - Bow: Jarrod Matthews, Str: Alex Fowler, Cch: Glen Myler, Darrrell Fowler
3rd Mersey Rowing Club - Bow: Blaize Holland, Str: David Wright, Cch: Merv Tippett
4th Huon Rowing Club - Bow: Byron Gehrich, Str: Mark Smith, Cch: Darryl Smith
5th Swans/UWABC - Bow: Rowan France [UWABC], Str: Shaun Dee [SRRC], Cch: Mike Quinn, Gonzalo Briones
6th Banks Rowing Club - Bow: Toby Greig, Str: Shane Jackson, Cch: Richard Bartlett
Under 19 Men's Coxless Four
Final A
06:24.81
06:32.21
06:53.61
07:07.47
Final A
1st North Esk Rowing Club - Bow: Jarrod Matthews, 2: Andrew Hadley, 3: Benjamin James, Str: Alex Fowler, Cch: Glen Myler, Darrrell Fowler
2nd Scotch College - Bow: Robert Njoku, 2: Jayson Speck, 3: Will Lockwood, Str: Michael Steele, Cch: Jeff Watt
3rd New Norfolk Rowing Club - Bow: John Galligan, 2: Peter Gibson, 3: Hamish Ostler, Str: David Climie, Cch: Sam Manson
4th St George Rowing Club - Bow: Karl Finnerty, 2: Sean Hocking, 3: Liam Finnerty, Str: Mitchell Tilley, Cch: Ron Batt
Under 19 Men's Coxed Four
Final A
06:28.72
06:28.86
06:43.49
06:48.96
06:53.85
06:55.58
Final A
1st Hutchins Rowing Club - Bow: Michael Egan, 2: Madeleine Batters, 3: Adam Wertheimer, Str: Jonothan Hookway, Cox: Jack Tronson, Cch: Russell Hookway
2nd Bunbury/UWABC/Swans - Bow: Rhys Gelmi [BRC], 2: Rowan France [UWABC], 3: Shaun Dee [SRRC], Str: Adam Seroka [BRC], Cox: Hugh Rawlinson [SRRC], Cch: Gonzalo Briones, Jamie Jones
3rd North Esk Rowing Club - Bow: Jarrod Matthews, 2: Andrew Hadley, 3: Benjamin James, Str: Alex Fowler, Cox: Alex Taylor, Cch: Darrrell Fowler, Glen Myler
4th Sale Rowing Club - Bow: Anthony Drew, 2: Paul Collins, 3: Sam Crawford, Str: Lachlan Baker, Cox: Jane Fay, Cch: Frank Stone
5th Melbourne Grammar School - Bow: Jono Phillips, 2: Alistair Ferguson, 3: Rohan Barraclough, Str: Nick Batten, Cox: Tim Webster, Cch: David Aitken
6th Melbourne Grammar School - Bow: Tom Beattie, 2: Blair Jenkins, 3: Andrew Thomas, Str: Jack Baker, Cox: Mitchell Perkins, Cch: David Aitken
Under 19 Men's Eight
Final A
05:57.80
06:01.43
06:02.53
06:10.00
06:10.64
06:12.91
Final A
1st Scotch College - Bow: Will Emmett, 2: Nicholas Cathie, 3: Oliver Baxter, 4: Jayson Speck, 5: Robert Njoku, 6: Michael Steele, 7: Will Lockwood, Str: Lachlan McKenzie, Cox: Benjamin Bailey, Cch: Jeff Watt
2nd Christ Church Grammar School - Bow: Colin Thomson, 2: Henery Goodier, 3: Michael David, 4: Alex Trumble, 5: Alistaire Graham, 6: Timothy Drok, 7: Hammish Rose, Str: Stephen Martin, Cox: Jackson Carroll, Cch: Simon Cox
3rd Hutchins Rowing Club - Bow: Jason Nichols, 2: Joel Edwards, 3: Stuart Atkins, 4: Ted Stoklosa, 5: Michael Egan, 6: Madeleine Batters, 7: Adam Wertheimer, Str: Jonothan Hookway, Cox: Graeme Wertheimer, Cch: Russell Hookway
4th Melbourne Grammar School - Bow: Alistair Ferguson, 2: Rohan Barraclough, 3: Blair Jenkins, 4: Tom Beattie, 5: Nick Batten, 6: Andrew Thomas, 7: Jack Baker, Str: Jono Phillips, Cox: Mitchell Perkins, Cch: David Aitken
5th Christ Church Grammar School - Bow: Mason Bagios, 2: Angus Willoughby, 3: Aldin Main, 4: George Ogilve, 5: Jack McClory, 6: Andreas Limberopolous, 7: Nathan Froese, Str: John Schurmann, Cox: Sam Moyle, Cch: Simon Cox
6th Scotch College - Bow: Lincoln Phillips, 2: Martin Lipshut, 3: David Purdue, 4: Stuart Alexander, 5: Peter Cooper, 6: John Syme, 7: Edward Monteith, Str: Sandy Buchanan, Cox: Will Dungey
Under 17 Men's Single Scull
Final A
07:53.57
07:55.40
07:57.19
08:03.82
08:03.97
08:17.08
Final A
1st Rockhampton Grammar School - Sasha Belonogoff, Cch: Alan Bromiley
2nd Richmond Rowing Club - Rob Schouten, Cch: Ian Taylor
3rd Somerset Boat Club - Cale Davis, Cch: Peter Miller
4th Mersey Rowing Club - Alexander Williams, Cch: Merv Tippett
5th Nepean Rowing Club - Kyle Thomas, Cch: Brenton Long, Neil Holmes
6th Grafton Rowing Club - Lewis Hemphill, Cch: Colin Lang
Under 17 Men's Double Scull
Final A
06:54.88
06:58.34
06:59.91
07:05.54
07:10.51
07:17.72
Final A
1st Grafton Rowing Club - Bow: Lewis Hemphill, Str: Brenton Ford, Cch: Kenneth Maughan, Ronald Beattie
2nd Mersey Rowing Club - Bow: Alexander Williams, Str: Taylor Wilczynski, Cch: Merv Tippett
3rd Nepean Rowing Club - Bow: Jason Waddell, Str: Kyle Thomas, Cch: Neil Holmes, Brenton Long
4th Rockhampton Grammar School - Bow: Ben Morley, Str: Sasha Belonogoff, Cch: Alan Bromiley
5th Bunbury Rowing Club - Bow: James Clarke, Str: David Prosser, Cch: John Seroka, Jamie Jones
6th Capital Lakes Rowing Club - Bow: Toby Bradshaw, Str: Henry Waldren, Cch: David Butt
Under 17 Men's Coxed Quad Scull
Final A
06:50.40
06:50.82
06:50.98
06:52.33
06:59.73
07:05.17
Final A
1st Scotch College - Bow: James Sparkman, 2: Thomas Simpson, 3: Tom Sutterby, Str: Joshua Booth, Cox: Jack Bull, Cch: Simon Morrison
2nd Scotch Oakburn College - Bow: George Foot, 2: Samuel Laycock, 3: Thomas Woodland, Str: Angus Peltzer, Cox: Alice Tremayne, Cch: Ken Davey
3rd Canberra Grammar School - Bow: Robert Mardus, 2: Sam Lawrence, 3: Anthony Tridgell, Str: Mark Tamsitt, Cox: Robert Winkworth, Cch: Jason Cain
4th Canberra Grammar School - Bow: Patrick Miller, 2: Tom Miller, 3: Peter McColl, Str: Nicholas Barnier, Cox: Hugo Ford, Cch: Jason Cain
5th North Esk/Bunbury/St Patricks - Bow: James Clarke [BRC], 2: David Prosser [BRC], 3: Zac James [NESK], Str: Shaun Lack [NESK], Cox: David Lack [STPAT], Cch: Barry Townsend, Jamie Jones
6th The Cathedral School - Bow: Ben Armstrong, 2: Shannon Willis, 3: Jon Entriken, Str: Kristoffer Vucak, Cox: Phil-Anthony Patane, Cch: Chic Graham
Open Women's Single Scull
Final D
09:41.28
09:54.30
10:13.73
Final C
08:23.76
08:33.74
08:34.69
08:44.86
08:50.47
08:54.22
Final B
08:50.91
08:52.14
08:59.10
09:00.40
09:06.30
Final A
08:34.97
08:40.36
08:45.25
08:52.12
Final D
1st Torrens Rowing Club - Georgina West, Cch: Andrew Butler
2nd Melbourne University Boat Club - Sassi McCarthy, Cch: Tim Dolphin
3rd Torrens Rowing Club - Isabelle Teolis, Cch: Phil Blesing
Final C
1st Tamar Rowing Club - Rebekah Tunevitsch, Cch: Claire Playsted
2nd University Of Queensland Boat Club - Kate Clarkson, Cch: Jo Weaver
3rd Murray Bridge Rowing Club (SASI) - Megan Crawford, Cch: Adrian David
4th Corio Bay Rowing Club - Rebecca Chisholm, Cch: Jeff Watt, Jeff Sykes
5th Corio Bay Rowing Club - Birte Knaus, Cch: Jeff Sykes, Jeff Watt
6th Black Mountain Rowing Club (Actas) - Kate Lord, Cch: Gordon Marcks
Final B
1st UTS Rowing Club Inc - Peta Gresham, Cch: Ellen Randell, David Zammit
2nd St George Rowing Club - Zoe Lynam, Cch: Ron Batt
3rd Swan River Rowing Club (WAIS) - Sally Robbins, Cch: Antonio Maurogiovanni
4th Mosman Rowing Club - Amy Clay, Cch: Nick Garratt, Mark Beer
5th University Of Queensland Boat Club - Suzanne Brown, Cch: Mitch Rosenlund
Scratched Tattersall'S Rowing Club (QAS) - Pippa Savage, Cch: Richard Paterson
Final A
1st Huon Rowing Club (TIS) - Dana Faletic, Cch: Darren Balmforth
2nd Canberra Rowing Club (AIS) - Sonia Mills, Cch: Lyall McCarthy
3rd Sydney University Womens Rowing - Elizabeth Kell, Cch: Alan Bennett
4th Sydney University Womens Rowing - Brooke Pratley, Cch: Lyall McCarthy
Open Women's Double Scull
Final A
07:06.66
07:06.82
07:09.50
07:09.66
07:29.70
Final A
1st Canberra Rowing Club (AIS) - Bow: Sonia Mills, Str: Sarah Cook, Cch: Lyall McCarthy
2nd Sydney University/Melbourne Uni - Bow: Catriona Sens [MUBC], Str: Brooke Pratley [SUBC], Cch: Lyall McCarthy
3rd Ecu Perth/Swans (WAIS/VIS) - Bow: Sarah Tait [SRRC], Str: Amber Webster (Bradley) [PRC], Cch: Antonio Maurogiovanni
4th Uni Of Qld/Mercantile Rc (AIS/Vis) - Bow: Robyn Selby Smith [MERC], Str: Sally Kehoe [UQBC], Cch: Lyall McCarthy
5th Sydney University/St George - Bow: Zoe Lynam [STGEO], Str: Elizabeth Kell [SUBC], Cch: Marty Rabjohns, Ron Batt
Open Women's Quadruple Scull
Final A
06:22.57
06:24.83
06:32.98
06:41.59
06:47.72
06:54.27
Final A
1st Melbourne Uni/Uni Of Qld/Mercantile - Bow: Sally Kehoe [UQBC], 2: Robyn Selby Smith [MERC], 3: Brooke Pratley [SUBC], Str: Catriona Sens [MUBC], Cch: Lyall McCarthy
2nd Sydney University/St George/CRC - Bow: Zoe Lynam [STGEO], 2: Sarah Cook [CANB], 3: Sonia Mills [CANB], Str: Elizabeth Kell [SUBC]
3rd New Norfolk Rowing Club (TIS) - Bow: Anna Browning, 2: Caryn Davies, 3: Claire Shield, Str: Kate Hornsey, Cch: Roger Drummond
4th Uni Of Qld/BMRC (ACTAS/QAS) - Bow: Kate Lord [BMRC], 2: Kate Clarkson [UQBC], 3: Roxy Botha [UQBC], Str: Suzanne Brown [UQBC], Cch: Jo Weaver
5th Melbourne Rc/Corio Bay/Melbourne - Bow: Birte Knaus [CORIO], 2: Rebecca Chisholm [CORIO], 3: Sassi McCarthy [MUBC], Str: Sarah Hawe [MELB]
6th Torrens/Murray Bridge/Adelaide Uni - Bow: Megan Crawford [MBRC], 2: Sally Causby [ADLUN], 3: Brooke Willshire [ADLUN], Str: Sally Newmarch [TORR]
Open Women's Coxless Pair
Final B
09:01.07
09:03.26
09:34.13
09:58.07
Final A
08:20.25
08:21.04
08:23.03
08:26.57
08:29.51
09:00.42
Final B
1st Mercantile Rowing Club - Bow: Emily Wilmoth, Str: Katrina Garvey, Cch: Alastair Isherwood
2nd UTS Rowing Club Inc - Bow: Debbie Stack, Str: Georgia Koutts, Cch: David Zammit, Ellen Randell
3rd St George Rowing Club - Bow: Kim Chapman, Str: Elisha Single, Cch: Ron Batt
4th Sydney Rowing Club - Bow: Jessica Lion, Str: Merinda Breen
Final A
1st Melbourne Uni/Mercantile Rc (VIS) - Bow: Emily Martin [MERC], Str: Sarah Heard [MUBC], Cch: John Cumper
2nd Mercantile Rc/Uni Of Qld (QAS/Ais) - Bow: Sally Kehoe [UQBC], Str: Robyn Selby Smith [MERC], Cch: Lyall McCarthy
3rd Ecu Perth/Swans (WAIS) - Bow: Joanna Lutz [SRRC], Str: Amber Webster (Bradley) [PRC], Cch: Antonio Maurogiovanni
4th Mercantile Rowing Club (VIS) - Bow: Pauline Frasca, Str: Fleur Chew, Cch: John Cumper
5th New Norfolk Rowing Club (TIS) - Bow: Claire Shield, Str: Kate Hornsey, Cch: Roger Drummond
6th Mercantile Rowing Club - Bow: Rachael Skevington, Str: Vander Schilden, Cch: David Ochert
Open Women's Coxless Four
Final A
06:35.00
06:37.55
06:39.06
06:42.87
06:56.20
07:03.85
Final A
1st Melbourne Uni/Mercantile Rc/QUBC - Bow: Robyn Selby Smith [MERC], 2: Sally Kehoe [UQBC], 3: Sarah Cook [CANB], Str: Catriona Sens [MUBC], Cch: Lyall McCarthy
2nd New Norfolk Rowing Club (TIS) - Bow: Anna Browning, 2: Caryn Davies, 3: Claire Shield, Str: Kate Hornsey, Cch: Roger Drummond
3rd Melbourne Uni/Mercantile Rc (VIS) - Bow: Pauline Frasca [MERC], 2: Fleur Chew [MERC], 3: Emily Martin [MERC], Str: Sarah Heard [MUBC], Cch: John Cumper
4th Swans/Ecu Perth (WAIS/VIS) - Bow: Sarah Tait [SRRC], 2: Joanna Lutz [SRRC], 3: Amber Webster (Bradley) [PRC], Str: Natalie Bale [SRRC], Cch: Antonio Maurogiovanni
5th Mercantile Rowing Club - Bow: Rachael Skevington, 2: Emily Wilmoth, 3: Vander Schilden, Str: Katrina Garvey, Cch: Alastair Isherwood, David Ochert
6th Ecu Perth/UWABC/Swans (WAIS) - Bow: Jessica Huston [UWABC], 2: Danielle Jolly [SRRC], 3: Annika Naughton [SRRC], Str: Karolina Hayes [PRC], Cch: Jason Lane, Antonio Maurogiovanni
Open Women's Eight
Final A
06:08.75
06:09.42
06:13.76
06:14.39
06:15.09
06:34.35
Final A
1st Mercantile Rc/St Catherine'S (Vis) - Bow: Emma Wawn, 2: Alison Withers, 3: Katrina Garvey, 4: Emily Wilmoth, 5: Emily Martin, 6: Fleur Chew, 7: Pauline Frasca, Str: Robyn Selby Smith, Cox: Carolyn Rudden, Cch: David Ochert, John Cumper, Bill Tait
2nd UTS/Mosman/Uni Western Sydney - Bow: Amy Clay [MOSM], 2: Peta Gresham [UTS], 3: Rebecca Bowman [UWSYS], 4: Georgia Koutts [UTS], 5: Debbie Stack [UTS], 6: Brooke Pratley [SUBC], 7: Elizabeth Kell [SUBC], Str: Katelyn Gray [UTS], Cox: Georgia Green [UTS], Cch: Ellen Randell, Alan Bennett, Lyall McCarthy
3rd Melbourne University Boat Club - Bow: Sarah Lazar, 2: Sylvie Withers, 3: Katie Minogue, 4: Phoebe Stanley, 5: Kim Brennan, 6: Sassi McCarthy, 7: Catriona Sens, Str: Sarah Heard, Cox: Lizzie Patrick, Cch: John Cumper, Connie Vanderwerp, Cameron Muir
4th New Norfolk/Tamar/Huon (TIS) - Bow: Rebekah Tunevitsch [TAMAR], 2: Dana Faletic [HUON], 3: Gemma Youl [NWNFK], 4: Elanna Wade [NWNFK], 5: Anna Browning [NWNFK], 6: Caryn Davies [NWNFK], 7: Claire Shield [NWNFK], Str: Kate Hornsey [NWNFK], Cox: Eliza McQuestin [TAMAR], Cch: Roger Drummond
5th Swans/UWABC/Ecu Perth (WAIS/VIS) - Bow: Jessica Huston [UWABC], 2: Danielle Jolly [SRRC], 3: Annika Naughton [SRRC], 4: Karolina Hayes [PRC], 5: Amber Webster (Bradley) [PRC], 6: Joanna Lutz [SRRC], 7: Sarah Tait [SRRC], Str: Natalie Bale [SRRC], Cox: Connor McCombe [PRC], Cch: Antonio Maurogiovanni
6th University Of Queensland Boat Club - Bow: Kimberley Brown, 2: Kate Beasley, 3: Suzanne Brown, 4: Kate Clarkson, 5: Alison Scobbie, 6: Erin Huttenmeister, 7: Roxy Botha, Str: Lauren Steinke, Cox: Jo Weaver, Cch: Mitch Rosenlund
Open Lightweight Women's Single Scull
Final D
11:35.24
12:06.63
12:23.06
Final C
08:01.82
08:23.54
08:35.91
08:36.27
08:40.30
08:49.71
Final B
09:55.67
10:02.46
10:05.49
10:06.24
10:26.80
10:27.42
Final A
09:30.28
09:36.80
09:37.13
09:44.36
09:46.96
10:13.01
Final D
1st Leichhardt Rowing Club - Irene Armstrong, Cch: Kerry Thorn
2nd Mosman Rowing Club - Rachel Neylan, Cch: Mark Beer, Nick Garratt
3rd Melbourne University Boat Club - Esther Verburg, Cch: Tim Dolphin
Final C
1st Sunshine Coast Rowing Club - Megan Frost, Cch: Don Cooper
2nd Melbourne University Boat Club - Andrea Dixon, Cch: Tim Dolphin
3rd University Of NSW - Trista Vallentine, Cch: Greg Clarke
4th Commercial Rowing Club - Clare Raven
5th Corio Bay Rowing Club - Anita Whitehouse, Cch: Andrew Logan
6th Mercantile Rowing Club - Nalini Blacker, Cch: David Colvin
Final B
1st University Of Wa Rowing Club - Jessica Huston, Cch: Jason Lane
2nd Power House Rowing Club - Regina Kennedy, Cch: Mark Baxter
3rd Commercial Rowing Club - Jo White, Cch: Benjamin Shaw
4th Ana Rowing Club - Helen O'Keefe, Cch: Cade Zulsdorf
5th Mercantile Rowing Club - Sara Jane Blunt, Cch: David Colvin
6th Balmain Rowing Club - Robyn Johnstone, Cch: Graham Gardiner
Final A
1st Tweed Heads Rowing Club (QAS) - Tara Kelly, Cch: Lincoln Handley
2nd Adelaide University Bc (SASI) - Amber Halliday, Cch: Adrian David
3rd Huon Rowing Club - Kirsty Flemming, Cch: Eamon Whelan
4th Adelaide University Bc (SASI) - Marguerite Houston, Cch: Adrian David
5th UTS Rowing Club Inc - Miranda Bennett, Cch: Ellen Randell, David Zammit
6th Mercantile Rowing Club (VIS) - Alison Withers, Cch: John Cumper, David Colvin
Open Lightweight Women's Double Scull
Final A
07:19.55
07:21.56
07:27.60
07:37.76
07:40.39
07:55.57
Final A
1st Adelaide University Bc (SASI) - Bow: Marguerite Houston, Str: Amber Halliday, Cch: Adrian David
2nd Melbourne Uni/Mercantile Rc - Bow: Alison Withers [MERC], Str: Alice McNamara [MUBC], Cch: Tim Dolphin, David Colvin
3rd UTS/Tweed (QAS) - Bow: Tara Kelly [TWEED], Str: Miranda Bennett [UTS], Cch: Ellen Randell, Lincoln Handley
4th Mercantile Rc/Melbourne Uni - Bow: Andrea Dixon [MUBC], Str: Sara Jane Blunt [MERC], Cch: Tim Dolphin, David Colvin
5th Power House Rowing Club - Bow: Kate Durrant, Str: Regina Kennedy, Cch: Mark Baxter
6th Mercantile Rc/Corio Bay - Bow: Anita Whitehouse [CORIO], Str: Nalini Blacker [MERC]
Open Lightweight Women's Quad Scull
Final A
06:42.19
06:46.20
06:55.71
06:57.78
07:18.80
Final A
1st Adelaide Uni/UWABC/UTS - Bow: Jessica Huston [UWABC], 2: Miranda Bennett [UTS], 3: Marguerite Houston [ADLUN], Str: Amber Halliday [ADLUN], Cch: Adrian David
2nd Melbourne Uni/Mercantile Rc (VIS) - Bow: Andrea Dixon [MUBC], 2: Sara Jane Blunt [MERC], 3: Alison Withers [MERC], Str: Alice McNamara [MUBC], Cch: Tim Dolphin, David Colvin
3rd Balmain/Power House/Commercial/Melbourne - Bow: Robyn Johnstone [BALM], 2: Felicity Nutter [MELB], 3: Regina Kennedy [POWR], Stroke: Jo White [COMM], Cch: Mark Baxter
4th Mercantile Rc/Corio Bay - Bow: Zara Love [MERC], 2: Dee Bosler [MERC], 3: Anita Whitehouse [CORIO], Str: Nalini Blacker [MERC], Cch: David Colvin, Andrew Logan
5th Mosman/St George/Melbourne Uni - Bow: Jacky Peile [STGEO], 2: Hayley Dean [STGEO], 3: Esther Verburg [MUBC], Str: Rachel Neylan [MOSM], Cch: Nick Garratt, Ron Batt, Tim Dolphin
Under 23 Women's Single Scull
Final D
09:33.56
09:34.99
09:45.66
09:49.68
10:05.56
10:48.29
Final C
08:57.49
09:02.84
09:05.30
09:07.89
09:10.16
09:17.21
Final B
08:55.60
09:04.15
09:05.94
09:09.30
09:16.77
09:26.29
Final A
08:59.45
09:02.88
09:05.15
09:07.12
09:07.77
Final D
1st Surfers Paradise Rowing Club - Martina Smidt, Cch: Peter Howard
2nd Huon Rowing Club - Jacqueline Street, Cch: Paul Newbon
3rd Huon Rowing Club - Ailsa Tremayne, Cch: Paul Newbon
4th Adelaide University Bc (SASI) - Laura Osti, Cch: Andrew Butler
6th Capital Lakes Rowing Club - Michaela Ledger, Cch: Nick Kriewaldt
7th Commercial Rowing Club - Anne Hewson, Cch: Benjamin Shaw
Final C
1st Melbourne Rowing Club - Sarah Hawe, Cch: James Petering
2nd Tweed Heads Rowing Club - Nicole Constable, Cch: Lincoln Handley
3rd St George Rowing Club - Anna McGlynn
4th Mosman Rowing Club - Laura Robertson, Cch: Nick Garratt, Mark Beer
5th Leichhardt Rowing Club - Sarah Moxon, Cch: Kerry Thorn
6th Banks Rowing Club - Georgia Nelson, Cch: Brenton Terrell
Final B
1st Adelaide University Bc (SASI) - Stephanie Turnbull, Cch: Andrew Butler
2nd University Of Queensland Boat Club - Kate Beasley, Cch: Mitch Rosenlund
3rd Bundaberg Rowing Club - Emma McCarthy, Cch: Richard Paterson
4th Ecu Perth Rowing Club (WAIS) - Karolina Hayes, Cch: Jason Lane
5th University Of Queensland Boat Club - Alison Scobbie, Cch: Mitch Rosenlund
6th University Of Queensland Boat Club - Kimberley Brown, Cch: Mitch Rosenlund
Final A
1st Murray Bridge Rowing Club (SASI) - Anna Petersen, Cch: Adrian David
2nd Murray Bridge Rowing Club (SASI) - Rhiannon Hughes, Cch: Adrian David
3rd Banks Rowing Club (VIS) - Lisa Szatsznadjer, Cch: Brenton Terrell
4th Huon Rowing Club - Charlotte Walters, Cch: Paul Newbon
5th Sydney University - Renee Kirby, Cch: Alan Bennett
Under 23 Women's Double Scull
Final A
07:24.06
07:34.48
07:35.15
07:36.93
07:50.58
07:55.11
Final A
1st Murray Bridge/Adelaide Uni (SASI) - Bow: Stephanie Turnbull [ADLUN], Str: Anna Petersen [MBRC], Cch: Adrian David
2nd Banks Rowing Club (VIS) - Bow: Georgia Nelson, Str: Lisa Szatsznadjer, Cch: Brenton Terrell
3rd Uni Of Qld/Crc (ACTAS) - Bow: Tara Huntly [CANB], Str: Kate Beasley [UQBC], Cch: Mitch Rosenlund
4th Adelaide Uni/Murray Bridge (SASI) - Bow: Rhiannon Hughes [MBRC], Str: Laura Osti [ADLUN], Cch: Adrian David
5th University Of Queensland Boat Club - Bow: Alison Scobbie, Str: Kimberley Brown, Cch: Mitch Rosenlund
6th Noosa/Surfers - Bow: Martina Smidt [GUSP], Str: Sascha Lahey [NOOSA], Cch: Peter Howard, Philip Morgan
Under 23 Women's Quad Scull
Final A
06:37.37
06:42.19
06:50.74
06:54.02
06:59.48
07:16.73
Final A
1st Murray Bridge/Adelaide Uni (SASI) - Bow: Rhiannon Hughes [MBRC], 2: Stephanie Turnbull [ADLUN], 3: Laura Osti [ADLUN], Str: Anna Petersen [MBRC], Cch: Adrian David
2nd UTS/Sydney University/CRC (ACTAS) - Bow: Katelyn Gray [UTS], 2: Renee Kirby [SUBC], 3: Tara Huntly [CANB], Str: Verena Stocker [UTS], Cch: Alan Bennett, Ellen Randell, Gordon Marcks
3rd Banks Rc/Mercantile Rc (VIS) - Bow: Carley McKay [BANKS], 2: Sarah Forbes [MERC], 3: Georgia Nelson [BANKS], Str: Lisa Szatsznadjer [BANKS], Cch: Brenton Terrell
4th University Of Queensland Boat Club - Bow: Erin Huttenmeister, 2: Alison Scobbie, 3: Kimberley Brown, Str: Kate Beasley, Cch: Mitch Rosenlund
5th Huon Rowing Club - Bow: Alex Kingston, 2: Ailsa Tremayne, 3: Jacqueline Street, Str: Charlotte Walters, Cch: Paul Newbon
6th Ecu Perth/Swans - Bow: Bronte Nowland [SRRC], 2: Amy Suckling [PRC], 3: Sinead Hartnett [PRC], Str: Katherine Thewlis [PRC], Cch: Mike Quinn
Under 23 Women's Coxless Pair
Final B
08:58.93
09:13.00
09:25.40
09:44.74
Final A
08:41.75
08:45.23
08:46.95
09:05.83
09:07.96
09:21.71
Final B
1st Melbourne University Boat Club - Bow: Katie Minogue, Str: Sylvie Withers, Cch: Cameron Muir, Connie Vanderwerp
2nd Mercantile Rowing Club - Bow: Claire Szatsznajder, Str: Siobhan Moran, Cch: David Ochert
3rd North Esk Rowing Club - Bow: Emma Wilson, Str: Alison Muller, Cch: Jim Wilson
4th Torrens/Adelaide Uni - Bow: Terri Spiel [ADLUN], Str: Annelise Johnson [TORR], Cch: Phil Blesing
Final A
1st Melbourne University Boat Club - Bow: Kim Brennan, Str: Phoebe Stanley, Cch: Cameron Muir, Connie Vanderwerp
2nd UTS Rowing Club Inc - Bow: Verena Stocker, Str: Katelyn Gray, Cch: Ellen Randell, David Zammit
3rd Sydney University Womens Rowing - Bow: Yasmin L'Estrange, Str: Laura Polin, Cch: Alan Bennett
4th Mercantile Rc/Banks Rc - Bow: Carley McKay [BANKS], Str: Sarah Forbes [MERC], Cch: David Ochert, Brenton Terrell
5th New Norfolk Rowing Club - Bow: Elanna Wade, Str: Gemma Youl, Cch: Roger Drummond
6th Mosman/Bundaberg - Bow: Emma McCarthy [BUND], Str: Brynne Allen [MOSM], Cch: Richard Paterson
Under 23 Women's Coxless Four
Final A
06:46.92
06:50.21
07:02.23
07:08.08
07:10.54
07:15.60
Final A
1st UTS/Sydney University - Bow: Katelyn Gray [UTS], 2: Renee Kirby [SUBC], 3: Yasmin L'Estrange [SUBC], Str: Verena Stocker [UTS], Cch: Alan Bennett
2nd Melbourne University Boat Club - Bow: Kim Brennan, 2: Sylvie Withers, 3: Katie Minogue, Str: Phoebe Stanley, Cch: Connie Vanderwerp, Cameron Muir
3rd New Norfolk/Huon - Bow: Charlotte Walters [HUON], 2: Jacqui Street [HUON], 3: Gemma Youl [NWNFK], Str: Elanna Wade [NWNFK], Cch: Roger Drummond
4th Mercantile Rc/Banks Rc - Bow: Claire Szatsznajder [MERC], 2: Siobhan Moran [MERC], 3: Carley McKay [BANKS], Str: Sarah Forbes [MERC], Cch: Brenton Terrell, David Ochert
5th Melbourne University Boat Club - Bow: Alison Crowe, 2: Jessie Smith, 3: Ariella Webb, Str: Sarah Lazar, Cch: Cameron Muir, Connie Vanderwerp
6th Uni Of Qld/Noosa/Surfers - Bow: Sascha Lahey [NOOSA], 2: Martina Smidt [GUSP], 3: Hannah Syme [UQBC], Str: Lauren Steinke [UQBC], Cch: Jo Weaver
Under 23 Lightweight Women's Single Scull
Final E
11:25.71
11:28.66
11:59.45
12:04.40
12:19.74
12:33.98
Final D
10:54.38
11:01.58
11:19.06
11:30.87
11:40.83
Final C
10:25.76
10:29.12
10:38.72
10:43.92
10:46.98
10:53.65
Final B
10:08.92
10:10.84
10:13.87
10:17.79
10:25.53
10:26.49
Final A
09:56.55
10:01.16
10:03.93
10:12.43
10:15.42
10:15.82
Final E
1st Swan River Rowing Club - Victoria Robinson, Cch: Mike Quinn
2nd Murray Bridge Rowing Club - Lara Shean, Cch: Ron Mobbs
3rd University Of Queensland Boat Club - Marianne Bassingthwaighte, Cch: Robert McNeill
4th Noosa Yacht & Rowing Club - Stefanie Fernandez-Preiksa, Cch: Philip Morgan
5th Canberra Girls Grammar School - Kate Duncan, Cch: Dafydd Gwynn-Jones
6th Torrens Rowing Club - Deb Gent, Cch: Phil Blesing
Final D
1st University Of Queensland Boat Club - Laura Stephenson, Cch: Joe Rodrigues
2nd Commercial Rowing Club - Emma Herron, Cch: Benjamin Shaw
3rd Mercantile Rowing Club - Alison McAtamney, Cch: David Colvin
4th University Of Wa Rowing Club - Kate Sounness, Cch: David Milne
5th University Of Queensland Boat Club - Genevieve Bassingthwaighte, Cch: Robert McNeill
Scratched University Of Queensland Boat Cl - Jacque Benson, Cch: Cass Erbs
Final C
1st Brisbane & Gps Rowing Club - Kylie-Ann Duff, Cch: Peter Howard
2nd Melbourne University Boat Club - Elsie Madigan, Cch: Tim Dolphin
3rd Sydney University - Kylie Grant, Cch: Terry O'Hanlon
4th Mercantile Rowing Club - Dee Bosler, Cch: David Colvin
5th Toowong Rowing Club - Katie Quinn, Cch: Robert McNeill
6th University Of Wa Rowing Club - Erin Hookey, Cch: David Milne
Final B
1st Sydney University - Elsa Hietbrink, Cch: Terry O'Hanlon
2nd University Of Wa Rowing Club - Libby Alderman, Cch: Jason Lane
3rd New Norfolk Rowing Club - Jess Wade, Cch: Roger Drummond
4th Melbourne University Boat Club - Heidi Wilson, Cch: Tim Dolphin
5th Tamar Rowing Club - Carly Cottam, Cch: James Russell
6th Fremantle Rowing Club (WAIS) - Sian Brown, Cch: Jason Lane
Final A
1st Tamar Rowing Club (TIS) - Ingrid Fenger, Cch: Vicky Spencer
2nd Tamar Rowing Club (TIS) - Megan Hibbs, Cch: Vicky Spencer
3rd Melbourne University Boat Club - Alice McNamara, Cch: Tim Dolphin
4th Mosman Rowing Club - Jacqui Bain, Cch: Mark Beer, Nick Garratt
5th Torrens Rowing Club (SASI) - Maja Fiddler, Cch: Andrew Butler
6th Australian National University - Yasmin Burraston, Cch: Gordon Marcks
Under 23 Lightweight Women's Double Scull
Final A
07:14.64
07:18.58
07:22.32
07:24.39
07:25.92
07:38.13
Final A
1st Tamar Rowing Club (TIS) - Bow: Ingrid Fenger, Str: Megan Hibbs, Cch: Vicky Spencer
2nd Sydney University/Mosman - Bow: Jacqui Bain [MOSM], Str: Elsa Hietbrink [SUBC], Cch: Nick Garratt, Terry O'Hanlon
3rd Melbourne University Boat Club - Bow: Elsie Madigan, Str: Heidi Wilson, Cch: Tim Dolphin
4th Tamar/New Norfolk - Bow: Jess Wade [NWNFK], Str: Carly Cottam [TAMAR], Cch: Vicky Spencer, Roger Drummond, James Russell
5th UWABC/Fremantle (WAIS) - Bow: Sian Brown [FRC], Str: Libby Alderman [UWABC], Cch: Jason Lane
6th University Of Queensland Boat Club - Bow: Marianne Bassingthwaighte, Str: Genevieve Bassingthwaighte, Cch: Robert McNeill
Under 23 Lightweight Women's Quad Scull
Final A
06:43.36
06:46.97
06:51.01
06:59.35
07:08.87
07:10.37
Final A
1st New Norfolk/Tamar (TIS) - Bow: Megan Hibbs [TAMAR], 2: Ingrid Fenger [TAMAR], 3: Carly Cottam [TAMAR], Str: Jess Wade [NWNFK], Cch: Roger Drummond, James Russell, Vicky Spencer
2nd Melbourne University Boat Club - Bow: Bree Harris, 2: Elsie Madigan, 3: Heidi Wilson, Str: Alice McNamara, Cch: Tim Dolphin
3rd Sydney University/ANU/Mosman - Bow: Yasmin Burraston [ANU], 2: Jacqui Bain [MOSM], 3: Kylie Grant [SUBC], Str: Elsa Hietbrink [SUBC]
4th Mercantile Rc/Fremantle/UWABC - Bow: Zara Love [MERC], 2: Sian Brown [FRC], 3: Libby Alderman [UWABC], Str: Alison McAtamney [MERC], Cch: David Colvin, Jason Lane
5th UWABC/ANA/Swans - Bow: Claire Jansen [ANA], 2: Kate Sounness [UWABC], 3: Victoria Robinson [SRRC], Str: Erin Hookey [UWABC], Cch: David Milne, Rolland Warren, Mike Quinn
6th Uni Of Qld/Toowong/Commercial - Bow: Katie Quinn [TOOW], 2: Emma Herron [COMM], 3: Marianne Bassingthwaighte [UQBC], Str: Genevieve Bassingthwaighte [UQBC], Cch: Robert McNeill
Under 19 Women's Single Scull
Final A
08:15.63
08:18.90
08:19.29
08:25.68
08:28.62
08:30.07
Final A
1st Manning River Rowing Club - Tess Gerrand, Cch: John Corbett, Daintry Gerrand
2nd Swan River Rowing Club - Brittany Mann, Cch: Mike Quinn, Gonzalo Briones
3rd Black Mountain Rowing Club - Brydie Foran, Cch: Bec Sattin, Taryn Langdon
4th University Of Queensland Boat Club - Erin Huttenmeister, Cch: Mitch Rosenlund
5th Capital Lakes Rowing Club (ACTAS) - Emma Cook, Cch: Bec Sattin, Taryn Langdon
6th North Esk Rowing Club - Brianna McShane, Cch: Brian Hawkins
Under 19 Women's Double Scull
Final A
07:24.09
07:24.40
07:28.82
07:42.63
07:46.43
07:52.38
Final A
1st BMRC/CLRC (ACTAS) - Bow: Emma Cook [CLRC], Str: Brydie Foran [BMRC], Cch: Bec Sattin, Taryn Langdon
2nd Sydney/Leichhardt - Bow: Chloe O'Regan [LEICH], Str: Sarah Handley [SRC], Cch: Gillian Campbell, Richard Hallett
3rd Manning River/South Grafton - Bow: Ashleigh Peppernell [SGRC], Str: Tess Gerrand [MANN], Cch: John Corbett, Colin Lang
4th Banks Rowing Club - Bow: Brigette Carlile, Str: Rachel Thomas, Cch: Brenton Terrell
5th Shoalhaven Rowing Club - Bow: Elle Gibson, Str: Peta Eddington, Cch: Simon Leonard, David Eddington
6th Somerset Boat Club - Bow: Alex Roberts, Str: Edda Hamar, Cch: Peter Miller
Under 19 Women's Coxless Quad Scull
Final A
07:12.16
07:18.06
07:19.53
07:25.95
07:26.95
07:28.19
Final A
1st Ecu Perth/UWABC/ANA/Swans - Bow: Emily Rose [UWABC], 2: Morag McCallum [ANA], 3: Brittany Mann [SRRC], Str: Georgia Baker [PRC], Cch: Gonzalo Briones, Mike Quinn
2nd North Esk Rowing Club - Bow: Brianna McShane, 2: Rebecca Trethewie, 3: Mel Homan, Str: Natalie Shelton, Cch: Brian Hawkins
3rd Commercial Rowing Club - Bow: O'Loughlin Hannah, 2: Phillipa Lindley, 3: Clare Gilbride, Str: Rebecca Cuss, Cch: Christopher White
4th Ecu Perth/ANA/UWABC - Bow: Alexandra Hayes [ANA], 2: Elizabeth Sonter [UWABC], 3: Amy Suckling [PRC], Str: Chloe Smith [PRC], Cch: Mike Quinn, Gonzalo Briones
5th BMRC/CLRC/CGGS (ACTAS) - Bow: Emma Cook [CLRC], 2: Veronica Tamsitt [CGGS], 3: Christabelle Northam [CGGS], Str: Brydie Foran [BMRC], Cch: Dafydd Gwynn-Jones, Bec Sattin, Taryn Langdon
6th Somerville House - Bow: Charlotte Travers, 2: Clare Rutledge, 3: Belinda Uebergang, Str: Lara Taylor, Cch: Hannah Every-Hall, Tara Dreaver
Under 19 Women's Coxless Pair
Final A
07:46.52
07:54.04
07:58.86
08:07.56
08:08.24
08:19.25
Final A
1st UWABC/ANA - Bow: Morag McCallum [ANA], Str: Emily Rose [UWABC], Cch: Gonzalo Briones, Mike Quinn
2nd Commercial Rowing Club - Bow: Phillipa Lindley, Str: Clare Gilbride, Cch: Christopher White
3rd Torrens/Murray Bridge - Bow: Jessica McRae [MBRC], Str: Alana Monson [TORR], Cch: Phil Blesing, Ron Mobbs
4th Toowong Rowing Club - Bow: Brittany Downes, Str: Elizabeth Clouston, Cch: David Cupit
5th North Esk Rowing Club - Bow: Emma Wilson, Str: Rebecca Trethewie, Cch: Jim Wilson
6th St George Rowing Club - Bow: Ellie Bawden, Str: Kate Darke, Cch: Ron Batt
Under 19 Women's Coxless Four
Final A
07:04.62
07:12.06
07:21.70
07:33.69
07:40.09
07:51.67
Final A
1st Swans/Ecu Perth/ANA/UWABC - Bow: Georgia Baker [PRC], 2: Morag McCallum [ANA], 3: Emily Rose [UWABC], Str: Brittany Mann [SRRC], Cch: Mike Quinn, Gonzalo Briones
2nd Toowong Rowing Club - Bow: Gabrielle Hall, 2: Rachael Gibson, 3: Brittany Downes, Str: Elizabeth Clouston, Cch: David Cupit
3rd Torrens/Murray Bridge - Bow: Georgia Bain [TORR], 2: Emma Zwar [TORR], 3: Jessica McRae [MBRC], Str: Alana Monson [TORR], Cch: Phil Blesing, Ron Mobbs, Andrew Butler
4th Somerville House - Bow: Rachel Syme, 2: Ashleigh North, 3: Sally Frend, Str: Emma Taylor, Cch: Hannah Every-Hall, Andrew McNeil, Tara Dreaver
5th St George/Nepean - Bow: Sarah Moses [NEPN], 2: Ellie Bawden [STGEO], 3: Jacky Peile [STGEO], Str: Kate Darke [STGEO], Cch: Ron Batt, Lindsay Callaghan
6th Mersey Rowing Club - Bow: Kinza Graham, 2: Tessa Campin, 3: Amanda Smith, Str: Alexandra Gott, Cch: Merv Tippett
Under 19 Women's Eight
Final A
06:39.24
06:46.58
06:47.27
06:54.04
07:11.61
07:11.95
Final A
1st Ecu Perth/UWABC/ANA/Swans/Pymble - Bow: Emily Rose [UWABC], 2: Morag McCallum [ANA], 3: Georgia Baker [PRC], 4: Brittany Mann [SRRC], 5: Amy Suckling [PRC], 6: Olivia Gardner [SRRC], 7: Alexandra Hayes [ANA], Str: Chloe Smith [PRC], Cox: Josephine Hendy [PYMB], Cch: Mike Quinn, Gonzalo Briones
2nd Toowong Rowing Club - Bow: Rebecca Stevens, 2: Catherine Hiley, 3: Kirstin White, 4: Megan Farr, 5: Brittany Downes, 6: Rachael Gibson, 7: Gabrielle Hall, Str: Elizabeth Clouston, Cox: Lissa Lyons, Cch: Andrew Service, David Cupit
3rd Leichhardt Rowing Club - Bow: Kristina Scott, 2: Sarah Hedges, 3: Sophie Vohralik, 4: Jessica Dalton, 5: Nina Dowling, 6: Angela Boustred, 7: Sam Doyle, Str: Alicia Boehm, Cox: Nell Duly, Cch: Richard Hallett, Gillian Campbell
4th Wilderness School - Bow: Rebecca Heah, 2: Elizabeth Harbison, 3: Mallory Rawlings, 4: Amelia Hayes, 5: Courtney McDonald, 6: Marie Floridis, 7: Zoe Dempster, Str: Edwina Munns-Cook, Cox: Skye Findlay, Cch: Sally Newmarch, Andrew Stunell
5th Pembroke School - Bow: Sarah Moran, 2: Alex Daniel, 3: Rebecca Paxton, 4: Phillipa Danson, 5: Georgina Mills, 6: Alice Nankivell, 7: Claire Oliver, Str: Katie Hubbard, Cox: Nicola Michell, Cch: Bob Russell, Cameron Sanderson-Brewster
6th Banks Rowing Club - Bow: Penny Angelatos, 2: Georgina Box, 3: Kate Bowring, 4: Michelle Yann, 5: Monique Portelli, 6: Angelica Lidgard, 7: Kate McLean, Str: Claire Bowtell, Cox: Caitlin Bice, Cch: Pam Westendorf
Under 17 Women's Single Scull
Final A
08:26.16
08:28.10
08:32.11
08:38.49
08:41.04
08:43.82
Final A
1st Bunbury Rowing Club - Alexandra Hagan, Cch: Jamie Jones
2nd Footscray City Rowing Club - Jess Lowe, Cch: Geoff Lowe
3rd Rockhampton Grammar School - Georgia Dunn, Cch: Linda Crossland, Islay Lee
4th South Grafton High School - Ashleigh Peppernell, Cch: Colin Lang
5th University Of Wa Rowing Club - Ashleigh Miles, Cch: Rolland Warren, David Milne
6th Surfers Paradise Rowing Club - Heather McNeil, Cch: Jenny Pemberton
Under 17 Women's Double Scull
Final A
07:39.16
07:46.74
07:48.41
07:52.00
07:55.82
08:05.17
Final A
1st Huon Rowing Club - Bow: Eve Mure, Str: Nadia Gehrich, Cch: Paul Newbon
2nd Footscray City Rowing Club - Bow: Hannah Brown, Str: Jess Lowe, Cch: Kevin Bourke
3rd Sydney Rowing Club - Bow: Emma Paver, Str: Georgia Separovich, Cch: John Bailey
4th Bunbury Rowing Club - Bow: Alexandra Hagan, Str: Gabrielle Golding, Cch: John Seroka, Jamie Jones
5th Nepean Rowing Club - Bow: Victoria Orsag, Str: Robyn Geelen, Cch: Brenton Long, Neil Holmes
6th Leichhardt Rowing Club - Bow: Phoebe Clare, Str: Jessica Phillips, Cch: Richard Hallett, Gillian Campbell
Under 17 Women's Coxed Quad Scull
Final A
07:45.99
07:47.00
07:49.57
07:55.63
08:02.96
08:06.23
Final A
1st South Grafton High/Lower Clarence - Bow: Saxon Ramon [LWRCL], 2: Steffanee Colgrave [SGRAF], 3: Rachael See [LWRCL], Str: Ashleigh Peppernell [SGRAF], Cox: Johanna Tarrant [GFTHS], Cch: Harold Kratz, Colin Lang
2nd Rockhampton Grammar School - Bow: Michelle Chapman, 2: Sarah Chapman, 3: Annie Belonogoff, Str: Georgia Dunn, Cox: Sophie Holloway, Cch: Linda Crossland, Islay Lee
3rd Brisbane & Gps Rowing Club - Bow: Olivia Brusasco [SOMVH], 2: Lauren Burke [SOMVH], 3: Heather McNeil [SOMER], Str: Simone Huber [BGPS], Cox: Caroline Murray Mendes [SOMVH], Cch: Jenny Pemberton, Peter Howard, Hannah Every-Hall
4th Fahan School - Bow: Lauren Johnston, 2: Victoria Nicholas, 3: Laura Broomhall, Str: Laura Morris, Cox: Rebecca Limmer, Cch: Matthew Bale
5th Derwent Mercantile Collegiate - Bow: Emma Worsley, 2: Gemma Parker, 3: Abby Garcia, Str: Meghan Lovell, Cox: Jaimee Sluce, Cch: Adrian Cuthbertson
6th Torrens/Bunbury/Pulteney - Bow: Milly Osti [TORR], 2: Cerise Newlyn [TORR], 3: Alexandra Hagan [BRC], Str: Alyssa Parsons [TORR], Cox: Emily SaVIS [PG], Cch: Jamie Jones, Francis Willis
Adaptive Male Single Scull Fixed Seat
Final A
03:18.37
03:27.40
04:46.16
05:28.78
06:02.39
Final A
1st Tamar Rowing Club (TIS) - Dominic Monypenny, Cch: Rik Bryan
2nd The Lakes Rowers - Neil Thurling, Cch: Peter Albisser
3rd North Esk Rowing Club - Malcolm Hall, Cch: Grant Pryor
4th Curtin University Boat Club - David Dawson
5th Swan River Rowing Club - Ian Hill
Adaptive Female Single Scull Catergory 1b
Final A
1st Penrith Rowing Club - Julia Story, Cch: Roxanne Vines
2nd Ecu Perth Rowing Club - Emma Ratten
Adaptive Men's Conventional Single Scull Category 2
Final B
04:32.42
04:34.49
Final A
04:02.93
04:11.46
04:15.28
04:17.76
04:36.10
04:48.94
Final B
1st Penrith Rowing Club - Ben Vines, Cch: Roxanne Vines
2nd Huon Rowing Club - Marcus Turfrey, Cch: Paul Christensen
Final A
1st Murray Bridge Rowing Club - Sam Redding, Cch: Ron Mobbs
2nd The Lakes Rowers - Gene Barrett, Cch: Peter Albisser
3rd Sandy Bay Rowing Club - Alistair Chong, Cch: Lindsay Ims, Daryl Balding
4th Ulverstone Rowing Club - Kurt Moles, Cch: Kerry Gretton
5th Ecu Perth Rowing Club - Glen Walter
6th Melbourne University Boat Club - Cameron Muir, Cch: Cameron Muir
Adaptive Men's Conventional Double Scull
Final B
03:47.66
03:50.39
04:11.56
Final A
03:26.62
03:33.87
03:34.34
03:48.29
03:53.20
04:11.02
Final B
1st Bunbury/ECU Perth - Bow: Glen Walter [PRC], Str: John Seroka [BRC], Cch: John Seroka
2nd Sandy Bay Rowing Club - Bow: Tim Morris, Str: Mitch Huxley, Cch: Kay Suter
3rd Nestles Rowing Club - Bow: Adam Wright, Str: Chris Murray, Cch: Tom Bertrand
Final A
1st The Lakes Rowers - Bow: Lance Reeve, Str: Gene Barrett, Cch: Peter Albisser
2nd The Lakes Rowers - Bow: Peter Albisser, Str: Ben Felten, Cch: Peter Albisser
3rd Murray Bridge Rowing Club - Bow: Michael Wegener, Str: Sam Redding, Cch: Ute Wegener
4th Ulverstone Rowing Club - Bow: Kerry Gretton, Str: Kurt Moles, Cch: Kerry Gretton
5th Sandy Bay Rowing Club - Bow: Phil Causon, Str: Alistair Chong, Cch: Lindsay Ims, Daryl Balding
6th Huon/Lindisfarne - Bow: David Emmett [LINDF], Str: Marcus Turfrey [HUON], Cch: Paul Christensen
Adaptive Women's Conventional Double Scull
Final A
04:28.05
04:28.17
05:10.53
Final A
1st Lakes Rowers/North Shore - Bow: Norma Perry [NSHR], Str: Kristin Mercer [LAKES], Cch: Peter Albisser
2nd Penrith Rowing Club - Bow: Roxanne Vines, Str: Julia Story, Cch: Roxanne Vines
3rd Swans/ECU Perth - Bow: Emma Ratten [PRC], Str: Barbara Outhwaite [SRRC], Cch: Barbara Outhwaite
Adaptive Men's & Women's Conventional Coxed Four
Final A
1st Lakes Rowers/Penrith/North Shore - Bow: Kristin Mercer [LAKES], 2: Julia Story [PENRI], 3: Gene Barrett [LAKES], Str: Ben Felten [LAKES], Cox: Norma Perry [NSHR], Cch: Roxanne Vines, Peter Albisser
Adaptive Women's Single Scull Fixed Seat Category 1
Final A
04:01.47
05:26.57
05:32.86
Final A
1st The Lakes Rowers - Melissa Halbert, Cch: Peter Albisser
2nd Glenorchy Rowing Club - Julie Pearson, Cch: Kay Suter
3rd Glenorchy Rowing Club - Anne Wells, Cch: Kay Suter
Schoolgirls Single Scull
Final E
08:59.02
09:02.87
09:09.18
Final D
08:43.17
08:48.40
08:57.18
08:58.33
09:01.99
09:09.92
Final C
08:42.39
08:53.79
Final B
08:26.28
08:31.70
08:38.39
08:42.35
08:48.94
Final A
08:16.19
08:16.23
08:19.27
08:26.13
08:26.17
08:44.80
Final E
1st Perth College - Jessica Martyn, Cch: David Milne
2nd Melbourne Girls College - Hannah Brown, Cch: Kevin Bourke
3rd Firbank Grammar School - Katherine Berry, Cch: Stephen Rodwell
Final D
1st Somerset Boat Club - Alex Roberts, Cch: Peter Miller
2nd Capital Lakes Rowing Club - Erin Neil, Cch: David Butt
3rd Methodist Ladies College - Georgia Dempster, Cch: Bree Harris
4th Elizabeth College - Anna Christensen, Cch: Carsten Birch
5th South Grafton High School - Steffanee Colgrave, Cch: Colin Lang
6th Hunter Valley Grammar School - Sarah Dieu
Final C
1st St Michael'S Collegiate School - Eve Mure
2nd Lower Clarence Amateur Rc - Rachael See, Cch: Neil McLennan, Graham Essex
Final B
1st Somerset College - Heather McNeil, Cch: Jenny Pemberton
2nd Melbourne Girls College - Jess Lowe, Cch: Kevin Bourke
3rd South Grafton High School - Ashleigh Peppernell, Cch: Colin Lang
4th Nowra High School - Megan Chasty, Cch: Simon Leonard
5th Somerset Boat Club - Edda Hamar, Cch: Peter Miller
Final A
1st Capital Lakes Rowing Club (ACTAS) - Emma Cook, Cch: Bec Sattin, Taryn Langdon
2nd Somerville House - Clare Gilbride
3rd Black Mountain Rowing Club - Brydie Foran, Cch: Bec Sattin, Taryn Langdon
4th North Esk Rowing Club - Brianna McShane, Cch: Brian Hawkins
5th Nepean Rowing Club - Natalie Matthews, Cch: Lindsay Callaghan
6th The Cathedral School - Chantal Motyer, Cch: Katrina Wilshire, Chic Graham
Schoolgirls Coxed Quad Scull
Final C
07:35.18
07:55.32
08:05.30
08:14.13
Final B
07:25.16
07:26.29
07:31.11
07:31.72
07:35.83
07:36.77
Final A
07:14.37
07:16.95
07:18.66
07:22.77
07:28.01
07:28.52
Final C
1st Perth College - Bow: Melissa James, 2: Jessica Wong, 3: Ashleigh Miles, Str: Claire Jansen, Cox: Jaella Pratt, Cch: David Milne
2nd The Cathedral School - Bow: Greta Askin, 2: Rachelle McNamara, 3: Alice Peterson, Str: Chantal Motyer, Cox: Ellie Edmonds, Cch: Chic Graham, Katrina Wilshire
3rd Wilderness School - Bow: Stephanie MacIntyre, 2: Lisa Findlay, 3: Phoebe Waters, Str: Milly Osti, Cox: Emma Johnson, Cch: Sally Newmarch
4th Radford Rowing Club - Bow: Julia Coote, 2: Sarah Bourke, 3: Miffy McKenna, Str: Hannah Brydie-Watson, Cox: Hugh Burnett, Cch: Mark Partridge
Final B
1st Melbourne Girls Grammar School - Bow: Paris Thomson, 2: Olivia Davie, 3: Jessica Morrell, Str: Rose Donohoe, Cox: Samantha Brooks, Cch: Stephen Craig, Nikki Craig
2nd Scotch Oakburn College - Bow: Shaye Noble, 2: Sarah Kirk, 3: Rebecca Barlow, Str: Emma Gale, Cox: Megan Abbott, Cch: Claire Playsted
3rd Methodist Ladies College - Bow: Francesca Rizzo, 2: Jana Lau, 3: Sophie Ware, Str: Frances Crotty, Cox: Natasha Merzvinskis, Cch: Mollie Bobeff
4th Sacred Heart College - Geelong - Bow: Emma Rogan, 2: Kate Van der Kruik, 3: Emily Amezdroz, Str: Adele Thomson, Cox: DAISy Tsen, Cch: Leisa Wilson
5th Firbank Grammar School - Bow: Tess Lombard, 2: Jess Finn, 3: Stephanie Parish, Str: Sarah Baeck, Cox: Anne Stone, Cch: Daniel Meehan
6th Gippsland Grammar School - Bow: Keegan Joyce, 2: Lynne Kayama, 3: Sarah Johnston, Str: Phillipa Davies, Cox: Kelsea Skeels, Cch: Paul Kelly
Final A
1st Firbank Grammar School - Bow: Brigette Carlile, 2: Ella Simmons, 3: Alice Lyons, Str: Rachel Thomas, Cox: Lucie Turner, Cch: Craig Pickett, Brenton Terrell
2nd Somerville House - Bow: Charlotte Travers, 2: Clare Rutledge, 3: Belinda Uebergang, Str: Lara Taylor, Cox: Caroline Murray Mendes, Cch: Hannah Every-Hall, Tara Dreaver
3rd Sacred Heart College - Geelong - Bow: Rachel Noonan, 2: Jess Griffin, 3: Jacqueline Lovett, Str: Felicity Pendergast, Cox: Meg Stickland, Cch: Leisa Wilson
4th Methodist Ladies College - Bow: Gabby Duncan, 2: Stephanie Reilly, 3: Melissa Von Moger, Str: Claire Henly, Cox: Olivia Patrick, Cch: Holly Pinnis, Bree Harris
5th Launceston College/St Patricks - Bow: Sarah Bennett, 2: Brianna McShane, 3: Mel Homan, Str: Natalie Shelton, Cox: Damon Lack, Cch: Brian Hawkins, Alan Howard
6th Loreto - Mandeville Hall - Bow: Eleanor Angley, 2: Georgie Scanlon, 3: Annabel Suffren, Str: Milli Dynon, Cox: Fenina Acance, Cch: Mark Dwyer
Schoolgirls Coxed Four
Final B
07:46.11
07:48.75
07:53.26
07:58.45
08:00.66
08:08.63
Final A
07:23.15
07:28.74
07:35.24
07:40.18
07:41.06
Final B
1st St Patrick'S College - Bow: Elizabeth French, 2: Claire Johnson, 3: Emma Wilson, Str: Emily Holmes, Cox: Rebecca Schutz,
2nd Somerville House - Bow: Rachel Syme, 2: Ashleigh North, 3: Sally Frend, Str: Emma Taylor, Cox: Caroline Murray Mendes, Cch: Andrew McNeil, Hannah Every-Hall, Tara Dreaver
3rd Melbourne Girls Grammar School - Bow: Kate Racovolis, 2: Elizabeth Wettenhall, 3: Chloe Holyman, Str: Margot Franklin-Hensler, Cox: Lara Kozeniauskas, Cch: Robert Westwood, Nicholas Phelps
4th Melbourne Girls Grammar School - Bow: Hannah Pascoe, 2: Ali Davidson, 3: Caitlin Littlewood, Str: Sophie Doyle, Cox: Lucinda Churkovich, Cch: Andrew Latreille
5th Brauer Secondary College - Bow: Megan Earls, 2: Bess McCann, 3: Zoe Baudinette, Str: Alyce O'Shannessy, Cox: Milly Drury, Cch: Kirsty Wright
6th Redlands College - Bow: Eliza Morton, 2: Emma-Jane Elliott, 3: Jess Belgiovane, Str: Kate Millson, Cox: Alexandra Masters, Cch: Martin Gordon
Final A
1st Ballarat Grammar School - Bow: Stephanie Heinz, 2: Georgia Rankin, 3: Jenny Brommeyer, Str: Annabel Guthrie, Cox: Amanda Van Den Broek, Cch: Sam Hutchison
2nd Ballarat Grammar School - Bow: Ginny Fry, 2: Kate Gazzard, 3: Kate Slattery, Str: Alice Houghton, Cox: Emily Fisken, Cch: Bradd Denham
3rd Lauriston Girls' School - Bow: Elizabeth Lockwood, 2: Caroline Scott, 3: Maddy Matthews, Str: Michelle Durman, Cox: Tes Hauser, Cch: Martin Francis
4th Ballarat High School - Bow: Rosie Clift, 2: Jess Kinnersly, 3: Krystal Whitty, Str: Megan Fraumano, Cox: Adele Walsh, Cch: Stephanie O'Neill
5th Lauriston Girls' School - Bow: Stephanie Browne, 2: Claire Lang, 3: Amy Shackell, Str: Jess Clark, Cox: Felicity Lawrence, Cch: Andrew O'Brien
Schoolgirls Coxed Eight
Final C
06:57.82
07:01.20
07:02.98
07:03.90
07:08.30
07:11.29
Final B
06:50.14
06:54.34
06:56.35
06:57.50
07:03.79
Final A
06:34.97
06:39.44
06:40.78
06:45.59
06:46.75
06:55.34
Final C
1st St Michael'S Collegiate School - Bow: Grace Herbert, 2: Anna Davies, 3: Bonnie Gordon, 4: Sarah Chapman, 5: Kaitlyn Garcia, 6: Jane Sutherland, 7: Sarah Sansom, Str: Emma Kadziolka, Cox: Jaimee Sluce, Cch: Mike Pollard, John Pollard
2nd Roseville College - Bow: Stephanie Kelly, 2: Anna Mears, 3: Sally Newsom, 4: Grace Mellowship, 5: Jessica Morton, 6: Laura Condon, 7: Tahni Blessington, Str: Karina Brezny, Cox: Rachael Norton, Cch: Stephen McGlynn, Daniel Backhouse
3rd Caulfield Grammar School - Bow: Victoria Hammond, 2: Stephanie Clark, 3: Alice Nixon, 4: Jessica McNab, 5: Megan Woff, 6: Tatum Ambler, 7: Sarah Tubb, Str: Blaze Puksand, Cox: Zoe Small, Cch: Georgia Radcliffe-Smith
4th Pembroke School - Bow: Sarah Moran, 2: Alex Daniel, 3: Rebecca Paxton, 4: Phillipa Danson, 5: Georgina Mills, 6: Alice Nankivell, 7: Claire Oliver, Str: Katie Hubbard, Cox: Emma Michell, Cch: Cameron Sanderson-Brewster, Bob Russell
5th Pulteney Grammar School - Bow: Jasmine Patterson, 2: Rebecca Wilkins, 3: Julia Heine, 4: Felicty Rundle, 5: Isabella James, 6: Sarah Beck, 7: Kate Harrington, Str: Emma Zwar, Cox: Emily SaVIS, Cch: Phil Blesing, Brooke Willshire
6th Carey Grammar School - Bow: Penny Angelatos, 2: Georgina Box, 3: Kate Bowring, 4: Michelle Yann, 5: Monique Portelli, 6: Angelica Lidgard, 7: Kate McLean, Str: Claire Bowtell, Cox: Caitlin Bice, Cch: Pam Westendorf
Final B
1st Wilderness School - Bow: Rebecca Heah, 2: Elizabeth Harbison, 3: Mallory Rawlings, 4: Amelia Hayes, 5: Liana Quinn, 6: Marie Floridis, 7: Zoe Dempster, Str: Edwina Munns-Cook, Cox: Skye Findlay, Cch: Sally Newmarch, Andrew Stunell
2nd Queenwood School - Bow: Stephanie Maspero, 2: Alice Macdonald, 3: Ellie Jenkins, 4: India Madderom, 5: Isabelle Gotch, 6: Caitlan Cooper Trent, 7: Hannah Alexander, Str: Michelle Battersby, Cox: Romilly Hewett, Cch: David Zammit, Samantha Callaghan
3rd Methodist Ladies College - Bow: Emma Piper, 2: Suzanne Thresh, 3: Lucy Eva, 4: Katherine McCallum, 5: Jacqueline Forbes, 6: Phillipa Lazarou, 7: Lisa Cathels, Str: Christie Madsen, Cox: Georgia Smail, Cch: Lizzie Patrick, Renee Braden
4th Canberra Girls Grammar School - Bow: Amy Miniter, 2: Monique Gasson, 3: Katrina Middleton, 4: Veronica Tamsitt, 5: Pippa Bradshaw, 6: Christabelle Northam, 7: Caitlin Taylor, Str: Ellen Hart, Cox: Ali Long, Cch: Dafydd Gwynn-Jones
5th The Friends School - Bow: Eliza Reid, 2: Lauren Nichols, 3: Melanie McKenzie, 4: Zoe Butler, 5: Alison Martyn, 6: Zoe Maxwell, 7: Winsome Whyte, Str: Ella Flecker, Cox: Jennifer Lewis
Final A
1st Methodist Ladies College - Bow: Gina Hicks, 2: Emmie Kinsman, 3: Emily McCallum, 4: Sarah Medland, 5: Pippa Harry, 6: Krystina Wallis, 7: Stephanie Madner, Str: Jen Bailey, Cox: Hannah Markoff, Cch: Brent McDonald
2nd Pymble Ladies College - Bow: Nina Dowling, 2: Sophie Vohralik, 3: Sam Doyle, 4: Jessica Dalton, 5: Sarah Handley, 6: Chloe Nicholls, 7: Alicia Boehm, Str: Chloe O'Regan, Cox: Josephine Hendy, Cch: Gillian Campbell, Mark Campbell
3rd Geelong College - Bow: Paris Nielsen, 2: Zara Mexted, 3: Alice Crowley, 4: Madison Kerney, 5: Jessica Gubbins, 6: Sarah Perkins, 7: Edwina Hawkins, Str: Alexandra Brown, Cox: Lauren Jilich, Cch: Richard Tomczak
4th St Catherine'S School - Bow: Elizabeth Hutton, 2: Sally Buchanan, 3: Eloise Tallent, 4: Laine Hosking, 5: Katherine Buchanan, 6: Amanda Nickson, 7: Zelia Ranger, Str: Emma Hays, Cox: Lilian Shelmerdine, Cch: Robert Douglas, Tom Courtney, Annabelle Eaton
5th Melbourne Girls Grammar School - Bow: Stephanie Fowler, 2: Hilary McMeckan, 3: Jessamine Stanistreet, 4: Clea Pitts-Hull, 5: Sarah Ristrom, 6: Lucy Donelan, 7: Annabelle Browne, Str: Belinda Wilkinson, Cox: Samantha Hoppe, Cch: Nadine Kapitaniak, David Douglas
6th Pymble Ladies College - Bow: Sarah Bartlett, 2: Eliza Carr, 3: Jessica Phillips, 4: Phoebe Clare, 5: Miranda Harrowell, 6: Sarah Hedges, 7: Angela Boustred, Str: Kristina Scott, Cox: Nell Duly, Cch: Richard Hallett
Schoolboys Single Scull
Final G
08:00.81
08:02.57
08:19.03
08:26.15
08:41.31
09:00.20
Final F
08:02.65
08:05.29
08:10.89
08:31.29
09:05.80
Final E
07:47.05
07:48.84
07:59.14
07:59.58
08:00.21
08:04.87
Final D
07:41.17
07:43.90
07:46.48
07:57.42
08:05.70
Final C
07:41.36
07:42.91
07:50.11
07:55.19
07:58.20
Final B
07:38.51
07:38.65
07:48.98
07:51.07
Final A
07:19.21
07:20.13
07:29.79
07:36.36
07:36.48
Final G
1st Muray Bridge High School - Jason Fiegert, Cch: Ron Mobbs
2nd St Johns Belair - Steyson Ellames, Cch: Christine MacLaren
3rd Footscray City Rowing Club - Max Valentine-van Dijk, Cch: Peter McSweeney
4th Leichhardt Rowing Club - Charles Stanistreet, Cch: Frank Thorn
5th The Cathedral School - Kristoffer Vucak, Cch: Chic Graham
6th The Hutchins School - Alistair Deane, Cch: Daryl Balding
Final F
1st Footscray City Rowing Club - Josh Haynes, Cch: Tony Lawless
2nd Catholic College - Sale - Lachlan Baker, Cch: Frank Stone
3rd Ulverstone Rowing Club - Aaron Dodd, Cch: Kerry Gretton
4th Mercedes College - Daniel Marryat, Cch: Christine MacLaren
5th The Friends School - Adam Roberts
Final E
1st Grafton High School - Lewis Hemphill, Cch: Colin Lang
2nd Nepean Rowing Club - Alexander Sutton, Cch: Lindsay Callaghan
3rd Scotch College - Davis Yu
4th Gippsland Grammar School - Anthony Drew, Cch: Frank Stone
5th Canberra Grammar School - Andreas Preiner, Cch: Jaime Fernandez
6th Hillcrest Christian College - Luke Rowell, Cch: Robert Thomason
Final D
1st Catholic College - Sale - Paul Collins, Cch: Frank Stone
2nd Leichhardt Rowing Club - Troy Douglas, Cch: Frank Thorn, Tim Clare
3rd Gippsland Grammar School - Sam Crawford, Cch: Frank Stone
4th The Cathedral School - Jon Entriken, Cch: Chic Graham
5th The Hutchins School - Daniel Causon, Cch: Daryl Balding, Lindsay Ims
Scratched Somerset Boat Club - Cale Davis, Cch: Peter Miller
Final C
1st Elizabeth College - Byron Gehrich, Cch: Darryl Smith
2nd Bunbury Cathedral Grammar - James Clarke, Cch: Jamie Jones
3rd Grafton Rowing Club - Brenton Ford, Cch: Ronald Beattie, Kenneth Maughan
4th Richmond Rowing Club - Rob Schouten, Cch: Ian Taylor
5th Curtin University Boat Club - Michael Jones
Final B
1st Unley High School - Liam Ball
2nd Canberra Rowing Club - Reece Graham, Cch: Andrew MacKenzie
3rd Canberra Rowing Club - Zac Cleaver, Cch: Paul Cowan, Ian Mongan
4th St Brendan Shaw College - William Hansen, Cch: Merv Tippett
Final A
1st Manning River Rowing Club - Bede Clarke, Cch: John Corbett
2nd Newington College - Kurt Spencer, Cch: Simon Pennington, Phillip Cayzer
3rd Somerset College - Daniel Blank, Cch: Robert Thomason
4th St Ignatius College (SASI) - Turon White, Cch: Zoltan Shepherd
5th Somerset Boat Club - Lewis Price, Cch: Peter Miller
Scratched Guildford Young College - Mark Smith, Cch: Darryl Smith
Schoolboys Coxed Quad Scull
Final B
06:55.83
07:00.62
Final A
06:31.40
06:35.36
06:36.18
06:36.26
06:37.39
06:40.74
Final B
1st St Patrick'S College - Bow: Daniel Bloomfield, 2: Alec Dennis, 3: Mitchell Dennis, Str: Thomas Summers, Cox: Rebecca Schutz,
2nd St Patrick'S College - Bow: Adrian Muller, 2: William Youl, 3: Roger Ryan, Str: Bradley Fraser, Cox: Damon Lack
Final A
1st Rockhampton Grammar School - Bow: Stuart Bentley, 2: Ben Morley, 3: Jamie Keehn, Str: Sasha Belonogoff, Cox: James Reid, Cch: Alan Bromiley
2nd Scotch College - Bow: Peter Cooper, 2: John Syme, 3: Edward Monteith, Str: Sandy Buchanan, Cox: Will Dungey
3rd Shalom College - Bow: Daniel Stanton, 2: David Bridge, 3: Jerom Norris, Str: Nick Silcox, Cox: Ashleigh McDougall, Cch: Bob McDougall, Rodney Silcox
4th Scotch College - Bow: Lincoln Phillips, 2: Martin Lipshut, 3: David Purdue, Str: Stuart Alexander, Cox: Tom Browne
5th The Cathedral School - Bow: Shannon Willis, 2: Scott Veitch, 3: Robert Skeat, Str: Matthew Tassan, Cox: Phil-Anthony Patane, Cch: Chic Graham
6th Launceston College/West Launceston - Bow: Nicholas Hamilton, 2: Mathew Tickner, 3: Michael Hall, Str: Nicholas Cassidy, Cox: Alex Taylor, Cch: Grant Pryor
Schoolboys Coxed Four
Final B
06:50.66
06:58.68
07:07.44
Final A
06:34.91
06:37.30
06:37.46
06:50.42
06:52.93
06:56.17
Final B
1st Scotch Oakburn College - Bow: Timothy Scott-Young, 2: James Singline, 3: Lachlan Davey, Str: Samuel Barcza, Cox: Stuart MacDonald, Cch: Scott Oakey
2nd Redlands College - Bow: Caleb Jones, 2: Andrew Masterson, 3: Daniel Kenny, Str: Kris Hofer, Cox: Michael Compton, Cch: Nick Guidera
3rd The Hutchins School - Bow: Harry More, 2: Guy Knowler, 3: Thomas Veit, Str: Jarrod Brelis, Cox: Wison Mure, Cch: Russell Hookway
Final A
1st The Hutchins School - Bow: Stuart Atkins, 2: Madeleine Batters, 3: Adam Wertheimer, Str: Jonothan Hookway, Cox: Jack Tronson, Cch: Russell Hookway
2nd Ballarat High School - Bow: Matthew Moran, 2: Josh Clarke, 3: Adam Jeffery, Str: Nick Trollope, Cox: Alexander Hirst, Cch: Glenn Kallio
3rd Ballarat Grammar School - Bow: William Boadle, 2: James Armstrong, 3: Jonothan Dorning, Str: Jeremy Zehnwirth, Cox: Lachlan Millar, Cch: Barry Halsall
4th St Patrick'S College - Bow: Edward Grinter, 2: Sam Martin, 3: Matt Jones, Str: Brendan Cannon, Cox: Rhys Prosser, Cch: Terry Austin
5th The Hutchins School - Bow: Alastair Sayers, 2: Joel Edwards, 3: Jason Nichols, Str: Ted Stoklosa, Cox: Graeme Wertheimer, Cch: Russell Hookway
6th St Patrick'S College - Bow: Sean Matthews, 2: Kyle Foley, 3: Royce Griffin, Str: Brendon Howard, Cox: Kyle Carey, Cch: Christopher Bourke, David Stott
Under 17 Schoolboys Coxed Eight
Final A
06:03.54
06:03.98
06:07.64
06:19.74
06:27.56
06:30.55
Final A
1st Canberra Grammar School - Bow: Robert Mardus, 2: Sam Lawrence, 3: Mark Tamsitt, 4: Anthony Tridgell, 5: Peter McColl, 6: Patrick Miller, 7: Tom Miller, Str: Nicholas Barnier, Cox: Hugo Ford, Cch: Jason Cain
2nd Scotch College - Bow: Will Bernard, 2: Tom Davies, 3: Simon Brown, 4: James Sparkman, 5: Thomas Simpson, 6: Tom Sutterby, 7: Joshua Booth, Str: Robert Sartain, Cox: Jack Bull, Cch: Simon Morrison
3rd Christ Church Grammar School - Bow: Aldin Main, 2: Oliver Brooke, 3: Andrew Summerlin, 4: George Ogilve, 5: Alex Trumble, 6: Breffney O'Shea, 7: Nathan Froese, Str: Hammish Rose, Cox: Sam Moyle, Cch: Simon Cox
4th Scotch Oakburn College - Bow: Nicholas Hughes, 2: Samuel Luck, 3: Patrick Jacobs, 4: Benjamin Gray, 5: Angus Peltzer, 6: George Foot, 7: Samuel Laycock, Str: Thomas Woodland, Cox: Alice Tremayne, Cch: Ken Davey
5th Melbourne Grammar School - Bow: Will Breidahl, 2: Nic Russell, 3: Simon Allen, 4: Hugh Vickers-Willis, 5: Jack Macciolli, 6: Anton Grimus, 7: Oli Dutton-Schwietert, Str: Jimmy Yates, Cox: Tim Webster, Cch: Dan Church
6th The Friends School - Bow: Sam Gurner, 2: Tom Hughes, 3: Sam McQueeney, 4: Alistair Stanny, 5: Oliver Kirkland, 6: Evan Woodcock, 7: Edward Kay, Str: Benjamin Robinson, Cox: Albert Thompson, Cch: Urszula Stanny
Schoolboys Coxed Eight
Final D
06:05.30
06:06.66
06:07.21
06:12.42
06:15.30
Final C
06:00.97
06:00.97
06:02.77
06:09.16
06:09.29
06:10.58
Final B
05:52.26
05:53.80
05:57.70
05:59.41
06:03.21
06:03.37
Final A
05:40.81
05:43.47
05:46.01
05:47.66
05:49.92
05:53.72
Final D
1st Brighton Grammar School - Bow: William Priestley, 2: Mitchell Crawford, 3: Matthew Robertson, 4: Jack Cannon, 5: Benjamin Trivett, 6: Alexander Kelvy, 7: Daniel Brighthope, Str: Oliver Ward, Cox: Alexander Jackson, Cch: Simon Gadsden, David Pincus
2nd Caulfield Grammar School - Bow: Joshua Mrocki, 2: Robby Allen, 3: Mathew Kriek, 4: Anthony Castle, 5: Evan Atkins, 6: Cameron Graham, 7: Joseph Braden, Str: Dylan Tobias, Cox: Chris Grant, Cch: Bill Tait, Tyson Chambers
3rd Canberra Grammar School - Bow: Richard Greig, 2: Benjamin Wise, 3: Jeremy Smith-Roberts, 4: Bradley Carron-Arthur, 5: Matthew Brown, 6: Michael Hill, 7: Angus Kenyan, Str: Will Yorke, Cox: Robert Winkworth, Cch: Jaime Fernandez
4th Norwood-Morialta High School - Bow: Scott McClean, 2: Patrick Ehlers, 3: Anton Jenke, 4: Jim Harvy, 5: Gabe Fisch, 6: Owen Girardi, 7: James Watson, Str: Hayden Woolgar, Cox: Emma Thompson, Cch: Phil Martin
5th Melbourne High School - Bow: Ben Houghton, 2: Andrew Dowling, 3: Will Docherty, 4: Ryan Keaney, 5: Brad Spaulding, 6: Tomos Clark, 7: Matthew Ampt, Str: Cameron Louis-Gleeson, Cox: Mark Tito, Cch: James Guthrie
Final C
1st St Peters College - Bow: Tim Cook, 2: Giles Dunseath-Hamilton, 3: Sam Arnold, 4: Henry Tolley, 5: Kurt Justice, 6: Samuel Heath, 7: Xavier Harris Plane, Str: James Graham, Cox: Nicholas Yorston, Cch: David Bishop
1st St Kevin'S College - Bow: Anthony Murphy, 2: John Mears, 3: Christopher Gatto, 4: Glen Chivers, 5: Karl Riegert, 6: Nicholas McArdle, 7: Anthony Rosales, Str: Alexander McBride, Cox: James Rosales, Cch: Ed Douez, Tim Frederico
3rd Haileybury College - Bow: Jai Burgess-McIntosh, 2: Nicholas Petrovich, 3: Tyrone Vickery, 4: Matthew Lillie, 5: Timothy Budge, 6: Thomas Haworth, 7: Trent Elvin, Str: Stefan Eriksen, Cox: Adam Ghirxi, Cch: Mark Doyle
4th The Friends School - Bow: Oliver Scott, 2: Simon Lovell, 3: David Kennedy, 4: Fergus Smith, 5: John Galligan, 6: Peter Gibson, 7: Hamish Ostler, Str: David Climie, Cox: Charles Thompson, Cch: Sam Manson
5th Pulteney Grammar School - Bow: Ian Shaw, 2: Lachlan Grant, 3: Lawrence Creighton, 4: Nicholas Ruygrok, 5: Justin Samartzis, 6: Sterling Barker, 7: Simon Baylis, Str: Angus Moore, Cox: Ben Drogemuller, Cch: Fearnley Szuster
6th Carey Grammar School - Bow: James Chesterfield, 2: Sebastian Guiney, 3: Chris Bush, 4: Liam Cooney, 5: Toby Greig, 6: Shane Jackson, 7: Dominic McKay, Str: Travis Chiuchiarelli, Cox: Simon Bramwell, Cch: Richard Bartlett
Final B
1st Sydney Grammar School - Bow: Peter Frazis, 2: Charles Budd, 3: William Moor, 4: Phillip Robinson, 5: Samuel Waller, 6: Jordan Brown, 7: Hugh Hawkins, Str: Simon Gray, Cox: Daniel Pinczewski, Cch: Kevin Regan
2nd Christ Church Grammar School - Bow: Colin Thomson, 2: Jack McClory, 3: Michael David, 4: Henery Goodier, 5: Alistaire Graham, 6: Timothy Drok, 7: John Schurmann, Str: Stephen Martin, Cox: Jackson Carroll, Cch: Simon Cox
3rd Pembroke School - Bow: Austin Wakeham, 2: Alex Weeks, 3: Todd Evans, 4: Gavin Jones, 5: Cleve Batten, 6: Brad McDonald, 7: Matthew Ball, Str: Alexander Evans, Cox: Richard Hordern-Gibbings, Cch: Tom Game, Roger Moore
4th Xavier College - Bow: Philip Henderson, 2: Joseph Overland, 3: Daniel Selir, 4: Sebastian Wilton, 5: John Simpson, 6: Daniel Sweeney, 7: Thomas Juzwin, Str: Benedict Quinlan, Cox: Thomas Curtain, Cch: David Doyle
5th Melbourne Grammar School - Bow: Alistair Ferguson, 2: Rohan Barraclough, 3: Blair Jenkins, 4: Tom Beattie, 5: Nick Batten, 6: Andrew Thomas, 7: Jack Baker, Str: Jono Phillips, Cox: Mitchell Perkins, Cch: David Aitken
6th The Scots College - Bow: Alastair Nash, 2: Ryan Edwards, 3: Tommy Slobodnik, 4: Thomas Sampson, 5: James Murdoch, 6: George Quigley, 7: James Massy-Greene, Str: David Starke, Cox: Matthew Brown, Cch: Alfie Young, Craig Muller
Final A
1st The Kings School - Bow: Jack Farthing, 2: Jackson Greentree, 3: Aleksander Berzins, 4: Henry Mander, 5: John Rea, 6: Sam Hosking, 7: Cameron Girdlestone, Str: Edward White, Cox: James Harvey,
2nd Scotch College - Bow: Will Emmett, 2: Nicholas Cathie, 3: Oliver Baxter, 4: Jayson Speck, 5: Robert Njoku, 6: Michael Steele, 7: Will Lockwood, Str: Lachlan McKenzie, Cox: Benjamin Bailey, Cch: Jeff Watt
3rd Geelong College - Bow: Richard Linke, 2: Christopher Bolsin, 3: Jack Nelson, 4: Josh Dunkley-Smith, 5: Corey Olszak, 6: John Linke, 7: Andrew Walsh, Str: Andrew McArthur, Cox: Emily Carr, Cch: Neil Myers
4th The Shore School - Bow: Robert Taylor, 2: Jack Denning, 3: Gordon Whitehead, 4: Robert Loosli, 5: James Goswell, 6: Henry Little, 7: James Kerr, Str: Thomas Mathers, Cox: Alex Nunn, Cch: Nick Lloyd
5th St Joseph'S College - Bow: Michael Dwyer, 2: Kurtis Thomas, 3: Paul Mahoney, 4: Angus Wilson, 5: Matthew Edstein, 6: Thomas Quilty, 7: Edward McGroder, Str: Samuel Behan, Cox: Edward Clarke, Cch: Michael Morgan, Stephen Handley
6th Geelong Grammar School - Bow: Nick Paterson, 2: Tom Nelson, 3: Jason Laws-King, 4: Nick Valge, 5: Alastair Austin, 6: Charlie Reed, 7: Nic Cameron, Str: Jock Thomson, Cox: James Peterson, Cch: Stewart Edge, Geoff Hunter