1996 National Championships—Sydney International Regatta Centre NSW
These Championships were the first at the new Olympic course. It marked one of many important milestones in the Olympic preparations. The course was built through the combined work of the State Government, Penrith Lakes Development Corporation and its partners Boral, CSR and Pioneer, who had constructed the course as part of a rehabilitation of their quarry land.
FISA representatives were on hand to witness the event and test the course.
Some of the permanent facilities that we know today were not yet present, such as the grandstand and boatsheds. Many temporary facilities were required.
The major sponsor for the events was ABN-AMRO.
Daily result sheets
Tuesday 12 March
Wednesday 13 March
Saturday 16 March
Sunday 17 March
---
Organising Committee and Officials
Organising Committee: Don Croot (Chairman), Ian Mitchell, Terry Maher, David Sollom, Joy Woolridge, Margaret Mackenzie, Michele Saville, Terry Basket, Lindsay Callaghan, Kim Mackney, David Croot, John Young, Bill Winkworth, Bob Day, Rod Moynahan, Gillian Campbell, John Coates, Doug Donoghue, Don Roberts, Alan Grover, Geoff McIntyre, Ken Bell, Tony McFarlane, Glenn Ryder, dr Bill Webb, Richard Browne, Deb Roberts, Richard Curtin, Tony Brown, Leon Blackman, Terry Watts, Alan Foakes, Michael Wilson, John Croll, Stephen Croot, Caitlin Donohoe, Robyn Grueff, Stewart Derwin, John Baskett, Reg Stride, George Neilsen, Steve Blatchford, Ray Brown
Jury: Robert Pennington (Referee), Ron Beattie, D Breen, F Brand, T Buchanan, Barney Cundell, Robert Duncan, Berry Durston, Andrew Guerin, James Harvey, Roy Hinchy, Peter Huggett, Craig James, Gavin Jenner, Pat McGuffie, B McLeod, R Mika, Ralph Murphy, John Oakley, Ron Podbury, R Potter, David Rattray, Tim Wainman, R Waldie, Joy Wooldridge, William Wooldridge, Brett Woolfitt, Robin Murphy
Senior A Men's Single Scull
Final A
6:50.35
6:55.50
6:56.78
6:57.87
7:01.74
7:06.42
7:06.89
7:25.35
Final A
1st Czech Republic - Vaclav Chalupa, Cch: Zdenek Pecka
2nd Tweed Heads - Duncan Free, Cch: Reg Free
3rd Lower Clarence - David Cameron, Cch: Harald Jahrling
4th Curtin - Rob Snook, Cch: Tony Lovrich
5th Canberra - Craig Jones, Cch: Reuben Bettle
6th Mosman - Janusz Hooker, Cch: Harald Jahrling
7th Commercial - James Burton, Cch: Oleg Shishkin
8th Waikato - Rob Waddell, Cch: Harry Mahon
Senior A Men's Double Scull
Final A
1st Tweed Heads - Bow: Marcus Free, Str: Duncan Free, Cch: Reg Free
2nd Canberra/Curtin Uni - Bow: Craig Jones, Str: Ron Snook, Cchs: Tony Lovrich and Reuben Bettle
3rd Canberra/Ballarat City - Bow: Bruce Hick, Str: Anthony Edwards, Cch: Tim McLaren
Senior A Men's Quadruple Scull
Final A
1st Commercial/Tweed/UQBC - Bow: James Burton, 2: Marcus Free, 3: Duncan Free, Str: Bo Hanson, Cch: Reg Free, Oleg Shishkin
2nd Canberra - Bow: Anthony Kearns, 2: Craig Jones, 3: Nick McDonald-Crowly, Str: Bruce Hick, Cch: Reuben Bettle
3rd UTS Haberfield - Bow: Sinclair Taylor, 2: Richard Roach, 3: Duncan Bull, Str: Rhett Ayliffe, Cch: Tim McLaren
Senior A Men's Coxless Pair
Final A
6:38.35
6:40.28
6:40.56
6:41.62
6:42.68
6:45.51
6:47.36
6:48.05
Final A
1st UQBC/Curtin - Bow: David Weightman, Str: Rob Scott, Cch: Steve Evans
2nd Mercantile/MUBC - Bow: Nicholas Green, Str: James Tompkins, Cch: Noel Donaldson
3rd Mercantile - Bow: Drew Ginn, Str: Mike McKay, Cch: Noel Donaldson
4th UTS - Bow: Geoffrey Stewart, Str: James Stewart, Cch: Steve Evans
5th Sydney - Bow: Robert Walker, Str: Richard Wearne, Cch: Harald Jahrling
6th AUBC/Curtin - Bow: Jaime Fernandez, Str: Nick Porzig, Cch: Steve Evans
7th Mercantile/Canberra - Bow: Peter Murphy, Str: Stuart McRae, Cch: Steve Evans
8th Mercantile/Sydney - Bow: Robert Jahrling, Str: Ben Dodwell, Cch: Steve Evans
Senior A Men's Coxless Four
Final A
1st Curtin/AUBC - Bow: David Weightman, 2: Nick Porzig, 3: Jamie Fernandez, Str: Rob Scott, Cch: Stephen Evans
2nd Mercantile/Canberra/Sydney - Bow: Peter Murphy, 2: Sturat McRae, 3: Boden Hansen, Str: Ben Dodwell, cch: Steve Evans
3rd Sydney/UTS - Bow: Robert Walker, 2: James Stewart, Geoff Stewart, Richard Wearne, Cch: Harald Jahrling
Senior A Men's Eight
Final A
6:20.60
6:25.45
6:27.81
6:32.16
6:41.05
6:42.45
6:48.72
7:04.84
Final A
1st Mercantile/Sydney/Canberra - Bow: Peter Murphy, 2: Daniel Burke, 3: Alistair Gordon, Str: Stuart Murphy, Cox: Brett Hayman, Cch: Steve Evans
2nd Mercantile/MUBC/Banks - Bow: Richard Shenfield, 2: Simon Spriggs, 3: Richard Roach, Str: Anthony Ellis, Cox: David Colvin
3rd UTS - Bow: Matt Roach, 2: Richard Roach, 3: Geoff Stewart, Str: James Stewart, Cox: Georgia Green, Cch: Tim McLaren
4th Mercantile/Banks - Bow: Robert Douglas, 2: William Tait, 3: James Baker, Str: Simon Gadsden, Cox: Paul Beitzel, Cch: Frank Stone
5th Sydney/Mosman - Bow: Michael Burke, 2: James Stevenson, 3: Matthew Souter, Str: Alexander Maxwell, Cox: Teesan Koo, Cch: Sam Carroll
6th Banks - Bow: Tom Kennedy, 2: Paul Roberts, 3: Nick Kemp, Str: Simon Ballard, Cox: Rebecca Joyce, Cch: Colin Rawson
7th Mercantile - Bow: Robert Strang, 2: Jason Connell, 3: Jason Farranda, Str: Robert Cretney, Cox: Noel Jordan, Cch: Frank Stone
8th Sydney - Bow: Alexander Daffy, 2: Nigel Lotz, 3: Angus Reynolds, Str: Jeff Overton, Cox: Leanne Koh, Cch: Nick Padol
Senior A Men's Coxed Four
Final A
1st AIS Composite - Bow: Peter Murphy, 2: Stuart McRae, 3: David Weightman, 4: Nick Porzig, 5: Robert Jahrling, 6: Ben Dodwell, 7: Jaime Fernandez, Str: Rob Scott, Cox: Brett Hayman, Cch: Steve Evans
2nd UTS - Bow: Dimitri Colebatch, 2: Jason Kovacic, 3: Zac Kirkham, 4: Rhett Ayliffe, 5: Matt Roach, 6: Richard Roach, 7: Geoff Stewart, Str: James Stewart, Cox: Georgia Green, Cch: Tim McLaren
Senior A Lightweight Men's Single Scull
Final A
7:14.97
7:16.13
7:26.14
7:26.33
7:28.58
7:28.89
7:31.36
7:36.15
Final A
1st Canberra - Bruce Hick, Cch: Reuben Bettle
2nd Ballarat City - Anthony Edwards
3rd Lindisfarne - Tim Hawkins
4th Tweed Heads - Anthony Cook, Cch: Wiebke Warnken
5th Glenorchy - Jason Harvey, Cch Paul Harvey
6th UWA - Alex Harrison, Cch: Stephen Muhlenberg
7th Ulverstone - Andrew Butler, Cch: John Driessen
8th MUBC - Sam Golding, Cch: John Cumper
Senior A Lightweight Men's Double Scull
Final A
1st Dukla Prague, Czech Republic - Bow: Petr Kovac, Str: Michal Vabrousek, Cch: Lubos Oudracek
2nd Ulverston/Lindsfarne - Bow: Darren Balmforth, Str: Andrew Butler
3rd MUBC - Bow: Sam Dolding, Str: Dominic Gatto
Senior A Lightweight Men's Quadruple Scull
Final A
6:10.33
6:17.13
6:17.63
Final A
1st MUBC/Commercial/Lindisfarne - Bow: Domenic Gatto, 2: Gary Lynagh, 3: Darren Balmforth, Str: Andrew Broadfoot, Cch: Chris O'Brien
2nd SUBC/UTS - Bow: Alex Headley, 2: Uldis Clarson, 3: Laird Abernetly, Str: Gian Minns, Cch: Ian Shaw
3rd UTS - Bow: Joshua Harvey, 2: Ron Bat, 3: Neville Phillips, Str: Robert Mitchell, Cch: Tim McLaren
Senior A Lightweight Men's Coxless Pair
Final A
6:51.12
6:53.62
6:55.83
6:56.76
7:04.08
7:08.27
7:11.69
7:19.21
Final A
1st Lindisfarne/Geevestone - Bow: Darren Balmforth, Str: Simon Burgess, Cch: John Cumper
2nd Wendouree-Ballarat - Bow: Tim Wright, Str: Matt Russell, Cch: Jock Heys
3rd Nagambie/MUBC - Bow: Stuart Purves, Str: Stuart Peele, Cch: Lyall Macarthy
4th SUBC - Bow: Kenneth Major, Str: Michael Wiseman, Cch: HansPeter Madritsch
5th Banks - Bow: Alistair Ishawood, Str: Robert Spinks, Cch: Tim Dehram
6th Toowong - Bow: Scott Taylor, Str: Robert McNeill, Cch: Terry Mulligan
7th WARC - Bow: Mark James, Str: Jim Corss, Cch: G Russell, N Kempton
8th Adelaide/Torrens - Bow: Ben Reece, Str: James Seppelt, Cch: Barb Gillett
Senior A Lightweight Men's Coxless Four
Final A
1st Lindisfarne Composite - Bow: Darren Balmforth, 2: Hamish Karrasch, 3: Garry Lynagh, Str: Simon Burgess, Cch: John Cumper
2nd Wendouree Ballarat/Nagambie/MUBC - Bow: Tim Wright, 2: Stuart Peele, 3: Stuart Purves, Str: Natt Russell
3rd SUBC/UTS Haberfield - Bow: Alex Headley, 2: Michael Parkes, 3: Ken Major, Str: Michael Wiseman, Cch: Hanspeter Madritsch
Senior A Lightweight Men's Coxed Eight
Final A
1st MUBC Composite - Bow: Andrew Broadfoot, 2: Stuart Peele, 3: Matt Russell, 4: Tim Wright, 5: Andrew Lane, 6: Anthony Edwards, 7: Stuart Purves, Str: Matt Russell, Cox: David Colvin, Cch: Lyall McCarthy
2nd WARC/Curtin/Torrens - Bow: Jim Cross, 2: David Belcher, 3: Tom Atkinson, 4: Duncan Mitchell, 5: Anthony Ingham, 6: Glenn Loftus, 7: Mark James, Str: Alex Harrison, Cox: Robert Dallimore, Cchs: Gavin Russell and Neville Kempton
3rd Sydney/SUBC/Nepean - Bow: Alex Headley, 2: Michael Parkes, 3: Simon Gray, 4: Duncan Lawson, 5: Antony Schultz, 6: Richard Toepfer, 7: Ken Major, Str: Michael Wiseman, Cox: Dale Caterson, Cchs: Phil Cayzer and Hanspeter Madritsch
Senior B Men's Single Scull
Final A
7:02.92
7:06.23
7:06.54
7:08.00
7:08.31
7:09.77
7:13.55
7:17.41
7:18.14
Final A
1st Sydney - Martin Inglis, Cch: M Morgan, S Carroll
2nd ECU Perth - Tristan Pascall
3rd Sydney - Matthew O'Callaghan, Cch: M Morgan, S Carroll
4th UTS - Sinclair Taylor, Cch: Tim McLaren
5th Commercial - Scott Simpson, Cch: Oleg Shishkin
6th Sydney - Finghin Murray, Cch: M Morgan, S Carroll
7th Lindisfarne - Tom Edwards
8th Swan River - Anthony Fievez, Cch: Nick Garratt
9th Curtin - Ben Hopkins
Senior B Men's Double Scull
Final A
1st UTS/Sydney - Bow: Martin Inglis, Str: Sinclair Taylor, Cch: Tim McLaren
2nd Sydney
3rd Toowong/Commercial - Bow: Ralph Cruikshank, Str: Robert Plater
Results missing
Senior B Men's Coxless Pair
Final A
6:52.26
6:55.26
6:59.77
7:00.98
7:03.36
7:05.50
7:08.73
7:14.88
Final A
1st Mercantile - Bow: William Tait, Str: Simon Gadsden, Cch: Frank Stone
2nd Sydney/UTS - Bow: Stuart Welch, Str: Adam Woodward, Cch: Sam Carroll
3rd Toowong - Bow: Mick Ovcaric, Str: Chris Hartley, Cch: Tom Jack
4th UTS - Bow: Zachary Kirkham, Str: Matthew Long, Cch: Harald Jahrling
5th UQBC/Toowong - Bow: Matt Kesby, Str: Greg Brown, Cch: Ned Draydon
6th Toowong - Bow: Cameron Taylor, Str: Andrew Service, Cch: Tom Jack
7th UTS - Bow: Greg Bain, Str: Dimitri Colebatch, Cch: Tim McLaren
8th UWA/Curtin - Bow: Scott Nicholls, Str: Toby Smith, Cch: Nick Garratt
Senior B Men's Coxless Four
Final A
Sydney/UTS/Nepean - Bow: Zachary Kirkham, 2: Adam Woodward, 3: Alistair Gordon, Str: Martin Inglis, Cch: Harald Jahrling
2nd UQBC/Toowong/Commercial - Bow: Greg Brown, 2: Scott Simpson, 3: Jamie Rowe, Str: Matt Kesby, Cchs: Ned Drayton and Wayne Diplock
3rd Toowong- -Bow: Gordon Morrison, 2: David McWilliam, 3: Cameron Taylor, Str: Andrew Service, Cch: Tom Jack
Senior B Men's Coxed Four
Final A
6:32.75
6:36.36
6:37.08
6:37.61
Final A
1st Sydney/UTS - Bow: Daniel Noble, 2: Philip Grueff, 3: Stuart Welch, Str: Adam Woodward, Cox: Adam Abrams, Cch: Sam Carroll
2nd MUBC - Bow: Paul Myers, 2: Ben Sullivan, 3: Nigel Sullian, Str: Christian Ryan, Cox: Noel Jordan, Cch: Chris O'Brien
3rd Swan River/UWA - Bow: Anthony Fievez, 2: Angus Argyle, 3: Toby Smith, Str: Scott Nicholls, Cox: Jane Cox, Cch: Nick Garratt
4th Toowong - Bow: Josh Beckwith, 2: Keiran Dwyer, 3: Micky Ovcaric, Str: Chris Hartley, Cox: Darren Paddy, Cch: Tom Jack
Senior B Men's Eight
Final A
1st Sydney/UTS/Mosman - Bow: Matthew O'Callaghan, 2: Finghin Murray, 3: Stuart Welch, 4: Adam Woodward, 5: Zachary Kirkham, 6: Matthew Long, 7: Alister Gordon, Str: Martin Inglis, Cox: Adam Abrams, Cch: Harald Jahrling
2nd Adelaide/Torrens - Bow: Stuart Johnston, 2: Tim Simpson, 3: Paul Bastiaans, 4: Neil Lapworth, 5: Leigh Chapman, 6: Aiden Burrell, 7: Wade Barber, Str: Monte Goulding, Cox: Isaac Medina, Cch: Barnaby Eaton
3rd Mercantile/MUBC - Bow: Paul Myers, 2: Ben Sullivan, 3: Nigel Sullivan, 4: Christian Ryan, 5: Bill Tait, 6: Simon Gadsden, 7: Jason Faranda, Str: Rob Douglas, Cox: Paul Beitzel, Cchs; Frank Stone and Chris O'Brien
Senior B Lightweight Men's Single Scull
Final A
7:21.11
7:23.26
7:27.86
7:29.87
7:36.20
7:37.74
7:40.26
7:44.34
Final A
1st MUBC - Andrew Broadfoot, Cch: Chris O'Brien
2nd UQBC - Glenn Mill
3rd Sydney - Simon Curkovic
4th UTS - Robert Mitchell
5th Carrum - Mark Dusting
6th Toowong - Gary Worrell
7th Perth - William Bird, Cch: Gavin Russell
8th Nepean - Michael Fokes, Cch: Lindsay Callaghan
Senior B Lightweight Men's Double Scull
Final A
1st UTS - Bow: Alex Headley, Str: Rob Mitchell, Cch: Tim McLaren
2nd Carrum/MUBC - Bow: Mark Dusting, Str: Andrew Broadfoot, Cchs: Chris O'Brien and D Thain
3rd SUBC - Bow: Laird Abernethy, Str: Gian Minns, Cch: Hanspeter Madritsch
Senior B Lightweight Men's Coxless Pair
Final A
6:58.77
7:02.35
7:05.35
7:08.89
7:12.32
7:15.91
7:20.90
7:39.87
Final A
1st Curtin - Bow: Tom Atkinson, Str: Glen Loftus, Cch: Gavin Russell
2nd Toowong - Bow: Jeremy Lawrence, Str: Scott Fraser, Cch: John Wilson
3rd SUBC/UTS - Bow: Alex Headley, Str: Michael Parkes, Cch: Hanspeter Madritsch
4th Curtin - Bow: Duncan Mitchell, Str: Anthony Ingram, Cch: Gavin Russell
5th Toowong - Bow: Ben Cameron, Str: Ben Finemore, Cch: John Wilson
6th Sydney/Nepean - Bow: Simon Gray, Str: Duncan Lawson, Cch: Phil Cayzer, Lindsay Callaghan
7th Sydney - Bow: Anthony Schulz, Str: Richard Toepfer, Cch: Phil Cayzer
8th Sandy Bay - Bow: Sam Hay, Str: Linden Wright
Senior B Lightweight Men's Coxless Four
Final A
1st Curtin University - Bow: Tom Atkinson, 2: Duncan Mitchell. 3: Glen Loftus, Str: Anthony Ingram, Cch: Gavin Russell
2nd Toowong - Bow: Scott Fraser, 2: Ben Cameron, 3: Ben Finemore, Str: Jeremy Lawrence, Cch: John Wilson
3rd Sydney - Bow: Duncan Lawrence, 2: Anthony Schultz, 3: Richard Toepfer, Str: Simon Curkovic, Cch: Phil Cayzer
4th UTS/UQBC/Toowong - Bow: Joshua Harvey, 2; Robert McNeil, 3: Gary Worrell, Str: Glen Milne, Cch: Tim McLaren
Junior Men's Single Scull
Final A
7:20.37
7:24.10
7:27.36
7:31.35
7:38.27
7:40.74
7:41.25
7:41.30
Final A
1st ECU Perth - Stuart Reside, Cch: Nick Garratt
2nd ECU Perth - Jono Fievez, Cch: Nick Garratt
3rd Nepean - Karl Parker, Cch: Lindsay Callaghan
4th Nepean - Tom Laurich, Cch: Debbie Fox
5th UTS - Stephan Stewart, Cch: Sam Carroll
6th ECU Perth - Tim Perkins, Cch: Nick Garratt
7th Drummoyne - Anthony Frith, Cch: Steve Sherry
8th Carrum - Ben Cantwell
Junior Men's Double Scull
Final A
ECU Perth - Bow: Tim Perkins, Str: Stuart Reside, Cch: Nick Garratt
Results missing
Junior Men's Quad Scull
Final A
1st ECU Perth - Bow: Shane Markham, 2: Jono Fievez, 3: Tim Perkins, Str: Stuart Reside, Cch: Nick Garratt
2nd Nepean/SUBC - Bow: Peter Elliott, 2: Adam Long, 3: Ben Clarsen, Str: Karl Parker, Cchs: Lindsay Callaghan and Hanspeter Madritsch
3rd UQBC - Bow: Stuart Stevens, 2: Peter Wiseman, 3: Paul Predergast, Str: Myles Dawson, Cch: Ned Draydon
Junior Men's Coxless Pair
Final A
7:06.60
7:07.04
7:17.18
7:22.03
7:27.48
7:27.73
7:39.03
7:49.23
Final A
1st Adelaide/Torrens - Bow: Leigh Chapman, Str: Aidan Burrell, Cch: Barnaby Eaton
2nd Nepean - Bow: Peter Hardcastle, Str: James Bezer, Cch: Debbie Fox
3rd Toowong - Bow: David Tynan, Str: Keiran Dwyer, Cch: Tom Jack
4th Canberra - Bow: Ian Morgan, Str: James Dunlop, Cch: Nick Hunter
5th Adelaide - Bow: Neil Lapworth, Str: Paul Bastiaans, Cch: Barnaby Eaton
6th Nepean - Bow: Peter Elliott, Str: Adam Long, Cch: Lindsay Callaghan
7th Toowong - Bow: Josh Beckwith, Str: Tom Mylne, Cch: Tom Jack
8th UQBC - Bow: Luke Bussell, Str: David Caldwell, Cch: Ned Draydon
Junior Men's Coxed Four
Final A
6:28.56
6:31.55
6:37.65
6:49.43
6:52.34
7:02.16
7:04.94
7:14.06
Final A
1st Nepean - Bow: Peter Elliott, 2: Adam Long, 3: Peter Hardcastle, Str: James Bezer, Cox: Adam Abrams, Cch: Debbie Fox
2nd Adelaide/Torrens - Bow: Neil Lapworth, 2: Leigh Chapman, 3: Paul Bastianns, Str: Aidan Burrell, Cox: Isaac Medina, Cch: Barnaby Eaton
3rd Toowong - Bow: Josh Beckwith, 2: Tom Mylne, 3: David Tynan, Str: Keiran Dwyer, Cox: Sarah Black, Cch: Tom Jack
4th St Josephs - Bow: Daniel Rice, 2: Phillip Williams, 3: Sol Crumlin, Str: Benjamin Tull, Cox: Paul Barrett, Cch: Michael Rowan
5th Torrens - Bow: Anthony Andolfatto, 2: Tim Simpson, 3: James Maddox, Str: William Higgins, Cox: Helena Dutton, Cch: Luigi Lippis
6th St Annes & Gippsland - Bow: David Ostberg, 2: Benjamin Wright, 3: Alister Clyne, Str: Timothy Harrison, Cox: Karen Higgins, Cch: Alan Borger
7th Radford - Bow: Ryan Clark, 2: Ben Coutts, 3: James Dunlop, Str: Josh Leyshon, Cox: Marc Van Der Veen, Cch: Andrew Wrigley
8th Daramalan - Bow: Luke Gordon, 2: James Johnston, 3: Matthew James, Str: Brendan Fehon, Cox: Liam Smyth, Cch: Graham Tanner
Junior Men's Eight
1st St. Josephs - crew not known
2nd Newington - Bow: Nicholas Kerr, 2: Nicholas Pay, 3: Christopher Bowles, 4: Michael Shadbolt, 5: James Lunney, 6: Scott Gorman, 7: Andrew McGaw, Str: Philip Abbott, Cox: Glenn Bates, Cchs: Sam Carroll and Steve Handley
3rd Caulfield Grammar - Bow: John Barnes, 2: Simon Thompson, 3: Sam Gilgen, 4: Colin Piening, 5: Blair Hasforth, 6:Tom Webster, 7: Clint McGrath, Str: Cameron Creer, Cox: Clare Bhujoharry, cch: David Aitken
Under 17 Men's Double Scull
Final A
1st New Norfolk/Lindisfarne - Bow: Chris Harris, Str: Michael Pollard
Under 17 Men's Quad Scull
Under 17 Men's Coxed Four
Final A
6:53.79
7:03.46
7:04.12
8:12.18
Final A
1st Adelaide - Bow: Luke Callier, 2: Mark Kurko, 3: Bojan Sevo, Str: James Cother, Cox: Brooke Cooper, Cch: Andi Furmage
2nd Nepean - Bow: Reece Scott, 2: Mislav Joos, 3: Ben Douglass, Str: Chad King, Cox: Mitchel Gaskin, Cch: A Derks, T Baskett
3rd Sydney Boys - Bow: Andrew Bowman, 2: Michael Kovac, 3: Kendall Robinson, Str: Daniel Jones, Cox: William Chi, Cch: John Croll
4th Mosman - Bow: Sean Maloney, 2: Ben Davis, 3: Alex Madgwick, Str: Joshua Porteous, Cox: Kurt Olsen, Cch: Marty Nicholas
Senior A Women's Single Scull
Final A
7:32.35
7:34.14
7:37.03
7:40.41
7:40.82
7:52.05
8:00.91
8:07.19
Final A
1st UTS - Bronwyn Rose, Cch: Ellen Randell
2nd UQBC - Marina Hatzakis, Cch: Terry Mulligan
3rd Melbourne - Jane Robinson, Cch: Doug White
4th UTS - Emy Snook, Cch: Enkel Randell
5th Torrens - Sally Newmarch, Cch: Barb Gillett
6th Banks - Rachael Kininmonth, Cch: Doug White
7th SUBC - Monique Heinke, Cch: Sandy Burt
8th North Shore - Freya Chapple
Senior A Women's Double Scull
1st Mosman/UTS - Bow: Virginia Lee, Str: Rebecca Joyce, Cch: Harold Jahrling, Ellen Randell-Griffiths
2nd UQBC/Torrens - Bow: Marina Hatzakis, Str: Sally Newmarch, Cch: Barbara Gillett and Uwe Bender
3rd UTS Haberfield - Bow: Jenny Luff, Str: Bronwyn Roye, Cch: Ellen Randell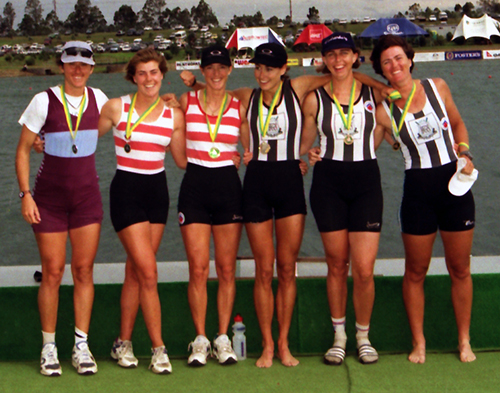 Senior A Women's Quadruple Scull
Final A
1st Torrens Composite - Bow: Tami Stone, 2: Christine Morawietz, 3: Anna Tree, Str: Sally Newmarch, Cch: Barbara Gillet, Uwe Bender
2nd UTS Haberfield No 1 - Bow: Annabel Kater, 2: Bronwyn Roye, 3: Emy Snook, Str: Rebecca Joyce, cch: Ellen Randell
3rd St George - Bow: Natalie Robson, 2: Biannca Noorman, 3: Catherine Young, Str: Bronwen Watson, Cch: Phil Vial
Senior A Women's Coxless Pair
Final A
7:23.25
7:26.26
7:27.67
7:29.67
7:33.03
7:36.33
8:07.91
8:16.31
Final A
1st Mercantile/UTS - Bow: Jenny Luf, Str: Georgina Douglas, Cch: Brian Dalton, Paul Thompson
2nd Riverside - Bow: Victoria Toogood, Str: Alison Davies, Cch: Brian Dalton, Paul Thompson
3rd Canberra - Bow: Angela Holbeck, Str: Karina Wieland, Cch: Brian Dalton, Paul Thompson
4th Mercantile/Torrens- Bow: Fleur Spriggs, Str: Amy Safe, Cch: Brian Dalton, Paul Thompson
5th Riverside/Adelaide - Bow: Anna Ozlins, Str: Carmen Klomp, Cch: Brian Dalton, Paul Thompson
6th MUBC - Bow: Caitlin Fraser, Str: Bronwyn Thompson, Cch: Brian Dalton, Paul Thompson
7th Sydney - Bow: Emma O'Connor, Str: Anna Williamson
8th UQBC/Towong - Bow: Esther Palmer, Str: Carla Lawrie
Senior A Women's Coxless Four
Final A
1st Torrens Composite - Bow: Amy Safe, 2: Bronwyn Thompson, 3: Karina Wieland, Str: Anna Ozolins, Cch: Paul Thompson, Brian Dalton
2nd Mercantile/UTS/Riverside - Bow: Jenny Luff, 2: Georgina Douglas, 3: Carmen Klomp, Str: Fleur Spriggs, Cchs: Paul Thompson and Brian Dalton
3rd Riverside/Canberra/AUBC - Bow: Victoria Toogood, 2: Kate Slatter, 3: Megan Still, Str: Alison Davies, Cchs: Brian Dalton and Paul Thompson
Senior A Women's Eight
Final A
6:12.06
6:12.57
6:18.60
6:28.47
6:44.31
Final A
1st UTS/MUBC/Swan River - Bow: Jenny Luff, 2: Bronwyn Thompson, 3: Victoria Toogood, 4: Georgina Douglas, 5: Megan Still, 6: Kate Slatter, 7: Carmen Klomp, Str: Alison Davies, Cox: Georgia Green, Cch: Brian Dalton, Paul Thompson
2nd MUBC/Torrens/Narrabundah - Bow: Kate Fraser, 2: Angela Holbeck, 3: Ballanda Sack, 4: Kate Dearden, 5: Amy safe, 6: Fleur Spriggs, 7: Karina Wieland, Str: Anna Ozolins, Cox: Kay Hick, Cch: Brian Dalton, Paul Thompson
3rd UTS/UQBC - Bow: Chris Gosling, 2: Bronwyn Opferkuch, 3: Annabel Kater, 4: Rowan Carroll, 5: Heidi Little, 6: Emmy Anno, 7: Bronwyn Roye, Str: Rebecca Joyce, Cox: Tina Wuromus, Cch: Ellen Randell
4th Sydney/Nepean/Mosman - Bow: Elisha Rose, 2: Jasmin Colley, 3: Heather Cocquio, 4: Nicole Timbrell, 5: Shea Crumlin, 6: Kathleen Burke, 7: Jodi Winter, Str: Kristina Larsen, Cox: Eliisa Bishop, Cch: Debbie Fox, Harald Jahrling
5th SUBC - Bow: Danusia Cameron, 2: Lene Hansen, 3: Rachel Brony, 4: Zita Van De Walle, 5: Julia Howle, 6: Monique Heinke, 7: Catherine Webb, Str: Naomi Laing, Cox: Carla Phillip, Cch: Simon Burt, Frank Thorn
Senior A Lightweight Women's Single Scull
Final A
8:01.36
8:02.23
8:03.03
8:13.79
8:13.80
8:19.58
8:26.02
8:34.20
Final A
1st UTS - Rebecca Joyce, Cch: Ellen Randell
2nd Mosman - Virginia Lee, Cch: Harald Jahrling
3rd Canberra - Adair Ferguson, Cch: Nigel Harding
4th UTS - Annabel Kater, Cch: Ellen Randell
5th Nepean - Joanne Morgan, Cch: Harald Jahrling
6th Frankfurt - Christine Morawietz, Cch: Uwe Bender
7th MUBC - Kathy McCallum
8th SUBC - Zita Van De Walle, Cch: Frank Thorn
Senior A Lightweight Women's Double Scull
Final A
1st UTS/Nepean - Bow: Annabell Kater, Str: Joanne Morgan, Cch: Harold Jahrling
2nd Not known
3rd Canberra No 2 - Bow: Jemima Lhose, Str: Adair Ferguson, Cch: Nigel Harding
Senior A Lightweight Women's Coxless Pair
Senior A Lightweight Women's Coxless Four
Senior B Women's Single Scull
Final A
7:53.01
8:01.15
8:01.97
8:02.92
8:08.19
8:11.80
8:14.38
8:17.89
Final A
1st Riverside - Anna Tree, Cch: Uwe Bender
2nd Glenorchy - Dana Faletic
3rd Murray Bridge - Tami Stone, Cch: Uwe Bender
4th Commercial - Mary Bourne, Cch: Rob Kenier
5th Sydney - Heather Cocquio, Cch: Mick Lane
6th Riverside - Kerryn Hill, Cch: Andrew Pierce
7th Tweed Heads - Bianca Carstensen, Cch: R C Graham
8th Swan River - Jessamy Moore, Cch: Vanessa Grant
Senior B Women's Double Scull
Final A
1st Riverside/Murray Bridge - Bow: Tami Stone, Str: Anna Tree, Cch: Uwe Bender
2nd Swan River/UWA - Bow: Anna Bishop, Str: Jessamy Moore, Cch: Vanessa Grant
3rd Sydney
Senior B Women's Coxless Pair
Final A
7:37.83
7:53.15
7:53.25
7:56.69
8:09.00
8:14.36
8:47.12
Final A
1st Sydney - Bow: Kathleen Burke, Str: Jodie Winter, Cch: Harald Jahrling
2nd Swan River - Bow: Elizabeth Carson, Str: Simone Sluchniak, Cch: Patricia Pinkerton
3rd Canberra/St George - Bow: Erica Neill, Str: Bianca Noorman, Cch: G Marcks, P Vial
4th Power House - Bow: Sarah Lachal, Str: Rachael Taylor, Cch: Craig Adrians
5th Power House/Hawthorn - Bow: Nicola Ross, Str: Annabelle Larkin, Cch: Mark Baxter
6th MUBC - Bow: Sally Heitman, Str: Sarah Chibnall, Cch: Craig Adrians
7th MUBC - Bow: Jocelyn Finlay, Str: Catherine Jones
Senior B Women's Coxless Four
Final A
1st Sydney/Nepean - Bow: Shea Crumlin, 2: Kathleen Burke, 3: Jodie Winter, Str: Christina Larsen, Cch: Debbie Fox, Harold Jahrling
2nd Swan River/MULRC - Bow: Sally Heitman, 2: Sarah Chibnall, 3: Elizabeth Carson, Str: Simone Sluchniak, cchs: Craig Adrian and Patty Pinkerton
3rd Power House/St George/Canberra - Bow: Bianca Noorman, 2: Erica Neill, 3: Rachael Taylor, Str: Sarah Lachal, Cch: Craig Adrians
Senior B Lightweight Women's Single Scull
Final A
8:19.39
8:20.92
8:25.18
8:25.59
8:33.41
8:39.20
8:58.27
Final A
1st Riverside - Kisahn Lamshed, Cch: Uwe Bender
2nd Canberra - Jemima Lohse, Cch: Nigel Harding
3rd Riverside - Josephine Lips, Cch: Uwe Bender
4th Barwon - Bonnie Dalton, Cch: Dick Garrard
5th Essendon - Christine Camiller, Cch: Jamie McDonald
6th Toowong - Eliza Wilson, Cch: Jonathon Sargeant
7th Sydney - Tamara Ripamonti, Cch: Mick Lane
Senior B Lightweight Women's Double Scull
Final A
1st Riverside/Murray Bridge - Bow: Kisahn Lamshed, Str: Josephine Lips, Cch: Uwe Bender
2nd UWA/Swan River - Bow: Jane Cox, Str: Verity Keogh, Cch: Vanessa Grant
3rd Mosman - Bow: Victoria Morgan, Str: Zoe Monckton, Cch: Marty Nicholas
Senior B Lightweight Women's Coxless Pair
Final A
8:04.48
8:11.35
8:13.29
8:18.18
8:23.59
8:42.45
8:44.18
Final A
1st Mosman - Bow: Katie Potter, Str: Bronwen Greenaway
2nd Adelaide - Bow: Sally Haynes, Str: Karen Moore
3rd Toowong - Bow: Carlie Schmidt, Str: Zara Morton, Cch: Chris Grummitt
4th SUBC - Bow: Catherine Webb, Str: Naomi Laing, Cch: Sandy Burt
5th MUBC - Bow: Jocelyn Finlay, Str: Catherine Jones
6th Curtin - Bow: Elissa Patterson, Str: Kathryn Granheim, Cch: Simon Hill
7th Toowong/GPS - Bow: Scribner, Str: Bird
Senior B Lightweight Women's Coxless Four
Final A
1st Mosman/St George - Bow: Zoe Monckton, 2: Katie Potter, 3: Bronwen Greenaway, Str: Bronwen Watson, Cch: Marty Nicholas
2nd Adelaide/Torrens/Riverside - Bow: Mel Robinson, 2: Rebecca Tregoweth, 3: Sally Haynes, Str: Karen Moore, Cch: Barbar Gillett
3rd Toowong/SUBC
Junior Women's Single Scull
Final A
8:12.87
8:15.84
8:18.45
8:19.29
8:24.69
8:25.16
8:26.03
8:32.13
Final A
1st Nepean - Leigh Johanson, Cch: Lindsay Callaghan
2nd Commercial - Jaime Kohleis, Cch: Neil Myers
3rd Toowong - Karen Worrell, Cch: Ivan Hooper
4th Commercial - Khaleda O'Neill, Cch: Neil Myers
5th Penrhos - Amber Bradley, Cch: Vanessa Grant
6th Sandy Bay - Lydia Blundell, Cch: Glenn Hay
7th Torrens - Belinda Talbot, Cch: Andrew Pierce
8th Sandy Bay - Emily Grant, Cch: Glenn Hay
Junior Women's Double Scull
Final A
1st Commercial - Bow: Jamie Kohleis, Str: Khaleda O'Neill, Cch: Neill Myers
2nd Torrens Murray Bridge - Bow: Nicola Stone, Str: Belinda Talbot, Cch: Andrew Pierce
3rd Nepean - Bow: Khali Gaskin, Str: Leith Johanson, Cch: Lindsay Callaghan
Junior Women's Coxless Quad Scull
Final A
6:44.42
6:47.63
6:48.01
6:52.01
6:56.56
7:08.92
7:11.75
7:17.16
Final A
1st Commercial/GPS - Bow: Jaime Kohleis, 2: Carlie Blake-Stein, 3: Kirsty Harris, Str: Khaled O'Neill, Cch: Neil Myers
2nd Nepean - Bow: Khali Burns, 2: Lisa Scanlon, 3: Meghann Russell, Str: Leith Johnson, Cch: Lindsay Callaghan
3rd Adelaide/Swan River/Torrens/Murray Bridge - Bow: Nicola Stone, 2: Belinda Talbot, 3: Jenni Vesnaver, Str: Cindy Oxlade, Cch: Andrew Pierce
4th Canberra/CCEGGS - Bow: H Gillespie-Jones, 2: Sally Bell, 3: C Gillespie-Jones, Str: Sally Creswell, Cch: Harding, Hunter, Donog
5th Swan River - Bow: Bernese Cooper, 2: Jaye Reynolds, 3: Sally Robbins, Str: Cath Fitzhardinge, Cch: Patricia Pinkerton
6th Power House/Barwon/Swan River - Bow: Bonnie Dalton, 2: Anna Newnham, 3: Jenny Evans, Str: Susie De Jongh, Cch: M Baxter, D Garrard
7th Mosman - Bow: Kate Higgins, 2: Monica Hyett, 3: Keli-Jane Stapp, Str: Anna Webster, Cch: Mark Campbell
8th Leichhardt - Bow: Louise Burns, 2: Sarah Levey, 3: Anna Powell, Str: Emily Martin
Junior Women's Coxless Pair
Final A
7:41.68
7:57.91
7:58.89
8:00.62
8:09.63
8:14.37
8:17.21
8:19.44
Final A
1st Nepean - Bow: Shea Crumlin, Str: Kristina Larsen, Cch: Debbie Fox
2nd Banks - Bow: Mathilda Clements, Str: Bonnie Lake, Cch: Sullivan, Zolotorsky
3rd Nepean - Bow: Lisa Scanlon, Str: Meghann Russell, Cch: Lindsay Callaghan
4th Riverside - Bow: Melissa Nyveld, Str: Jenni Vesnaver, Cch: Andrew Pierce
5th Torrens - Bow: Johanna Lips, Str: Bianca Halliday, Cch: Garry Adams
6th Swan River - Bow: Rebecca Sattin, Str: Jenni Evans, Cch: Patricia Pinkerton
7th Sandy Bay - Bow: Jo Burbury, Str: Lydia Blundell, Cch: Glenn Hay
8th Swan River - Bow: Clare Reeson, Str: Susie DeJongh, Cch: Patricia Pinkerton
Junior Women's Coxless Four
Final A
1st Nepean - Bow: Joanna Ferguson, 2: Nicole Trimbrell, 3: Elisha Rose, Str: Jasmin Colley, Cch: Debbie Fox
Results missing
Junior Women's Eight
Final A
1st Nepean/Mosman - Bow: Joanna Ferguson, 2: Georgina Tucker, 3: Selina Lorimer, 4: Nicole Timbrell, 5: Shea Cromlin, 6: Kristina Larsen, 7: Elisha Rose, Str: Jasmin Colley, Cox: Adam Abrams, Cch: Debbie Fox
Under 17 Women's Double Scull
Final A
1st GPS - Bow: Carlie Blake-Stein, Str: Kirsty Harris, Cch: Neil Myers
Under 17 Women's Quad Scull
Under 17 Women's Coxed Four
Final A
7:30.62
7:33.92
7:37.95
7:42.37
7:46.21
7:47.56
7:59.20
8:01.21
Final A
1st Essendon - Bow: Erin Smart, 2: Clare Lehner, 3: Alina Hoyne, Str: Lauren Jovi, Cox: Natalie Sentry, Cch: Bill Nugent
2nd Commercial - Bow: Veronica Lee, 2: Zoe Young, 3: Kate Patterson, Str: Cathy Holden, Cox: Veronica Martin, Cch: Zoltan Shepard, S Kerin
3rd UQBC - Bow: Victoria Neale, 2: Davina Cox, 3: Amy Noble, Str: Chelsea, Cox: Margot Robinson, Cch: Chris Grummitt
4th Toowong - Bow: Naomi Searle, 2: Neely Parmenter, 3: Bonnie Shaw, Str: Helen Wregg, Cox: Jacqueline Driver, Cch: Jonathon Sargeant
5th Nepean - Bow: Emma Ulrich, 2: Kate Morphett, 3: Danielle Lindsay, Str: Kally Matthews, Cox: Josh Grace, Cch: A Derks, T Baskett
6th Sandy Bay/New Norfolk - Bow: Tameka Painting, 2: Emily Grundgeiger, 3: Lisa King, Str: Jo Aldridge, Cox: Catherine Thomas, Cch: Glenn Hay
7th Maclean/Grafton - Bow: Juanita Gray, 2: Bianca Durham, 3: Demelsa Lollback, Str: Hannah Foster, Cox: Shane Everson, Cch: Everson, Maughan, Gray
8th Rockhampton - Bow: Arlie Douglas, 2: Kellie Roberts, 3: Felicity Crowley, Str: Katie Bell, Cox: Trudie Thomas, Cch: Frank Hick
Adaptive Men's Fixed Seat Single Scull Cat 1A
Final A
1st Tasmania - Roger Blake, Kerry Bligh
Adaptive Men's Sliding Seat Single Scull Cat 2A
Final A
1st Western Australia - Michael Briggs
Results missing
Adaptive Women's Sliding Seat Single Scull Cat 2A
Final A
1st ECU Perth - Megan Edwards
Results missing
Schoolgirls Single Scull
Final A
1st Jamison High - Leigh Johanson, Cch: Lindsay Callaghan
2nd Sommerville House - Karen Worrell, Cch: Ivan Hooper
Schoolgirls Coxed Four
Final A
1st Geelong Grammar - Bow: Charlotte Coote, 2: Julia Smith, 3: Sarah Morton, Str: Kate Judson, Cox: Katherine McDermott, Cch: Lyall McCarthy
2nd Ballarat Grammar - Bow: Katrina Walsh, 2: Tamsin Walsh, 3: Emily Walsh, Str: Melissa Walsh, cox: Clare Valentine, Cchs: C Purves and A Pittard
3rd Ballarat & Clarendon - Bow: Fiona Barber, 2: Megan Armsytrong, 3: Elissa Howell, Str: Lauren Halliburton, Cox: Sally Hook, Cch: Tony Heys
Schoolgirls Coxed Eight
Final A
1st SCEGGS Darlinghurst - Bow: Clea Bye, 2: Ashlee Earle, 3: Tess Murray, 4: Jacqueline Riley, 5: Ann Snell, 6: Ann Murray, 7: Claire Glendenning, Str: Anna Short, Cox: Karen Robinson, Cch: Tim Dolphin
2nd Walford Anglican - Bow: Amelia Roller, 2: Jennifer Wilson, 3: Carline Heysen, 4: Alahna Murcott, 5: Melanie Shaw, 6: Claire Apsey, 7: Alexandra Bennett, Str: Melissa Giffen, Cox: Rachel Marsh, Cchs: K Muecke and F McIntyre
3rd Pembroke School - Bow: Elizabeth Windle, 2: Sarah Cusworth, 3: Grace McClure, 4: Carolyn Smith, 5: Abigail Clark, 6: Holly Jamieson, 7: Amber Halliday, Str: Katherine Broderick, Cox: Alexandra Polson, Cchs: J Else and W Barber
Schoolboys Single Scull
Final A
1st Jamison High - Karl Parker, Cch: Lindsay Callaghan
Schoolboys Coxed Four
Final A
1st St Josephs College - Bow: Joshua Murphy, 2: Alister Campbell, 3: Brendan Dean, Str: Mark Burgin, Cox: Jamie Urquhart, Cch: Reading, Walker, Boyd
2nd St Ignatius
3rd Shore - Bow: Rowan Cook, 2: Chris Northam, 3: James Campbell, Str: Geoff Childs, Cox: Michael Chapman, Cch: Dafydd Gwynn-Jones
Schoolboys Coxed Eight
Final A
1st Shore - Bow: Joe Marsh, 2: Evan Sturrock, 3: Nick White, 4: Nick Smith, 5: Michael Irvine, 6: Alex Koch, 7: Andrew Waite, Str: Marshall McCormack, Cox: Carter Mullins, Cch: Garry Uebergang
2nd Newington - Bow: Justin Fryer, 2: Matthew Handley, 3: James Chapman, 4: Ben Wyllie, 5: Karl Grosse, 6: Joel Hardley, 7: Paul Carageorge, Str: Steven Humphrey, Cox: Ryan Barry, Cch: Michael Morgan
---
Sources:
1996 regatta programme
1996 regatta results
Photos - Hebfotos and Andrew Guerin