Ballarat Head of the Lake Regatta
The Ballarat schools have conducted their Head of the Lake since 1912. Except for war years and years without water, the race is conducted on Lake Wendouree.
School rowing has always been strong in Ballarat and this strength has has produced many Victorian and Australian representatives. It also has produced some of our finest coaches and administrators.
However the race had a rocky and controversial start. The first race in 1912 was declared a no race and further, Ballarat High School was barred from entering an entry. See the 1912 page for more details.
The Ballarat Schools' Association was formed in 1912 and comprised Ballarat College (Clarendon), St Partick's College and Ballarat Grammar.
Ballarat Grammar and St Patrick's raced in the first race and Ballarat College first raced in 1915.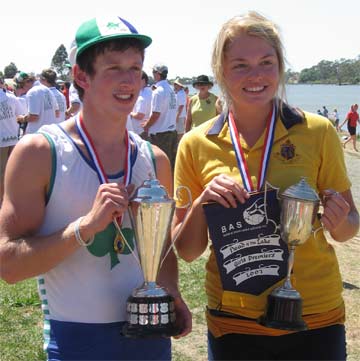 Best Times
The best times for races. These times exclude:
2003 2000m events due to the raced being shortened
2005-2011 when races were not raced at Lake Wendouree
| Race | Time | School | Year |
| --- | --- | --- | --- |
| Girls Year 9 Div 1 | 3:35.76 | BHS | 2017 |
| Girls Year 9 Div 2 | 3:52.85 | BG | 2020 |
| Girls Year 9 Div 3 | 4:01.87 | LC | 2020 |
| Girls Year 9 Div 4 | 3:31.00 | LC | 2013 |
| Girls Year 9 Div 5 | 4:13.94 | LC | 2020 |
| | | | |
| Girls Year 10 Div 1 | 3:38.67 | BCC | 2020 |
| Girls Year 10 Div 2 | 3:49.60 | LC | 2020 |
| Girls Year 10 Div 3 | 4:05.62 | BGS | 2003 |
| Girls Year 10 Div 4 | 4:08.14 | BGS | 2003 |
| Girls Year 10 Div 5 | 4:11.41 | LC | 2017 |
| | | | |
| Girls 10ths | 4:09.10 | BGS | 2002 |
| Girls 9ths | 4:02.87 | BHS | 2002 |
| Girls 8ths | 4:21.63 | BGS | 2002 |
| Girls 7ths | 4:10.59 | BGS | 2002 |
| Girls 6th | 4:03.26 | MC | 2004 |
| Girls 5ths | 3:56.75 | LC | 2019 |
| Girls 4ths | 3:53.28 | LC | 2020 |
| Girls 3rds 1000m | 3:47.80 | BG | 2003 |
| Girls 3rds 2000m | 8:27.70 | BG | 2013 |
| Girls 2nds | 7:10.00 | BCC | 2014 |
| Girls Head of the River | 7:25.55 | BCC | 2002 |
| | | | |
| Boys Year 9 Div 6 | 3:56.34 | SPC | 2020 |
| Boys Year 9 Div 5 | 3:55.36 | SPC | 2020 |
| Boys Year 9 Div 4 | 3:52.08 | BHS | 2020 |
| Boys Year 9 Div 3 | 3:35.00 | BG | 2013 |
| Boys Year 9 Div 2 | 3:01.17 | BG | 2017 |
| Boys Year 9 Div 1 | 3:29.54 | BGS | 2003 |
| | | | |
| Boys Year 10 Div 4 | 3:42.36 | SPC | 2019 |
| Boys Year 10 Div 3 | 3:35.04 | SPC | 2003 |
| Boys Year 10 Div 2 | 3:26.08 | SPC | 2020 |
| Boys Year 10 Div 1 | 3:14.79 | BG | 2020 |
| | | | |
| Boys 10ths | 3:49.52 | BGS | 1995 |
| Boys 9ths | 3:39.00 | BGS | 2002 |
| Boys 8ths | 3:39.80 | SPC | 1985 |
| Boys 7ths | 3:38.28 | SPC | 2002 |
| Boys 6ths | 3:39.00 | MC | 2004 |
| Boys 5th | 3:27.62 | SPC | 2002 |
| Boys 4ths | 3:22.31 | BGS | 2003 |
| Boys 3rds 1000m | 3:17.50 | BGS | 2003 |
| Boys 3rds 2000m | 7:07.23 | BG | 2013 |
| Boys 2nds | 6:41.43 | SPC | 1994 |
| Boys Head of the River | 6:39.98 | BHS | 2014 |
Summaries By Event
Detailed Results By Year