1929 Ballarat Head of the Lake
Saturday 4th May 1929
Fair weather prevailed for the seventeenth Head of the Lake, rowed on Lake Wendouree today. The race was won by Ballarat Grammar by two lengths from St. Patrick's College. The "Must" Cup was presented to the stroke of the winning crew by the Speaker of the Victorian Parliament, Sir Andrew Peacock. Sunraysia Daily, 6/5/1929
St.Patrick's College took out the race for Second fours and in the Old Collegian's race Grammar also triumphed from St.Patrick's by half a length in second place, and Ballarat College a long way back in third. The Grammar crew were Bow: G Barker, 2: J Suffren, 3: J McKay, Str: R Jelbart and F Suffren cox.
Organising Committee and Officials
Organising Committee: Ballarat Public Schools' Association
Officials: Ballarat Regatta Association
Sources
Sporting Globe 4/5/1929 page 3
Sunraysia Daily, 6/5/1929 page 1
Principal researcher: Kate Elliott
---
Head of the Lake
Mile course, Lake Wendouree
Time: 6 minutes and 4 seconds
Margins: 2 lengths and 0.5 length
1st Grammar School - Bow: D J M Dunn, 2: W O Lewers, 3: R N Mitchell, Str: R L Schmidt, Cox: J A Howe, Coach: Mr J B Suffren
2nd St.Patrick's College - Bow: S J Cody, 2: J Rice, 3: D T Hayes, Str; G McPherson, Cox: J Howe, Coach: Mr W D Dawson
3rd Ballarat College - Bow: B A Sweetapple, 2: G P Jeffery, 3: A N Gunn, Str: H Greenfield, Cox: F Yates, Coach: Mr W Clift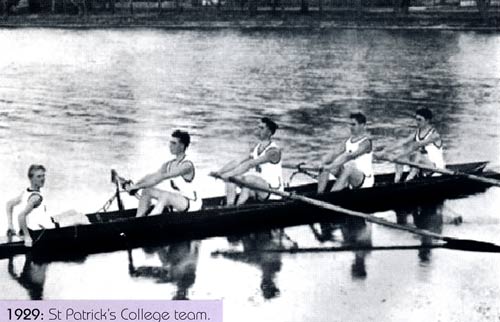 From '100 Years of the Head of the Lake' published by The Courier in 2012
Ballarat College led from the start closely followed by St.Patrick's and Grammar. At the third island the Grammar School crew challenged the College crew then passing them. They maintained the lead until the finish winning by two lengths. St.Patrick's passed the College crew on the post. Although the Ballarat College crew contained several members of last year's first crew they were unable to repeat their win
---
Second Fours
Time: Not known
Margin: 3 feet
1st St.Patrick's College
2nd Grammar School
3rd Ballarat College
St.Patrick's got away to a good start and lead to View Point where they were challenged by Grammar and College. But they maintained good length and held their form to the finish winning by 3 feet!