2012 Ballarat Head of the Lake
Ballarat celebrated the centenary of their Head of The Lake in style with the city getting behind its regatta with gusto. The Ballarat Courier researching a glossy booklet showing a history of the event.
The regatta was conducted on Friday 2nd March 2012 in its usual format on Lake Wendouree after nine years on the Barwon River due to drought and the resulting lack of water in the lake.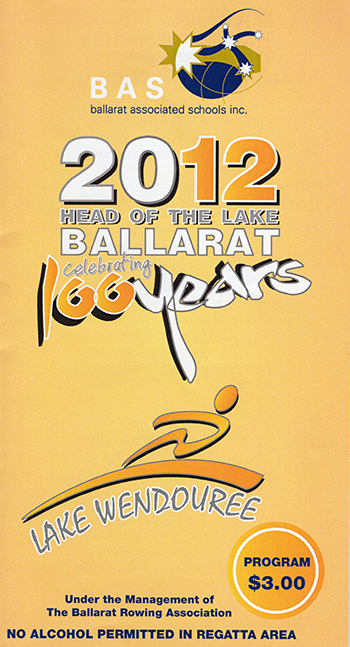 Ballarat Grammar took a clean sweep of the girls' and boys' Heads of the Lake and also the premierships. A fine result in this important year.
---
Organising Committee: Ballarat Associated Schools Inc
Regatta Manager: Ballarat Rowing Association
---
Boys' Open Four Division 1
---
Boys' Open Four Division 2
---
Boys' Open Four Division 3
---
Boys' Open Four Division 4
---
Boys' Open Four Division 5
---
Boys' Open Four Division 6
---
Boys' Year 10 Four Division 1
---
Boys' Year 10 Four Division 2
---
Boys' Year 10 Four Division 3
---
Boys' Year 10 Four Division 4
---
Boys' Year 9 Four Division 1
---
Boys' Year 9 Four Division 2
---
Boys' Year 9 Four Division 3
---
Boys' Year 9 Four Division 4
---
Boys' Year 9 Four Division 5
---
Boys' Year 9 Four Division 6
---
Girls' Open Four Division 1
---
Girls' Open Four Division 2
---
Girls' Open Four Division 3
---
Girls' Open Four Division 4
---
Girls' Open Four Division 5
---
Girls' Open Four Division 6
---
Girls' Year 10 Four Division 1
---
Girls' Year 10 Four Division 2
---
Girls' Year 10 Four Division 3
---
Girls' Year 10 Four Division 4
---
Girls' Year 10 Four Division 5
---
Girls' Year 9 Four Division 1
---
Girls' Year 9 Four Division 2
---
Girls' Year 9 Four Division 3
---
Girls' Year 9 Four Division 4
---
Girls' Year 9 Four Division 5