Girls Ballarat Head of the Lake - Summary of Results
The Patterson Shield
The Patterson Shield is presented by a member of the Patterson family and recognises the work of Alan Patterson, a teacher of Ballarat Grammar sSchool.
This event was commenced in 1980 and Ballarat Grammar has been the most prominant winner of this race.
Loreto College officially raced for the first time in 2008.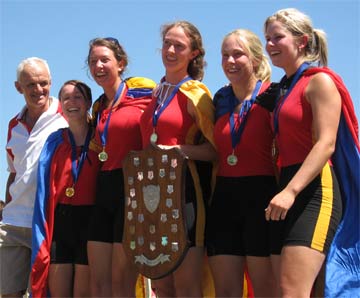 | Year | 1st | 2nd | 3rd | 4th |
| --- | --- | --- | --- | --- |
| 1980 | Ballarat Grammar School | | | |
| 1981 | Ballarat & Clarendon College | | | |
| 1982 | Ballarat Grammar School | | | |
| 1983 | Ballarat & Clarendon College | | | |
| 1984 | Ballarat & Clarendon College | | | |
| 1985 | Ballarat Grammar School | | | |
| 1986 | Ballarat High School | | | |
| 1987 | Ballarat Grammar School | | | |
| 1988 | Ballarat Grammar School | Ballarat & Clarendon College | Ballarat High School | |
| 1989 | Ballarat & Clarendon College | Ballarat Grammar School | Ballarat High School | |
| 1990 | Ballarat Grammar School | Ballarat High School | Ballarat & Clarendon College | |
| 1991 | Ballarat High School | Ballarat Grammar School | Ballarat & Clarendon College | |
| 1992 | Ballarat Grammar School | Ballarat High School | Ballarat & Clarendon College | |
| 1993 | Ballarat Grammar School | Ballarat High School | Ballarat & Clarendon College | |
| 1994 | Ballarat Grammar School | Ballarat High School | Ballarat & Clarendon College | |
| 1995 | Ballarat Grammar School | Ballarat High School | Ballarat & Clarendon College | |
| 1996 | Ballarat Grammar School | Ballarat & Clarendon College | Ballarat High School | |
| 1997 | Ballarat Grammar School | Ballarat & Clarendon College | Ballarat High School | |
| 1998 | Ballarat Grammar School | Ballarat High School | Ballarat & Clarendon College | |
| 1999 | Ballarat Grammar School | Ballarat High School | Ballarat & Clarendon College | |
| 2000 | Ballarat Grammar School | Ballarat & Clarendon College | Ballarat High School | |
| 2001 | Ballarat Grammar School | Ballarat & Clarendon College | Ballarat High School | |
| 2002 | Ballarat & Clarendon College | Ballarat Grammar School | Ballarat High School | |
| 2003 | Ballarat Grammar | Ballarat & Clarendon College | Ballarat High School | |
| 2004 | Ballarat Grammar | Ballarat & Clarendon College | Ballarat High School | |
| 2005 | Ballarat & Clarendon College | Ballarat High School | Ballarat Grammar | |
| 2006 | Ballarat Grammar | Ballarat & Clarendon College | Ballarat High School | |
| 2007 | Ballarat Grammar | Ballarat & Clarendon College | Ballarat High School | |
| 2008 | Ballarat & Clarendon College | Ballarat Grammar | Ballarat High School | Loreto College |
| 2009 | Ballarat Grammar | Ballarat & Clarendon College | Ballarat High School | Loreto College |
| 2010 | Ballarat & Clarendon College | Ballarat Grammar | Loreto College | Ballarat High School |
| 2011 | Ballarat & Clarendon College | Ballarat High School | Ballarat Grammar | |
| 2012 | Ballarat Grammar | Ballarat & Clarendon College | Loreto College | |
| 2013 | Ballarat Grammar | Ballarat & Clarendon College | Loreto College | |
| 2014 | Ballarat & Clarendon College | Ballarat Grammar | Loreto College | |
| 2015 | Ballarat & Clarendon College | Loreto College | Ballarat Grammar | |
| 2016 | Ballarat Grammar | Ballarat High School | Ballarat & Clarendon College | Damascus College |
| 2017 | Loreto College | Damascus College | Ballarat & Clarendon College | Ballarat Grammar |
| 2018 | Ballarat Grammar | Damascus College | Loreto College | Ballarat High School |
| 2019 | Ballarat Grammar | Ballarat & Clarendon College | Ballarat High School | Loreto College |
| 2020 | Loreto College | Ballarat Grammar | Ballarat High School | Ballarat & Clarendon College |