2015 Ballarat Head of the Lake
The regatta was conducted on Sunday 1st March 2015 on Lake Wendouree with all races being straight finals as usual.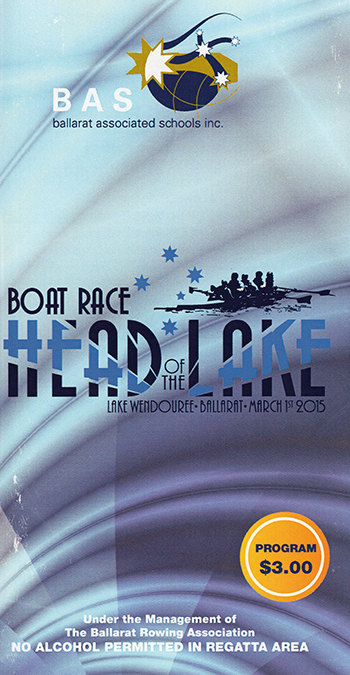 The girls' Head of the Lake was won by Ballarat & Clarendon College and the boys' by Ballarat Grammar.
The premierships were won by different schools with Loreto College taking out the girls' premiership and St Patrick's College taking the boys' premiership.
---
Organising Committee: Ballarat Associated Schools Inc
Regatta Management: Ballarat Rowing Association Inc
---
Boys' Open Four Division 1
---
Boys' Open Four Division 2
---
Boys' Open Four Division 3
---
Boys' Open Four Division 4
---
Boys' Open Four Division 5
---
Boys' Open Four Division 6
---
Boys' Year 10 Four Division 1
---
Boys' Year 10 Four Division 2
---
Boys' Year 10 Four Division 3
---
Boys' Year 10 Four Division 4
---
Boys' Year 9 Four Division 1
---
Boys' Year 9 Four Division 2
---
Boys' Year 9 Four Division 3
---
Boys' Year 9 Four Division 4
---
Boys' Year 9 Four Division 5
---
Boys' Year 9 Four Division 6
---
Girls' Open Four Division 1
---
Girls' Open Four Division 2
---
Girls' Open Four Division 3
---
Girls' Open Four Division 4
---
Girls' Open Four Division 5
---
Girls' Open Four Division 6
---
Girls' Year 10 Four Division 1
---
Girls' Year 10 Four Division 2
---
Girls' Year 10 Four Division 3
---
Girls' Year 10 Four Division 4
---
Girls' Year 10 Four Division 5
---
Girls' Year 9 Four Division 1
---
Girls' Year 9 Four Division 2
---
Girls' Year 9 Four Division 3
---
Girls' Year 9 Four Division 4