1924 Ballarat Head of the Lake
The regatta was conducted on Saturday 3rd May and the first crews again raced for the Woolcott Cup, presented by Mrs J D Woolcott, to be won three times, not necessarily in succession.
The annual four-oared boat race for the "Head of the Lake" was rowed on Saturday in perfect weather which assisted materially in ensuring the presence of a very big crowd of interested partisans. Star newspaper 5/5/2023
St.Patrick's won in decisive style gaining the Woolcott Cup for the second time. Mr. Fred Luke turned out his crew in fine style and was widely congratulated after their two length win.
The Old Boy's race was again held before the main race and the honours this year went to the Grammar School crew of K. Taylor (bow), R. Humphreys (2),R. Taylor (3) and E. Tunbridge (str). Cox: S. Yost who won by a length and a half from Ballarat College and another four lengths back to St.Patrick's Old Boys.
There was no second four race this year.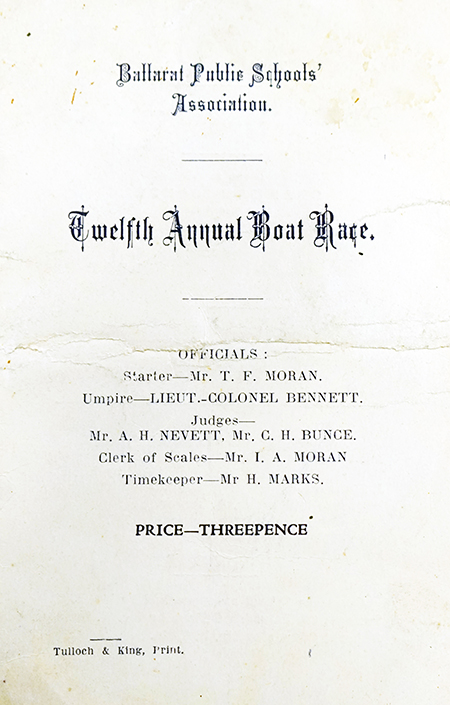 1924 Regatta Program Cover
Organising Committee and Officials
Organising Committee: Ballarat Public Schools' Association
Officials: Ballarat Regatta Association
Starter: T F Moran
Umpire: Lieutenant Colonel Bennett
Judges: A H Nevett and C H Bunce
Clerk of Scales: I A Moran
Timekeeper: H Marks
Sources:
Ballarat Star 5/5/1924 page 1
From '100 Years of the Head of the Lake' published by The Courier in 2012
1924 program
Principal researcher: Kate Elliott
---
Head of the Lake
1st St Patrick's College - Bow: C Showman, 2: G McDonough, 3: W O'Reilly, Str: C Whelan, Cox: H Finnegan
2nd Ballarat Grammar - Bow: C W Crosbie, 2: H A Champion, 3: A D Ronaldson, Str: C K Wright, Cox: J Suffren
3rd Ballarat College - Bow: W A Strickland, 2: I Williamson, 3: W Kilpatrick, Str: J Gray, Cox: J Millhouse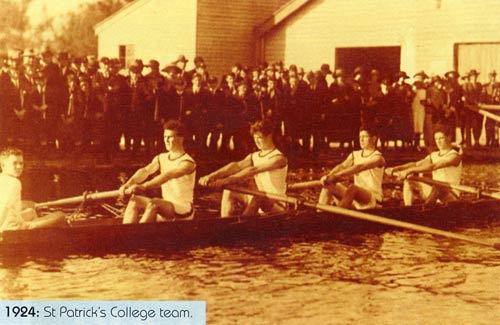 From '100 Years of the Head of the Lake' published by The Courier in 2012
Grammar got away the best at the start and led St.Patrick's College for the first 100yards or so. Then St.Patrick's drew level with Grammar and Ballarat College who were on the south station began to drop back. At the half way mark the St.Patrick's crew had pulled ahead by three quarters of a length and while Grammar made a concerted effort at View Point, St.Patrick's continued to power home and won by two lengths with Grammar coming in second a length and a half in front of Ballarat College.