2017 Ballarat Head of the Lake
The regatta was conducted on Sunday 26th February 2017 on Lake Wendouree with all races being conducted as straight finals.
Of interest this year was the 50th anniversary of Ballarat High School first racing in the Head of the Lake. Whilst rowing at Ballarat High had commenced in 1910, it was not until this later date that they competed. Ballarat High School was admitted into the Ballarat Public Schools Association in 1943 but did not compete in 1944 due to lack of preparation. In 1945 and 1946, nature intervened and rowing was cancelled due to the low levels in the lake. So in 1947, they made their debut.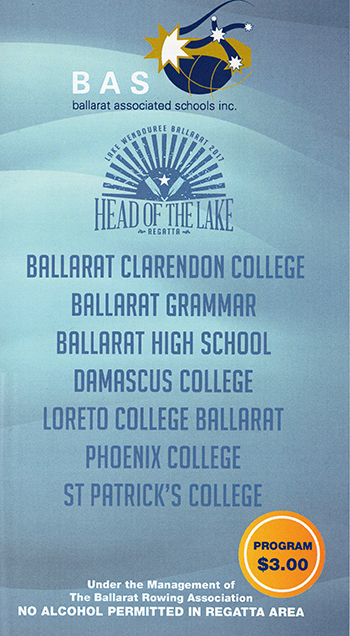 Loreto College won the girls' Head of the Lake and St Patrick's College won the boys' Head of the Lake. These results also matched the premiership results with Loreto taking the girls' premiership and St Patrick's taking the boys.
The victorious Loreto Ballarat crew who were also Victorian state champions in 2017 - Photo: Loreto College Ballarat
St Patrick's College first four - bas.vic.edu.au
Boy's Rowing Premiership:
1st St Patrick's College - 40pts
2nd Ballarat Grammar School - 28pts
3rd Ballarat & Clarendon College - 25pts
4th Ballarat High School 16pts
5th Damascus College 10pts
Girls Rowing Premiership:
1st Loreto Ballarat - 39pts
2nd Ballarat & Clarendon College 34pts
3rd Ballarat Grammar School - 28pts
4th Ballarat High School 25pts
5th Damascus College 14pts
---
Organising Committee: Ballarat Associated Schools Inc
Regatta Management: Ballarat Rowing Association
Officials: Eric Waller (President of the Jury), David Grubits and Ross Litchfield (2000m start team), Alister Shaw and Tim Wright (1000m start team), Barry Wright, Rick Blanchfield and Ron Young (Umpires), Lance Deveson, Bill Coutts and Peter Titheridge (Judges), Roger Wilson (Announcer)
---
Boys' Open Four Division 1
1st St Patrick's College - Bow: James Crilly, 2: Ben Hutt, 3: Isaac Pertzel, Stroke: Ethan Lawler, Cox: Jackson Long, Cch: Brendan Scott
2nd Ballarat & Clarendon College - Bow: Samuel Robinson, 2: Mackenzie Spark, 3: Fraser Davies, Stroke: Joe Tyndall, Cox: William Taylor
3rd Ballarat Grammar School - Bow: Bailey Hansen, 2: Jonty Trotter, 3: Tim McConchie, Stroke: Zac Oliver, Cox: Kayla Davies, Cch: Sam Hutchison
4th Ballarat High School - Bow: Max Tomich, 2: Patrick Webster, 3: Osborne Willison, Stroke: Bailey McDonald, Cox: Alana Kelly, Cch: James Warke
5th Damascus College - Bow: Jake Currie, 2: Tom Robertson, 3: Daniel Anderson, Stroke: Ryan Van Der Linden, Cox: Ellie Hennig, Cch: Sharon Waters
---
Boys' Open Four Division 2
7:04.35
7:06.39
7:06.95
7:31.32
1st Ballarat High School - Bow: Lachlan Murfett, 2: Tyler Loader, 3: Noah Mullane, Stroke: Aidan McLean, Cox: Paris Bedggood-McNicoll
2nd St Patrick's College - Bow: Xavier Schuurs, 2: Kristofer Swan, 3: Lachlan Ross, Stroke: Hamish Crawley, Cox: Zachary Smith, Cch: Callum Holland
3rd Ballarat & Clarendon College - Bow: William Harris, 2: Riley Petrascu, 3: Fergus Ewan, Stroke: Matt Jenkins, Cox: Thomas McClelland
4th Ballarat Grammar School - Bow: Oliver Pescott, 2: Nicholas Donnell, 3: Grady Coutts, Stroke: Will Wright, Cox: Bryce Henwood
---
Boys' Open Four Division 3
3:21.82
3:26.97
3:43.04
3:43.54
1st St Patrick's College - Bow: Harrison Bogers, 2: Nick Elliott, 3: Ethan Turley, Stroke: Samuel McCrum, Cox: Josh Scoleri, Cch: Alex Thompson
2nd Ballarat Grammar School - Bow: Harry White, 2: Red Skelton, 3: Joshua Gray, Stroke: Jared Olsen, Cox: Amelia Burke
3rd Damascus College - Bow: Connor Andrews, 2: Noah Arber, 3: Hunter Thomas, Stroke: Riley Norman, Cox: Castley Webb, Cch: Sharon Waters
4th Ballarat & Clarendon College - Bow: Ben McKenzie, 2: Lachlan Matheson, 3: Charles Byron, Stroke: Angus Blenkiron, Cox: Aidan Hill
---
Boys' Open Four Division 5
1st St Patrick's College (4) - Bow: Kaiyn Humphrey, 2: Sam McKeegan, 3: Rhyce VanMeel, Stroke: Duncan Cadman, Cox: Jack Pilbeam, Cch: Alexander McPherson
2nd Damascus College - Bow: Liam Penn, 2: Matt Watson, 3: Finn Clonan, Stroke: Dean Williams, Cox: Blake Johns
3rd St Patrick's College (6) - Bow: Isaac Ballesty, 2: Tim Costa, 3: Rob Adams, Stroke: Beau McMaster, Cox: Alexander Pituch, Cchs: Stephanie Parsons, Sam Romeril
4th St Patrick's College (5) - Bow: Josh Kernick, 2: Tom Dunne, 3: Kyle Brown, Stroke: Tom Caldwell, Cox: Will Rothe, Cchs: Sam Romeril, Stephanie Parsons
---
Boys' Year 10 Four Division 1
3:29.99
3:30.44
3:38.86
3:41.33
3:52.70
1st Damascus College - Bow: Ethan Blackmore, 2: Rhys Davis, 3: Ethan Handley, Stroke: Mackenzie Yandell, Cox: Caspian Linayao
2nd St Patrick's College - Bow: Chad Peterkin, 2: Aidan Hanrahan, 3: Matthew Harbour, Stroke: Michael Cappello, Cox: Harry Taylor, Cch: Matt Geary
3rd Ballarat Grammar School - Bow: Guy A'speculo, 2: David Cuff, 3: Lachlan Warwick, Stroke: Harry O'Keane, Cox: Oliver Warwick
4th Ballarat & Clarendon College - Bow: Darcy Trethowan, 2: Hamish McDonald, 3: Darcy McEldrew, Stroke: Jon Chester, Cox: Keiran Hill
5th Ballarat High School - Bow: Dallas Giersch, 2: Josh Marnell, 3: Felix Oliver, Stroke: Flynn Musgrove, Cox: Evan Macaulay
---
Boys' Year 10 Four Division 2
3:30.73
3:33.06
3:48.60
3:56.48
1st St Patrick's College - Bow: Will Peucker, 2: Mason Coutts, 3: Hugh Macdonald, Stroke: Connor Shugg, Cox: Hugh Ollerenshaw, Cch: Jack O'Keane
2nd Ballarat Grammar School - Bow: William Grills, 2: Aaron Lowe, 3: Hugh Hoffmann, Stroke: Davis Coutts, Cox: Sophie Tan
3rd Ballarat & Clarendon College - Bow: Hugo Andrews, 2: Hugh McKay, 3: Jared Baum, Stroke: Flynn Clark, Cox: Ayrton Yanes
4th Ballarat High School - Bow: Jude Coles, 2: Riley Sheriff, 3: Luke Hodge, Stroke: Liam Ray, Cox: Summah Givvens
---
Boys' Year 10 Four Division 3
1st St Patrick's College - Bow: Justin Bleicher, 2: Hamish Britt, 3: Brayden Sands, Stroke: Bailey O'Keefe, Cox: Daniel Edwards, Cch: Christopher Milroy
2nd Ballarat & Clarendon College - Bow: Jye Jenkin, 2: Harrison Carter, 3: Edward Dexter, Stroke: William McCallum, Cox: Keiran Hill
3rd Ballarat Grammar School - Bow: Owen Thorpe, 2: Nathan Stewart, 3: Harry Retief, Stroke: Nicholas King, Cox: Oliver Meakin
---
Boys' Year 10 Four Division 4
3:46.94
3:48.80
4:02.88
4:10.44
4:18.89
1st St Patrick's College - Bow: Alexander Kirby, 2: Bill Walker, 3: Mitch Brown, Stroke: Harry Fraser, Cox: Tom McKinnis
2nd St Patrick's College - Bow: Tristan Knight, 2: Thomas Barry, 3: Jonathan Debono, Stroke: Jed Cargeeg, Cox: Thomas Latrobe, Cch: Brendan Scott
3rd St Patrick's College - Bow: Ambrose Haddon, 2: Max Warren, 3: Tyson Strachan, Stroke: Gregory Sims, Cox: Rory O'Keefe, Cch: Nick McKenna
4th Ballarat & Clarendon College - Bow: Baden Purcell, 2: Brydan Chapis, 3: Oliver Hodge, Stroke: Owen Davidson, Cox: Keiran Hill
5th Ballarat Grammar School - Bow: Parker Vize, 2: Jesse Lynch, 3: Ryan Anderson, Stroke: Angus Faull, Cox: Jeremy Aked
---
Boys' Year 9 Four Division 1
3:29.82
3:32.36
3:34.52
3:39.14
3:43.59
1st Ballarat & Clarendon College - Bow: Jack Livingston, 2: Nicholas Raschilla, 3: Takumi Trevena, Stroke: Shogo Trevena, Cox: Oscar Fiorenza
2nd St Patrick's College - Bow: Carl Roberts, 2: Nick Stevens, 3: Jack Carey, Stroke: Cooper Bath, Cox: Charlie Walters, Cch: Dallas Martin
3rd Ballarat Grammar School - Bow: Felix Oliver, 2: Nicholas Butler, 3: Sam Crothers-Bade, Stroke: Fergus Macdonald, Cox: Henry Dickinson
4th Ballarat High School - Bow: Zac Andrews, 2: Dylan Taylor, 3: Caleb Dilg, Stroke: Paul Werry, Cox: Charli Williams
5th Damascus College - Bow: Alex Rofe, 2: James Mavity, 3: Austin Wade, Stroke: Julian Hockey, Cox: Jude Skewes-Clinton
---
Boys' Year 9 Four Division 2
3:01.17
3:03.15
3:10.84
3:24.46
1st Ballarat Grammar - Bow: Max Rivers, 2: Matthew Gray, 3: Noah Esmonde, Stroke: Alexander Unmack, Cox: Stuart Unwin
2nd St Patrick's College - Bow: Jack Martin, 2: Kye Edwards, 3: Joe Freeman, Stroke: Jack Brown, Cox: Daniel Edwards
3rd Ballarat High School - Bow: Evan Clyne, 2: Alex Burns, 3: Jack Clifton, Stroke: Ky Smith, Cox: Ebony Calaby
4th Damascus College - Bow: Liam Pattinson, 2: Will Martin-Block, 3: Seth Johnson, Stroke: Douglas Thibault, Cox: Lexxie Carmichael
DNS Ballarat & Clarendon College - Bow: Edward Fogaty, 2: William Quartermain, 3: Ryan McNamara, Stroke: Jarydd Jenkins, Cox: Keiran Hill
---
Boys' Year 9 Four Division 3
3:57.11
4:02.31
4:04.96
4:20.24
1st St Patrick's College - Bow: Henry Ross, 2: Aidan Rieniets, 3: Will Rothe, Stroke: Angus Treweek, Cox: Harry Taylor, Cch: Alex Mooney
2nd St Patrick's College - Bow: Oakley Haddon, 2: Sam Hanrahan, 3: Jamie Quick, Stroke: Lachlan Huf, Cox: Rory O'Keefe
3rd Ballarat Grammar School - Bow: Lachlan Sim, 2: Jesse Selkirk, 3: Frasier Southee, Stroke: Daniel Holding, Cox: Jeremy Aked
4th Ballarat & Clarendon College - Bow: Tonderai Ndoro, 2: Bryn Allen, 3: Angus Oldaker, Stroke: Samuel Evans, Cox: Ayrton Yanes
---
Boys' Year 9 Four Division 4
3:54.73
3:59.16
4:01.36
4:07.46
1st St Patrick's College - Bow: Will Liston, 2: Josh Farrington, 3: Sean Clarke, Stroke: Nicholas Huf, Cox: Kynan McPherson
2nd Ballarat Grammar School - Bow: Oscar Lawson, 2: James Oro, 3: Angus Schreenan, Stroke: Connor Hansen, Cox: Bryce Henwood
3rd St Patrick's College - Bow: Declan Phillips, 2: Patrick Heagney, 3: Max Spencer, Stroke: Connor Smith, Cox: Connor Chatham
4th Ballarat & Clarendon College - Bow: Thomas Harris, 2: Charlie Murray, 3: Joel Walton, Stroke: Ethan Knight, Cox: Oscar Fiorenza
---
Boys' Year 9 Four Division 5
3:59.42
4:06.02
4:12.79
4:14.70
4:15.83
1st St Patrick's College - Bow: Jack Clinton, 2: Kai O'Keeffe, 3: Dane Kolek, Stroke: Elijah Cross, Cox: Alex McCallum
2nd Ballarat Grammar School - Bow: Johnathon Adem, 2: Jack Bond, 3: Maxwell Mizzi, Stroke: James Ham, Cox: Oliver Meakin
3rd Ballarat & Clarendon College - Bow: James Tantau, 2: Cooper McCormick, 3: Max Callahan, Stroke: Harrison Callaway, Cox: Oscar Fiorenza
4th St Patrick's College - Bow: Elliott McMahon, 2: Quinn Bogers, 3: Justin Fillisch, Stroke: William Gilbert, Cox: James Backer, Cch: Ryley McDougall
5th St Patrick's College - Bow: Samuel Constable, 2: Nick Gittings, 3: Sean Parini, Stroke: Tanner Keogh, Cox: Thomas Latrobe, Cch: Mitch Toohey
---
Boys' Year 9 Four Division 6
---
Girls' Open Four Division 1
7:43.91
7:51.34
7:56.40
8:04.14
8:05.51
1st Loreto Ballarat - Bow: Grace Hoffmann, 2: Ella Higgins, 3: Laura Foley, Stroke: Molly Grech, Cox: Madelyn Rothe, Cch: Barry Halsall
2nd Damascus College - Bow: Ashlee Smith, 2: Phoenix Neil, 3: Erin Gore, Stroke: Millicent Hockey, Cox: Maddie Lamb, Cch: Simon O'Brien
3rd Ballarat & Clarendon College - Bow: Abbey Flower, 2: Bryony Donald, 3: Jelena Black, Stroke: Sarah Phillips, Cox: Genevieve Chapman
4th Ballarat Grammar School - Bow: Tash Whiteside, 2: Hattie Macdonald, 3: Aislinn A'Speculo, Stroke: Isabella Conheady, Cox: Millie Nye
5th Ballarat High School - Bow: Maisy Johnston, 2: Chloe Kimber, 3: Carly Mawby, Stroke: Jayde Watkins, Cox: Milli Bilson, Cch: Craig Murfett
---
Girls' Open Four Division 2
8:00.72
8:02.63
8:02.76
8:11.36
1st Ballarat & Clarendon College - Bow: Georgia Morgan, 2: Claudia Plange, 3: Pia Gordon, Stroke: Phoebe Cameron, Cox: Georgia Emery
2nd Loreto Ballarat - Bow: Ruby Treweek, 2: Portia Haase, 3: Tia McLachlan, Stroke: Caitlyn Gittings, Cox: Chelsea Lewis
3rd Ballarat High School - Bow: Ruby Rieth, 2: Haley Parry, 3: Natasha Sims, Stroke: Johanna Moloney, Cox: Maddy Harwood
4th Ballarat Grammar School - Bow: Ele Allen, 2: Georgina Fay, 3: Olivia Delahunty, Stroke: Lily Bond, Cox: Lauren Yung
---
Girls' Open Four Division 3
3:58.00
4:00.52
4:06.33
4:13.35
4:14.58
4:29.98
1st Loreto Ballarat - Bow: Molly Johnson, 2: Maddi Clark, 3: Claire Demuth, Stroke: Madie Dunn, Cox: Eyrin McCarthy
2nd Ballarat & Clarendon College - Bow: Lauren Gingell, 2: Rosie Pinniger, 3: Lily Kittelty, Stroke: Wynona Goldsworthy, Cox: Aftyn Whitfield
3rd Ballarat Grammar School - Bow: Annabelle Rix, 2: Nicola Penny, 3: Catherine Lidgett, Stroke: Isabel Unwin, Cox: Vanessa Yung
4th Damascus College - Bow: Ellie Henderson, 2: Sarah Collins, 3: Jonte Lloyd, Stroke: Eleanora Bonazzoli, Cox: Kiara Dalem, Cch: Narelle Burnside
5th Phoenix College - Bow: Abby Simpson, 2: Caitlin Richie, 3: Sophie Norris, Stroke: Holly Dawson, Cox: Mary Greed
6th Ballarat High School - Bow: Alysha Forrest, 2: Tarni Jarvis, 3: Kyla Palmer, Stroke: Caitlyn Stepnell, Cox: Isabella Treadwell, Cch: Wayne Braybrook
---
Girls' Open Four Division 4
3:58.59
4:05.96
4:11.34
4:33.31
1st Ballarat Grammar School - Bow: Scarlett Robinson, 2: Grace Henwood, 3: Elizabeth Pattinson, Stroke: Maddy Rogers, Cox: Lucy Russell
2nd Loreto Ballarat - Bow: Erin Gillespie, 2: Ailish Murphy-McKay, 3: Olivia Houlihan, Stroke: Grace Maher, Cox: Isabella Quinlan
3rd Ballarat & Clarendon College - Bow: Ashlynne Power, 2: Emma Cornwill, 3: Charlee Pring, Stroke: Lilliana Marwood, Cox: Neeve Hoffman
4th Ballarat High School - Bow: Tyra Howard, 2: Tara Burnett, 3: Kate Hayes, Stroke: Scarlette Theodoropoulos, Cox: Emily Glass
---
Girls' Open Four Division 5
3:58.00
4:04.14
4:06.64
4:08.46
4:12.15
4:17.19
4:46.56
1st Loreto Ballarat (1) - Bow: Laura Weightman, 2: Meg Broadbent, 3: Ashlee Quick, Stroke: Talee Hare, Cox: Shayla Lamb
2nd Loreto Ballarat (2) - Bow: Lily Hislop, 2: Isabella Sims, 3: Brooke De Grandi, Stroke: Rani Clark, Cox: Lucy Cuthbertson, Cch: Gabrielle Howard
3rd Ballarat Grammar School - Bow: Abbey Macdonald, 2: Caitlin Grieve, 3: Prue Stewart, Stroke: Harriet McConville, Cox: Mia Ross
4th Ballarat High School - Bow: Alice Atle, 2: Haidee Greenwood, 3: Olivia Spagnolo, Stroke: Perri Burns, Cox: Elisabeth Richardson
5th Ballarat & Clarendon College - Bow: Jasmine Fitzpatrick, 2: Sophie Byrne, 3: Felicity Raschilla, Stroke: Amelia Faull, Cox: Genevieve Chapman
6th Phoenix College - Bow: Hannah Anwyl, 2: Rochelle Dirks, 3: Tayla Scutcheon, Stroke: Tia Doyle, Cox: Jack Anderson, Cch: Kelly Bevan
7th Ballarat & Clarendon College - Bow: Caitlyn Angel, 2: Claire Richardson, 3: Dominique McMaster, Stroke: Laura Schammer, Cox: Casey Heley
---
Girls' Year 10 Four Division 1
3:53.18
3:55.58
4:03.09
4:09.02
4:14.85
1st Ballarat High School - Bow: Mia-Lee Bridges, 2: Ella Lukich, 3: Darcy McMickan, Stroke: Lauren Salter, Cox: Beth Murfett
2nd Ballarat Grammar School - Bow: Jessica Mahony, 2: Sophie Reinehr, 3: Cecilia Hearn, Stroke: Lucy Kirwan-Hamilton, Cox: Alessandra Findlay
3rd Ballarat & Clarendon College - Bow: Maya Plange, 2: Tayla Jackson, 3: Emily Richardson, Stroke: Eddi Eppingstall, Cox: Lil Carlyon
4th Loreto Ballarat - Bow: Rachel Huber, 2: Hannah Cahir, 3: Hannah Augustine, Stroke: Lexi Roscoe, Cox: Grace Turner, Cch: Nathan Sims
5th Damascus College - Bow: Laura Gibson, 2: Gemma Smith, 3: Maddy Edwards, Stroke: Sarah Campbell, Cox: Ruby Gibson, Cch: Kathryn Mills
---
Girls' Year 10 Four Division 2
4:04.77
4:08.14
4:09.01
4:10.88
4:20.92
1st Ballarat Grammar School - Bow: Tess Heath, 2: Ruby Green, 3: Lucy McKay, Stroke: Courtney Betts, Cox: Alice Young
2nd Ballarat & Clarendon College - Bow: Lillian Drury, 2: Isabella Haidacher, 3: Ellie Kaufmann, Stroke: Olivia Rickard, Cox: Zara Cox
3rd Damascus College - Bow: Letisha Guy, 2: Nicola Robson, 3: Courtney Slater, Stroke: Abbey Collier, Cox: Kimberly Keen
4th Loreto Ballarat - Bow: Maggie Russell, 2: Tamsin Keogh, 3: Amy Foley, Stroke: Amelia Cross, Cox: Tess Quilliam
5th Ballarat High School - Bow: Tiarna Oakes, 2: Zoe Stevens, 3: Kate Macaulay, Stroke: Isla Briggs, Cox: Georgia Deloas-Chapple
---
Girls' Year 10 Four Division 3
4:08.94
4:15.71
4:23.86
5:40.05
1st Loreto Ballarat - Bow: Pippa Nolan, 2: Ruby Dean, 3: Ella Grumley, Stroke: Lucy O'Loughlin, Cox: Chloe Severino, Cch: Tegan O'Dowd
2nd Ballarat & Clarendon College - Bow: Astrid Livitsanis, 2: Hannah Ward, 3: Hayley Saunders, Stroke: Maeve Clark, Cox: Casey Heley
3rd Ballarat Grammar School - Bow: Madeline Holland, 2: Keely Fitzsimons, 3: Georgia O'Loughlan, Stroke: Philippa Metcalfe, Cox: Lexie Brown
4th Damascus College - Bow: Amy Mennen, 2: Imogen Brown, 3: Rahni Holloway, Stroke: Grace Oldaker, Cox: Macy Ludeman
---
Girls' Year 10 Four Division 4
4:08.37
4:22.26
4:22.93
4:37.81
1st Loreto Ballarat - Bow: Teagan Blythe, 2: Megan Skrokov, 3: Courtney Tuddenham, Stroke: Elle Hammill, Cox: Annie Wood, Cch: Tegan O'Dowd
2nd Damascus College - Bow: Charlotte Lawler, 2: Sophie Ryan, 3: Ally Mikus, Stroke: Eleni Spokes, Cox: Lily Jackson
3rd Ballarat & Clarendon College - Bow: Tyleah Wade, 2: Anna Svensson-O'Shea, 3: Eliza Wilding, Stroke: Kasey Tucker, Cox: Lil Carlyon
4th Ballarat Grammar School - Bow: Isabella Tumolero, 2: Josie Castles, 3: Ashleigh Simpson, Stroke: Grace Ross, Cox: Rhiannan Lowe
---
Girls' Year 10 Four Division 5
1st Loreto Ballarat - Bow: Isabella Taylor, 2: Alexandra Emonson, 3: Abiathar Templar, Stroke: Emma Hughes, Cox: Sophie Rex
2nd Phoenix College (2) - Bow: Brittany Richardson, 2: Brodey Mckay-Haines, 3: Melodey Spataro, Stroke: Jaime Gigliotti, Cox: Alisha Doyle
3rd Ballarat & Clarendon College - Bow: Suhani Mittal, 2: Sophie Brumby, 3: Senesha Kumarage, Stroke: Jasmine Green, Cox: Cheyanne Bradshaw
---
Girls' Year 9 Four Division 1
3:35.76
3:43.14
3:44.56
3:46.33
4:00.83
1st Ballarat High School - Bow: Lilly Kimber, 2: Hayley McLean, 3: Ella Glenwright, Stroke: Casey Farquhar, Cox: Nikki Macaulay
2nd Ballarat & Clarendon College - Bow: Karissa Kelly, 2: Maya Troon, 3: Poppy Douglass, Stroke: Grace Davies, Cox: Cheyanne Bradshaw
3rd Loreto Ballarat - Bow: Annika Haase, 2: Lucy McKeegan, 3: Amy Loader, Stroke: Elisabeth Fraser, Cox: Georgia Loader, Cch: Gabrielle Howard
4th Damascus College - Bow: Stephanie Fitzgerald, 2: Kaiah McCahon, 3: Charlotte Ashley, Stroke: Sarah Matheson, Cox: Ellie Dickson, Cch: Dean Kittelty
5th Ballarat Grammar School - Bow: Ellen Cocking, 2: Annie Trotter, 3: Montanah McMillan, Stroke: Lilly Petersen, Cox: Harriet Jones
---
Girls' Year 9 Four Division 2
4:06.91
4:07.40
4:21.65
4:23.54
5:15.00
1st Loreto Ballarat - Bow: Molly Ryan, 2: Grace Mader, 3: Bonnie McLoughlin, Stroke: Ally Trigg, Cox: Chloe Severino, Cch: Danielle Foley
2nd Ballarat High School - Bow: Astrid Jolly, 2: Latesha Shanks, 3: Maggie Martin, Stroke: Nicole Sims, Cox: Molly Bridges
3rd Ballarat & Clarendon College - Bow: Grace Terrill, 2: Zoe Cowan, 3: Ava Stephens, Stroke: Gabriella Fitzpatrick, Cox: Lil Carlyon
4th Damascus College - Bow: Azure Norman, 2: Georgia Dalziel, 3: Bella Vallance, Stroke: Paris Murrell, Cox: Matilda Lloyd, Cch: Dean Kittelty
5th Ballarat Grammar School - Bow: Tanzee Pond, 2: Alexandra Carter, 3: Eleanor Litras, Stroke: Aeron Johns, Cox: Shaneeta Muker
---
Girls' Year 9 Four Division 3
4:10.84
4:11.62
4:21.82
4:28.37
4:34.53
Time:
1st Loreto Ballarat - Bow: Keely Greer, 2: Ruby Cheesman, 3: Meg McKinnis, Stroke: Stephanie Jones, Cox: Maddison Lloyd
2nd Ballarat High School - Bow: Tara Jones, 2: Beth Murfett, 3: Molly Belden, Stroke: Kaitlyn Gatacre, Cox: Emily Glass
3rd Ballarat Grammar School - Bow: Aurora Barnett, 2: Rebecca Cuff, 3: Catherine Cornish, Stroke: Eden Squire, Cox: Alexandra Gaylard
4th Ballarat & Clarendon College - Bow: Brydi Hutchinson, 2: Annie Wright, 3: Zali Palmer, Stroke: Georgia Scobie, Cox: Isabella Collins
5th Damascus College - Bow: Rebecca Grandi, 2: Eliza Robertson, 3: Hannah Van Der Linden, Stroke: Evie Sargisson, Cox: Erica Webb, Cch: Tahnya Robson
---
Girls' Year 9 Four Division 4
4:12.48
4:19.43
4:25.03
4:31.29
4:53.26
1st Loreto Ballarat - Bow: Kasey Drew, 2: Kate Robinson, 3: Emma Houlihan, Stroke: Maggie Ryan, Cox: Emily Canavan
2nd Ballarat High School - Bow: Kalliopie Theodoropoulos, 2: Abbey Bourke, 3: Danielle Lawler, Stroke: Georgie Simper, Cox: Cassie Kawa
3rd Ballarat Grammar School - Bow: Jemima Howell, 2: Millie Cracknell, 3: Sarah Askari, Stroke: Zoe Thomas, Cox: Caitlin Bruce
4th Ballarat & Clarendon College - Bow: Liliana Struth, 2: Jasmine Martin, 3: Georgia Bain, Stroke: Mia Wachter, Cox: Minuri Tellambura
5th Damascus College - Bow: Madison Venville, 2: Amelia Johnson, 3: Sharni Dean-Jones, Stroke: Rebecca Lannen, Cox: Kirra Ward
---
Girls' Year 9 Four Division 5
4:21.64
4:29.36
4:39.21
5:18.59
1st Loreto Ballarat - Bow: Emily Bathurst, 2: Aysha Linton, 3: Hannah Byvoet, Stroke: Larni Howard, Cox: Annie Bissinella
2nd Ballarat Grammar School - Bow: Townsen Bryan-Wakeling, 2: Isabella Robson, 3: Eartha Izard, Stroke: Emily Baker, Cox: Tully Bryan-Wakeling
3rd Ballarat & Clarendon College - Bow: Matilda Hope, 2: Liseni Warnakulasuriya, 3: Eliza Byron, Stroke: Imogen Goldsworthy, Cox: Cheyanne Bradshaw
4th Phoenix College (4) - Bow: Hannah Collins, 2: Samantha Spicer, 3: Dakota Campbell, Stroke: Hannah Thorp, Cox: Zoe Doyle
---
Sources
Regatta Manager - results
Regatta program
Ballarat Associated Schools Inc and Loreto College - photos
Row up, High School by Barry Ryan and Robert Simmonds