2014 Ballarat Head of the Lake
The regatta was again conducted on Lake Wendouree on Friday 28th February 2014 in straight final format. Ballarat High School won the boys' Head of the Lake in record time. It was also their first win since 2000. Ballarat & Clarendon College won the girls' Head of the Lake but did not have to wait as long as Ballarat High School to win. Their previous win was only three years earlier in 2011.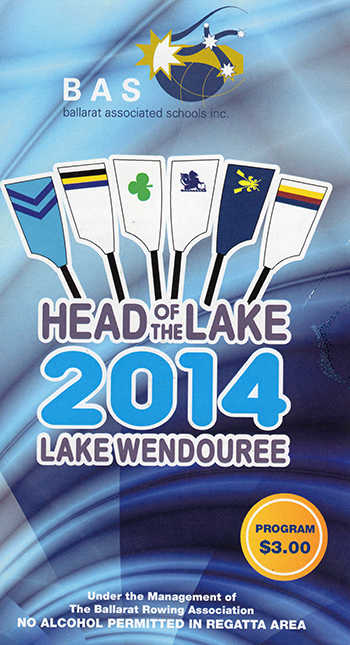 Of equal significance as the major races was the first win for Damascus College in the history of their participation in the regatta in the year 9 division three fours.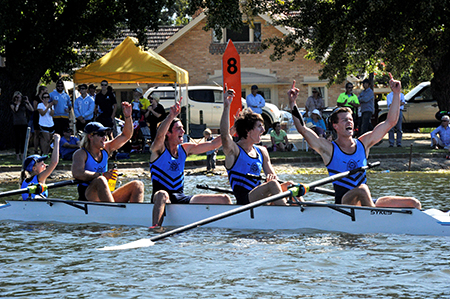 Ballarat High School celebrate a fine win - Photo: Ballarat High School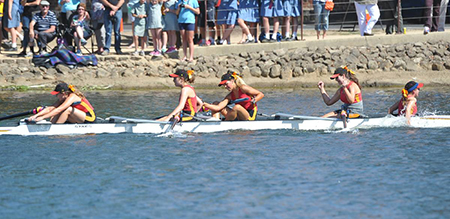 Ballarat & Clarendon College firsts celebrate victory - Photo: The Courier
---
Boys' Open Four Division 1
---
Boys' Open Four Division 2
---
Boys' Open Four Division 3
---
Boys' Open Four Division 4
---
Boys' Open Four Division 5
---
Boys' Open Four Division 6
---
Boys' Year 10 Four Division 1
---
Boys' Year 10 Four Division 2
---
Boys' Year 10 Four Division 3
---
Boys' Year 10 Four Division 4
---
Boys' Year 9 Four Division 1
---
Boys' Year 9 Four Division 2
---
Boys' Year 9 Four Division 3
---
Boys' Year 9 Four Division 4
---
Boys' Year 9 Four Division 5
---
Boys' Year 9 Four Division 6
---
Girls' Open Four Division 1
---
Girls' Open Four Division 2
---
Girls' Open Four Division 3
---
Girls' Open Four Division 4
---
Girls' Open Four Division 5
---
Girls' Open Four Division 6
---
Girls' Year 10 Four Division 1
---
Girls' Year 10 Four Division 2
---
Girls' Year 10 Four Division 3
---
Girls' Year 10 Four Division 4
---
Girls' Year 10 Four Division 5
---
Girls' Year 9 Four Division 1
---
Girls' Year 9 Four Division 2
---
Girls' Year 9 Four Division 3
---
Girls' Year 9 Four Division 4
---
Girls' Year 9 Four Division 5