1918 Ballarat Head of the Lake
Evening Echo, on 24th October 1918 reported: After a postponement from Saturday afternoon on account of the unfavourable weather conditions, the annual four-oared public schools race for supremacy of the Lake, was decided on Lake Wendouree on Monday evening, and resulted in a rather comfortable win for St.Patrick's College.
Organising Committee and Officials
Organising Committee: Ballarat Public Schools' Association. The officials appointed by the Ballarat Regatta Association were:
Judges - George Tonner and A H Nevett
Umpire - Lt Col Bennett
Starter - T A Moran
Clerk of scales- Andrew Alipius O'Dea


Course: Mile course
---
Head of the Lake
Time: 7 mins.31 secs. (This was the first race that an official time was recorded.)
Margin: One length to second and two lengths to third.
1st St Patrick's College - W Hutchinson (str), A Hambrook (3), Leo Clinton (2), A Kavanagh (bow), Cox: P Chinn, Coach: J P Bourke
2nd Ballarat Grammar - E Tunbridge (str), F Dodd (3), H Reynolds (2), A. Pittard (bow), Cox: J Smith, Coach: W D Dawson (Wally Dawson)
3rd Ballarat College - R Langsford (str), D Langsford (3), A Clarke (2), R Simpson (bow), Cox: A King, Coach: J B Suffren
The race report included the following description:
St. Patrick's had the south station, Grammar School the centre, and Ballarat College the north position. Mr. T. Moran got them away to a splendid start, and for the first few strokes Grammar School held a slight advantage over St. Patrick's. Then the bow of the latter crew missed the water, and he was off his seat for a moment or two, which gave the other two crews the advantage, Grammar School's boat being nearly a length to the good when the St. Patrick's four got rowing again. They then settled down nicely, and, rowing with a clean even stroke, soon made up the leeway. At the quarries, St. Patrick's were in front and gradually drawing clear and they rowed home comfortable winners, being just over a length to the good when the winning post was reached. Grammar School were second, and Ballarat College, about two lengths further back, third, both the latter crews having rowed a plucky stern chase over the last half of the journey.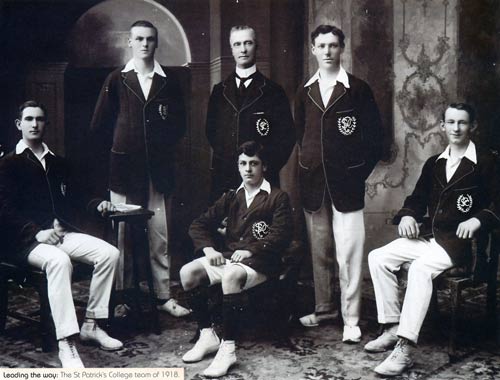 From '100 Years of the Head of the Lake' published by The Courier in 2012