1947 Ballarat Head of the Lake
The 33rd Head of the Lake was conducted on Lake Wendouree on Saturday 3rd May 1947. The previous two regattas were cancelled due to lack of water in the Lake.
It was a momentous regatta as Ballarat High School won for the first time, and won well. They won the Dowling Cup which was presented by Mrs Graeme Dowling.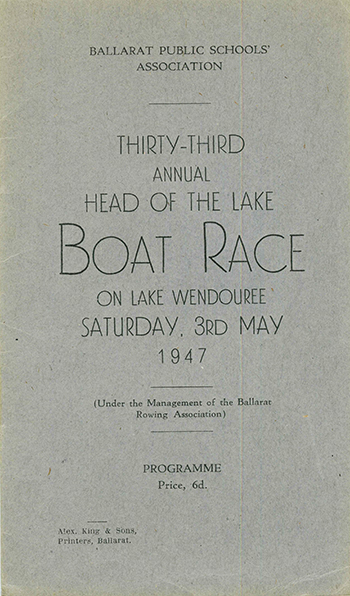 ---
Organising Committee: Ballarat Public Schools' Association.
Regatta Managers: Ballarat Rowing Association
Starter: Mr A Hall
Assistant Starters: G McIlvena and E Powell
Umpire: G Htchins
Judges: F W Marxsen, T Edwards and Otto Hauser
Timekeeper: H Marks
Clerk of Scales: G Hager
Despatch Steward: E Laughton
Committee: N A Banks (CEGS), A Green (BHS), Rev Br W T O'Malley (SPC), G R Newson (BC)
---
Boys' Open Four Division 1
1 mile
Time: 5:43.6
Margin: 3 lengths
1st Ballarat High School - Bow: Ian McWilliams, 2: Syd Pargeter, 3: J Quillam, Str: Ken Quinert, Cox: Cliff Restarick, Cch: Arch Dawson
2nd Ballarat Grammar - Bow: K J Wilkinson, 2: R E Bygrave, 3: F J Clementson, Str: D L Morton, Cox: B Newson, Cch: Otto Hauser
3rd St Patrick's College - Bow: B A McCormack, 2: M L Byrne, 3: E T O'Donoghue, Str: J H Leetham, Cox: P J Quinlan, Cch: W F Donnelly
4th Ballarat College - Bow: A M McDonald, 2: E J Rowland, 3: R G Lemke, Str: J R Jopling, Cox: D H Dunn, Cch: K D Baird
Ballarat High School First Crew. Photo: The Courier
---
Boys' Open Four Division 2
0.5 mile
1st Ballarat High School - Bow: G Rogers, 2: J Blackie, 3: R Jelbart, Str: E Ackroyd, Cox: Cliff Restarick, Cch: Arch Dawson
2nd Ballarat College - Bow: D W Oxbrow, 2: M W Siemering, 3: R C Gilmore, Str: J W Cook, Cox: I M Foyster, Cch: F Ritchie
3rd St Patrick's College - bow: N W Loughnan, 2: K F Tobin, 3: B R Malady, Str: F A Nihill, Cox: K T Rowe, Cch: W R Blackie
4th Ballarat Grammar - bow: D R Oxlade, 2: P L Burgess, 3: M B Calvert, Str: K R Lucas, Cox: J A Nice, Vch: N Banks
---
Boys' Open Four Division 3
0.5 Mile
1st St Patrick's College - Bow: J G Vaughan, 2: B C McDougall, 3: R E Groutsch, Str: B J Lourey, Cox: W J Hancock, Cch: F J Webster
2nd Ballarat College - Bow: K J McIver, 2: D L Karmouche, 3: G A Hewitt, Str: R B Young, Cox: R J Bradshaw, Cch: F Ritchie
3rd Ballarat High School - Bow: W Wheeler, 2: T Gleeson, 3: R Bailey, Str: K Bilston, Cox: Cliff Restarick, Cch: Arch Dawson
4th Ballarat Grammar School - Bow: P E Richards, 2: J A A Monti, 3: R H Gallagher, Str: A E Hancock, Cox: C Newsome, Cch: K Thomson
---
Sources
1947 Regatta Program
Ballarat Courier 100 years Head of the Lake Supplement
Row Up, High School, Celebrating Ballarat High School Rowing 1910-2019 by Barry Ryan and Robert Simmonds, Published by Ballarat High School 2020
SPORT IN THE COUNTRY (1947, May 5). The Argus (Melbourne, Vic. : 1848 - 1957), p. 17. Retrieved October 16, 2021, from http://nla.gov.au/nla.news-article22424240