1933 Ballarat Head of the Lake
This race was conducted on Lake Wendouree on Saturday 6th May 1933 in cool conditions with a sharp south west wind. The conditions did not dampen the enthusiasm for the racing from a large crowd.
Miss Mary Dowling presented the Tom Dowling Memorial Cup to the winning stroke L Hine.
St Patrick's College took out the Old Collegians race from Grammar then College.
Organising Committee and Officials
Organising Committee: Ballarat Public Schools' Association
---
Head of the Lake
Time: Not known
Margin: 1 length and four lengths
Distance: 1 mile
1st Ballarat Grammar - Bow: G W Best, 2: G Hewitt, 3: K Coventry, Str: L E Hine, Cox: E Philp
2nd Ballarat College
3rd St Patrick's College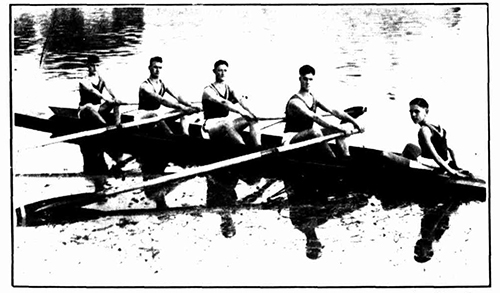 Ballarat Grammar winning crew as depicted in Table Talk
St Patrick's College crews of 1933
---
Second Fours
Time: Not known
Margin: 0.5 length
1st Ballarat Grammar - Bow: A Guy, 2: W Johnson, 3: J Wlliams, Str: A R Guy
2nd St Patrick's College
3rd Ballarat College
Sources:
The Argus Monday 8th May 1933, page 5
Table Talk Thursday 18th April 1933 page 25
Ballarat Courier 100 years Head of the Lake Supplement