1930 Ballarat Head of the Lake
Saturday 3rd of May
Saturday was a great day for the students, old boys, and supporters of St.Patrick's College, when the annual Head of the Lake contest was decided under the auspices of the Ballarat Public Schools Association. As in other centres, this is a gala day for all citizens, as well as partisans of the three schools. There was a very large crowd present. The racing was full of interest, and the boys of St.Patrick's carried off the coveted double-both first and second fours. In the big event, a powerful and well-balanced crew, comprising E. Wilson (bow), J. Rice (2),J. Harrison (3), H. Walls (str) and J. Moore (cox) and Mr. W.D. Dawson (coach), won with consummate ease, having led all the way. In a good race for second, Ballarat College just beat Grammar School. The race for the second fours was somewhat similar, S.P.C. going away with a good lead, which they held to the end, winning by over three lengths from Ballarat College and Grammar School, who dead-heated for second. The personnel of the winning crew was R. Morris (bow), W. Breen (2), D. Hayes(3), R. O'Halloran (str) and T. McCarthy(cox). There was also a race for the Old Boy's, and in this St.Patrick's, when going well, broke an oar and retired. This proved the most exciting race of the day, Ballarat College just winning from Grammar School. Advocate, Melbourne,8/5/1930.
This was the first year the Head of the Lake was held on the newly cleared Regatta course
Organising Committee and Officials
Organising Committee: Ballarat Public Schools' Association
Officials: Ballarat Regatta Association
Sources:
Age, Melbourne, 5/5/1930, page 14
Advocate, Melbourne, 8/5/1930, page 26
Principal researcher
: Kate Elliott
---
Head of the Lake
Regatta course-Lake Wendouree
Time: no time.
Margin: two and a half lengths to second and a length to third.
1st St.Patrick's College - Bow: E H Wilson, 2: J H Rice, 3: J C Harrison, Str: H D Walls, Cox: J J Moore, Coach: Mr W D Dawson
2nd Ballarat College - Now: D L John, 2: J F Mitchell, 3: H K McLean, Str: F M Loutit, Cox: F Coates, Coach: Mr W Clift
3rd Grammar School - Bow: R Crosbie, 2: G Moorhouse, 3: P Jelbart, Str: C Coventry, Cox: J Howe, Coach: Mr R Jelbart.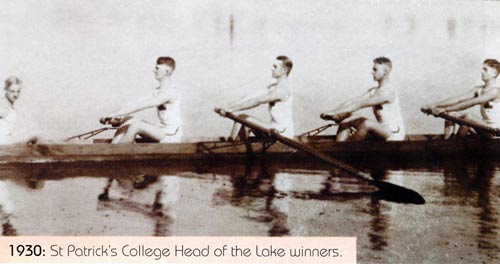 From '100 Years of the Head of the Lake' published by The Courier in 2012
---
Second Fours
Time: Not known
Margins: 3 lengths and dead heat for second
1st St.Patrick's College - Bow: R Morris, 2: W Breen, 3: D Hayes, Str: R O'Halloran, Cox: T McCarthy
= 2nd Ballarat College
= 2nd Grammar School