2009 Ballarat Head of the Lake
Yet another season went by without water in Lake Wendouree. On water training was mostly undertaken in Geelong where the race was also conducted. This was great burden on rowers, coaches and schools. However the results were outstanding both at this regatta and at the National Championships.
It is a great credit to all involved that the schools continued to produce quality crews without a lake to row upon.
The races were conducted on the Barwon River again at Geelong on Wednesday 18th February 2009.
---
Organising Committee and Officials
Organising Committee:
Starters: Lance Deveson & Ron Widgery
Umpires: Rick Blanchfield & Bill Coutts
Judges: Barry Wright, Jack Barnett & Peter Titheridge
Referee & Course Manager: Eric Waller
Announcers: Damon Edwards & Mark Kenna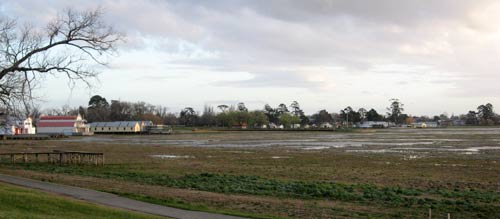 Time: unknown
Margins: unknown
1st St Patrick's College - Bow: Sam Howard, 2: Jake Belsar, 3: Daniel Sharp, Str: Joe Ford, Cox: James Edmends, Cch: Terry Austin
2nd Ballarat Grammar - Bow: Jock Lawrence, 2: Clive Fairbairn-Calvert, 3: Hugh Bucknall, Str: Alexander Armstrong, Cox: Bronte Wright, Cchs: Cameron Martin & Bradd Denham
3rd Ballarat High School - Bow: Lachlan Meerbach, 2: James Warke, 3: Daniel Hobbs, Str: Matt Jeffery, Cox: Tessa Fraumano, Cch: Glenn Kallio
4th Ballarat & Clarendon College - Bow: Hugh Baird, 2: Chris Bond, 3: Travis Hoyle, Str: Alistair Stewart, Cox: Simon Karmouche, Cch: Ian Peele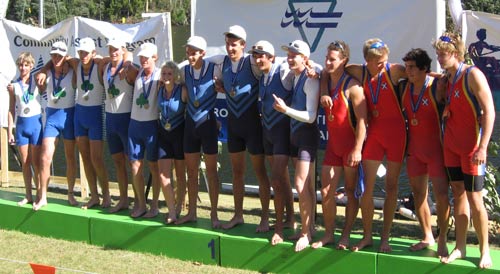 Time: unknown
Margins: unknown
1st St Patrick's College - Bow: Josh Harris, 2: Hayden Walters, 3: Tom Blood, Str: Jack Watkins, Cox: Xavier Jones, Cch: Simon O'Brien
2nd Ballarat Grammar - Bow: George Meek, 2: Joshua Dunne, 3: James Cossins, Str: Alistair Dugdale, Cox: Angus Wright, Cch: Sam Gray
3rd Ballarat High School - Bow: Darcy Brown, 2: Zac Moore, 3: Robert Clements, Str: David Brookes, Cox: Rohan Kelly, Cch: Nic Moran
4th Ballarat & Clarendon College - Bow: James Murray, 2: Michael Jenkins, 3: Matthew Oliver, Str: Robert McLennan, Cox: Joel Bentley, Cch: Andrew McKinley
Time: unknown
Margins: unknown
1st St Patrick's College - Bow: James Cook, 2: Cody Morcombe, 3: Justin Hobson, Str: Dermot Connaughton, Cox: Kyle Coutts, Cch: Ash Collins
2nd Ballarat & Clarendon College - Bow: Sam Willesdorf, 2: Ross Thompson, 3: Sam O'Brien, Str: Daniel Nielsen, Cox: Ben Shepherd, Cch: Ross Henderson
3rd Ballarat Grammar - Bow: Jackson Hayes, 2: Jeremy Dellavedova, 3: Grant Dobson, Str: Scott Gullock, Cox: Peter Rennie, Cchs: Kieren Paton & Matthew Freeman
4th Ballarat High School - Bow: James Holding, 2: William Hosking, 3: Callum Harrington, Str:Lachlan Plews, Cox: Mikaela Foster, Cch: Ross Holding
Time: unknown
Margins: unknown
1st St Patrick's College - Bow: Leigh Wilson, 2: Drew Murphy, 3: Brad Brennan, Str: Ted Long, Cox: Liam Mannix, Cch: Scott Howard
2nd Ballarat & Clarendon College - bow: Tom Nash, 2: Jack Dyer, 3: Will Harrison, Str: Nick Marshall, Cox: Richard Barrie, Cch: Matthew Graham
Time: unknown
Margins: unknown
1st St Patrick's College - Bow: Samuel Morrisey, 2: Andrew Wallis, 3: James Grinter, Str: Angus Lennecke, Cox: Angus Kirby, Cch: Brendon Howard
2nd St Patrick's College - Bow: Thomas Dickson, 2: Hugh Lennecke, 3: Daniel Cobden, Str: Regan Forbes, Cox: Callum Lennecke, Cch: Brendon Howard
3rd St Patrick's College - Bow: Isaac, Kirby, 2: Daniel Pelchen, 3: Zach Malone, Str: Joel Cook, Cox: Kristopher Thomas, Cch: Steve Hamm
4th Ballarat & Clarendon College - Bow: Josh Nightingale, 2: Sam Haans, 3: Bredon McDougall, Str: Mitch Simpson, Cox: Dana Mooney, Cch: Ben Corden-McKinley
Time: unknown
Margins: unknown
1st Ballarat Grammar - Bow: Charles Mann, 2: William Brookes, 3: Cameron Pelech, Str: Andrew Pearson, Cox: Lachlan Callum, Cch: Lachlan Miller
2nd St Patrick's College - Bow: Blair Keys, 2: James Liston, 3: Andrew Rowan, Str: Tom Gillett, Cox: Darct Tuppen, Cchs: Nathan Sims & Nathan Hobson
3rd Ballarat High School - Bow: Harry Peoples, 2: Jackson Dower, 3: Braeden Netherway, Str: Beau Borchers, Cox: Timothy Geoghegan, cchs: Nick Chapman, Chris Brochers & Matt Moran
4th Ballarat & Clarendon College - Bow: Jack Anderson, 2: Serge Campana, 3: Lou Campana, Str: Alex Wrigglesworth, Cox: Tom Diaz, Cch: Tom Liubinas
Time: unknown
Margins: unknown
1st St Patrick's College - Bow: Daniel Baxter, 2: Stuart Warren, 3: Patrick Foley, Str: Nick O'Farrell, Cox: Decklan Stoffels, Cch: Kyle Foley
2nd Ballarat High School - Bow: James Lukich, 2: Jack Faull, 3: Jo Clements, Str: Jarrod Simpson, Cox: Dominic Geoghegan, Cchs: Nick Chapman, hris Brochers & Matt Moran
3rd Ballarat Grammar - Bow: Elliot Nielsen, 2: Fred Stephan, 3: Rob Bronchinetti, Str: Scott Hammond, Cox: George Ludbrook, cch: Patrick Hills
4th Ballarat & Clarendon College - Bow: Angus Clarke, 2: Zach Mather, 3: Lachlan Parker, Str: Oliver Dalton, Cox: Laura Adams, Cch: Mitch Smith
Time: unknown
Margins: unknown
1st St Patrick's College - Bow: Alex McPherson, 2: Alex Hobson, 3: Pat Doyle, Str: Ben Kulman, Cox: Xavier Jones, Cch: Richard Wilson
2nd St Patrick's College - Bow: Michael Bilston, 2: Charles Martin, 3: Ciaren Conaughton, Str: James Davies, Cox: Kyle Coutts
Time: unknown
Margins: unknown
1st Ballarat Grammar - Bow: Samuel Ballantyne, 2: Sebastian Walsh, 3: Campbell Gullock, Str: Tom Hunt, Cox: Matt Haberfield, Cchs: Gary Gullock & Martin Hunt
2nd Ballarat High School - Bow: Andrew Holding, 2: Nathan Levaillant, 3: Ben Jones, Str: Jack Brown, Cox: Nick Holding, Cchs: Ben Hobbs & Josh Boon
3rd St Patrick's College - Bow: Tom Ryan, 2: Connor Dickson, 3: Darcy Antstis, Str: Michael Cocomazzo, Cox: Callum Lennecke, Cchs: Tom Kavanagh & Andrew McNeice
4th Ballarat & Clarendon College - Bow: Dom Morrell, 2: Max Balharrie, 3: Cam Lancashire, Str: Ryan Taylor, Cox: Jessie Hill, Cch: John Morrell
Time: unknown
Margins: unknown
1st St Patrick's College - Bow: Ricky Proeless, 2: Alex Thompson, 3: Alex Eva, Str: Jack Owen, Cox: Eamon McVeigh, Cchs: Sam Martin & Matt Gillett
2nd Ballarat Grammar - Bow: James Clough, 2: William Stewart, 3: Jordan Mazzarella, Str: Richard Dugdale, Cox: Samuel Brennan, Cchs: Gary Gullock & Martin Hunt
3rd Ballarat & Clarendon College - Bow: Julian Dean, 2: Charlie Coburn, 3: Sean McDonough, Str: Callum Wilson, cox: Alex Ray, Cch: Ben Corden-McKinley
4th Ballarat High School - Bow: Eric Greenwood, 2: Liam McGuiness, 3: Josh Elliot, Str: Tom Bell, Cox: Chris Black, Cchs: Josh Boon & Ben Hobbs
Time: unknown
Margins: unknown
1st St Patrick's College - Bow: Sam Hines, 2: Vonnor McCuskey, 3: Josh Hills, Str: Chris Jew, Cox: Matthew Lange, cch: Danny Hay
2nd Ballarat Grammar - Bow: Denbigh Burrows, 2: Jack Doust, 3: Josh Ford, Str: Lewis Enbom-Goad, Cox: Tom Henson, Cchs: Doug Rose & Peter Cole
3rd Ballarat Grammar - Bow: Jordan Osmond, 2: Will Bennett, 3: Patrick Anderson, Str: Ben Dawson, Cox: Matthew Pearson, Cchs: Doug Rose & Peter Cole
4th St Patrick's College - Bow: Mitchell Jantzen, 2: Cameron Ferguson, 3: Patrick Murphy, Str: Matt Seery, Cox: Angus Kirby, Cchs: Daniel Ross-Smith & Daniel Foley
Time: unknown
Margins: unknown
1st St Patrick's College - Bow: Christian Larkin, 2: Richard Zelenich, 3: Rory Conroy, Str: Sam Malone, Cox: Liam Manix, Cch: Phil Long
2nd Ballarat Grammar - Bow: Zac Everett, 2: Brodie Sutherland, 3: Jonte Duffy, Str: Jack Thompson, Cox: Olivia Griffith, Cchs: Doug Rose, Peter Cole & Sean Davies
---
Girls Head of the Lake
Time: unknown
Margins: unknown
1st Ballarat Grammar - Bow: Sarah Armstrong, 2: Annie Armstrong, 3: Alana Heinz, Str: Lucy Stephan, Cox: Paige McKay, Cch: Bill Gribble
2nd Ballarat & Clarendon College - Bow: Jaqui Ford, 2: Alice Draffin, 3: Edi Liubinas, Str: Guinny Jones, Cox: Pip Bain, Cch: Bruce Sarah
3rd Ballarat High School - Bow: Sarah Pollard, 2: Jaimee Maine, 3: Georgia Clarke, Str: Amy Pollard, Cox: Angharad Bentley, Cch: Peter Jeffery
4th Loreto College - Bow: Jess Fisher, 2: Teagan Boadle, 3: Laura Kavavagh, Str: Alana Ward, Cox: Gemma Bettio-Sandlant, Cch: Matt Carroll
---
Girls Open Four Division 2
Time: unknown
Margins: unknown
1st Ballarat & Clarendon College - Bow: Eliza Vincent, 2: Jayme Neilsen, 3: Britt Hughes, Str: Jordan Curnow, Cox: Jackie Smith, Cch: Bicole Payne
2nd Ballarat Grammar - Bow: Lucy Brommeyer, 2: Norah Finn, 3: Hannah Quirk-Meeks, Str: Alice McConchie, Cox: Caroline Van den Broek, cch: Kat Bateman
3rd Ballarat High School - Bow: Michelle McCracken, 2: Kate Walton, 3: Bridie Morcombe, Str: Toni Henderson, Cox: Stephanie Bilson, Cch: Krystal Whitty
4th Loreto College - Bow: Demi McIntosh, 2: Grace Krawec, 3: Alex Prebble, Str: Elissa Wirges, Cox: Tiarne Keighrey, Cch: Alistair Shaw
---
Girls Open Four Division 3
Time: unknown
Margins: unknown
1st Ballarat & Clarendon College - Bow: Sarah Fraser, 2: Amy Dridan, 3: Amelia Kerin, Str: Holy-Jane Titheridge, Cox: Lizzy Gibney, Cch: John Marshall
2nd Ballarat Grammar - Bow: Joanna Macleod, 2: Ellen Crocker, 3: Lucy Tuck, str: Thea Comino, Cox: Siobhan Tobin, Cch: Jill Coote
3rd Loreto College - Bow: Anna Pipkorn, 2: Bridget Keppel, 3: Jess Nolan, Str: Eliza Jones, Cox: Sarah Haberfield, Cch: Olivia Jones
---
Girls Open Four Division 4
Time: unknown
Margins: unknown
1st Ballarat Grammar - Bow: Kate Pidgeon, 2: Soph Henderson, 3: Caitin Britton, Str: Vinka Krunic, Cox: Stephanie Headon, Cchs: Gab Ritchie & Anna Fry
2nd Loreto College B - Bow: Hannah Ludbrook, 2: Pascale Oates, 3: Alex McKenna, Str: Coby Kelly, Cox: Carly Firman, Cch: Rosie Smith
3rd Ballarat & Clarendon College - Bow: Rebekah Vass, 2: Celeste Bussell, 3: Lily Heys, Str: Kate Hoyle, Cox: Rachael Maher, Cchs: John Irwin & Matthew Baird
4th Loreto College A - Bow: Sera De Winter, 2: Hayleigh Cattell, 3: Sarah White, Str: Brianna Carroll, Cox: Claudia Griffin, Cchs: Beth Cooke & Shauna Sullivan
---
Girls Year 10 Four Division 1
Time: unknown
Margins: unknown
1st Ballarat High School - Bow: Alice Ford, 2: Tess Ford, 3: Emily Nicholls, Str: Gabrielle Radford, Cox: Tayla Arnold, Cchs: Catherine Madden, Claire Ellis & Megan Fraumano
2nd Ballarat Grammar - Bow: Maddie Fry, 2: Anna Coote, 3: Emily Porter, Str: Bridget Paton, Cox: Clara Toohey, Cchs Anthony McKnight & Peter Boadle
3rd Ballarat & Clarendon College - Bow: Katrina Werry, 2: Ellie Shepherd, 3: Alex Hamlyn, Str: Jasmine Peldys, Cox: Tiffany McIntosh, Cch: Bruce Sarah
4th Loreto College - Bow: Amy Conroy, 2: Megg owen, 3: Molly Soar, Str: Mai Schlooz, Cox: Meghan Hannah, Cch: Veronica Hart
---
Girls Year 10 Four Division 2
Time: unknown
Margins: unknown
1st Ballarat Grammar - Bow: Merren Petrass, 2: Emily Wilkie, 3: Hannah Marnie, Str: Elsie Fulton, Cox: Samantha Glenn, Cchs: Anthony McKnight & peter Boadle
2nd Ballarat High School - Bow: Emma Finlayson, 2: Emma Dyer, 3: Nickie Bell, Str: Kate Irvine, Cox: Fiona Lindsay, Cchs: Catherine Madden, Claire Ellis & Megan Fraumano
3rd Loreto College - Bow: Georgia Leaney, 2: Dom Prebble, 3: Georgia Shaw, Str: Steff Seeary, Cox: Caitlyn Daffey, Cch: Caroline Geoghegan
4th Ballarat & Clarendon College - Bow: Sophia Fogarty, 2: Rhainnon White, 3: Ellen Rochelmeyer, Str: Chelsea Huddle, Cox: Georgia McCormick, Cch: Kate Watson
---
Girls Year 10 Four Division 3
Time: unknown
Margins: unknown
1st Ballarat High School - Bow: Lily Kerr, 2: Caitlin Burke, 3: Eliza Chapman, Str: Imogen Harbourd, Cox: Maddi Lloyd, Cchs: Catherine Madden, Claire Ellis & Megan Fraumano
2nd Ballarat Grammar - Bow: Belinda Price, 2: Ebony Still, 3: Raaimi Simmonds, Str: Sarah McKenzie, Cox: Kate Wilke, Cch: Mathew Dorning
3rd Ballarat & Clarendon College - Bow: Annabelle Warne, 2: Katie Esdale, 3: Alex Watt, Str: Steph Edwards, Cox: Gaby Ray, Cch: Emma Uebergang
4th Ballarat High School - Bow: Alex Irvine, 2: Ashlee Gillespie, 3: Leteisha Hoskin, Str: Sarah Robinson, Cox: Britanny Carthew, Cchs: Catherine Madden, Claire Ellis & Megan Fraumano
---
Girls Year 9 Four Division 1
Time: unknown
Margins: unknown
1st Ballarat High School - Bow: Tegan Moore, 2: Kristien Kinnersley, 3: Chloe McMickan, Str: Cassandra Greenwood, Cox: Keely Shepherd, Cchs: Annie Brown & Mikaila Hoskin
2nd Ballarat Grammar - Bow: Lucy Brennan, 2: Anna Fairbairn-Calvert, 3: Vicki Powell, Str: Sarah Gazaard, Cox: Lucy Savona, Cch: Ian Fulton
3rd Ballarat & Clarendon College - Bow: Naomi Hughes, 2: Emma Draffin, 3: Libby Ford, Str: Georgia Liubinas, Cox: Rachel Lewis-Gray, Cch: Hannah Barber
4th Loreto College - Bow: Meg O'Doherty, 2: Taylah Blake, 3: Tayla Sharp, Str: Ashlee Wilkes, Cox: Annie Poulton, Cch: Rosie Smith
---
Girls Year 9 Four Division 2
Time: unknown
Margins: unknown
1st Ballarat Grammar - Bow: Melissa Haase, 2: Brooke Trainor, 3: Kate Van Berkel, Str: Stella Fulton, Cox: Isla Tobin, Cch: Emma Burnham
2nd Ballarat & Clarendon College - Bow: Tylah O'Brien, 2: Lotti Dyer, 3: Ellen Leishman, Str: Montana Faull, Cox: Tilly Groavac, Cch: Sarah Shepherd
3rd Loreto College - Bow: Astin Brody, 2: Laura Brayshaw, 3: Jordan McKay, Str: Bridget Campbell, Cox: Ella Pipcorn, Cch: Lucy Brayshaw
4th Ballarat High School - Bow: Emma Wilson, 2: Katie Netherway, 3: Aisha Lloyd Bonney, Str: Sarah Hawkes, Cox: Paige Carter, Cchs: Annie Brown & Mikaila Hoskin
---
Girls Year 9 Four Division 3
Time: unknown
Margins: unknown
1st Ballarat & Clarendon College - Bow: Kate Murray, 2: Emily Maher, 3: Sarah Hoyle, Str: Annelise Bennett, Cox: Molly McCormick, Cch: Jen Tischler
2nd Ballarat Grammar - Bow: Alexandra Lia, 2: D'arcy Spiller, 3: Olivia Johnstone, Str: Madeleine Porter, Cox: Jessica Patterson, Cch: Binky Henderson
3rd Ballarat Grammar - Bow: Kate Fay, 2: Mikaela Haintz, 3: Georgia Grant, Str: Gabriella Hills, Cox: Hannah Burton, Cch: Alice Osmond