1944 Ballarat Head of the Lake
The 32nd race was conducted on Lake Wendouree on 29th April 1944.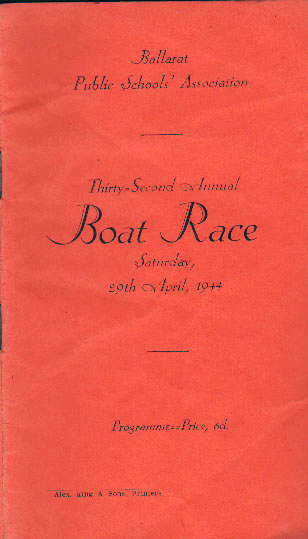 Ballarat High School joined the Association on 20 July 1943. Without a shed or equipment, Ballarat Rowing Club assisted the High School in participating in the regatta.
Organising Committee and Officials
Organising Committee: Ballarat Public Schools' Association
---
Head of the Lake
Distance: 1 mile
Time: 5:38 (record)
Margin: Not known
1st Grammar School - Bow: W J Gallagher, 2: K N Thomson, 3: T A Reeby, Str: J B Meredith, Cox: P R Webster, Cch: Otto Hauser
2nd St Patrick's College - Bow: P J Raphael, 2: B M Leonard, 3: J G Crameri, str: M G Caine, Cox: J M Quinlan, Cch: W Donnelly
3rd Ballarat High School - Bow: G MacDonald, 2: V Allen, 3: J Vawdrey, Str: G Cooper, Cox: G Cunningham, Cch: Mr F Luke
4th Ballarat College - Bow: F T Davies, 2: J M Salmon, 3: K C Hofmaier, Str: F Ritchie, Cox: D L K Hobson, Cch: A W W Lynch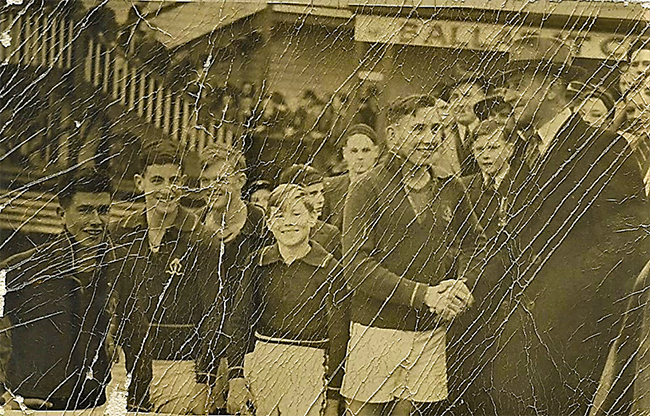 From right to left; Otto Hauser, coach winning 1944 Head of the Lake crew, Ballarat Grammar shaking hands with stroke of the crew on Ballarat City jetty.

---
Second Fours
Time: Not known
Margin: Not known
Results not known
Ballarat High School - Bow: I Hall, 2: N Edwards, 3: R Walsh, Str: N Frenchman, Cox: E Tippett, Coach: Mr F Luke
---
Third Fours
Time: Not known
Margin: Not known
Results not known
Ballarat High School - Bow: T Atkinson, 2: R Wheeler, 3: W White, S: J Tippett, Coach: Mr F Luke
---
Sources:
1944 regatta program
Ballarat Courier 100 years Head of the Lake Supplement
Row Up, High School, Celebrating Ballarat High School Rowing 1910-2019 by Barry Ryan and Robert Simmonds, Published by Ballarat High School 2020