1927 Ballarat Head of the Lake
The Head of the Lake was conducted on Saturday 30th April 1927.
Great enthusiasm prevailed at Lake Wendouree today , when the annual head of the Lake boat race was held. Hundreds of motor cars decked in the respective school colors followed the various races from Wendouree parade and enthusiasm ran high. Rivalry between the crews was particularly keen……Conditions were favourable, with a light following breeze…… Age newspaper 2/5/1927.
The conditions suited the lighter St.Patrick's crew and they narrowly won from Ballarat Grammar School. They were presented with much acclaim, with the Must Cup by Mrs. Phillip Must to retain for the next 12 months. Grammar School triumphed in the Second crews race which was practically a walk over due to the bad steering of the St.Patrick's crew. The Old Collegian's race was also won by Grammar School from Ballarat College in second and St.Patrick's third. The Grammar Old Boys crew were A Ronaldson (bow), J McKay(2), K Taylor(3), J Beattie (str).
Organising Committee and Officials
Organising Committee: Ballarat Public Schools' Association
Sources:
Melbourne Age, 2/5/1927, page 6
Ballarat Courier 100 Years of Head of the Lake
Principal researcher: Kate Elliott
---
Head of the Lake
Mile course, Lake Wendouree
Time: 6 minutes 12 seconds
Margin: Half a canvas
1st St Patrick's College - Bow: J McNamara, 2: J Dwyer, 3: J Whitehead, Str: J Connelly, Cox: T Mahoney
2nd Ballarat Grammar - Bow: J Smith, 2: A Mewkell, 3: R Mitchell, Str: G Moorehouse, Cox: W Philp, Coach: Mr J B Suffren.
3rd Ballarat College - Bow: A Greenfield, 2: H Greenfield, 3: R Brady, Str: A McLean, Cox: R Dowling, Coach: Mr Mario Commons
A good start was effected and the crews were on fairly even terms for the first 300 yards. St.Patrick's held a slight advantage and Grammar School made an effort to pull level with St.Patrick's staying slightly ahead. Coming up to the finishing post Grammar increased their efforts again but in an exciting finish, St.Patrick's maintained their lead and won by half a canvas.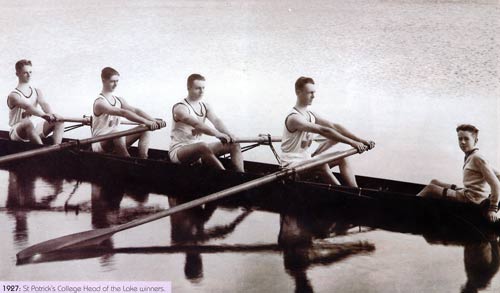 From 100 Years of the Head of the Lake published by The Courier in 2012
---
Second Fours
Time:2 min 50secs
Margins: A canvas and 3 lengths
1st Ballarat Grammar - Bow: T Blake, 2: B R Couter, 3: T Crosbie, Str: J Gray, Cox: F Suffren
2nd St Patrick's College - Bow: J O'Reilly, 2: C McDonough, 3: P Kelly, Str: C McPherson, Cox: T Dwyer
3rd Ballarat College - Bow: G Eva, 2: G Hewitt, 3: H Sweetapple, Str: K McLean, Cox: J Bennett
From the start of the race both Grammar and St.Patrick's drew away steadily from Ballarat College. However St.Patrick's steered badly and went off course allowing Grammar to go to the lead. Although St.Patrick's finished very strongly in a sprint to the line Grammar held on to win by a canvas. If St.Patrick's had steered straight they would have won. Ballarat College were three lengths back in third.