2018 PSA Head of the River
The PSA Head of the River Regatta was conducted on17th March 2018
Over 5,000 spectators visited the Champion Lakes Regatta Centre and were certainly entertained by an exciting finale in the First VIII's. The PSA head of the River Regatta was hosted by Hale School.
The weather conditions in the morning for much of the year 9 to year 12 races battled against windy conditions. The Year 10A Eights race didn't let the weather conditions get the better of them with a thrilling finish between Scotch School and Guildford Grammar School. Though the Scotch School raised their intensity in the last 250 metres, Guildford Grammar School were able to sustain their lead to win the race. Only 0.65 seconds separated the two crews.
The wind decreased slightly for the main competition 'in one of the most open fields for many years'.
Hamer Cup
The Hamer Cup was awarded to Christ Church with a 15-point margin over Trinity College. The following shows in order the 2018 Hamer Cup ranking:
Christ Church Grammar School: 255 points
Trinity College: 240 points
Hale School: 235 points
Scotch College: 225 points
Guildford Grammar School: 213 points
Aquinas College: 208 points
Wesley College: 206 points
---
First Eights
Challenge Cup
2,000 metres
5:48.83
5:52.13
5:57.61
5:58.55
5:59.97
6:01.31
6:06.43
1st Hale School
2nd Christ Church Grammar School
3rd Trinity College
4th Scotch College
5th Wesley College
6th Guildford Grammar School
7th Aquinas College
It was an extremely close encounter between Trinity College, Hale School and Christ Church Grammar School, with only half a boat length between the boats in the first 1000M. However, the in form crew of Hale School (winning PSA Regatta Five last weekend by two boat lengths), did not collapse under pressure and ended Hale School's 18-year drought to win the Challenge Cup. It was even more of a landmark occasion with only less than a second behind Trinity College's record of 5:48.2, set in 2010. Hale School rowing coach T. Widdicombe when speaking to The West Australian newspaper described the trust in his crew, "As they came to the 1km mark and were sitting level with Trinity, I felt pretty confident." And when asked about the potential breaking record, "It was a nice tail wind, but it was probably a bit too rough. A handful of strokes got bumped around, it probably cost us the record."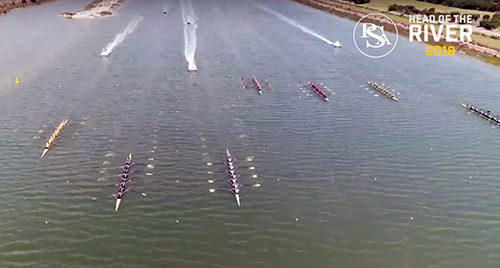 The finish was very close
It was an impressive display of determination from Christ Church Grammar School to pass a tiring Trinity College in the last 500 metres of the race. The first three positions were as followed; Hale School (5:48.83), Christchurch Grammar School (5:52.13) and Trinity College (5:57.61).
A jubilant Hale School crew
6:01.11
6:07.69
6:10.44
6:11.21
6:12.41
6:17.97
6:50.79
1st Christ Church Grammar School
2nd Hale College
3rd Trinity College
4th Guildford Grammar School
5th Aquinas College
6th Scotch College
7th Wesley College
6:04.71
6:20.26
6:22.65
6:29.91
6:46.29
6:48.27
7:21.05
1st Christ Church Grammar School
2nd Trinity College
3rd Hale School
4th Guildford Grammar School
5th Scotch College
6th Aquinas College
7th Wesley College
6:27.49
6:28.41
6:35.65
7:03.11
7:03.44
7:06.49
7:41.72
1st Trinity College
2nd Christ Church Grammar School
3rd Hale School
4th Aquinas College
5th Scotch College
6th Guildford Grammar School
7th Wesley College
4:30.03
4:30.68
4:36.99
4:38.69
4:43.51
4:45.25
4:47.67
1st Christ Church Grammar School
2nd Scotch College
3rd Aquinas College
4th Wesley College
5th Guildford College
6th Hale School
7th Trinity College
4:45.77
4:48.85
4:51.59
4:55.17
5:00.43
5:04.62
5:23.99
1st Wesley College
2nd Christ Church Grammar School
3rd Scotch College
4th Guildford Grammar School
5th Aquinas College
6th Hale School
7th Trinity College
---
Year 10 Coxed Quads
1500M
5:24.91
5:35.47
5:37.65
5:39.81
5:49.43
5:57.54
6:05.47
1st Wesley College
2nd Hale School
3rd Guildford Grammar School
4th Trinity College
5th Christ Church Grammar School
6th Aquinas College
7th Scotch College
---
Year 9A Coxed Quads
1500M
5:04.24
5:16.55
5:18.14
5:18.91
5:23.60
5:44.48
5:46.17
1st Trinity College
2nd Hale School
3rd Christ Church Grammar School
4th Aquinas College
5th Scotch College
6th Wesley College
7th Guildford Grammar School
---
Year 9B Coxed Quads
1500M
5:11.61
5:18.13
5:20.77
5:26.47
5:27.93
5:41.87
6:22.05
1st Trinity College
2nd Christ Church Grammar School
3rd Scotch College
4th Guildford Grammar School
5th Hale School
6th Wesley College
7th Aquinas College
---
Year 9C Coxed Quads
1500M
5:20.54
5:24.85
5:33.21
5:37.07
5:40.35
5:46.01
5:46.04
1st Scotch College
2nd Trinity College
3rd Guildford Grammar School
4th Aquinas College
5th Wesley College
6th Christ Church Grammar School
7th Hale School
---
Year 9D Coxed Quads
1500M
5:30.27
5:35.74
5:43.45
5:45.71
5:47.81
5:53.64
6:38.33
1st Hale School
2nd Trinity College
3rd Aquinas College
4th Christ Church Grammar School
5th Wesley College
6th Scotch College
7th Guildford Grammar School
---
Year 9E Coxed Quads
1500M
5:25.75
5:25.81
5:34.32
5:39.61
5:45.61
5:47.01
6:27.41
1st Scotch College
2nd Trinity College
3rd Guildford Grammar School
4th Hale School
5th Christ Church Grammar School
6th Aquinas College
7th Wesley College