2016 PSA Head of the River
The regatta was conducted on Saturday 19th March 2016 at Champion Lakes.
The 2016 PSA Head of the River was hosted by Christ Church Grammar School. The weather conditions on the 19th March 2016 was a mix of cloud and at different points of the day rain. The average temperature was 14.2 degrees Celsius (57.5 degrees Fahrenheit) and a head wind for the first VIII's final of 11.5 mph (18.5 kph).
Close to six thousand people attended the event and were shown an impressive display by Trinity College winning eight out of the twelve races, including in the 1st VIII final in a time of 6:09.02.
The 1st VIII final was Trinity College first win since 2013 and was a thrilling encounter with a last gasp burst to the line to overcome Christ Church Grammar School that had led for most of the race. Only in the last 300 metres Trinity College were able to find an extra burst of power to past the hosting school to win by a margin of 1.9 seconds.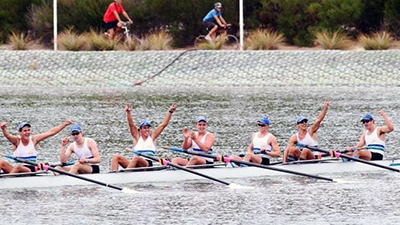 Trinity celebrate their win
Source: https://www.perthnow.com.au/sport/head-of-the-river-trinity-college-wins-annual-perth-psa-schools-rowing-race-ng-f7f8c6e469397f10d0d149415da23159
Hamer Cup
Trinity's dominance in the 2016 PSA Head of the River was reflected by winning the Hamer Cup with 265 points. Trinity College rowing master Phil Jurevich reflected the day for the school in the 'Perthnow' newspaper, "makes it our best ever overall performance". The rankings for the 2016 Hamer Cup are as follow:
1st Trinity College (265 points)
2nd Guildford Grammar School (252 points)
3rd Christ Church Grammar School (227 points)
4th Hale School (225 points)
5th Scotch College (221 points)
6th Aquinas College (211 points)
7th Wesley College (133 points)
---
First Eights
Challenge Cup
2000M
06:09.2
06:11.1
06:15.2
06:19.8
06:20.9
06:22.1
06:30.2
1st Trinity College
2nd Christ Church Grammar School
3rd Guildford Grammar School
4th Hale School
5th Aquinas College
6th Scotch College
7th Wesley College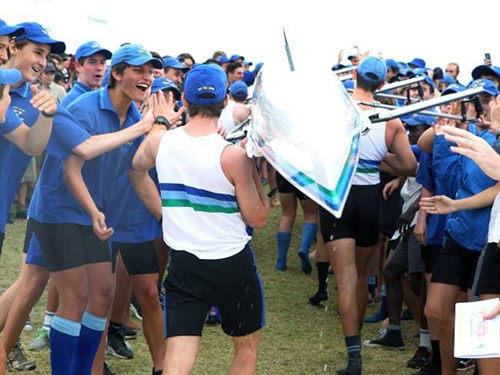 Trinity returns to the adulation of its supporters
Source: https://www.perthnow.com.au/sport/head-of-the-river-trinity-college-wins-annual-perth-psa-schools-rowing-race-ng-f7f8c6e469397f10d0d149415da23159
06:30.1
06:32.4
06:33.4
06:35.1
06:40.1
06:40.5
07:12.8
1st Guildford Grammar School
2nd Hale School
3rd Scotch College
4th Christ Church Grammar School
5th Trinity College
6th Aquinas College
7th Wesley College
06:39.7
06:41.4
06:45.7
06:46.6
06:52.9
07:21.1
1st Christ Church Grammar School
2nd Trinity College
3rd Hale School
4th Guildford Grammar School
5th Scotch College
6th Aquinas College
06:40.8
06:45.7
06:51.7
07:04.6
07:12.1
07:25.2
1st Guildford Grammar School
2nd Trinity College
3rd Hale School
4th Christ Church Grammar School
5th Scotch College
6th Aquinas College
04:37.1
04:40.5
04:45.2
04:47.6
04:50.3
04:50.6
04:56.7
1st Trinity College
2nd Hale School
3rd Guildford Grammar School
4th Christ Church Grammar School
5th Scotch College
6th Aquinas College
7th Wesley College
04:59.8
05:08.9
05:09.3
05:13.4
05:20.7
05:23.8
05:25.7
1st Trinity College
2nd Guildford Grammar School
3rd Christ Church Grammar School
4th Scotch College
5th Aquinas College
6th Wesley College
7th Hale School
---
Year 10 Coxed Quads
1500M
04:37.1
04:40.5
04:45.2
04:47.6
04:50.3
04:50.6
04:56.7
1st Trinity College
2nd Hale School
3rd Guildford Grammar School
4th Christ Church Grammar School
5th Scotch College
6th Aquinas College
7th Wesley College
---
Year 9A Coxed Quads
1500M
05:15.5
05:25.1
05:26.9
05:30.9
05:33.0
05:38.7
05:43.2
1st Trinity College
2nd Aquinas College
3rd Guildford Grammar School
4th Wesley College
5th Hale School
6th Scotch College
7th Christ Church Grammar School
---
Year 9B Coxed Quads
1500M
05:23.4
05:32.8
05:33.3
05:39.5
05:45.3
05:50.3
05:52.9
1st Trinity College
2nd Aquinas College
3rd Scotch College
4th Hale School
5th Wesley College
6th Christ Church Grammar School
7th Guildford Grammar School
---
Year 9C Coxed Quads
1500M
05:36.0
05:36.5
05:44.4
05:55.9
05:56.9
05:58.5
06:29.0
1st Trinity College
2nd Aquinas College
3rd Guildford Grammar School
4th Scotch College
5th Hale School
6th Christ Church Grammar School
7th Wesley College
---
Year 9D Coxed Quads
1500M
05:59.3
06:03.4
06:03.7
06:12.9
06:21.4
06:29.5
06:36.9
1st Guildford Grammar School
2nd Scotch College
3rd Aquinas College
4th Trinity College
5th Wesley College
6th Hale School
7th Christ Church Grammar School
---
Year 9E Coxed Quads
1500M
05:47.6
05:49.4
06:09.3
06:24.5
06:32.2
06:43.7
07:13.9
1st Trinity College
2nd Guildford Grammar School
3rd Scotch College
4th Aquinas College
5th Christ Church Grammar School
6th Hale School
7th Wesley College