2017 PSA Head of the River
The regatta was conducted on 18th March 2017 at Champion Lakes and hosted by Guildford Grammar School.
The weather conditions for Regatta was sunny intervals with temperatures between 18-20 degrees celsius and winds of 22-26 km/h.
In the Regatta's program, PSA President Mr S. Webber spoke of the significance of PSA competitions, "provide the opportunity to compete at a high level, whilst maintaining a focus on sportsmanship, teamwork, co-operation, participation, personal excellence and promoting a sense of community and service."
The Guildford Grammar School (G.G.S) first VIII made history in breaking a 24-year drought (last winning the event in 1993), claiming the prestigious Head of the River in a time of 5:54.61. G.G.S overcame last year's winners Trinity College in a tight race with only less than a quarter of a boat length separating the two crews on the finish line (margin of 0.42 seconds).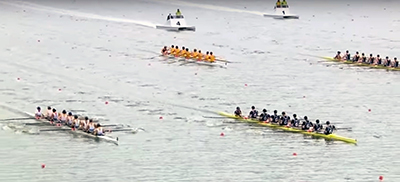 Close racing with 500m to go
https://www.youtube.com/watch?v=AMNMMNlkYo8&t=11933s
And the finish was even closer
Hamer Cup
The 2017 Hamer Cup was won by Trinity College with 271 points ahead of Hale School with 232 points. The overall rankings were as follows:
1st - Trinity College 271 points
2nd - Hale School 232 points
3rd - Christ Church Grammar School 229 points
4th - Scotch College 226 points
5th - Guildford Grammar School 223 points
6th - Aquinas College 209 points
7th - Wesley College 174 points
Full regatta program available through this link.
---
PSSA Committee: Mr. Ralph Heyes (Chairman) Mr. Ian Frame, Mr. Simon Young, Mr. Luke Bower, Mr. James Bridle, Mr. Richard Foster, Mr. Peter Norman, Mr. Steve Leahy, Mr. Nathan Jessup, Mr. Lyndon Brieffies, Mr. Duncan Warlters, Mr. David Gault, Mr. Mark Morrissy, Mr. Drew McDonald
Regatta officials: President of the Jury: Lynne Bayliss, Control Commission: Matthew Bermingham, Starters: John Murdoch, Dean Steadman, Umpires & Marshalls: Craig James, Jess Bosio, Roland O'Meagher, Brett Woolfitt, Alastair Fowler, John Salter, Kim Richardson, Ian Hilton, Regatta Secretary: Laurie Anderson, Judges: Mark Scully (Chief), Pierre Pougnault, Michelle van deVen, Announcer: John McNaught & GGS Support
---
First Eights
Challenge Cup
2000M
5:54.61
5:55.03
6:02.14
6:04.46
6:05.17
6:10.71
6:11.87
1st Guildford Grammar School - Bow: Jasper Sharp, 2: Joe Woods, 3: Flynn Daffyn, 4: Duke Gordon, 5: Tim Sander, 6: Michael Spadaccini, 7: Cody Yelland, Stroke: Josh Laurito, Cox: Josh Logan, Coach: Tony Lovrich/Russell Langdon
2nd Trinity College - Bow: J. T. Stops, 2: E. P. Taylor, 3: J.W. Pinto, 4: J. Tyson, 5: T.F. Buti, 6: M.F. Dwyer, 7: J.P. Marthins, Stroke: L.R. Devlin, Cox: A.T. Le, Coach: P. Bolton
3rd Hale School - Bow: A.J. Garland, 2: L.T. Bermingham, 3: K.J.M. Davies, 4: Z.D. Wright, 5: P.B. Bedetti, 6: B.B. Bungey, 7: G.O. Laufman, Stroke: H.J.S. Henriques, Cox: H. Cooke, Coach: T. Widdicombe
4th Scotch College - Bow: R.S. Taylor, 2: L.N. Deitner, 3: N.C. Fry, 4: L.C. Bell, 5: D.S. MacKinnon, 6: G. Gibson, 7: P.A. Shackles, Stroke: L.C. Laurance, Cox: M.W. Gagen, Coach: W.B. Hutton
5th Christ Church Grammar School - Bow: J. Preston, 2: C. James, 3: H. Brunner, 4: B. Lock, 5: P. Jensen, 6: T. Amaranti, 7: B. Gerrard, Stroke: B. Boultbee, Cox: C. Offer, Coach: S. Cox
6th Aquinas College - Bow: L.J. Rafferty, 2: N.A. Aranda, 3: M.P. Anglesey, 4: C.G. Glover, 5: J.R. Pilatti, 6: W.B. Robinson, 7: C.W. Reeves, Stroke: R.E. King, Cox: L. Holloway, Coach: V. Keogh
7th Wesley College - Bow: M.A. Sarich, 2: N.S. Bell, 3: E.S. Bourke, 4: T. Trainer, 5: K.P. Monteiro, 6: J.R. Parkinson, 7: G. Priest, Stroke: H.D. Coote, Cox: T.L. Clement, Coach: M. James
Guildford Grammar celebrate their win
Assistant coach Russell Langdon, Josh Logan, Josh Lavrito, Cody Yelland, Michael Spadaccini, Tim Sander, Duke Gordon, Flynn Duffen, Joe Woods, Jasper Sharp and head coach Tony Lovrich
Photo credit: Justin Benson-Cooper / SWM - sourced from https://thewest.com.au/sport/other-sports/guildford-grammar-ng-b88419326z

6:06.03
6:11.71
6:13.59
6:13.63
6:17.58
6:20.03
6:21.13
1st Trinity College - Bow: D.P. Pisano, 2: G.L. Cottino, 3: R.E. Bormolini, 4: D.J. Murphy, 5: T. Moorcroft, 6: A.S. Fatin, 7: F.M. Sundra, Stroke: D.B. Viskovich, Cox: J.C. Taylor, Coach: J. Rees
2nd Scotch College - Bow: R. Radman, 2: J.M. Thomson, 3: J. Wright, 4: M.A. Moffat, 5: W.M. Vinnicombe, 6: B.S. Flecker, 7: O.N. Purton, Stroke: R.G. Marley, Cox: N.J. Rogers, Coach: S.J. Duncan
3rd Hale School - Bow: B.R. Wilson, 2: S.D. Flint, 3: D. Sondergaard, 4: L.H. Ayers, 5: T.A. Tomizzi, 6: C.J. Brennan, 7: J.S.J. Hughes, Stroke: F.S. Peacock, Cox: F.R. Chamberlain, Coach: M. Chapman
4th Christ Church Grammar School - Bow: M. Hudson, 2: T. McQuillan, 3: C. McGillivray, 4: H. Kay, 5: S. Weight, 6: R. Zare, 7: D. Reid, Stroke: S. Schurmann, Cox: C. Stump, Coach: J. Calangelo
5th Guildford Grammar School - Bow: J. Peters, 2: J. Coutinho, 3: M. Brown, 4: B. Preedy, 5: C. Ross, 6: S.Tapscott, 7: L. Pensini, Stroke: T. Moore, Cox: L. Govus, Coach: G. Hartley
6th Aquinas College - Bow: M.B. Gallagher, 2: C.J.T. Warner, 3: T.J. Collin, 4: B.C. Turnbull-Goggins, 5: T.M. O'Hare-Searle, 6: N.A. Newland, 7: J.R. Kelly, Stroke: J.F. van den Einden, Cox: F.J. Pinkerton, Coach: M. Simmonds
7th Wesley College - Bow: C.G. Morrow, 2: D.M. Davis, 3: J.L. Davidson, 4: N.D. Tarrant, 5: A. Joshi, 6: Z.C. Rothleitner, 7: A.A. Barker, Stroke: N.E. Chen, Cox: C.P. Armstrong, Coach: N. Flint
6:21.14
6:28.93
6:30.77
6:35.03
6:45.19
6:56.37
7:05.89
1st Trinity College - Bow: M. A. Vuleta, 2: D.A. Slater, 3: J. W. Higgins, 4: O.R. Milburn, 5: S.J. Min Oo, 6: S.J.R. Thornley, 7: Z.E.J. Hayward, Stroke: T.R. Maher, Cox: J.D. Kinninmont, Coach: K. Kaminskis/N. Sumich
2nd Hale School - Bow: J.M.M.V. Roa, 2: M. Randell, 3: N.B. Mortimer, 4: J.M.S. Campbell, 5: J.M. Hinton, 6: I.F. Delli-Benedetti, 7: K.R. Binyon, Stroke: T.B. Yensch, Cox: S.C. Carter, Coach: K. Floan
3rd Scotch College - Bow: W. Harkins, 2: F.G. Payne, 3: L. Bird, 4: R.S. Hodgetts, 5: J.W. Irving, 6: T.M. Lawrence, 7: G. Jackson, Stroke: F.G. Houston, Cox: L.J. Cumming, Coach: T.S. Wallace
4th Guildford Grammar School - Bow: J. Clarke, 2: R. Heiderich, 3: O Williams, 4: M. Sullivan, 5: C. Elliot, 6: J. Ford, 7: F. Wilson, Stroke: K. Lane, Cox: J. Chomley, Coach: R. Fraser/ E. Aird
5th Wesley College - Bow: S.M. Badat, 2: B. Tinley, 3: J.H. Lambourn, 4: T.T. Kenney, 5: L.G. Clark, 6: A.P. Ludlam, 7: J.W Jackson, Stroke: Y.H. Wee, Cox: L.C. Kruger, Coach: J. Grainger
6th Aquinas College - Bow: J.A.C. Silipo, 2: J.J. Knipe, 3: C.C. Kilroe, 4: J.W.J. Biskup, 5: A.M. Martino, 6: M.J. Di Lisa, 7: J.J. Granado, Stroke: J.L. Hughan, Cox: J.S.W. Panton, Coach: D. Bleakley
7th Christ Church Grammar School - Bow: B. Simes, 2: J. Dick, 3: L. Walsh, 4: M. Goldie, 5: R. Martin, 6: J. Rocci, 7: L. Roberts, Stroke: J. Purser, Cox: T. Chandraratna, Cox: T. Colton
6:25.35
6:25.49
6:32.47
6:52.43
6:54.69
7:58.47
1st Hale School - Bow: C.J. Gelavis, 2: E.J. Finnie, 3: C.J. Kopke, 4: A.J. McKay, 5: D. Stammers, 6: H.T. Fowler, 7: T.D. Wilson, Stroke: T. Doust, Cox: C. Tracey, Coach: J. Forbes
2nd Trinity College - Bow: L. Dyson, 2: J. B. Morecombe, 3: I. Panetta, 4: M.C. Vereker, 5: L.J. Buckley, 6: B. A. Pagano, 7: C. Lagan-Brown, Stroke: L.D. Incani, Cox: D. Barrie, Coach: K. Munrowd - Harris
3rd Christ Church Grammar School - Bow: E.R.H Jensen, 2: W. Buitendag, 3: J. Morris, 4: A.F. Di Bona, 5: M.J.S. Carnachan, 6: R.D. Wylie, 7: S.J. Marsh, Stroke: V.I. Goodwin, Cox: D. Samie, Coach: M. Crooks
4th Guildford Grammar School - Bow: E. Sills, 2: J. Cheung, 3: A. Edgar, 4: H. Van De Wall Bake, 5: M. Amedurei, 6: C. Dunning, 7: T. Fisher, Stroke: J. Finlayson, Stroke: C. Cassidy, Coach: N. Wallace/ B. Hillier
5th Scotch College - Bow: J. Sutherland, 2: L. Malloch, 3: LA Blok, 4: N. Turich, 5: A. Lamb, 6: S.L. Chadwick, 7: T.M. Green, Stroke: T.A. Anderson, Cox: J.C. Benbow, Coach: J.E. Hindle
6th Aquinas College - Bow: R.D. McDonald, 2: N.J.Turner, 3: D.M. Bumbak, 4: D.T. Chia, 5: J.S. McCabe, 6: E.S. Beneke, 7: B.M. Gomes, Stroke: B.L. Bianchini, Cox: K.J. Mailey, Coach: P. Parker
4:29.95
4:38.09
4:40.87
4:42.43
4:44.83
4:49.93
5:04.04
1st Trinity College - Bow: A. J. V. Moore, 2: A. E. Rossi, 3: L. J. Rossi, 4 L.J. James, 5: D. K. Bouwhuis, 6: M. Cirocco, 7: L. Pabbruwe, Stroke: C. C. Cleary, Cox: E. Marrapodi, Coach: K. Chan/S. O'Connell
2nd Christ Church Grammar School - Bow: H. Counsel, 2: J. Powell, 3: L. Wyatt, 4: C. Bergsma, 5: T. Fox, 6: L. Gribble, 7: P. Mahony, Stroke: K. Wallis, Cox: H. Chandler, Coach: K. Henderson
3rd Scotch College - Bow: H.S. Sugars, 2: W.D. Chalmers, 3: S.L. Johnston, 4: E. Hopkins, 5: M. Moore, 6: T.W. Cleland, 7: M.X. Vaughan, Stroke: D. Laurance, Cox: D.N. Brooks, Coach: M.J. Cochran
4th Hale School - Bow: C.W.H Okill, 2: B. Clayton, 3: M.B. Pratt, 4: R.S. Blakeman, 5: J.R. Daubney, 6: E. Mann, 7: M.J. Forbes, Stroke: A.J. Hassell, Cox: M.D. Obst, Coach: K. Reynolds
5th Aquinas College - Bow: D.G. Scott, 2: W.J.C. Anderson, 3: J.R. Wilkes, 4: D.P. Schmidt, 5: T.A. Ruscoe, 6: O.X.W. Warlters, 7: B.E. Darbyshire, Stroke: Z.M. McKinnon, Cox: C.J. Lee, Coach: C. Moran
6th Wesley College - Bow: B.S. Joo, 2: B.R. Chester, 3: J.B. Burton, 4: J.D. Burton, 5: R.J. Hardwicke, 6: H.P. Ashworth, 7: J. Allard, Stroke: S.A. Clegg, Cox: B.N. Wood, Coach: M. Cureton
7th Guildford Grammar School - Bow: R. Turton, 2: J. Sutton, 3: S. Ladyman, 4: L. Martin, 5: E. Peters, 6: W. Zweck, 7: J. Chomley, Stroke: B. Dewar, Cox: T. Hodgins, Coach: T. Dale
4:39.83
4:47.46
4:50.55
4:57.47
5:01.21
5:06.25
5:19.15
1st Trinity College - Bow: H. Roberts, 2: D.M. Tsagaris-Kailis, 3: O. Mc Mahon, 4: S.S. Coster, 5: L.A. Bozich, 6: A.S. Chokolich, 7: M.P. Blair, Stroke: J.M. Lagan, Cox: T.J. Kelly, Coach: A. Eyres
2nd Christ Church Grammar School - Bow: T. Humphry, 2: H. Ickeringill, 3: R. Bakker, 4: T. Newton, 5: D. McCarthy, 6: A. Bombara, 7: J. Di Francesco, Stroke: J. Flanigan, Cox: S. Hoffmann, Coach: A. Theobald
3rd Scotch College - Bow: C.H. Moffat, 2: J. Saggers, 3: S.R. Pentony, 4: J.D. Thorpe, 5: J.R. Lewis, 6: B.D. Bayly, 7: H. Rickarby, Stroke: O.D. Harold, Cox: N. Cuthbertson, Coach: H.J. Vernmeersch
4th Guildford Grammar School - Bow: Z. Yelland, 2: D. McEwan, 3: C. Miles, 4: Z. Finlayson, 5: M. Kerr, 6: D. Spadaccini, 7: J. Moore, Stroke: B. Daffen, Cox: J. Edwards, Coach: N. Andonovski
5th Aquinas College - Bow: D.J. Grimshaw, 2: S.T. Gooch, 3: J.E. Grazia, 4: J.K. Fancote, 5: J.H. Higgins, 6: R.W. Agnihotri, 7: T.C.M. Johnston, Stroke: W.J. Paganoni, Cox: L.J. Lawson, Coach: L. Burges
6th Hale School - Bow: A.P. Young, 2: W.J. Oosthuizen, 3: N. Mukundala, 4: O.N. Cooke, 5: E.M. Brookes, 6: S. Jagadish, 7: L.W. O'Hara, Stroke: D.L. Banks-Smith, Cox: M. Murphy, Coach: A. Miles
7th Wesley College - Bow: O.K. Kern, 2: C.A. Stone, 3: S. Hart, 4: S.M. McKenna, 5: J. Xiao, 6: T.P. McGill, 7: L.J. Evans, Stroke: I.C. Ward, Cox: P.A. Galbraith, Coach: P. Curtis
---
Year 10 Coxed Quads
1500M
5:19.35
5:34.77
5:41.36
5:53.72
5:59.68
6:07.13
6:15.83
1st Trinity College - Bow: S.S.H. Harrison, 2: J. John, 3: D.J. Culverwell, Stroke: A.M. Roach, Cox: J. Pizzuto, Coach: D. Scott
2nd Guildford Grammar School - Bow: J. Angel-Ewings, 2: H. Swick, 3: H. Roscoe, Stroke: K. O Halloran, Cox: W. Ngo, Coach: N. McRoberts/J. Grant
3rd Aquinas College - Bow: B.W. Long, 2: J.B. Barnett, 3: R.S. Antonio, Stroke: T.J. McGrath, Cox: A. MacDonald, Coach: L. Van De Ven & J. Cribb
4th Christ Church Grammar School - Bow: M. Rocci, 2: J. Williams, 3: A. Den Ouden, Stroke: J. Palandri, Cox: B. Main, Coach: A. Henderson
5th Scotch College - Bow: O. Stipanicev, 2: R. Skinner, 3: M. Jones, Stroke: G.C. Leighton, Cox: H. Unstead, Coach: G.D. Bennett
6th Wesley College - Bow: H.J Loader, 2: J.J. Hill, 3: F.J. Hunt, Stroke: S.M. White, Cox: C.J. Emslie, Coach: T. Bell
7th Hale School - Bow: A. Singh, 2: J.W. Mulder, 3: J.B. Watson, Stroke: D.P.B. Kitney, Cox: O.J. Walsh, Coach: R. Freeman 
---
Year 9A Coxed Quads
1500M
5:10.58
5:10.75
5:13.86
5:22.93
5:26.82
5:28.86
5:31.13
1st Trinity College - Bow: R. K. Frankowiak, 2: E. K. Bonney, 3: J. C. Sumich, Stroke: J. Ricci, Cox: E. C. Lam, Coach: A. E. Yukich
2nd Christ Church Grammar School - Bow: H. Stevenson, 2: H Welborn, 3: J Bergsma, Stroke: W. van Dongen, Cox: D. Ranasinghe, Coach: A. Payne
3rd Hale School - Bow: L.T. Mazzella, 2: J.K.S. Landman, 3: S.A. Roberts, Stroke: G.G. Rosser, Cox: O.F. King, Coach: G. Adendorff
4th Wesley College - Bow: J.J. Woodcock, 2: A.N. Almassi, 3: A.J. Hunt, Stroke: H.P. Rupp, Cox: J.W. Fowler, Coach: C. Walker
5th Guildford Grammar School - Bow: J. Menkens, 2: J. Carter, 3: C. Morris, Stroke: J. Huxley, Cox: L.Kerr, Coach: W. Yeates
6th Aquinas College - Bow: D.F. MacKay, 2: L.A.W. Schortinghuis, 3: K.T. Chesterton, Stroke: T.W. Jessop, Cox: L.J. Lyra, Coach: S. Chesterton
7th Scotch College - Bow: F.E. Webb, 2: J.H. Japp, 3: A.R. Walsh, Stroke: B.J. Wright, Cox: F.B. Gardner, Coach: EM Scott
---
Year 9B Coxed Quads
1500M
5:19.23
5:19.43
5:21.97
5:30.99
5:32.33
5:32.41
5:39.90
1st Trinity College - Bow: C. A. Jones, 2: R. J. Petrich, 3: P. L. Croll, Stroke: K. Little, Cox: O. Schurmann, Coach: Z. Vakil
2nd Aquinas College - Bow: L.J.S. Lee, 2: A.L. Xanthis, 3: A.J. Albuquerque, Stroke: V.V. Mukherjee, Cox: J. Sparrow, Coach: R. Duncan
3rd Christ Church Grammar School - Bow: A. Elliott-Lockhart, 2: Z. Reid, 3: S. Wright, Stoke: E. Wilson, Cox: O.Powell, Coach: M. Dalton
4th Hale School - Bow: H.A. Morse, 2: L.G. Bertolucci, 3: J.D. Hill, Stroke: L. Timmins, Cox: M. Kane, Coach: J. Bennett
5th Scotch College - Bow: B.F. Clark, 2: M.T. Warne, 3: C. De We, Stroke: T.S. Knox-Lyttle, Cox: W.C. Partridge, J.P. Walsh
6th Guildford Grammar School - Bow: T. Wilding, 2: B. Argent, 3: W. Bond, Stroke: N. Van Ryk, Cox: C. Anspach, Coach: J. Perrin
7th Wesley College - Bow: H.D. Kent, 2: A.M. Crawley, 3: H.D. Black, Stroke: T. Koeppler, Cox: A.J. Dempsey, Coach: M. Gargano-Arnold
---
Year 9C Coxed Quads
1500M
5:30.39
5:34.11
5:36.93
5:37.95
5:39.52
5:45.84
5:50.28
1st Trinity College - Bow: M. W. Ryan, 2: E. W. Halford, 3: N. H. Bradley-Moore, Stroke: J. J. Strohmeier, Cox: W. Nguyen, Coach: K. J. Wright
2nd Scotch College - Bow: J. De We, 2: S.J. Wright, 3: I.A. Munoz-Morillo, Stroke: E.G. Messina, Cox: M. Barr-Williams, Coach: R.A. Packer
3rd Wesley College - Bow: M.D. Coldham, 2: A.L. Cauble, 3: G.R. Atkinson, Stroke: C.J. King, Cox: A.H. Astbury, Coach: I. Blow
4th Aquinas College - Bow: D.B. Teasdale, 2: L.D. Sumich, 3: S.G. Richardson, Stroke: O.C. MacKellar, Cox: A.W. Lewis, Coach: B. Davidson
5th Christ Church Grammar School - Bow: Z. Stanley, 2: D. Huntly, 3: J. Lee, Stroke: S Coligan, Cox: P. Lee, Coach: S. Rowe
6th Hale School - Bow: P.J. McSkimming, 2: C.E. Longhorn, 3: L.A. Morison, Stroke: S.A. Carroll, Cox: F. Mahon, Coach: E. Hutcheon
7th Guildford Grammar School - Bow: J. Cain, 2: E. Newhouse, 3: J. White, Stroke: A. Treloar, Cox: H. Collins, Coach: A. Ravine/S. Tomlinson
---
Year 9D Coxed Quads
1500M
5:38.24
5:46.39
5:47.45
5:48.92
5:49.69
6:01.64
6:04.52
1st Wesley College - Bow: D.T. Monteiro, 2: J.I. Isherwood, 3: T.N. Miller, Stroke: T.J. Emslie, Cox: M.W. Brown, Coach: J. Wood
2nd Aquinas College - Bow: S.P. J.Collins, 2: E.R. Koscak, 3: C.H. MacKenzie Stroke: S.J. Emery, Cox: C.T. Cousins, Coach: T. Clarke
3rd Hale School - Bow: B.A. Powell, 2: K.M. Holmes, 3: R.W. Forsyth, Stroke: R.J.R. Blake, Cox: C.W. Edkins, Coach: M. Andrews
4th Guildford Grammar School - Bow: F. Pyke, 2: J. Riley, 3: A Heffernan, Stroke: J. Chipper, Cox: C. Wilson, Coach: M. Huggins
5th Trinity College - Bow: C. J. MacLean, 2: T. J. Lane, 3: A. Blampey, Stroke: J. Landon, Cox: H. J. Hamlyn, Coach: J. G. Boylan
6th Christ Church Grammar School - Bow: L. Colligan, 2: R. Maher, 3: M. Nicholas, Stroke: T. McGrath, Cox: A. Roberts, Coach: B. Ward
7th Scotch College - Bow: J.B. Rex, 2: M.W. Galvin, 3: C.H. Carew-Reid, Stroke: L. Pyne, Cox: J.D. Read, Coach: C.M. Evans
---
Year 9E Coxed Quads
1500M
5:48.39
5:50.63
5:59.45
6:00.54
6:05.19
6:24.29
6:34.55
1st Guildford Grammar School - Bow: J. Bushby, 2: L. Cross, 3: A. Sakich, Stroke: B. Chapman, Cox: W. Kail, Coach: A. Brown/J. Mummery
2nd Trinity College - Bow: K. Mc Cormack, 2: J. D. Kiddle, 3: S. J. W. Teo, Stroke: C. G. Webb, Cox: K. Bui, Coach: M. J. Wright
3rd Christ Church Grammar School - Bow: J. Madden, 2: C. Wallwork, 3: J. Lamb, Stroke: M. Preston, Cox: J. Minchin, Coach: A. Anile
4th Aquinas College - Bow: J.B. Malone, 2: J.L. Cashmore, 3: M.J. Cashmore, Stroke: B.F. Kilpatrick, Cox: S.C. Latham, Coach: D. Blair & J. Lee
5th Hale School - Bow: T.D. Olanrewaju, 2: J.J. Ludkins, 3: A.W. Upson, Stroke: A. Eleftheriou, Cox: A. Ghetia, Coach: M Beere
6th Scotch College - Bow: A.H. Hume, 2: A.J. Hoddinott, 3: E.G. Waller, Stroke: R.G. Flecker, Cox: N.D. Evers, Coach: W.E. Moore
7th Wesley College - Bow: E.V. Kemp, 2: C.C. Congerton, 3: L.R. Trainer, Stroke: F.A. Williams, Cox: B. Stoner, Coach: A. Popov