2019 VIC Head of Schoolgirls' Regatta
This was the 35th Head of the Schoolgirls' Regatta and in that period, the regatta has become the pinnacle event in the schoolgirl rowing calendar. It was another great regatta.
The Committee also cemented Geelong as the venue for the regatta through to 2024, having reached another agreement with the City of Greater Geelong.
Of note this year was the transition from Josie Millard to Alison Crowe as President of the Committee. Alison Crowe paid tribute to the work of her predecessor in the regatta program as follows:
I would firstly like to acknowledge the work and commitment of our outgoing president Josie Millard. Under her leadership the regatta has thrived to become the world class event that it is today. Josie's management of the committee and her direction that all decisions, both big and small, must remain true to our message that every girl is equally valued, has seen participant numbers grow and the event list expand. Josie has instilled in an immeasurable number of students and coaches the importance of rowing as an educational experience and how the lessons learnt through this sport prepare our students so well for what lies ahead of them in life.
Josie began rowing as a schoolgirl while she attended Methodist Ladies' College. In 1984, as a year 11 student, her crew won the First 4+ event at Head of the River, where they raced by invitation. The following year, 1985, she competed at the first ever Head of the Schoolgirls Regatta, winning the Division 1 Schoolgirl 4+. Her coach, Susie Palfreyman, first conceived the idea of this regatta as an inclusive event, where all schoolgirls were welcome to compete. Josie then went on to row at Melbourne University Boat Club and had a successful career as a lightweight rower. She coached rowing for a number of years, was a Director of Rowing and is currently an exceptional secondary school teacher and Vice Principal.
Josie's passion for rowing and her commitment to developing females as athletes, coaches, officials and administrators in our sport has been immense. On a personal level Josie has been an outstanding mentor to me and I cannot thank her enough for her support and guidance over the past few years. The HOSG Regatta Committee and rowing community at large are incredibly grateful for her work. We are very pleased she remains involved as a HOSG committee member and Vice President of Rowing Victoria.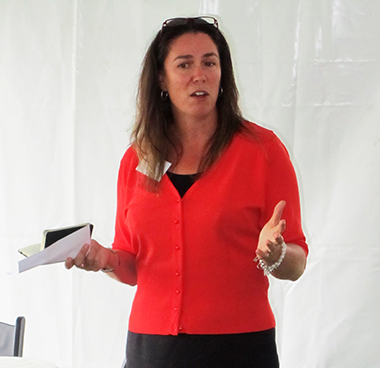 Josie Millard addressing the Principals at the 2012 regatta
Daily results in pdf format
---
Organising Committee and Officials
Head of the Schoolgirls Regatta Committee: Alison Crow (President), Tim Dolphin and Martin Francis (Vice-Presidents), Brigette Carlile (Secretary), Sandra Barnes (Treasurer and Executive Officer), Steph Burgess, Stephen Mollard, Nicola Daniel, Angus Seller, Jane Mitchell, Emma Williamson, Jane Robinson, Josie Millard, Sam Pullin and Gabi Howard.
Event team: Adam Harrison (Event Manager), Laura Schouten (Regatta Secretary), Roger Wilson, Andrew Biggin, Richard Dorrestein, Lynne Charge and Adrian Keats (Regatta Commentary) and the Rowing Victoria staff.
Jury: Greg Falk and Rene Klupacs (Presidents of the Jury), Alan Farrar, Alastair Shaw, Ashley Dillon, Eric Waller, Glenn Bottrell, Kim Cowie, Robin Murphy, Ross Litchfield, Claire Dennis, Rod Florence, Josie Millard, Brooke Parsons, Shane Wood
Open Race Results
Single Scull Open Division 1
(1,500 metres)
Final F
07:18.13
07:53.61
08:05.93
Final E
07:07.06
07:17.31
07:24.66
07:35.71
Final D
07:03.41
07:04.79
07:12.18
07:25.71
Final C
06:43.82
07:08.84
07:10.57
07:26.32
Final B
07:00.90
07:09.34
07:39.94
Scratched
Final A
06:34.58
06:44.35
06:50.83
07:09.14
Final F
1st Loreto - Toorak - Alexandra Boyle, Cch: Barry Campbell
2nd Ruyton Girls' - Piper Ware
3rd Carey Grammar - Stephanie Taylor, Cch: Emily Drew
Final E
1st Monivae - Siobhan Wheaton
2nd Melbourne GC - Lucia Stella, Cch: James Innes Ker
3rd Sacred Heart Vic - Sophie Fellner
4th Clonard - Angelique Shields, Cch: Roman Tomczak
Final D
1st Albert Park College - Leila Ordonez, Cch: Virginia Lee
2nd Bairnsdale Secondary - Kate Holzapfel
3rd Sacred Heart Vic - Hannah Shepherd
4th PLC Melbourne - Emma Radmanic
Final C
1st Canterbury Girls - Alexandra Ryle
2nd Matthew Flinders SC - Emmi Burgess, Cch: Alan Darker
3rd Olsh College - Mia Tulloch
4th Fintona - Venus Yu, Cch: Alex Clark
Final B
1st Albert Park College - Emma Boyall, Cch: Virginia Lee
2nd Emmanuel College - Kate Beggs, Cch: Tom Bertrand, Val Bertrand
3rd Emmanuel College - Courtney Brown, Cch: Tom Bertrand, Val Bertrand
Ballarat Grammar - India Flamsteed
Final A
1st Maribyrnong Secondary - Louisa Bongrain, Cch: Tony Lawless
2nd Star Of The Sea - Sophie Scott, Cch: David Ochert
3rd Gippsland Grammar - Ailish McGrath
4th Oberon High School - Rosemary Tunn McGrath, Cch: Alan Darker
Coxed Quad Scull Open Division 1
(1,500 metres)
Final B
06:07.10
06:19.32
06:24.99
Final A
05:44.94
05:52.76
05:56.00
06:16.52
Final B
1st Albert Park College - Bow: Sophie Koo, 2: Lucy De Gleria Cade, 3: Annabelle Probert, Str: Hannah Magasanik, Cox: Yasmin Omar, Cch: Virginia Lee
2nd Hamilton & Alexandra - Bow: Anna Kelly, 2: Emily Crawford, 3: Maddi Mutch, Str: Billie Smitheram, Cox: Ayleish Beaty
3rd Sacred Heart Vic - Bow: Eleanor Condie, 2: Annabelle Codd, 3: Abbey Hames, Str: Annabel Jelley, Cox: Eliza Ahearn, Cch: Bridget McGivern
Final A
1st Ruyton Girls' - Bow: Ellora Kelly, 2: Katia De Bortoli, 3: Eliza Lamb, Str: India Curtain, Cox: Abby McGuire, Cch: Matt Wilson
2nd Strathcona - Bow: Kate Joseland, 2: Alysha Caruso, 3: Bianca Verstegen, Str: Kayla Smith, Cox: Ava Satterley, Cch: Jackson Harrison, Issy Duyker
3rd Korowa AGS - Bow: Eliza Roxborough-Judd, 2: Georgia Papavassiliou, 3: Jemima Parton, Str: Annika Spiers, Cox: Claire Weir, Cch: Elise Matthews, Peter Campbell
4th PLC Melbourne - Bow: Lily Machuca, 2: Angelline Mansfield, 3: Emily Gibson, Str: Hannah Harvey, Cox: Caitlin Seal, Cch: William Legge, Imogen Williams
Coxed Four Open Division 1
(1,500 metres)
Final B
06:01.49
06:12.80
06:16.60
06:19.15
Final A
05:54.72
05:57.28
05:57.56
06:00.52
Final B
1st Lauriston Girls' - Bow: Tilly Campbell, 2: Lucy Green, 3: Olivia Longley, Str: Mathilde Batagol, Cox: Phoebe Barrett, Cch: Alexandra Hagan
2nd Melbourne GC - Bow: Natasha Enriquez Tsilfidis, 2: Olivia Sargeant, 3: Cassie Carman, Str: Olivia Walkinshaw, Cox: Molly Rogerson, Cch: Paul Blanchfield
3rd Shelford GS - Bow: Hannah Bonney-Gibson, 2: Alyssa Davies, 3: Rachel Lendon, Str: Clancy Grant, Cox: Zoe Kral, Cch: Julian Whitehead
4th Damascus - Bow: Sarah Matheson, 2: Maddy Edwards, 3: Charlotte Ashley, Str: Gemma Smith, Cox: Mikayla Dwyer
Final A
1st Ballarat Grammar - Bow: Jessica Mahony, 2: Tess Heath, 3: Cecilia Hearn, Str: Sophie Reinehr, Cox: Harriet Jones
2nd Loreto - Ballarat - Bow: Maggie Ryan, 2: Lucy O'Loughlin, 3: Teagan Blythe, Str: Hannah Cahir, Cox: Grace Turner, Cch: Barry Halsall
3rd Ballarat Clarendon - Bow: Grace Davies, 2: Eddi Eppingstall, 3: Emily Richardson, Str: Olivia Rickard, Cox: Gabrielle Pike
4th Toorak College - Bow: Xiara McFarlane, 2: Emily Hamilton-Smith, 3: Hill Eve, Str: Chloe Davenport, Cox: Claudia Zampatti, Cch: Nick Wells
Eight Open Division 1
(1,500 metres)
Final C
05:22.97
05:27.05
05:30.31
05:35.46
Final B
05:14.32
05:19.51
05:19.73
05:21.85
Final A
05:12.31
05:17.21
05:18.14
05:20.48
Final C
1st Firbank Grammar - Bow: Alex White, 2: Eliza Planincic, 3: Gabby Newport, 4: Siena Scott, 5: Ava Heine, 6: Ruby Karras, 7: Millie Whitehead, Str: Ines MacDonald, Cox: Lucy Burnell
2nd Caulfield Grammar - Bow: Alex Thomson, 2: Isabel McVean, 3: Ruby Morrisby, 4: Amy Smith, 5: Alana Vanzo, 6: Emily Gaudry, 7: Ashleigh Bail, Str: Madison Malone, Cox: Grace Brown
3rd Carey Grammar - Bow: Sophie Gilford, 2: Mia Yoannidis, 3: Emily Cronshaw, 4: Maya Worth, 5: Erica Fleay, 6: Lauren McDermott, 7: Ruby Hutchins, Str: Laura-Jane Irving, Cox: Natassia Carayanis, Cch: Alysha Batliwalla
4th Haileybury - Bow: Chloe Anderson, 2: Tylah Sherritt, 3: Charlize Carter, 4: Lara Scaunich, 5: Sophie O'Donoghue, 6: Annabelle Stock, 7: Chaya Quinn, Str: Alaina Rochert, Cox: Saffron Dewsnap
Final B
1st Loreto - Toorak - Bow: Tallulah Frigo, 2: Millie Baxter, 3: Natalie Catalfamo, 4: Annie Trainor, 5: Katerina Bitzios, 6: Mackenzie Howard, 7: Alexandra Desmond, Str: Anneka Davys, Cox: Jessica Canning, Cch: Mitchell Nelson
2nd Genazzano - Bow: Emily Condon, 2: Bridgette Fox, 3: Miranda Scott, 4: Eleanor MacIsaac, 5: Elouise Barlow, 6: Lucy Dowdell, 7: Amelia James, Str: Isabelle Passaris, Cox: Emilie West, Cch: Michelle Yann
3rd Wesley College - Bow: Cindy Chen, 2: Christina Kamenev, 3: Evelyn Dow, 4: Lucy Hayes, 5: Zara Lavery, 6: Madeline McCleary, 7: Holly Wilson, Str: Aaliah Dawson, Cox: Lucy Hanna, Cch: Hannah Every-Hall
4th Melbourne Girls' GS - Bow: Claudia Stewart, 2: Grace Graham, 3: Beatrix Appleton, 4: Harriet Birks, 5: Gabi Logie-Smith, 6: Beatrix Chirnside, 7: Ruby Lewis, Str: Yolunda Hooper, Cox: Sophie Black
Final A
1st MLC Kew - Bow: Brooke Doolan, 2: Scarlett Hanna, 3: Sara de Uray, 4: Isabella Combes, 5: Kate Russell, 6: Caitlin Powell, 7: Emily Giffard, Str: Katie Easton, Cox: Goldie O'Gorman, Cch: Pete Kupcis
2nd Geelong College - Bow: Lilly Tierney, 2: Emily Bagnara, 3: Tessa Longden, 4: Amy Thornton, 5: Holly Lazarus, 6: Lily Mathews, 7: Olivia Mathias, Str: Kate Dowling, Cox: Eliza Gross
3rd St Catherine's - Bow: Mardi Bray, 2: Jen Madgwick, 3: Romy Cantwell, 4: Harriet Fortey, 5: Harriette Dryden, 6: Lulu Murrell, 7: Emily Sutherland, Str: Henrietta Paterson, Cox: Heidi Tokatlidis, Cch: John Saunders, David Fraumano
4th Geelong Grammar - Bow: Flora Mackenzie, 2: Sophie Ward, 3: Mili Friday, 4: Emma Kent, 5: Sarah Mactaggart, 6: Olivia Moore, 7: Brooke Pithie, Str: Maddy Atkins, Cox: Meg Watkins
Coxed Quad Scull Open Division 2
(1,500 metres)
Final C
06:06.73
06:10.77
06:12.33
06:23.18
Final B
06:02.41
06:05.20
06:06.88
06:09.70
Final A
05:48.62
05:51.36
05:53.13
06:18.53
Final C
1st Albert Park College - Bow: Callista Nguyen, 2: Grace Freemantle, 3: Tara Sharkey, Str: Sophie Williams, Cox: Phoebe Koo, Cch: Minnie Cade
2nd Shelford GS - Bow: Audrey Bonney-Gibson, 2: Millie Davies, 3: Stephanie Leong, Str: Constance Kalfas, Cox: Tully Rigoni, Cch: Thea Adamson, Ryan Hubbard
3rd Fintona - Bow: Dyte Karagiannis, 2: Mietta Morris, 3: Zoe Seale, Str: Tayla Mckernan, Cox: Madeline Pynta, Cch: Georgia Lenton-Williams
4th Sacred Heart Vic - Bow: Olivia Marshall, 2: Matilda North, 3: Annie Atkinson, Str: Makayla Spork, Cox: Dahna Kerr, Cch: Troy Durham, Elizabeth Ballan
Final B
1st Hamilton & Alexandra - Bow: Grace Austin, 2: Nina Pern, 3: Bridget Delany, Str: Cassidy Beal, Cox: Raph Serong
2nd Korowa AGS - Bow: Ruby Waring, 2: Millie Marchant, 3: Sarah Manolitsas, Str: Cassandra Petropoulos, Cox: Vera Padisetti, Cch: Roy Zhang, Peter Campbell
3rd PLC Melbourne - Bow: Imogene Jones, 2: Sarah Bayliss, 3: Evie Fitzgerald, Str: Jasmin Krah, Cox: Emma Crack, Cch: Elaine Miles
4th Strathcona - Bow: Claire Boulter, 2: Izzy Dedoncker, 3: Erin Thiele, Str: Bronte Coxhill, Cox: Lara Hynes, Cch: Jackson Harrison, Issy Duyker
Final A
1st Ruyton Girls' - Bow: Kenzie Bell, 2: Sophia Williams, 3: Alice McNeill, Str: Philippa Danks, Cox: Tamsyn Ross, Cch: Matt Wilson, Chelsea Frawley
2nd MLC Kew - Bow: Laura Fieldhouse, 2: Eloise Webster, 3: Georgia Fraser-Smith, Str: Jessica Noonan, Cox: Millie McLeish, Cch: Edward Fuller
3rd Gippsland Grammar - Bow: Amy Baker, 2: Paige Barr, 3: Ella Johnson, Str: Rebecca Strauss, Cox: Sarah Beyer
4th Lowther Hall - Bow: Molly Alexander, 2: Eloise Pearce, 3: Gabriella Griffiths, Str: Louise Watt, Cox: Mathilde Pinkney
Coxed Four Open Division 2
(1,500 metres)
Final B
06:16.37
06:21.32
06:30.68
Final A
05:58.57
06:02.64
06:03.47
06:07.95
Final B
1st Toorak College - Bow: Millie Meldrum, 2: Maya McGain, 3: Izzie O'Brien, Str: Molly Stocker, Cox: Grace Nelmes, Cch: Asia Letch
2nd Lauriston Girls' - Bow: Tamara Howden, 2: Sam Eade, 3: Carmen Umbers, Str: Alana Hayes-Chen, Cox: Millie Manning, Cch: Tristan Zupan
3rd Damascus - Bow: Marli Dockerill, 2: Hannah Van Der Linden, 3: Paris Murrell, Str: Matilda Lloyd, Cox: Morgan McCann
Final A
1st Loreto - Ballarat - Bow: Hannah Augustine, 2: Stephanie Jones, 3: Amy Foley, Str: Amy Loader, Cox: Georgia Loader, Cch: Stef Seeary
2nd Ballarat High - Bow: Kaitlyn Gatacre, 2: Nicole Sims, 3: Jenna McCartney, Str: Tara Jones, Cox: Miranda Hann
3rd Ballarat Clarendon - Bow: Maeve Clark, 2: Maya Plange, 3: Gemma Sounness, Str: Zoe Cowan, Cox: Cheyanne Bradshaw
4th Ballarat Grammar - Bow: Annie Trotter, 2: Courtney Betts, 3: Bronte Rix, Str: Lucy Kirwan-Hamilton, Cox: Alexandra Gaylard
Eight Open Division 2
(1,500 metres)
Final C
05:34.32
05:42.02
05:49.48
05:51.93
Final B
05:37.33
05:41.63
05:42.25
05:52.32
Final A
05:23.99
05:24.31
05:26.42
05:29.15
Final C
1st Firbank Grammar - Bow: Tahlee Aker, 2: Jess Bowen, 3: Anastacia Pitsaris, 4: Alyssa Tuim, 5: Jess Dugdale, 6: Mikayla Beasley, 7: Alexandra Donaldson, Str: Maya Peel, Cox: Hayley Verbunt
2nd Caulfield Grammar - Bow: Zali Ermer, 2: Kate Plant-Chaney, 3: Siena Spanos, 4: Lily Cooper, 5: Caitlin Black, 6: Tia Matthews, 7: Julia Patterson, Str: Nelly Halphen, Cox: Brianna Collett
3rd Haileybury - Bow: Eleni Petrakis, 2: Madeleine Goodwill, 3: Emma Pietersz, 4: Baylee Cooper-Geoffrey, 5: Anja Bjarnason, 6: Jordyn Bell, 7: Lara Cruse, Str: Stephanie Meade, Cox: Claire Van Well
4th Melbourne GC - Bow: Bianca Sawyer, 2: Monica Graham Perez, 3: Maribel Cousins, 4: Polly Jane Decker, 5: Amy Spinks, 6: Molly Sharrock, 7: Charlotte Mansfield, Str: Ally Bass, Cox: Charlotte Fitch, Cch: Tallulah Hermann
Final B
1st Geelong College - Bow: Oli Mitton, 2: Astrid Crtalic, 3: Olivia Porte, 4: Niah Chalmers, 5: Angelique Atkinson, 6: Zoe Sandner, 7: Emma Blampied, Str: Issie Corrie Smith, Cox: Jessica Malone
2nd Genazzano - Bow: Claudia Summers, 2: Chiara Ritorto, 3: Micaela Kennedy, 4: Portia Swainsbury, 5: Georgia MacIsaac, 6: Anabel Robertson, 7: Elle vanden Boom, Str: Grace Kentish, Cox: Alice Frawley, Cch: Charlie Lockwood, Paris Haussegger
3rd Loreto - Toorak - Bow: Lucy Gallagher, 2: Yasmin Fuller, 3: Sophie Cullen, 4: Bridgette Casey, 5: Jessica Townsing, 6: Alexandra Amanatidis, 7: Lucy Hall, Str: Riley Burns, Cox: Mila Hoffman, Cch: Tom Lincoln
4th Wesley College - Bow: Melissa Sharp, 2: Emilie Coghlan, 3: Rachael Carter, 4: Alexandra Vawser, 5: Ruby Pewtress, 6: Jasmine Psomas, 7: Phoebe Stephen, Str: Tassia Paterson, Cox: Nicola Dimitropoulos
Final A
1st Geelong Grammar - Bow: Eliza Leckey, 2: Aurora Kisvarda, 3: Saskia Trevor-Jones, 4: Eddi McDonald, 5: Annabel McLachlan, 6: Chandra Pickard, 7: Sophie Browne, Str: Millie Mackirdy, Cox: Lulu Brumby
2nd MLC Kew - Bow: Madeleine Narguet, 2: Elisabeth Fraser, 3: Ella Innes, 4: Anna Morrison, 5: Lucy Wentworth, 6: India Allen, 7: Siena Koh, Str: Philippa Byrnes, Cox: Annabelle Johnson-King, Cch: Stacey Mastras
3rd St Catherine's - Bow: Sophie Hogan, 2: Georgie Green, 3: Allie Hall, 4: Francesca King, 5: Chloe Rodgers, 6: Lucy Motteram, 7: Lara Nattrass, Str: Charlotte Murdoch, Cox: Ella Carton, Cch: Max Arundel, Brigette Carlile
4th Melbourne Girls' GS - Bow: Mia Bongiorno, 2: Zara Shepherd, 3: Katherine May, 4: Helena Wong Hansen, 5: Anna Roxburgh, 6: Millie Bennetts, 7: Clio Nash, Str: Lily Turner, Cox: Estelle Harper
Coxed Quad Scull Open Division 3
(1,500 metres)
Final B
06:19.38
Final A
06:03.49
06:08.06
06:11.60
06:17.45
Final B
1st Korowa AGS - Bow: Alannah Major, 2: Annabel Catanach, 3: Emma Gilmour, Str: Holly Manolitsas, Cox: Alyssa Priest, Cch: Peter Campbell
Final A
1st MLC Kew - Bow: Ebony Kline, 2: Ella Firns, 3: Ali Kirby, Str: Maggie Sandles, Cox: Alexandra Wang, Cch: Prudence Stoyles
2nd Strathcona - Bow: Amber Smith, 2: Briony Mellor, 3: Hannah Venema, Str: Emily Jones, Cox: Summer Satterley, Cch: Eliza Sammells
3rd Ruyton Girls' - Bow: Molly Janes, 2: Grace Layton, 3: Frances Cumming, Str: Ingrid Melton, Cox: Abigail Phillips, Cch: Ben Chong-Halliday, Prue Heron Paterson
4th Melbourne GC - Bow: Stephanie Drew, 2: Claudia Moeschinger, 3: Milla Bornas, Str: Hayley Turnbull, Cox: Mae James, Cch: Georgia Carson
Coxed Four Open Division 3
(1,500 metres)
Final B
06:23.45
06:27.61
06:28.39
06:36.91
Final A
06:05.07
06:11.23
06:14.80
06:21.39
Final B
1st Toorak College - Bow: Lucy Tranter, 2: Grace Vaughan, 3: Mackenzie Kirk, Str: Zoe Schonfelder, Cox: Hazel Canobie, Cch: Phoebe Hermiston
2nd Caulfield Grammar - Bow: Alyssa Antonopoulos, 2: Maya Melrose, 3: Ellie Avage, Str: Monique Fordham, Cox: Brianna Collett
3rd Carey Grammar - Bow: Thalia Ackman, 2: Willow Budd, 3: Emma Teh, Str: Georgia Lewry, Cox: Tilly Plummer, Cch: Liam Jackson
4th Lauriston Girls' - Bow: Amelia Evans, 2: Charlotte Brookes, 3: Ruby Donnelly, Str: Alicia Chan, Cox: Millie Manning
Final A
1st Ballarat Grammar - Bow: Ellie Op de Coul, 2: Annabelle Fox, 3: Febey McClure, Str: Sophie Tan, Cox: Jemima Howell, Cch: Thomas Bradley
2nd Loreto - Ballarat - Bow: Molly Ryan, 2: Rachel Huber, 3: Mimi Barnett, Str: Emma Houlihan, Cox: Maddison Lloyd, Cch: Taylah Blake
3rd Ballarat Clarendon - Bow: Eliza Byron, 2: Annie Wright, 3: Gabriella Fitzpatrick, Str: Karissa Kelly, Cox: Holli Williams
4th Shelford GS - Bow: Ella Pierce, 2: Elise McLeod, 3: Alex Hodgson, Str: Siearna Holloway, Cox: Mary Gashi, Cch: Meg Maitland
Eight Open Division 3
(1,500 metres)
Final C
05:34.32
05:42.02
05:49.48
05:51.93
Final B
05:37.33
05:41.63
05:42.25
05:52.32
Final A
05:23.99
05:24.31
05:26.42
05:29.15
Final C
1st Firbank Grammar - Bow: Tahlee Aker, 2: Jess Bowen, 3: Anastacia Pitsaris, 4: Alyssa Tuim, 5: Jess Dugdale, 6: Mikayla Beasley, 7: Alexandra Donaldson, Str: Maya Peel, Cox: Hayley Verbunt
2nd Caulfield Grammar - Bow: Zali Ermer, 2: Kate Plant-Chaney, 3: Siena Spanos, 4: Lily Cooper, 5: Caitlin Black, 6: Tia Matthews, 7: Julia Patterson, Str: Nelly Halphen, Cox: Brianna Collett
3rd Haileybury - Bow: Eleni Petrakis, 2: Madeleine Goodwill, 3: Emma Pietersz, 4: Baylee Cooper-Geoffrey, 5: Anja Bjarnason, 6: Jordyn Bell, 7: Lara Cruse, Str: Stephanie Meade, Cox: Claire Van Well
4th Melbourne GC - Bow: Bianca Sawyer, 2: Monica Graham Perez, 3: Maribel Cousins, 4: Polly Jane Decker, 5: Amy Spinks, 6: Molly Sharrock, 7: Charlotte Mansfield, Str: Ally Bass, Cox: Charlotte Fitch, Cch: Tallulah Hermann
Final B
1st Geelong College - Bow: Oli Mitton, 2: Astrid Crtalic, 3: Olivia Porte, 4: Niah Chalmers, 5: Angelique Atkinson, 6: Zoe Sandner, 7: Emma Blampied, Str: Issie Corrie Smith, Cox: Jessica Malone
2nd Genazzano - Bow: Claudia Summers, 2: Chiara Ritorto, 3: Micaela Kennedy, 4: Portia Swainsbury, 5: Georgia MacIsaac, 6: Anabel Robertson, 7: Elle vanden Boom, Str: Grace Kentish, Cox: Alice Frawley, Cch: Charlie Lockwood, Paris Haussegger
3rd Loreto - Toorak - Bow: Lucy Gallagher, 2: Yasmin Fuller, 3: Sophie Cullen, 4: Bridgette Casey, 5: Jessica Townsing, 6: Alexandra Amanatidis, 7: Lucy Hall, Str: Riley Burns, Cox: Mila Hoffman, Cch: Tom Lincoln
4th Wesley College - Bow: Melissa Sharp, 2: Emilie Coghlan, 3: Rachael Carter, 4: Alexandra Vawser, 5: Ruby Pewtress, 6: Jasmine Psomas, 7: Phoebe Stephen, Str: Tassia Paterson, Cox: Nicola Dimitropoulos
Final A
1st Geelong Grammar - Bow: Eliza Leckey, 2: Aurora Kisvarda, 3: Saskia Trevor-Jones, 4: Eddi McDonald, 5: Annabel McLachlan, 6: Chandra Pickard, 7: Sophie Browne, Str: Millie Mackirdy, Cox: Lulu Brumby
2nd MLC Kew - Bow: Madeleine Narguet, 2: Elisabeth Fraser, 3: Ella Innes, 4: Anna Morrison, 5: Lucy Wentworth, 6: India Allen, 7: Siena Koh, Str: Philippa Byrnes, Cox: Annabelle Johnson-King, Cch: Stacey Mastras
3rd St Catherine's - Bow: Sophie Hogan, 2: Georgie Green, 3: Allie Hall, 4: Francesca King, 5: Chloe Rodgers, 6: Lucy Motteram, 7: Lara Nattrass, Str: Charlotte Murdoch, Cox: Ella Carton, Cch: Max Arundel, Brigette Carlile
4th Melbourne Girls' GS - Bow: Mia Bongiorno, 2: Zara Shepherd, 3: Katherine May, 4: Helena Wong Hansen, 5: Anna Roxburgh, 6: Millie Bennetts, 7: Clio Nash, Str: Lily Turner, Cox: Estelle Harper
Coxed Quad Scull Open Division 4
(1,500 metres)
Final A
06:03.83
06:27.46
06:55.13
Final A
1st Strathcona - Bow: Lily Taplin, 2: Rianna Thiele, 3: Zoe Christofides, Str: Lily Wright, Cox: Olivia Robinson, Cch: Bronte Hough
2nd Genazzano - Bow: Holly Targett, 2: Madeleine Taylor, 3: Alice O'Loughlin, Str: Beth Hennessy, Cox: Elle Gleeson, Cch: Lily Barr
3rd Shelford GS - Bow: Lucy Morgan, 2: Charlie Hargreaves, 3: Amy Badger, Str: Eva Hamilton, Cox: Zoe Kral, Cch: Marisa Pineo
Coxed Four Open Division 4
(1,500 metres)
Final B
06:44.87
07:11.00
Final A
06:19.27
06:29.09
06:33.46
06:47.45
Final B
1st Ballarat Grammar - Bow: Madeline Holland, 2: Ruby Green, 3: Rebecca Cuff, Str: Sarah Merrylees, Cox: Alice Young
2nd Carey Grammar - Bow: Lara Sweeny, 2: Tully Dickson, 3: Madison Portelli, Str: Sophia Wheeler, Cox: Miranda Di Nello, Cch: Camille Edwards
Final A
1st Loreto - Ballarat - Bow: Annika Haase, 2: Lucy McKeegan, 3: Kasey Drew, Str: Ruby Cheesman, Cox: Emily Bathurst, Cch: Tayla Seeary, Erin Gillespie
2nd Haileybury - Bow: Chloe Fellows, 2: Kailee Denny, 3: Georgia Devenish, Str: Natasha Pullin, Cox: Claire Van Well
3rd Melbourne GC - Bow: Sylvia Baroud, 2: Athenie Kalos, 3: Accalia Paine, Str: Eliza Reed, Cox: Veronique Villis, Cch: Graham Smith
4th Toorak College - Bow: Nicola Bradbury, 2: India Marshall, 3: Erin French, Str: Alessandra German, Cox: Phoebe Hewson
Coxed Four Open Division 5
(1,500 metres)
Final A
06:19.60
06:35.52
06:40.69
07:10.08
Final A
1st Loreto - Ballarat - Bow: Courtney Tuddenham, 2: Tamsin Keogh, 3: Jemima Clarke, Str: Olivia Elliott, Cox: Alicia Wrigley
2nd Melbourne GC - Bow: Enya Thompson-Whiteside, 2: Roisin Casinader, 3: Lucy Vogel, Str: Georgina Tatham, Cox: Sarah Cuddy, Cch: Dominic Morrell
3rd Loreto - Ballarat 2 - Bow: Ruby Dean, 2: Alexandra Emonson, 3: Meg McKinnis, Str: Keely Greer, Cox: Madison Henderson, Cch: Olivia Houlihan
4th Toorak College - Bow: Georgia Dalstead, 2: Jess Sherwood, 3: Emilia Flynn, Str: Ella Sayers, Cox: Mackenzie Brown, Cch: Sarsha Braim
Year 10 Race Results
Single Scull Year 10 Division 1
(1,000 metres)
Final F
05:01.76
05:20.89
05:51.11
Final E
04:40.67
05:01.13
Final D
04:33.85
04:40.96
04:45.99
04:54.63
Final C
04:34.93
04:39.02
05:01.88
Final B
04:20.18
04:32.06
04:35.22
04:51.42
Final A
04:12.63
04:20.71
04:22.59
04:23.19
Final F
1st Fintona - Maanya Kapoor
2nd Wesley College - Ginger Cornish-Treloar, Cch: Morgan Roberts
3rd Ballarat Grammar - Miranda Veal
Final E
1st Korowa AGS - Chloe Piggott, Cch: Madison Huysing, Peter Campbell
2nd Clonard - Abbey Marescuk, Cch: Jan Keats, Rebekah De Grandi
Final D
1st Clonard - Ailish Tyrrell, Cch: Jan Keats, Rebekah De Grandi
2nd Melbourne Girls' GS - Evie Anderson
3rd Wesley College - Carmen Hetrel
4th Fintona - Bridget Bolton
Final C
1st Carey Grammar - Samara Frankpitt, Cch: Emily Drew
2nd Clonard - Allyson O'Donoghue, Cch: Rebekah De Grandi, Jan Keats
3rd Fintona - Jasmine Ye
Final B
1st Maribyrnong Secondary - Sarah Jones, Cch: Tony Lawless
2nd Charles La Trobe - Ourania Papapetrou, Cch: David Ochert
3rd Korowa AGS - Phoebe Shumack, Cch: Madison Huysing, Peter Campbell
4th Korowa AGS - Georgia Carmody, Cch: Madison Huysing, Peter Campbell
Final A
1st Christian College - Luka Currell, Cch: Leigh Hall-Sullivan
2nd St Columbas College - Lucy Bray, Cch: Tony Lawless
3rd Korowa AGS - Natasjia Voulanas, Cch: Madison Huysing, Peter Campbell
4th Mercy College - Jessica Mirabelli, Cch: Glenn Bottrell, Barry Gardner
Coxed Quad Scull Year 10 Division 1
(1,000 metres)
Final D
03:54.88
03:58.16
04:07.71
Final C
03:48.84
03:51.92
Final B
03:50.64
03:52.27
03:52.59
04:00.57
Final A
03:49.63
03:50.18
03:53.36
03:55.76
Final D
1st Lauriston Girls' - Bow: Celia Dixon, 2: Charli-Ann Bishop, 3: Bianca Rose, Str: Martha Conheady, Cox: Bella Nolan, Cch: Michael Naughton
2nd Sacred Heart Vic - Bow: Macy McKoy, 2: Eleanor Macleod, 3: Camryn Howell, Str: Saasha McDonald, Cox: Eliza Ahearn, Cch: Elizabeth Ballan, Troy Durham
3rd Ballarat Clarendon - Bow: Katie Ling, 2: Emily Selkirk, 3: Sophie Joyce, Str: Charlotte Sutherland, Cox: Stella Michie
Final C
1st Firbank Grammar - Bow: Lauren Pratt, 2: Miranda Edney, 3: Chloe George, Str: Bonnie Moorcraft, Cox: Ruby Wolfe
2nd Korowa AGS - Bow: Mary Kalaitzis, 2: Jaimie Major, 3: Elise Vayenas, Str: Sienna Smith, Cox: Zoe Konstantas, Cch: Eleanor Crute, Peter Campbell
Final B
1st Genazzano - Bow: Brigit Somerville, 2: Grace Thistlethwayte, 3: Orietta Fitzsimmons, Str: Alessia Kapakoulakis, Cox: Isabel Finch, Cch: Emma Williamson
2nd Strathcona - Bow: Kate Evans, 2: Katie Johnson, 3: Annie McGregor, Str: Zoe Lee, Cox: Grace McHarg, Cch: Jordan Smith
3rd Loreto - Toorak - Bow: Bridget McFarlane, 2: Phoebe Lovell, 3: Maddie Hill, Str: Isabella Blackney, Cox: Claire McDaniel, Cch: Charlie Dixon
4th Gippsland Grammar - Bow: Malia Wheal, 2: Elana Rose Krcevinac, 3: Rhianne Grimble, Str: Ari Wight, Cox: Miya Hancock
Final A
1st MLC Kew - Bow: Allie Wilson, 2: Steph Gordon, 3: Bridgette Harwood, Str: Rachel Rockman, Cox: Sally Danks, Cch: Sarah Henderson
2nd Melbourne Girls' GS - Bow: Lily Hockings, 2: Felicity Smith, 3: Elsa Ajani, Str: Phoebe Faulks, Cox: Pippa Woods
3rd Ruyton Girls' - Bow: Zoe O'Sullivan, 2: Charli Kerr, 3: Emma Haberfield, Str: Remy McKay, Cox: NAME WITHHELD, Cch: Matt Wilson
4th St Catherine's - Bow: Chloe Cooper, 2: Clementine Newton-Brown, 3: Claire Gray, Str: Isabella Buf, Cox: Zara Carter, Cch: Sean Lake, John Novak
Coxed Four Year 10 Division 1
(1,000 metres)
Final C
04:03.36
04:05.70
Final B
03:58.86
04:00.54
04:03.56
04:59.77
Final A
03:53.34
03:56.63
03:57.01
04:09.97
Final C
1st Geelong Grammar - Bow: Hannah Bufton, 2: Clementine Langley, 3: Lilli Cowan, Str: Tanna Ryan, Cox: Harriet Robinson
2nd Damascus - Bow: Madison Smith, 2: Mia Lavery, 3: Courtney Gass, Str: Jessica Blackmore, Cox: Gemma O'Donnell, Cch: Dean Kittelty
Final B
1st Wesley College - Bow: Lara Joyce, 2: Emily Hill, 3: Leyla Kenneally, Str: Ella Dawson, Cox: Sara Pisacane, Cch: Georgia Bowman
2nd Haileybury - Bow: Stasia Scaunich, 2: Alice Thomasson, 3: Alexandra McDonald, Str: Maya Muller, Cox: Mia Jones
3rd Melbourne GC - Bow: Bethany Zmak, 2: Sara Baile, 3: Mary Higginbotham, Str: Saskia Junge, Cox: Niamh Georgakas, Cch: Jac Adamson
4th Caulfield Grammar - Bow: Lily Murray, 2: Sarah Fairhall, 3: Rosie Morrison, Str: Olga Osianlis, Cox: Siena Marandos
Final A
1st Loreto - Ballarat - Bow: Libby Hutt, 2: Elissa Dunn, 3: Isabella Prendergast, Str: Emma Trigg, Cox: Aisling Love, Cch: Gabrielle Howard
2nd Ballarat Grammar - Bow: Jess Hawker, 2: Charlotte Robson, 3: Phoebe Grills, Str: Tea Johns, Cox: Genevieve Pittard
3rd Carey Grammar - Bow: Lily Bohun, 2: Kathy Xing, 3: Ngara Williams, Str: Natasha Liberopoulos, Cox: Lucienne Hubbard, Cch: Elliott Moyes, Olivia Yammouni
4th Geelong College - Bow: Ashy Howell, 2: Lou Campbell, 3: Amelia Edmonds, Str: Mia Young, Cox: Sophie Dodd
Coxed Quad Scull Year 10 Division 2
(1,000 metres)
Final D
04:07.11
04:24.03
Final C
03:52.43
04:00.97
04:06.72
04:11.86
Final B
03:54.75
03:59.25
04:03.10
04:18.69
Final A
03:51.46
03:54.02
03:56.49
03:58.95
Final D
1st Korowa AGS - Bow: Matilda Baird, 2: Rose Gilmour, 3: Jessica Eyres, Str: Lucy Papp, Cox: Skye Blackshaw, Cch: Nancy Magliano, Peter Campbell
2nd Sacred Heart Vic - Bow: Daniela Santos, 2: Hannah Tribe, 3: Tess Mahar, Str: Hannah Jones, Cox: Bella Timms - Honnor, Cch: Troy Durham, Elizabeth Ballan
Final C
1st Genazzano - Bow: Claudia Cococcia, 2: Emma Sheedy, 3: Costanza Conidi, Str: Alice Davine, Cox: Emily Air, Cch: Adita Singh
2nd Lauriston Girls' - Bow: Emily Hoelter, 2: Sophie Cameron, 3: Mardi Bruce, Str: Jana Gattereder, Cox: Hanna Minc
3rd Shelford GS - Bow: Sasha Lovett, 2: Amelia Davies, 3: Aimee Condon, Str: Emily Lendon, Cox: Eliza Burns, Cch: Tom Collins
4th Lowther Hall - Bow: Ella Richter, 2: Alannah Callegaris, 3: Isabella Brown, Str: Liora Wilson, Cox: Claire McKew
Final B
1st Kardinia Int'l College - Bow: Bridgette Hensgen, 2: Phoebe Piroch, 3: Matilda Broad, Str: Meg Cartwright, Cox: Tamsyn Duthie, Cch: Wayne Nitschke
2nd Fintona - Bow: Catherine Zheng, 2: Judy Wang, 3: Emily Kha, Str: Alannah (Lani) McKernan, Cox: Aleen Dhaliwal
3rd Ruyton Girls' - Bow: Alessia Zervos, 2: Jordan Cook, 3: Zara Waugh, Str: Pippa Dillon, Cox: Asha Jassal, Cch: Ion Popa
4th Strathcona - Bow: You Jin Ahn, 2: Sarina Hausler, 3: Alex McCabe, Str: Talia Ciardulli, Cox: Renee Stitz, Cch: Patrick Daly
Final A
1st St Catherine's - Bow: Sophie Williams, 2: Bridget Vogel-Paul, 3: Ellexi Fulton, Str: Tamsin Sleigh, Cox: Sophie Gorton, Cch: Taylor Battistella
2nd MLC Kew - Bow: Iris Jeffrey, 2: Alexandra Oliver, 3: Nicola Rouse, Str: Anthea Grutzner, Cox: Riya Fordyce, Cch: Charlotte Serafini
3rd Melbourne Girls' GS - Bow: Charlotte Drake, 2: Zoe O'Connell, 3: Lucy Green, Str: Daisy Graham, Cox: Eloise Chipperfield
4th Firbank Grammar - Bow: Grace Adair, 2: Jasmine Konoroth, 3: Mae Kabengele, Str: Annabelle Paynter, Cox: Sophia Gilmore
Coxed Four Year 10 Division 2
(1,000 metres)
Final D
04:10.62
04:11.58
04:23.40
Final C
04:06.33
04:21.14
Final B
04:07.20
04:11.28
04:11.62
04:18.68
Final A
03:58.22
03:59.03
04:05.60
04:07.30
Final D
1st Caulfield Grammar - Bow: Ava Dawson, 2: Lucette Farrar, 3: Rory Redlich, Str: Piper Sweeney-Johnston, Cox: Lucinda Clifford
2nd Toorak College - Bow: Sophia Morgan, 2: Lily Riley, 3: Mia Bolitho, Str: Vanessa Carlyle, Cox: Martha Wise, Cch: Kate O'Halloran
3rd Haileybury - Bow: Rachel Curphey, 2: Eleanor Joyce, 3: Kristen Cooper Geoffrey, Str: Charlotte Davidson, Cox: Amber Caspers
Final C
1st Geelong College - Bow: Harriet Koch, 2: Connie Dunkley-Smith, 3: Tiffani Bohun, Str: Alison McHarry, Cox: Imogen Edwards
2nd Damascus - Bow: Charlotte Grimes, 2: Katrina Caldow, 3: Tara Gannon, Str: Olivia Reyntjes, Cox: Poppy Boucher
Final B
1st Loreto - Toorak - Bow: Libby Sutton, 2: Celeste Crivelli, 3: Millie McGrath, Str: Sophie Macaw, Cox: Esther Wells, Cch: Edward Walmsley
2nd Wesley College - Bow: Grace McDonough, 2: Claire Peters, 3: Cluny Nankervis, Str: Jessica Patishman, Cox: Luella Geer, Cch: Lydia McCloskey
3rd Melbourne GC - Bow: Ruby Corcoran, 2: Thea Rozsa, 3: Ellie Brennan, Str: Hazel Calwell, Cox: Heather Stevenson, Cch: Maddie Carman
4th Ballarat Grammar - Bow: Giulia Dunne, 2: Maddie Dodds, 3: Caroline Tatham, Str: Stephanie O'May, Cox: Ava Polkinghorne
Final A
1st Loreto - Ballarat - Bow: Jessica Mihaljevic, 2: Jade Peterkin, 3: Gabrielle Macdonald, Str: Casey Dodd, Cox: Chloe Kennedy, Cch: Ruby Treweek, Terryn Rodd
2nd Geelong Grammar - Bow: Zoe Metcalfe, 2: Audrey Thomson, 3: Millie Carmichael, Str: Alice Peddie, Cox: Cate Blyth
3rd Ballarat Clarendon - Bow: Lillian Reid, 2: Stephanie Gingell, 3: Ingrid Ellis, Str: Carmen Emery, Cox: Molly Grigg
4th Carey Grammar - Bow: Layne Spencer, 2: Elise Spencer, 3: Emma Gebert, Str: Emma John, Cox: Sophie Jackson, Cch: Elliott Moyes, Olivia Yammouni
Coxed Quad Scull Year 10 Division 3
(1,000 metres)
Final D
04:15.71
04:18.52
04:28.28
Final C
03:53.90
03:57.54
03:58.79
04:20.98
Final B
03:54.00
03:59.40
03:59.95
04:10.92
Final A
03:54.82
03:58.06
03:58.84
04:01.48
Final D
1st Lauriston Girls' - Bow: Lucy Hann, 2: Grace Donnelly, 3: Isabelle Fortey, Str: Jade Parker, Cox: Charlotte Anderson, Cch: Zoe Westmore
2nd Sacred Heart Vic - Bow: Grace Bull, 2: Eliza Ahearn, 3: Ella Maskell, Str: Alexandra Layton, Cox: Charlotte Schouten-O'Bryan, Cch: Elizabeth Ballan, Troy Durham
3rd Shelford GS - Bow: Yasmin Isaacs, 2: Maddie Fay, 3: Catherine Maticka, Str: Ruby Ashman-Cornish, Cox: Esther Feith
Final C
1st Melbourne GC - Bow: Alessandra Donnelly, 2: Alessia Acquaro, 3: Annabelle Power, Str: Harper Waring, Cox: Gemma Phull, Cch: Liam O'Meara
2nd Ruyton Girls' - Bow: Amber Barry, 2: Jasmine Auld, 3: Chiara DeBortoli, Str: Rubi Brady, Cox: Abigail Phillips, Cch: Eleanor Price, Emily Montagu
3rd Korowa AGS - Bow: Sarah Whalen, 2: Eva Moran, 3: Claire Spiers, Str: Julia Luth, Cox: Arkie Pistofian, Cch: Sam Tuck, Peter Campbell
4th Lowther Hall - Bow: Helena Skiathitis, 2: Eunice Crick, 3: Camryn Pearce, Str: Zoe Walker, Cox: Claudia Krake
Final B
1st Melbourne Girls' GS - Bow: Emmanuelle Coates, 2: Juliette Roysmith, 3: Charlotte Finlay, Str: Latasha Townsend, Cox: Sophia Nelson
2nd St Catherine's - Bow: Georgina Vote, 2: Holly McGlaughlin, 3: Ella Johns, Str: Abigail Kaye, Cox: Molly Robertson, Cch: Jared Speirs
3rd Genazzano - Bow: Taiya Whelan, 2: Olivia Gangi, 3: Abigail Schlicht, Str: Gabriella Conti, Cox: Marnie Hourigan, Cch: Casey Targett
4th Strathcona - Bow: Catia D'Anna, 2: Eliza White, 3: Natalia Stojanovski, Str: Poppy Christofides, Cox: Lydia Morrison, Cch: Julia Battistella
Final A
1st Clonard - Bow: Natalie Grisenti, 2: Sophie Robe, 3: Charlotte Steenhuis, Str: Jessie Freestone, Cox: Aisling Donnellan, Cch: Jan Keats, Rebekah De Grandi
2nd MLC Kew - Bow: Annika Lardner, 2: Iris Li, 3: Millie Olive, Str: Andie Lowe, Cox: Ruby Backwell, Cch: Amelia O'Gorman
3rd Firbank Grammar - Bow: Xanthe Kakaras, 2: Claudia Cox, 3: Siena Kennedy, Str: Bibi Wallace, Cox: Madi Evans
4th Loreto - Toorak - Bow: Vittoria Salvatore, 2: Maryrose Johnson, 3: Gigi Hall, Str: Sally Bertoncello, Cox: Jade Telford, Cch: Phoebe Wolf
Coxed Four Year 10 Division 3
(1,000 metres)
Final C
04:29.83
04:39.83
04:40.02
Final B
04:10.33
04:18.03
04:25.06
04:43.85
Final A
04:06.46
04:15.29
04:18.19
04:19.82
Final C
1st Caulfield Grammar - Bow: Vittoria Galgano, 2: Charlotte Edwards, 3: Annabel Chambers, Str: Kodie Wilson, Cox: Lucinda Clifford
2nd Haileybury - Bow: Rhea Gupta, 2: Rufaro Zimbudzi, 3: Kate Proctor-Parker, Str: Breana McLean, Cox: Ilayda Yan
3rd Toorak College - Bow: Emily Guo, 2: Rachael Jemmett, 3: Ruby Mendelsohn, Str: Emma Sullivan, Cox: Sophia Morgan, Cch: Calypso Owen
Final B
1st Geelong Grammar - Bow: Saffie Yates, 2: Michaela Sorrenti, 3: Mia Spinks, Str: Annabelle Naylor, Cox: Sally Barlow
2nd Melbourne GC - Bow: Iryna Loboda, 2: Felicity Edmondson, 3: Lily Young, Str: Chloe Barta, Cox: Tayger Checkley, Cch: Tom Ebeyan
3rd Damascus - Bow: Grace Byrne, 2: Erica Webb, 3: Zoe Wilson, Str: Sophie Brokenshire, Cox: Brooke Gannon, Cch: Ryan Van Der Linden
4th Ballarat Clarendon - Bow: Freyja Head, 2: Charlotte Ross, 3: Holly Hutton, Str: Alyssa Trethowan, Cox: Cheyanne Bradshaw
Final A
1st Loreto - Ballarat - Bow: Grace Watkins, 2: Megan Armstrong, 3: Gemma Cosgriff, Str: Sunday Walker, Cox: Bianca Aguilar, Cch: Lauren Murphy
2nd Geelong College - Bow: Sarah Solly, 2: Lily Corrie Smith, 3: Alysha Blampied, Str: Charlotte Newman, Cox: Charlotte Thomson
3rd Carey Grammar - Bow: Indi McCann, 2: Sophie Norman, 3: Jemima Lester, Str: Alexandra Jago, Cox: Darcy McClelland, Cch: Ellie Atkins
4th Ballarat Grammar - Bow: Charlotte Gerrard, 2: Marnie Shrive, 3: Scarlett Burmeister, Str: Alice Dufty, Cox: Tayla Sleep
Coxed Quad Scull Year 10 Division 4
(1,000 metres)
Final C
04:09.76
04:20.28
Final B
04:06.60
04:11.50
04:15.01
Final A
Not timed
Final C
1st Ruyton Girls' - Bow: Hannah Smit, 2: Lily Sullivan, 3: Sophie Mullins, Str: Stella Lawson, Cox: Philippa Preston, Cch: Amelia Ghali
2nd Korowa AGS - Bow: Stephanie Bennett, 2: Charlotte Hayes, 3: Mimi Tran, Str: Zara Piggott, Cox: Annai Hally, Cch: Jasmine Moya
Final B
1st Melbourne Girls' GS - Bow: Siena Stockdale, 2: Olivia Tallis, 3: Imogen Kloppers, Str: Emma Birrell, Cox: Lilli Ingram
2nd Strathcona - Bow: Georgia O'Dea, 2: Ashley Sandford, 3: Abigail Smith, Str: Maya Fehring, Cox: Emma Blakeley, Cch: Holly Mitchell
3rd Lauriston Girls' - Bow: Flossie FlossiCorsham, 2: Jaycy Zeng, 3: Sophia Murphy, Str: Sarah Long, Cox: Charlotte Anderson
Final A
1st MLC Kew - Bow: Nina Ferris, 2: Sara Charlesworth, 3: Zoe Carter, Str: Charlotte Mitchley-Hughes, Cox: Kate Cameron, Cch: Jessica Joyce
2nd Genazzano - Bow: Sophie Smith, 2: Marian Hoang, 3: Lucy Lentini, Str: Madeline Grave, Cox: Harper Tanna, Cch: Chloe Psyhogios
3rd St Catherine's - Bow: Emily McAllister, 2: Alexandra Demetriou, 3: Francesca Demetriou, Str: Elodie Ferrali, Cox: Ruby Seymour, Cch: Emily Richards
4th Firbank Grammar - Bow: Hannah Schwarz, 2: Eleanor Hahn, 3: Isobel Low, Str: Grace Bennett, Cox: Isabella Skocic
Coxed Four Year 10 Division 4
(1,000 metres)
Final C
04:22.26
04:33.74
Final B
Not timed
Final A
04:10.50
04:11.59
04:11.88
04:22.12
Final C
1st Damascus - Bow: Hannah Foster, 2: Mia Wallace, 3: Leila Thurling, Str: Esther Dunlop, Cox: Molly Hudson, Cch: Sarah Collins
2nd Ballarat Clarendon - Bow: Georgia McLean, 2: Armani Clark, 3: Koo Calhaem, Str: Lucy Carter, Cox: Holli Williams
Final B
1st Geelong Grammar - Bow: Sophia Dallimore, 2: Angel Doran, 3: Isabella Hunter, Str: Millie Roberts, Cox: Cate Blyth
2nd Melbourne GC - Bow: Vanessa Tsekouras, 2: Maia Chinnick, 3: Holly Lovett-Heeps, Str: Taylah Doherty, Cox: Isabella Durnic
3rd Geelong College - Bow: Chase Probert, 2: Ruby Chen, 3: Ella Hall-Sullivan, Str: Amelie Raineri, Cox: India Connor
Final A
1st MLC Kew - Bow: Ellie Bennett, 2: Coco Jeffrey, 3: Charlotte Allen, Str: Lacey Ryan, Cox: Zimo Zhu, Cch: Rebecca Wain
2nd Loreto - Toorak - Bow: Chloe Kfouri, 2: McKenzie Venus, 3: Alice Buffham, Str: Julia Sweeney, Cox: Eliza Simpson, Cch: Isabella Hummerston
3rd Loreto - Ballarat - Bow: Brooke Main, 2: Brooke O'Brien, 3: Mia Litras, Str: Sarah Cushing, Cox: Jorja Grumley, Cch: Laura Foley, Molly Grech
4th Ballarat Grammar - Bow: Jaya Foy, 2: Lucia Clarke, 3: Sarah White, Str: Lily Jenkins, Cox: Megan Willey
Coxed Quad Scull Year 10 Division 5
(1,000 metres)
Final B
04:09.84
Final A
04:03.36
04:07.63
04:10.80
04:14.28
Final B
1st Genazzano - Bow: Georgia Ghantous, 2: Jemima James, 3: Scarlett Swainsbury, Str: Lucy Kennedy, Cox: Arabella Mattioli, Cch: Sarina Conti
Final A
1st Loreto - Toorak - Bow: Matilda Garvey, 2: Greta Wernli, 3: Lexi Picciani, Str: Zoe Keating, Cox: Sophie Logan, Cch: Ciara Jackson
2nd MLC Kew - Bow: Emily Tran, 2: Char Will, 3: Estelle Wollin, Str: Courtney Nicholls, Cox: Yasmin Innes, Cch: Alicia Walker
3rd Firbank Grammar - Bow: Danielle Roode, 2: Madeline Brownbill, 3: India Vaughan, Str: Kate Thomas, Cox: Maddison Stokie
4th Melbourne Girls' GS - Bow: Lily Webb, 2: Fiona Blyth, 3: Jazelle Baker, Str: Lily Macciolli, Cox: Isabella Boffa
Coxed Four Year 10 Division 5
(1,000 metres)
Final B
04:31.72
Final A
04:15.04
04:17.53
04:17.87
DNF
Final B
1st Geelong College - Bow: Sophie Budge, 2: Sarah Tait, 3: Sophie Gale, Str: Maddison Samsa, Cox: Indiana Wilkinson
Final A
1st Loreto - Ballarat - Bow: Laura O'Brien, 2: Sophie Wheatland, 3: Ava Lanyon, Str: Eliza Smith, Cox: Cassidy Spratling, Cch: Shalya Lamb, Laura Main
2nd Geelong Grammar 2 - Bow: Milly Holmes, 2: Claudia Cole, 3: Zhihui (Angela) Zhang, Str: Ella-Rose Beehag, Cox: Jemma Griffiths
3rd Geelong Grammar 1 - Bow: Lanta Clark, 2: Emma Sampson, 3: Pippa Naylor, Str: Jessica Miller, Cox: Skye Mackenzie
4th Melbourne GC - Bow: Paige Cotton, 2: Daniella Franze, 3: Yasmine Iles, Str: Phoebe Lake, Cox: Eugenie Dixon, Cch: Kate Noble
Coxed Quad Scull Year 10 Division 6
(1,000 metres)
Final A
04:05.68
04:10.01
04:11.09
04:19.22
Final A
1st MLC Kew - Bow: Emily Rizza, 2: Emily Ransom, 3: Emily Ford, Str: Lavinia Barker, Cox: Jessie Westblade, Cch: Melanie Edwards
2nd Genazzano - Bow: Ella Redman, 2: Sofia Licciardello, 3: Annabelle Kiernan, Str: Olivia Potts, Cox: Veronika Van Daatselaar, Cch: Emily Passaris
3rd Melbourne Girls' GS - Bow: Georgina Darcy, 2: George Byass, 3: Merrin Giles, Str: Sorcha McGill, Cox: Arabella Syme
4th Firbank Grammar - Bow: Ella Brown, 2: Stella Duggan, 3: Brooke Connell, Str: Kiersten Sorensen, Cox: Amelia Mitchel-Adams
Coxed Four Year 10 Division 6
(1,000 metres)
Final B
04:34.50
Final A
04:22.15
04:36.59
04:41.70
04:52.90
Final B
1st Geelong Grammar 1 - Bow: Isabella (Bella) Clarke, 2: Paige Southwick, 3: Hannah Guirguis, Str: Bonnie Muir, Cox: Katherine Gerraty
Final A
1st Loreto - Toorak - Bow: Chloe Millionis, 2: Roisin Mitchell, 3: Clotilde Latour, Str: Chloe Lochhead, Cox: Lily Kelsey, Cch: Sophie Walmsley
2nd Melbourne GC - Bow: Bhargavi Potabatti, 2: Martia Contos, 3: Jessica Mackie, Str: Chloe Mansfield, Cox: Briely Foot
3rd Geelong College - Bow: Erinee Bray, 2: Emily Santalucia, 3: J'aime Osborne, Str: Giselle Webber-Taylor, Cox: Sophie Dodd
4th Geelong Grammar 2 - Bow: Lillian Van Gelder, 2: Ava Dowd, 3: Anna Sherwin, Str: Ava Katsaros, Cox: Skye Dempsey
Coxed Quad Scull Year 10 Division 7
(1,000 metres)
Final B
04:18.29
04:23.05
04:27.17
04:28.52
Final A
04:12.81
04:14.38
04:17.47
04:19.27
Final B
1st Loreto - Toorak - Bow: Sophia Henderson, 2: Isadora Jackson, 3: Tia Fargher, Str: Lauren Johnston, Cox: Sabrina Rickard, Cch: Matilda Ferrari
2nd MLC Kew 2 - Bow: Scarlett Brisbane, 2: Sian Martin, 3: Mia Donnelly, Str: Shanaye McSweeney, Cox: Melinda Ackland, Cch: Sophie Anghie
3rd Genazzano - Bow: Stephanie Greco, 2: Jaida Galgano, 3: Alessandra Joseph, Str: Eleanor Shea, Cox: Carla Petruccelli, Cch: Harriette Singh
4th Melbourne Girls' GS 1 - Bow: Hayley Musgrave, 2: Sophie Waller, 3: Charlotte De Zoete, Str: Grace Anderson, Cox: Lucinda Pernell
Final A
1st Melbourne Girls' GS 2 - Bow: Ella Breeze, 2: Sophie Brown, 3: Sarah Wettenhall, Str: Annabelle Jones, Cox: Mimi Barnes
2nd Firbank Grammar - Bow: Lottie Peel, 2: Olivia Fanning, 3: Chloe Watson, Str: Charli Bowers, Cox: Celia Low
3rd MLC Kew 1 - Bow: Lily Tsigaras, 2: Carla Miric, 3: Sophie Peake, Str: Maya Hahn-Thomsen, Cox: Bethany Ta, Cch: Rebecca Noonan
4th Firbank Grammar - Bow: Mia Di Pietrantonio, 2: Ebony Wilson-Cohen, 3: Chloe Tascioglu, Str: Sophie Platt, Cox: Lara Paroissien
Year 9 Race Results
Single Scull Year 9 Division 1
(1,000 metres)
Final E
05:24.97
05:37.63
DNF
Final D
04:30.51
04:56.72
04:57.29
05:51.75
Final C
04:36.98
04:41.53
04:50.92
05:02.08
Final B
04:16.70
04:20.53
04:25.53
04:31.75
Final A
04:28.09
04:33.95
04:40.51
04:43.74
Final E
1st Clonard - Ainsley Robinson
2nd Clonard - Nina McLachlan
DNF Clonard - Charli Matthews
Final D
1st Acad Immaculate Mary - Amelie Bongrain, Cch: Tony Lawless
2nd Caulfield Grammar - Mia Kakoufas
3rd Caulfield Grammar - Zoe Fowler
4th Carey Grammar - Megan Anstee, Cch: Prue Fennessy
Final C
1st Melbourne Girls' GS - Isabella Carbone
2nd Toorak College - Bridget Auger, Cch: Annabelle Armstrong, Annabel Zampatti
3rd Geelong College - Emma Moorfoot
4th Caulfield Grammar - Mia Riseley
Final B
1st Xavier High School - Bella Heagney, Cch: Wesley Canny
2nd St Mary's College - Imogen Cafasso, Cch: Suzan Andrews
3rd Nagle College - Chelsea Beechey
4th Emmanuel College - Emma Zerbe, Cch: Val Bertrand, Tom Bertrand
Final A
1st Maribyrnong Secondary - Chloe Robinson, Cch: Tony Lawless
2nd St Mary's College - Sadhbh O'Sullivan, Cch: Suzan Andrews
3rd Galen Catholic College - Emily Tidd, Cch: Wesley Canny
4th Mercy College - Elissa Mirabelli, Cch: Glenn Bottrell, Barry Gardner
Coxed Quad Scull Year 9 Division 1
(1,000 metres)
Final E
04:06.88
04:21.94
Final D
03:57.60
04:04.05
04:15.15
04:17.16
Final C
03:51.72
03:59.05
04:05.94
04:14.22
Final B
03:57.93
03:58.32
04:00.16
04:00.81
Final A
03:51.28
03:52.39
03:57.06
03:59.79
Final E
1st PLC Melbourne - Bow: Miranda Lee Mason, 2: Holly Law-Davis, 3: Nakisha Vessey, Str: Mary Wilson, Cox: Annie Nguyen Vo, Cch: Samantha Stewart
2nd Haileybury - Bow: Emily Foster, 2: Indigo Blakeman-Less, 3: Emily Williams, Str: Kiarna Jholl, Cox: Poppy Miller
Final D
1st Geelong College - Bow: Daisy Page, 2: Andie Taylor, 3: Ruby Kennett, Str: Issy Batrouney, Cox: Sophie Ross,
2nd Korowa AGS - Bow: Charlotte Roxborough-Judd, 2: Olivia Agelopoulos, 3: Isabella Dudley, Str: Ella Fieldhouse, Cox: Madi Sparrow, Cch: Jasmine Moya, Peter Campbell
3rd Gippsland Grammar - Bow: Rose Rose Dallimore, 2: Danyka Lujan, 3: Grace Tauschke, Str: Katie Waller, Cox: Miya Hancock,
4th Fintona - Bow: Natasha Lucas, 2: Hannah Ogawa, 3: Annie (Ann) Walters, Str: Natalie Xavier, Cox: Alexia Karagiannis, Cch: Lucy Laussen
Final C
1st MLC Kew - Bow: Cathy Wu, 2: Sarah Doolan, 3: Eliza Harkin, Str: Tiffany Crosthwaite, Cox: Natalie Dicintio, Cch: Millie Simpson
2nd Wesley College - Bow: Nellie Hanna, 2: Madeleine Groves-Crawford, 3: Iris Bass, Str: Thea Coull, Cox: Edwina Cole
3rd Caulfield Grammar - Bow: Jessica Allen, 2: Francesca Newport, 3: Sophie Hill, Str: Ella Biesse-Leong, Cox: Zoe Anderson
4th Shelford GS - Bow: Lucy Davies, 2: Meg Morley, 3: Ava Morgan, Str: Bethany O'Kane, Cox: Millie Le
Final B
1st Ruyton Girls' - Bow: Grace Jansen, 2: Tess O'Callaghan, 3: Louise Cheah, Str: Charlotte Ball, Cox: Ava O'Sullivan, Cch: Ben Chong-Halliday, Ion Popa, Eliza Gaffney
2nd Strathcona - Bow: Sarah Blakeley, 2: Annabelle Graham, 3: Jacinta Caruso, Str: Alanah O'Dea, Cox: Jacqui Evans, Cch: Tahlia Mollard
3rd Genazzano - Bow: Lucy O'Connor, 2: Olivia Benston, 3: Ruby Vanden Boom, Str: Sarah McIntosh, Cox: Bridget Greer, Cch: Hayley Jenkins
4th St Catherine's - Bow: Bronte Cullen, 2: Lilli Holmes, 3: Maggie Dryden, Str: Zara Bongiorno, Cox: Rosie Osborn, Cch: Jared Speirs
Final A
1st Melbourne Girls' GS - Bow: Ella Cooper, 2: Olivia Nairn, 3: Alexandra Leonards, Str: Eloise Faulks, Cox: Lily Wertheimer
2nd Loreto - Toorak - Bow: Milla Richardson, 2: Sarah Kilroe-Smith, 3: Eleanor Martin, Str: Brigitte Batagol, Cox: Frances Collins, Cch: Katrina Bateman, Conor Grace
3rd Firbank Grammar - Bow: Sophie Conlan, 2: Elise Angus, 3: Grace Kirkham, Str: Zoe White, Cox: Summer Robinson
4th Kardinia Int'l College - Bow: Clare Gorman, 2: Tully Combridge, 3: Lillian Henderson, Str: Bella Marles, Cox: Mahlah Donnely, Cch: Sydney Arnold
Coxed Four Year 9 Division 1
(1,000 metres)
Final B
04:46.86
Final A
03:54.82
03:56.83
03:57.93
04:09.10
Final B
1st Carey Grammar - Bow: Emily Waldron, 2: Lauren Jensz, 3: Amelie Heath, Str: Imogen Kutlesovski, Cox: Anjali Sureka, Cch: Maddison Ding, Ashleigh Rizio
Final A
1st Loreto - Toorak - Bow: Rosie Jenkins, 2: Lara Burns, 3: Lucinda Morrissy, Str: Felicity Murray, Cox: Samantha Curmi, Cch: Maddy Farrar
2nd Loreto - Ballarat - Bow: Lana Dodd, 2: Claire Gleeson, 3: Eliza Martin, Str: Chloe Hammill, Cox: Sophie Boyd, Cch: Chelsea Lewis
3rd Ballarat Grammar - Bow: Keylah Walker, 2: Tamara Petrov, 3: Amelia Greene, Str: Amber McClure, Cox: Jess Norton
4th Melbourne GC - Bow: Sienna Gibbins, 2: Freya Myers, 3: Victoria Trentin, Str: Claire Harrison, Cox: Helena Pham, Cch: Ruby Betts
Coxed Quad Scull Year 9 Division 2
(1,000 metres)
Final F
04:18.21
04:20.85
04:22.82
Final E
04:04.00
04:10.31
Final D
04:00.21
04:02.11
04:18.58
04:28.03
Final C
04:00.06
04:01.19
04:09.81
04:16.97
Final B
04:06.24
04:06.77
04:08.41
04:14.31
Final A
03:48.91
03:55.76
03:59.20
03:59.48
Final F
1st Gippsland Grammar - Bow: Olivia Miles, 2: Kaylah Young, 3: Matilda McInnes, Str: Elouise Godfrey, Cox: Sarah Beyer
2nd Haileybury - Bow: Amelia Sime, 2: Jazmin Harrop, 3: Kim Petley, Str: Imogen Hingston, Cox: Poppy Miller
3rd Korowa AGS - Bow: April McMillan, 2: Georgina Shumack, 3: Mia Pistofian, Str: Isabella Casey, Cox: Amie Hewitson, Cch: Jessica Thompson, Peter Campbell
Final E
1st Hamilton & Alexandra - Bow: Tomi Cashill, 2: Grace Cowland, 3: Jordy Brown, Str: Lucy Roberts, Cox: Poppy Austin
2nd Wesley College - Bow: Clare Puschenjak, 2: Chloe Bradbury, 3: Melia Auld, Str: Amelia Bolic, Cox: Lily Schroder
Final D
1st Shelford GS - Bow: Lucy O'Kane, 2: Olivia Smyth, 3: Harmony Ying, Str: Eliza Hargreaves, Cox: Zara Gamba
2nd Toorak College - Bow: Phoebe Fogarty, 2: Sienna Merrilees, 3: Annabella Reid, Str: Elle Schonfelder, Cox: Theonie Hewson, Cch: Mayrose Rolley
3rd Fintona - Bow: Emily Sticca, 2: Tara Kitchen, 3: Helena Thijs, Str: Zoe Stefanatos, Cox: Sophie Fitsioris
4th PLC Melbourne - Bow: Nina Teele, 2: Lucy Vandenboom, 3: Tulasi Pawar, Str: Joumana Loudovaris, Cox: Sangeetha Wilson-Rajaratnam, Cch: Alistair Hogan
Final C
1st Genazzano - Bow: Hannah Blackney, 2: Ella Neuwirth, 3: Isabella Touzeau, Str: Mia Richardson, Cox: Aria Linnane, Cch: Emma Williamson
2nd Geelong College - Bow: Remy Locke, 2: Lulu Morgan, 3: Phoebe Dunton, Str: Aimee McLaughlin, Cox: Milly Kennett
3rd Carey Grammar - Bow: Milly Gentilin, 2: Georgia Vaughan, 3: Piper Feikema, Str: Ella Steer, Cox: Emmy Beaumont, Cch: Jessica Evans, Henry Bryan
4th Sacred Heart Vic - Bow: Katie Keenan, 2: Anna Callan, 3: Annie Marshall, Str: Evie Timms-Honner, Cox: Dahna Kerr, Cch: Max Partington, Maggie Foley, Annabelle Brown
Final B
1st Firbank Grammar - Bow: Stella Gall, 2: Lucy Thomson, 3: Rylee Dugdale, Str: Rosie Jackson, Cox: Lily Green
2nd Ruyton Girls' - Bow: Hana Mitchelhill, 2: Bella Russell, 3: Catherine Samartzis, Str: Emily McCall, Cox: Philippa Preston, Cch: Emily Montagu, Amelia Ghali
3rd MLC Kew - Bow: Adeline Toohey, 2: Daisy Hinckfuss, 3: Olivia Franc, Str: Eloise Mumme, Cox: Lilian Johnston, Cch: Catie Lear, Anna Kjer-Nielsen
4th Caulfield Grammar - Bow: Jessica Anderson, 2: Emma Wills, 3: Georgia Karalis, Str: Alyssa Karalis, Cox: Zoe Anderson
Final A
1st Melbourne Girls' GS - Bow: Natarsha Madden, 2: Amelia Kogler, 3: Ella Grant, Str: Emme Hardwick, Cox: Maddison Farrow
2nd St Catherine's - Bow: Sarah Marriott, 2: Ika O'Halloran, 3: Annabelle Green, Str: Adelaide Mitchell, Cox: Summer Balla-Kellett, Cch: Taylor Battistella
3rd Kardinia Int'l College - Bow: Ruby Gray, 2: Jess Elliott, 3: Issy Carland, Str: Emma Kelly, Cox: Fionn Zele, Cch: Anita Whitehouse, Kate Fragiotta
4th Strathcona - Bow: Alice Freney-Mills, 2: Amy Gration, 3: Belle Schenck, Str: Lucy Parsons, Cox: Eleanor Appleton, Cch: William Cornwell, Anna Cornwell
Coxed Four Year 9 Division 2
(1,000 metres)
Final B
04:09.77
04:15.60
04:22.38
04:28.05
Final A
04:07.48
04:09.31
04:09.89
04:10.66
Final B
1st Damascus - Bow: Sophie Longmire, 2: Morgan McCann, 3: Sarah Elsey, Str: Lilly Vanderlinden, Cox: Madison Dwyer, Cch: Castley Webb, Tamzin Perkins
2nd Ballarat Grammar - Bow: Ruby Saunder, 2: Indi Berberich, 3: Elly Dawkins, Str: Eliza Crilly, Cox: Georgiana Gray
3rd Ballarat Clarendon - Bow: Bonnie Poulton, 2: Margaret Struth, 3: Matilda Pearce, Str: Annabelle Chandler, Cox: Kate McCahon
4th Clonard - Bow: Anna Keogh, 2: Shae Stout, 3: Molli Bagshaw, Str: Charlotte Stacey, Cox: Kiani McGlashan, Cch: Jim Brady
Final A
1st Loreto - Ballarat - Bow: Grace Hunt, 2: Ella Slater, 3: Zarli Clark, Str: Isabella Stevens, Cox: Laura Greenbank, Cch: Monica Young
2nd Loreto - Toorak - Bow: Millie O'Halloran, 2: Elena Chiam, 3: Emily Curtis, Str: Emily Schrader, Cox: Jess Rawolle, Cch: Luke Brusco
3rd Ballarat High - Bow: Tia Broad, 2: Eliza Webster, 3: Tyra O'Shannassy, Str: Verity Ball, Cox: Sophie Dutli, Cch: Tyra Howard, Tara Burnett, Scarlette Theodoropoulos
4th Melbourne GC - Bow: Kira Le Souef, 2: Lulamae Decker, 3: Kate Umseher, Str: Alice Luxton, Cox: Maya Blinco, Cch: Tom Ebeyan
Coxed Quad Scull Year 9 Division 3
(1,000 metres)
Final E
04:16.99
04:18.08
04:19.37
04:26.81
Final D
03:56.91
04:08.00
04:18.40
04:24.49
Final C
04:00.44
04:02.92
04:21.79
04:25.29
Final B
04:05.50
04:05.70
04:09.74
04:22.16
Final A
03:58.00
04:00.89
04:05.28
04:18.13
Final E
1st Shelford GS - Bow: Catherine Anders, 2: Tahlia Perzuck, 3: Izzy Kennedy, Str: Grace Fernando, Cox: Amelie Whitfield
2nd Fintona - Bow: Mattea Black, 2: Dayara Jayatissa , 3: Judie Chen , Str: Ai- Vi Le, Cox: Maya Martin
3rd Hamilton & Alexandra - Bow: Henrietta Byrne, 2: Julia Kelly, 3: Syliva Page, Str: Finlay Cameron, Cox: Milly Howells
4th Toorak College - Bow: Katie Tranter, 2: Isabelle McKay, 3: Ella Barr, Str: Josie Cianci, Cox: Abbie McMichael, Cch: Jaymie Moynihan
Final D
1st Loreto - Toorak - Bow: Sofia Perica, 2: Francesca Frescura Kokkinos, 3: Charlie Ferguson, Str: Paris Herbert, Cox: Ava Synnott, Cch: Sarah Cust, Elizabeth Di Fazio
2nd St Columbas College - Bow: Annika Sirotic, 2: Emma Grogan, 3: Stephanie Clarke, Str: Morgan Kukuljan, Cox: Daisi Kukuljan, Cch: Glenn Bottrell, Barry Gardner
3rd Melbourne GC - Bow: Amy Deller, 2: Michelle Hwang, 3: Catherine Brendish, Str: Olivia Burns Bradley, Cox: Yvette Savoia, Cch: Liam O'Meara
4th Korowa AGS - Bow: Susie Wei, 2: Ciara Thompson, 3: Ruby Rao, Str: Alissa Kirton, Cox: Alex Papavassiliou, Cch: Julia Crute, Peter Campbell
Final C
1st Firbank Grammar - Bow: Ava Karras, 2: Stella Oldfield, 3: Bella Edwards, Str: Abby Fischer, Cox: Pippa Torrens
2nd Caulfield Grammar - Bow: Ella Camerotto, 2: Annaka Janssen, 3: Poppy Palmer, Str: Olivia Jones, Cox: Kate Delaney
3rd Sacred Heart Vic - Bow: Stephanie Whatley, 2: Julia Farrelly, 3: Sophie Whelan, Str: Mikayla Gilligan, Cox: Bella Timms - Honnor, Cch: Maggie Foley, Annabelle Brown, Max Partington
4th Carey Grammar - Bow: Olivia Liberg, 2: Elodie Sleath, 3: Sarah Grummitt, Str: Samara Stuart, Cox: Caitlin Arthur, Cch: Sam Jobson, Nicholas Gerraty
Final B
1st MLC Kew - Bow: Annie Opie, 2: Lucy Martin, 3: Emily Tassiopoulos, Str: Eliza Steele, Cox: Catherine Li, Cch: Emily Joyce
2nd Geelong College - Bow: Georgia McLellan, 2: Georgie Nurnaitis, 3: Abbi Howell, Str: Skye Stewart, Cox: Indiana Wilkinson
3rd St Catherine's - Bow: Eliza White, 2: Lucy Bainbridge, 3: Madeleine Powell, Str: Arabella Llewelyn, Cox: Pia Zayontz, Cch: Sean Lake
4th Kardinia Int'l College - Bow: Sophie Booley, 2: Alissa Seymour, 3: Emma Teesdale, Str: Polly Lewis, Cox: Amelia Den Dyer, Cch: Chelsea Howell
Final A
1st Melbourne Girls' GS - Bow: Isabelle Balding, 2: Chloe Darby, 3: Ellen Thorpe, Str: Olivia Cox, Cox: Cailtin Chew
2nd Strathcona - Bow: Annabelle Elliott, 2: Ginger O'Brien, 3: Jemima Taplin, Str: Lauren Boulter, Cox: Layla Hynes, Cch: Grace Senior
3rd Ruyton Girls' - Bow: Annabelle Coldwell, 2: Esther Bornstein, 3: Aurelia Lamont, Str: Scarlett Whitfield, Cox: Eugenie Robertson
4th Albert Park College - Bow: Nieve Nicholas, 2: Georgia Stacy, 3: Ellen Young, Str: Leticia Speed, Cox: Phoebe Koo, Cch: Minnie Cade
Coxed Four Year 9 Division 3
(1,000 metres)
Final B
04:22.22
04:35.79
Final A
04:10.92
04:12.55
04:13.29
04:29.11
Final B
1st Ballarat Clarendon - Bow: Emily Duffin, 2: Jazmine Scopel, 3: Jasmine Beck, Str: Ruby Stephens, Cox: Hannah Matthews
2nd Damascus - Bow: Isabella Morgan, 2: Tess Arber, 3: Teisha Erdody, Str: Georgia Peart, Cox: Eva Gallagher, Cch: Tamzin Perkins, Castley Webb
Final A
1st Melbourne GC - Bow: Josie Stevens, 2: Hannah Benhassine, 3: Ellie Bellsmith, Str: Georgie Watson, Cox: Helena Pham
2nd Loreto - Toorak - Bow: Sabina Dietze, 2: Isabel Duggan, 3: Lucy Tuckwell, Str: Edie Noble, Cox: Amelia Allen, Cch: Emily Krassaris
3rd Loreto - Ballarat - Bow: Macey Cheesman, 2: Stephanie Mornane, 3: Madeline Stewart, Str: Paige Fraser, Cox: Isabelle Delvescovo, Cch: Tia McLachlan
4th Ballarat Grammar - Bow: Alice Barry, 2: Mani Vincent, 3: Ruby McIntyre, Str: Molly Walton, Cox: Kate Murphy
Coxed Quad Scull Year 9 Division 4
(1,000 metres)
Final D
04:26.74
04:32.79
04:47.56
05:18.75
Final C
04:06.66
04:12.77
04:14.45
04:23.85
Final B
04:08.64
04:09.01
04:12.38
04:15.19
Final A
04:04.53
04:06.09
04:07.25
04:17.59
Final D
1st Nagle College - Bow: Nell Corby, 2: Stephanie Brill, 3: Mariana Ramirez, Str: Freya Hamilton, Cox: Eva Diepeveen
2nd Sacred Heart Vic - Bow: Lottie Connell, 2: Sofia O'Connor, 3: Georgina Corray, Str: Hannah Glover, Cox: Charlotte Schouten - O'Bryan, Cch: Annabelle Brown, Max Partington, Maggie Foley
3rd Korowa AGS - Bow: Chloe Spiropoulos, 2: Georgia McGlade-Smith, 3: Olivia Agelopoulos, Str: Grace Rao, Cox: Georgina Shumack, Cch: Aashraya Kumar, Peter Campbell
4th PLC Melbourne - Bow: Clarissa Hee, 2: Christine Deng, 3: Georgia Mills, Str: Aanshi Prabhu, Cox: Alexandra Seal, Cch: Emily Roos
Final C
1st Carey Grammar - Bow: Romy Taylor, 2: Emily Newnham, 3: Chloe Holt, Str: Caitlyn Lurati, Cox: Amalie Vita, Cch: Sam Jobson, Nicholas Gerraty
2nd Shelford GS - Bow: Stephanie Kondopoulos, 2: Grace Smith, 3: Myah Shurgold, Str: Lily Dart, Cox: Elizabeth Bailey
3rd Ruyton Girls' - Bow: Claudia Perrignon, 2: Charlotte Sammartino, 3: Sarah Lardner, Str: Phoebe Whitehead, Cox: Sally Karopoulos, Cch: Jean Mitchell
4th Geelong College - Bow: Mimi Lockwood, 2: Jazmin Squires, 3: Cecilia Powers, Str: Charlotte Hutchings, Cox: Sophie Riordan
Final B
1st Strathcona - Bow: Lucy Felice, 2: Daisy Molloy, 3: Rose Chiaramonte, Str: Chloe Tobin, Cox: Amy Savenake, Cch: Ella Plant
2nd St Catherine's - Bow: Alexandra Oliphant, 2: Holly Landrigan, 3: Clarence Houle-O'Connor, Str: Sarah Pratt, Cox: Pippa Shergold, Cch: Emily Richards
3rd Firbank Grammar - Bow: Sonja Sorokina, 2: Lily Smith, 3: Scarlett Adams, Str: Scarlett Moorcraft, Cox: Isabella Giggins
4th Caulfield Grammar - Bow: Lola White, 2: Lucy Voigt, 3: Jasmine Betts, Str: Romy Price, Cox: Zoe Anderson
Final A
1st Genazzano - Bow: Ella Stevens, 2: Eliza Board, 3: Chloe Bonnett, Str: Alexandra Cameron, Cox: Katherine Manly
2nd Loreto - Toorak - Bow: Audrey Postregna, 2: Lucy Stephenson, 3: Lexie Fox, Str: Isabella Forster, Cox: Caitlin O'Sullivan, Cch: Charlotte Wilson
3rd Melbourne Girls' Gs - Bow: Elisha Sellick, 2: Sophia Waters-Rooke, 3: Ava Dimech, Str: Daisy Lunnie, Cox: Isabel MacKinnon
4th Mlc Kew - Bow: Jacinta Miao, 2: Natalya Kay, 3: Clara Petersen, Str: Samantha Rolleston, Cox: Sophie Roberts, Cch: Bridget Henry
Coxed Four Year 9 Division 4
(1,000 metres)
Final B
04:39.32
04:43.93
Final A
04:24.50
04:26.76
04:30.21
04:33.23
Final B
1st Ballarat Clarendon - Bow: Amelia Webster, 2: Sophie Clarke, 3: Isla Clark, Str: Madison Crellin, Cox: Rosie George
2nd Clonard - Bow: Charli Meehan, 2: Tahra Dyer-Larmour, 3: Anna Keogh, Str: Adele Franke, Cox: Olivia Frejiah
Final A
1st Loreto - Toorak - Bow: Katia Terzigni, 2: Gracie Vanderzalm, 3: Amelia Randall, Str: Zara Massimini, Cox: Jorja Dodd, Cch: Clare Ward
2nd Loreto - Ballarat - Bow: Mia Stevens, 2: Maya O'Donohue, 3: Charlotte Hill, Str: India Black, Cox: Alexis Oswin, Cch: Jaya Keogh
3rd Ballarat Grammar - Bow: Abbie Peck, 2: Lucia Clarke, 3: Grace Davidson, Str: Georgia McCulloch, Cox: Heidi Rupp
4th Melbourne GC - Bow: Annie Buck, 2: Bella Wright, 3: Rachella Setioadi, Str: Chessi Ursini, Cox: Sophie Evans, Cch: Grace McGarry
Coxed Quad Scull Year 9 Division 5
(1,000 metres)
Final C
07:36.53
07:49.81
Final B
04:12.94
04:13.82
04:34.75
04:43.17
Final A
04:00.02
04:05.01
04:06.11
04:18.97
Final C
1st Firbank Grammar - Bow: Marlo Hearnden, 2: Zoe Lehmann, 3: Lola Cotton, Str: Mia Ciciulla, Cox: Minnie Morley
2nd Shelford GS - Bow: Apryl Moxham, 2: Lola Wall, 3: Angelique Hicklin, Str: Lia Battersby, Cox: Brooklynn Cheung
Final B
1st Genazzano - Bow: Grace Boyd, 2: Mathilda Dwyer, 3: Amelia Giuliani, Str: Lia Siniakov, Cox: Olivia Makowski
2nd St Catherine's - Bow: Yasmin Jayasekera, 2: Arabella Hall, 3: Ciara Jenkins, Str: Scarlett Davis, Cox: Beatrix Watkins, Cch: Richard Greene
3rd Ruyton Girls' - Bow: Charlotte Muir, 2: Sage Wolfenden, 3: Juliette McLean, Str: Sophie Talbot, Cox: Abigail Phillips
4th Caulfield Grammar - Bow: Georgia Mulcahy, 2: Jessica Scheinkestel, 3: Amelia McInnes, Str: Bethany Sexton, Cox: Kate Bradley
Final A
1st Melbourne Girls' GS - Bow: Skye McLeish, 2: Hannah Thomson, 3: Grace Hopkins, Str: Alexandra Williams, Cox: Bridget Davies
2nd MLC Kew - Bow: Macey Cooper, 2: Olivia Church, 3: Samantha Morrison, Str: Olivia Bull, Cox: Tully Sterndale, Cch: Eve Uittenbosch
3rd Loreto - Toorak - Bow: Meg Nugent, 2: Chloe Walker, 3: Tully Walford, Str: Audrey Ettia, Cox: Isabella Hickey, Cch: Charlotte Casey
4th Strathcona - Bow: Lexie Patience, 2: Sophie Close, 3: Emily McHenry, Str: Tara Petroro, Cox: Milla Pitkanen, Cch: Isabella Schmidtke
Coxed Four Year 9 Division 5
(1,000 metres)
Final B
04:22.52
04:26.62
05:02.38
Final A
04:18.04
04:20.21
04:26.27
04:27.70
Final B
1st Geelong College - Bow: Ella Panek-Mitchel, 2: Camilla Alexeyeff, 3: Ellie Campbell, Str: Alex Smith, Cox: Mieka Rothengatter
2nd Melbourne GC - Bow: Ella Brown, 2: Keirah Dowd, 3: Maddy Bugaj, Str: Bailee Gill, Cox: Amelia Monro
3rd Ballarat Clarendon - Bow: Sophia Talbot, 2: Lily Richmond, 3: Cressida Carruthers, Str: Eva Dexter, Cox: Holly Potts
Final A
1st Loreto - Toorak - Bow: Alice Donovan, 2: Alyna Huang, 3: Rebecca Townsing, Str: Claudia Nolan, Cox: Elizabeth Negline, Cch: Tom Burger
2nd Loreto - Ballarat - Bow: Gabby Carton, 2: Sarah Cosgriff, 3: Amali Dean, Str: Bridie Kennedy, Cox: Davin Murray, Cch: Maddi Clark, Molly Curran
3rd Ballarat Grammar - Bow: Claudia Gedye, 2: Juliette Sargent, 3: Georgia Cox, Str: Amelia Crompton, Cox: Georgie McConachy
4th Carey Grammar - Bow: Darcy Kelly-Stout, 2: Maria Tsirogiannis, 3: Jamie Sinicco, Str: Georgia Carnell, Cox: Olivia Shields, Cch: Ines McKay, Brooke Mynott
Coxed Quad Scull Year 9 Division 6
(1,000 metres)
Final C
04:19.79
04:21.54
04:25.47
04:26.71
Final B
04:11.22
04:15.64
04:15.99
04:46.57
Final A
04:10.18
04:15.82
04:18.77
04:27.62
Final C
1st Ballarat Grammar - Bow: Isabelle Fishlock, 2: Liv Gerrard, 3: Jasmine Field, Str: Ella Matthews, Cox: Ashlyn Hall
2nd Geelong Grammar 1 - Bow: Georgia Danckert, 2: Scarlett Mercer, 3: Anne Patston, Str: Lucy Simpson, Cox: Cate Blyth
3rd Caulfield Grammar - Bow: Elyssa Kapis, 2: Ismini Vlachodimitropoulos, 3: Mia Slorach, Str: Olivia Boyce-Elliott, Cox: Zoe Anderson
4th Lowther Hall - Bow: Tara Balia, 2: Hannah Law, 3: Lauren Crevatin, Str: Lauren Vukusic, Cox: Bridget Vukusic
Final B
1st St Catherine's - Bow: Chloe Marshall, 2: Angela Yu, 3: Lan-Tian Yen-West, Str: Jasmine Glass, Cox: Eloise Rudge, Cch: Adelaide Cester
2nd Genazzano - Bow: Chiara Grigg, 2: Adreana Koutoulas, 3: Lauren Keller, Str: Ella Nixon, Cox: Isabella Orbach, Cch: Dominique Garcia
3rd Geelong Grammar 2 - Bow: Skye Calvert-Jones, 2: Edie Clarke, 3: Sarah Gubbins, Str: Kate Turner, Cox: Charlie Bond
4th MLC Kew - Bow: Olga Limberis, 2: Victoria Hill, 3: Gemma Talbot, Str: Sophie Purcell, Cox: Mackenzie Palmer, Cch: Ali Tsigaras
Final A
1st Loreto - Toorak - Bow: Ruby King, 2: Bridie Garlick, 3: Olivia Bond, Str: Isabelle Duncan, Cox: Phoebe Di Cocco, Cch: Bronte Evans
2nd Melbourne Girls' GS - Bow: Alice Long, 2: Chloe Waddell, 3: Saskia Best, Str: Heidi Collingwood, Cox: Chloe Knott
3rd Strathcona - Bow: Georgia Evans, 2: Saskia Heng, 3: Emily Starick, Str: Chloe Plant, Cox: Holly Whiting, Cch: Jess Charles
4th Firbank Grammar - Bow: Erin Howie, 2: Dominique Kelso, 3: Remy Horrobin, Str: Lucy Young, Cox: Anika Liddle
Coxed Four Year 9 Division 6
(1,000 metres)
Final B
04:22.52
04:26.62
05:02.38
Final A
04:26.15
04:30.23
04:33.33
04:37.68
Final B
1st Geelong College - Bow: Ella Panek-Mitchel, 2: Camilla Alexeyeff, 3: Ellie Campbell, Str: Alex Smith, Cox: Mieka Rothengatter
2nd Melbourne GC - Bow: Ella Brown, 2: Keirah Dowd, 3: Maddy Bugaj, Str: Bailee Gill, Cox: Amelia Monro
3rd Ballarat Clarendon - Bow: Sophia Talbot, 2: Lily Richmond, 3: Cressida Carruthers, Str: Eva Dexter, Cox: Holly Potts
Final A
1st Geelong College - Bow: Clara Paton, 2: Anna Naylor, 3: Matilda Abikhair, Str: Lily Harris, Cox: Issy Derham
2nd Melbourne GC - Bow: Lucy Robotham, 2: Millie Smithers, 3: Genevieve Flugge, Str: Lucila Frabotta - De Los Santos, Cox: Tess Coshutt, Cch: Eliza Funston
3rd Geelong College - Bow: Bailey Gait, 2: Edie Benson, 3: Evie Heyward, Str: Alice Wheelahan, Cox: Lili Batrouney
4th Carey Grammar - Bow: Stephie Moussa, 2: Olivia Storey, 3: Sara Lovell, Str: Stella Matthews, Cox: Emily Read, Cch: Ines McKay, Brooke Mynott
Coxed Quad Scull Year 9 Division 7
(1,000 metres)
Final C
04:30.18
04:43.57
Final B
04:22.51
04:23.19
04:23.59
04:31.32
Final A
04:13.28
04:17.58
04:19.83
04:21.85
Final C
1st Caulfield Grammar - Bow: Emily Zantuck, 2: Mila Haberfield, 3: Chloe Scott, Str: Chloe Wall, Cox: Zoe Anderson
2nd Geelong Grammar 4 - Bow: Charlotte Clark, 2: Isabel Furphy, 3: Verity Duff, Str: Jessica Stapleton, Cox: Skye Dempsey
Final B
1st Loreto - Toorak - Bow: Georgia Baines, 2: Alexandra Keany, 3: Pia Dobbin, Str: Mia Lennon, Cox: Hilliary Dummett, Cch: Chloe Burke
2nd MLC Kew - Bow: Alexandra Croft, 2: Phoebe Senyard, 3: Amritha Sidhu, Str: Claire Maxwell, Cox: Kushi Patel, Cch: Stephanie Hayes
3rd St Catherine's - Bow: Madeleine Farrer, 2: Olivia Cunningham, 3: India Marner, Str: Mary Kellis, Cox: Charlotte Caiani, Cch: Georgia Deacon
4th Geelong Grammar 3 - Bow: Claire Hamilton, 2: Remy Disney, 3: Kitty Kisvarda, Str: Arabella (Bella) Haigh, Cox: Lulu Brumby
Final A
1st Loreto - Toorak - Bow: Liv Farnan, 2: Sienna Battistello, 3: Chloe Frigo, Str: Charlotte Clarke, Cox: Sophie Filgate, Cch: Molly Howard
2nd Melbourne Girls' GS - Bow: Jen Wertheimer, 2: Margerie McGlashan, 3: Ryann Fergus, Str: Lan Wei, Cox: Emma Taylor
3rd Strathcona - Bow: Alana Franceschini, 2: Mia Zanati, 3: Madelyn O'Brien, Str: Sophie Neil, Cox: Olivia Ashton, Cch: Amanda Twigg
4th Firbank Grammar - Bow: Lulu Hollis, 2: Cara Moulang, 3: Tia Davies, Str: Liv Morgan, Cox: Holly Dema
Coxed Four Year 9 Division 7
(1,000 metres)
Final B
04:46.86
Final A
04:28.43
04:28.79
04:30.83
04:34.03
Final B
1st Carey Grammar - Bow: Emily Waldron, 2: Lauren Jensz, 3: Amelie Heath, Str: Imogen Kutlesovski, Cox: Anjali Sureka, Cch: Maddison Ding, Ashleigh Rizio
Final A
1st Loreto - Toorak - Bow: Gian Azzopardi, 2: Mikayla Kyriacou, 3: Ella McBurnie, Str: Coco Symons, Cox: Hayley Earner, Cch: Tayla Hind
2nd Geelong College - Bow: Elsie Callahan, 2: Milly Garner, 3: Lucia Vilcins, Str: Hannah Manderson, Cox: Indiana Wilkinson
3rd Carey Grammar - Bow: Victoria Liodakis, 2: Lucia Macrae, 3: Emma Siscos, Str: Sophie Whiteside, Cox: Lexi Louis, Cch: Ashleigh Rizio, Maddison Ding
4th Melbourne GC - Bow: Hayley Cumming, 2: Charlotte Nelson, 3: Aimee Constantinou, Str: Bella Faro, Cox: Marcella Souter, Cch: Eliza Doble
Coxed Quad Scull Year 9 Division 8
(1,000 metres)
Final C
04:36.54
04:47.94
04:50.01
04:54.76
Final B
04:21.81
04:25.85
04:33.52
04:36.47
Final A
04:16.50
04:26.68
04:27.66
04:31.35
Final C
1st Caulfield Grammar - Bow: Carol Hou, 2: Caitlin McGrory, 3: Tiana Kocolis, Str: Lucy Michaca, Cox: Cindy Jacobs
2nd Loreto - Toorak - Bow: Siena Connell, 2: Angel Li, 3: Hester MacGowan, Str: Cara Sullivan, Cox: Frances Collins, Cch: Grace Sutherland
3rd Geelong Grammar 5 - Bow: Jemima Mantello, 2: Charlotte Nicholson, 3: India Sinclair, Str: Indigo Warwick, Cox: Katherine Gerraty
4th Loreto - Toorak - Bow: Lacey Henderson, 2: Layla Bodnar, 3: Lucy Wells, Str: Monique Collins, Cox: Sophia Anastasopoulos, Cch: Nastasia Cartsidimas
Final B
1st St Catherine's - Bow: Annabel MacPherson, 2: Skylar Shea, 3: Claudie Sonley, Str: Constance Marriott, Cox: Ella Jakobovits, Cch: Gretel Newton-Brown
2nd Melbourne Girls' GS - Bow: Madison Zigomanis, 2: Grace Farndon, 3: Zara Hunter, Str: Alexandra Conroy - Ryan, Cox: Ahelee Rahman
3rd Strathcona - Bow: Jessica Brindley, 2: Olivia Sayers, 3: Lara Gibson, Str: Alexandra Donovan, Cox: Ella Laidler, Cch: Oscar Sinni
4th Firbank Grammar - Bow: Ashley Forbes, 2: Jemimah Savage, 3: Chilli Rochanakij, Str: Lucy Taliadoros, Cox: Asher Thomas
Final A
1st Melbourne Girls' GS - Bow: Georgie Gough, 2: Hannah Findlay, 3: Isabella Gaudry, Str: Poppy Buscombe, Cox: Chloe Trindade
2nd Loreto - Toorak - Bow: Carla Brancatisano, 2: Sophia Prokopis, 3: Jemima Newton-Brown, Str: Monique Judd, Cox: Gemma Osborne, Cch: Annabelle Gorman
3rd Loreto - Toorak - Bow: Cecelia Nicholls-McCormack, 2: Monty May, 3: Cassie Hewat, Str: Angelique Gleeson, Cox: Alex Chan, Cch: Luca Lawson
4th St Catherine's - Bow: Rosie Bogdan, 2: Jessica Stuart, 3: Charlotte Pusey, Str: Kayla Jackson, Cox: Isabella Bez, Cch: William Pitney
Coxed Four Year 9 Division 8
(1,000 metres)
Final B
04:46.86
Final A
04:31.90
04:34.70
04:34.99
DNF
Final B
1st Carey Grammar - Bow: Emily Waldron, 2: Lauren Jensz, 3: Amelie Heath, Str: Imogen Kutlesovski, Cox: Anjali Sureka, Cch: Maddison Ding, Ashleigh Rizio
Final A
1st Geelong College - Bow: Lily Bowlen, 2: Em Mills, 3: Charli Sands, Str: Evelyn Coorey, Cox: Sophie Dodd
2nd Melbourne GC - Bow: Mimi Ursini, 2: Makayla Motz, 3: Jolie Shipton, Str: Carmen Sjoblom, Cox: Lily Ritson Morrison, Cch: Sequoia Simpson
3rd Melbourne GC - Bow: Aimee Blecher, 2: Laura Everett, 3: Jade Johnson, Str: Audrey Mellor, Cox: Maeve Sharrock, Cch: Zara Guss
4th Loreto - Toorak - Bow: Grace Dodd, 2: Hannah Lucas, 3: Sofia Pellegrini, Str: Sarah Kelsey, Cox: Maya Murrihy, Cch: Davis Green