2012 VIC Head of Schoolgirls' Regatta
The regatta highlights were the wins of Selma Richter in the open scull, Loreto Toorak taking our the open quad, Melbourne Girls Grammar the eight and Ballarat Grammar the four.
Although not introduced until 2015, schools were asked for their input into extending the regatta to three days. The rationale for the change being the existing 20 hours of racing over 2 days, the impact of adverse weather conditions and a duty of care owed to competitors and officials.
The other change for the regatta was the appointment of a medical officer for the regatta, to supplement first aid and surf life saving.
After being a significant contributor to the regatta from almost its foundation, Rob Zahara retired as Vice-President. His work for the Committee over 22 years was profound. President Josie Millard provided a heartfelt tribute to Rob in the regatta program.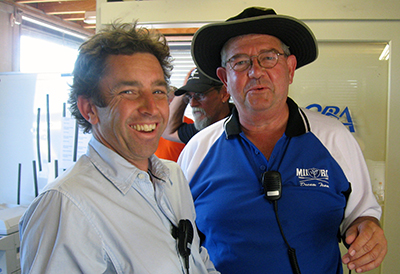 Full results can be found through this link.
---
Organising Committee and Officials
Head of the Schoolgirls Regatta Committee: Josie Millard (President), Robert Zahara and Steve Mollard (Vice-Presidents), Susie Lachal (Secretary), Christian Neeson (Treasurer), Grant Cosgriff (Executive Officer), Sophie Rigg, James Petering, Lachlan Beckett, Bradd Denham, Trish Morgan, Martin Francis, Greg Van Prooyen, Tim Murdoch and Jane Mitchell/Guy Begley and Leisa Wilson/Lauren McGowan.
Regatta personnel: Laura Schouten and Alice Evans (regatta secretaries), Roger Wilson and Andrew Biggin (race commentary), Nick Gall, Nicola Bergelin and Simon Gadsden (event management).
Jury: Robin Burrows (referee), David Pitt, Grace Blake, Robin Murphy, Rebecca De Grandi, Phil Reynolds, Lesley Skevington, Paul Hardgreaves, Glen Bottrell, Christine Hardgreaves, Ben Radcliffe, Tony Lawless, Greg Longden and Greg Falk.
Open Race Results
Single Scull Open Division 1
(1,500 metres)
Final B
07:23.01
07:33.28
Final A
06:45.71
06:57.35
06:57.70
07:25.97
Final B
1st Frankston HS - Samantha Little, Cch: Neville Smith
2nd Wesley - Elenna Niteros
Final A
1st Melbourne GC - Selma Richter
2nd Clonard - Caitlin Ross, Cch: Sam Elliott
3rd St Columba's College - Tara Bowman, Cch: Barry Gardner, Glenn Bottrell
4th Emmanuel College - Rachel Mahony, Cch: Val Bertrand
Coxed Quad Scull Open Division 1
(1,500 metres)
Final A
05:45.71
05:49.13
05:57.89
06:12.89
Final A
1st Loreto - Bow: Annie-Rose Robson, 2: Tara Harrington, 3: Charlotte Russo, Str: Amelia Freezer, Cox: Alice Date, Cch: Charlotte McNamara
2nd Sacred Heart - Bow: Melissa Cowell, 2: Luci Hedley, 3: Johanna Mousley, Str: Olivia Pecchiari, Cox: Ellie Wassell, Cch: Wayne Nitschke
3rd Ruyton GS - Bow: Prue Heron Paterson, 2: Ellen Kett, 3: Lucy Aitken, Str: Kashi Mogensen, Cox: Catie Callander, Cch: Matt Wilson
4th Strathcona - Bow: Amelia Hough, 2: Tahlia Mollard, 3: Anna Cornwell, Str: Sophie Bangs, Cox: Delia McKeon, Cch: Sam Morrison
Coxed Four Open Division 1
(1,500 metres)
Final A
06:00.01
06:08.12
06:09.58
06:14.55
Final A
1st Ballarat Grammar - Bow: Stella Fulton, 2: Vicki Powell, 3: Anna Fairbairn-Calvert, Str: Sarah Mair, Cox: Clara Toohey, Cch: Bill Gribble
2nd Melbourne GC - Bow: Bridget Pearl, 2: DiDi Woodruff, 3: Marielle Stratikopoulos, Str: Maddie Paterson, Cox: Claire Guy, Cch: David Wollermann
3rd Shelford GS - Bow: Alice Hann, 2: Camilla Roberts, 3: Rosita Wickes, Str: Emily Macfarlane, Cox: Elise Matthews, Cch: Cameron Graham
4th Wesley - Bow: Rachel Ben-David, 2: Phoebe Gardner, 3: Hester Lyon, Str: Charlotte Wesselmann, Cox: Cassandra Charlaftis
Eight Open Division 1
(1,500 metres)
Final B
05:31.73
05:38.26
Final A
05:20.03
05:23.86
05:26.14
05:31.30
Final B
1st Haileybury - Bow: Leisa Jeffrey, 2: Kymberly Seccull, 3: Zoe Reed, 4: Claire Patterson, 5: Holly Treverton, 6: Ellie Magdziarz, 7: Bridget Jones, Str: Brooke Martin, Cox: Katani LaRocca, Cch: Connie Vanderwerp
2nd St Catherine's - Bow: Coco Carter, 2: Pip Sutherland, 3: Harriet Cooper, 4: Charlotte Young, 5: Ainsley Raggatt, 6: Olivia Walmsley, 7: Grace Macciolli, Str: Kate Meggitt, Cox: Fi Wilson, Cch: Emily Hamilton, Bradd Denham
Final A
1st Melbourne Girls' GS - Bow: Darcie Douglas-Scarfe, 2: Olivia Douglas, 3: Rachael Caldwell, 4: Phoebe Rennie, 5: Georgina Howe, 6: Claudia Hofbauer, 7: Alexandra Lane, Str: Katherine Michelmore, Cox: Sarah Udovenya, Cch: Annabelle Eaton, Michael Steele
2nd Methodist LC - Bow: Jordy Finch, 2: Caitlan Makridis, 3: Simone Morris, 4: Bee Lovick, 5: Olivia Honore, 6: Phoebe Allen, 7: Imogen Barnett, Str: Hedda Cooper, Cox: Camilla Phillips, Cch: Benedict Quinlan, Alison Crowe
3rd Genazzano - Bow: Olivia Zago, 2: Emily Biasotto, 3: Sam O'Shaughnessy, 4: Grace Chesterfield, 5: Olivia Sibillin, 6: Didi Williams, 7: Isabelle McMahon, Str: Isabella Kerr, Cox: Jessica Douglas, Cch: Lachlan Beckett
4th Lauriston GS - Bow: Emily Hinton, 2: Jessica Adams, 3: Alexandra Jeuniewic, 4: Georgia Wallis, 5: Sophie Coltman, 6: Edwina Happell, 7: Sarah McGlashan, Str: India McKenzie, Cox: Lily Lowenstern, Cch: Ion Popa, Tom Abramowski
Single Scull Open Division 2A
(1,000 metres)
Final B
05:11.71
Final A
04:39.59
04:42.42
04:44.34
04:56.10
Final B
1st Christian Col. Geelong - Meaghan Foreman, Cch: Anita Whitehouse
Final A
1st St Columba's College - Sophie Wathen, Cch: Barry Gardner, Glenn Bottrell
2nd Firbank GS - Isabelle Brownlee, Cch: Rebecca Southgate, Jane Biggin
3rd Clonard - Jasmin Edgar, Cch: Sam Elliott
4th Melbourne Girls' GS - Annabel Debenham, Cch: Nick Bernard
Single Scull Open Division 2B
(1,000 metres)
Final A
04:37.34
04:44.92
04:52.22
04:52.32
Final A
1st Melbourne Girls' GS - Anna Munns, Cch: Nick Bernard
2nd St Columba's College - Sarah Yandell, Cch: Glenn Bottrell, Barry Gardner
3rd Kardinia Int'l College - Georgia Delaney, Cch: Kara Wilson
4th St Columba's College - Rebecca Yandell, Cch: Barry Gardner, Glenn Bottrell
Coxed Quad Scull Open Division 2
(1,500 metres)
Final A
05:55.82
05:57.83
06:02.55
06:19.14
Final A
1st Loreto - Bow: Meghan Hester, 2: Sophie Barmby, 3: Sarah White, Str: Georgina Moir, Cox: Suzanna Linschoten, Cch: Claire Saundry
2nd Methodist LC - Bow: Stephanie Clark, 2: Eva Moore, 3: Caroline Neeson, Str: Nicky Tomkins, Cox: Brodie Farrow, Cch: Kate McNamara, Jack Baker
3rd Ruyton GS - Bow: Paige Adgemis, 2: Ruby Clifford, 3: Ali Bethune, Str: Ashleigh Appleby, Cox: Sarah Davey, Cch: Emma Thomason, Charles Willey, Chelsea Frawley
4th Sacred Heart - Bow: Alex Pender, 2: Georgie Garby, 3: Caitlin Trevaskis, Str: Jaimee Tierney, Cox: Sophie Jahnecke, Cch: Michelle Grogan
Coxed Four Open Division 2
(1,500 metres)
Final A
06:10.55
06:27.21
06:29.13
06:54.54
Final A
1st Ballarat Grammar - Bow: Kate Van Berkel, 2: Madeline Meek, 3: Marley Downey, Str: Jess Whiteside, Cox: Samantha Glenn, Cch: Luke Pougnault
2nd Loreto College - Bow: Ella Pipkorn, 2: Bree Elliot, 3: Penny Compton, Str: Molly Wheatland, Cox: Bridget Campbell, Cch: Zoe Harper
3rd Toorak College - Bow: Harriett Kelso, 2: Alexandra Johnson, 3: Mariah Arvanitakis, Str: Phoebe Hermiston, Cox: Bonnie McCowan, Cch: Scott Taylor
4th Melbourne GC - Bow: Monique Macdade, 2: Lulu Ebeling, 3: Chiara Bold, Str: Southerly Jennings, Cox: Esther Lee-Scott, Cch: Elena Parker
Eight Open Division 2
(1,500 metres)
Final A
05:25.32
05:29.13
05:36.32
05:40.96
Final A
1st Melbourne Girls' GS - Bow: Madeleine Guest, 2: Sibella Breidahl, 3: Meghan Finch, 4: Pepita Hosking, 5: Bea Heath, 6: Sascha Webster, 7: Gabrielle Clarke, Str: Tjuntu Muhlen-Schulte, Cox: Annabelle Turner, Cch: Stephen Craig, Caitlin Trumble
2nd Methodist LC - Bow: Georgie Szymanski, 2: Camilla Arnold, 3: Stephanie Allen, 4: Joy Cheng, 5: Claudia Zucchelli, 6: Sarah Light, 7: Sarah Mullaly, Str: Liv May, Cox: Sarah Lethlean, Cch: Emily Von Moger, Warwick Kiel, Angus Tyers
3rd Genazzano - Bow: Anna Pane, 2: Allanah Greer, 3: Sarah-Rose Stoneman, 4: Sarah Henderson, 5: Jessica Gray, 6: Lauren O'Connor, 7: Lucy Tomanovits, Str: Grace Knox, Cox: Elisabeth Maher, Cch: Nick Edwards
4th Caulfield GS - Bow: Brittany Ryan, 2: Isabelle Caithness, 3: Hannah Schneider, 4: Phoebe Houghton, 5: Isobel Chiosso, 6: Zali Rayment, 7: Harriet Conron, Str: Lara Stephens, Cox: Evangeline Browne, Cch: Tatum Ambler
Coxed Quad Scull Open Division 3
(1,500 metres)
Final A
06:04.83
06:11.70
06:19.80
06:28.40
Final A
1st Methodist LC - Bow: Nisha Arasu, 2: Anastasia Hyde, 3: Erin McPherson, Str: Monika Harris, Cox: Anna Kjer-Nielsen, Cch: Stuart Alexander
2nd Loreto - Bow: Amy Vaughan, 2: Avalon Frawley, 3: Isabella Casey, Str: Alice McDonald, Cox: Mollie Parkes, Cch: Thomas O'Dwyer
3rd Ruyton GS - Bow: Lucy McNicholas, 2: Emily Clifton Bligh, 3: Bec Clayton, Str: Mieka Longmuir, Cox: Octavia Pini, Cch: Emily Scott, Peter Halliday
4th Wesley - Bow: Georgia Carlin, 2: Sonja Kakouros, 3: Alex Baulch, Str: Lydia McCloskey, Cox: Nellie Malseed, Cch: Damian Nenna
Coxed Four Open Division 3
(1,500 metres)
Final B
06:37.87
06:56.41
Final A
06:14.66
06:21.30
06:26.93
06:39.91
Final B
1st Geelong College - Bow: Rachel Odam, 2: Beatrice Fraser, 3: Arabella Doery, Str: Tayla Nott, Cox: Grace Forshaw, Cch: Megan Edgington
2nd Melbourne GC - Bow: Jessica Eagle, 2: Mary Spyropoulos, 3: Elise Hooper, Str: Paige Mercer, Cox: Lotti Powell Wright, Cch: Sophie Cooper
Final A
1st Carey GS - Bow: Caitlin Foster, 2: Natalie Thomas, 3: Madeleine Stanboultgis, Str: Stephanie Lloyd, Cox: Alice Daynes, Cch: Mark Holliebone, Richard Pryor
2nd Lauriston GS - Bow: Ashley Moorhead, 2: Louise Marsden, 3: Alice McLauchlan, Str: Emily Buckland, Cox: Georgia Sim
3rd Ballarat Grammar - Bow: Olivia Johnstone, 2: Katelin Cartledge, 3: Melanie Millington, Str: Stephanie Headon, Cox: Lucy Brennan
4th Loreto College - Bow: Georgia Murphy, 2: Georgia Leaney, 3: Alyssa McIntyre, Str: Tayla Seeary, Cox: Telisha Fowler, Cch: Alastair Shaw
Eight Open Division 3
(1,500 metres)
Final A
05:39.19
05:39.39
05:55.25
06:02.89
Final A
1st Geelong Grammar - Bow: Victoria Wetherall, 2: Adelaide Darling, 3: Polly Ritchie, 4: Olivia Wetherall, 5: Paxton McPherson, 6: Georgina Rule, 7: Georgina Perrignon, Str: Emma Hart, Cox: Phillipa Beauchamp, Cch: Rob Kemp
2nd Genazzano - Bow: Aimee Saitlik, 2: Julia Rabling, 3: Molly Sedawie, 4: Jade Valentino, 5: Madison Huysing, 6: Cristina Sgarbossa, 7: Tess Donoghue, Str: Meg O'Halloran, Cox: Penny Anderson, Cch: James Hoogenbosch, William Dowd, Clementine Arnold
3rd Geelong Grammar - Bow: Edwina Teh, 2: Emma Dow, 3: Genevieve Maslin, 4: Brianna McCaffrey, 5: Kate Crozier, 6: Charlotte St Baker, 7: Camilla A'Beckett, Str: Emma Commins, Cox: Githika Cashmore, Cch: Debbie Clingeleffer-Woodford
4th Loreto - Bow: Annabel Brandner, 2: Charlotte Cenedese, 3: Stephanie Meysztowicz, 4: Nikki Morabito, 5: Caitlin Pattison, 6: Rosie O'Neil-Donnellon, 7: Aisling Smith, Str: Madeleine Gorman, Cox: Ella Leyden, Cch: Darcy Frawley, Mark Dwyer
Coxed Quad Scull Open Division 4
(1,000 metres)
Final A
03:59.01
04:17.09
04:28.97
04:56.20
Final A
1st Loreto - Bow: Lana Lavelle, 2: Meg Olney, 3: Amelia Kelly, Str: Annais Lombard, Cox: Kimberley Carvalho, Cch: Clare Jones, Matt Giulieri
2nd Ruyton GS - Bow: Em Farrell, 2: Anna Martin Truelove, 3: Eliza Molony, Str: Lily Lachal, Cox: Isabelle Thomas, Cch: Shannon Contin
3rd Korowa AGS - Bow: Olivia Godfrey, 2: Claudia Hartley, 3: Rebecca Hurley-Wise, Str: Georgia Cooke, Cox: Felicity Painter, Cch: Matt Jeffery
4th Wesley - Bow: Georgia Strachan, 2: Elizabeth Doery, 3: Lekha Prasad, Str: Michelle Spisbah, Cox: Elizabeth Doery, Cch: Antonia Niteros
Coxed Four Open Division 4
(1,000 metres)
Final A
04:21.41
04:22.61
04:22.93
04:29.47
Final A
1st Ruyton GS - Bow: Lauren Harcourt, 2: Mia Raymond, 3: Karla Elkington, Str: Saskia McEldowney, Cox: Charlotte Jones, Cch: Nicholas Watson
2nd Loreto College - Bow: Micaela Dalli, 2: Joanne Moneghetti, 3: Rose Russell, Str: Gabrielle Howard, Cox: Demi King, Cch: Nathan Sims
3rd Lauriston GS - Bow: Jasmin Goldberg, 2: Kathleen Lou-O'Dea, 3: Alexandra Turnbull, Str: Holly Vincent, Cox: Julia Schwarcz
4th Carey GS - Bow: Caroline Graham, 2: Stephanie Antonucci, 3: Isabella Cini, Str: Maddie Robson, Cox: Tarika Benson, Cch: Richard Pryor, Mark Holliebone
Coxed Four Open Division 5
(1,000 metres)
Final A
04:32.15
04:40.38
04:51.02
Final A
1st Ruyton GS - Bow: Emily Clifton Bligh, 2: Emma Fox, 3: Eliza Davey, Str: Eliza Pearce, Cox: Chanel Assetta, Cch: Kate Scott
2nd Loreto College - Bow: Nicole Quilliam, 2: Tayla Dudley, 3: Jessica Van Gaans, Str: Astin Briody, Cox: Claudia Griffin, Cch: Daniel Sharp
3rd Shelford GS - Bow: Louise Witherow, 2: Sarah Paterson, 3: Ruby Ballerini, Str: Sophie Herman, Cox: Sarah Baker, Cch: Nick Wells
Coxed Four Open Division 6
(1,000 metres)
Final A
04:08.60
04:30.33
04:39.74
04:43.93
Final A
1st Genazzano - Bow: Jacinta Moloughney, 2: Erin Mulquiny, 3: Eimer O'Donnell, Str: Stephanie Gleeson, Cox: Charlotte Lawrence, Cch: Elizabeth Di Fazio, Jessica Burger
2nd Geelong Grammar - Bow: Kate Scott, 2: Olivia O'Connor, 3: Jess Holder, Str: Bridget Heal, Cox: Lucy Bennett, Cch: Daisy Gubbins
3rd Loreto College - Bow: Lauren Mullane, 2: Laura Brayshaw, 3: Ashlee Briody, Str: Tessa Kent, Cox: Matilda Coutts, Cch: Jess Nolan, Laura Kavanagh
4th Loreto College - Bow: Emma Harris, 2: Erin Goh, 3: Courtney Norton, Str: Jessie Tunbridge, Cox: Lucy Demuth, Cch: Stef Seeary
Year 10 Race Results
Single Scull Year 10 Division 1A
(1,000 metres)
Final B
05:21.53
05:34.46
Final A
04:33.74
04:36.98
04:49.44
Final B
1st Pascoe Vale Girls College - Nicole Butler, Cch: Glenn Bottrell, Glenn Bottrell
2nd Fintona GS - Dimity Hanney
Final A
1st Ruyton GS - Marion Peters, Cch: James Peters
2nd Lauriston GS - India Ross, Cch: Hamish McGlashan
3rd Melbourne GC - Elizabeth Azidis-Yates, Cch: Tessa Vandergriff
Scratched Melbourne GC - Hayley Carstensen, Cch: Tessa Vandergriff
Single Scull Year 10 Division 1B
(1,000 metres)
Final B
05:54.31
Final A
04:46.15
04:47.59
04:54.01
05:07.54
Final B
1st St Catherine's - Isabelle Matthews, Cch: Annabelle Atkins
Final A
1st Pascoe Vale Girls College - Indya Kirby, Cch: Barry Gardner, Glenn Bottrell
2nd Padua College - Bridget Fisher
3rd Melbourne GC - Chloe Bain, Cch: Tessa Vandergriff
4th Clonard - Perri Digby, Cch: Allan Chalmers
Coxed Quad Scull Year 10 Division 1
(1,000 metres)
Final B
04:02.62
04:42.48
Final A
03:43.49
03:48.73
03:57.40
04:01.25
Final B
1st Sacred Heart - Bow: Megg Pickering, 2: Zelia Viegas, 3: Alanah Nicol, Str: Shannon Tierney, Cox: Georgia Pickering, Cch: Leisa Wilson
2nd St Columba's College - Bow: Stephanie Popovic, 2: Aoife McDonald, 3: Phoebe McArthur, Str: Lindsay Rattray, Cox: Rebecca Yandell, Cch: Barry Gardner, Glenn Bottrell
Final A
1st Firbank GS - Bow: Kate Duggan, 2: Evelyn Turek, 3: Amanda Bateman, Str: Emily Shaw, Cox: Charlotte Curwen, Cch: John Saunders
2nd Methodist LC - Bow: Elise Franetic, 2: Millie St Hill, 3: Sophie Melican, Str: Madeline Bernard, Cox: Pip Clark, Cch: Jonny O'Brien
3rd Korowa AGS - Bow: Kate Oliver, 2: Anna Dixon, 3: Caitlin Jennings, Str: Lucy Matthews, Cox: Kimberley Ang, Cch: Regina Kennedy, Sally Baker
4th Genazzano - Bow: Rebecca Craggs, 2: Emma Lincoln, 3: Chloe Becerra, Str: Philippa Morrison, Cox: Chloe Alexander, Cch: Brigette Carlile
Coxed Four Year 10 Division 1
(1,000 metres)
Final B
04:17.30
04:21.87
04:23.73
04:23.82
Final A
04:04.44
04:08.99
04:10.65
04:18.45
Final B
1st Lauriston GS - Bow: Laura Devonport, 2: Olivia Fenton, 3: Emma Lowe, Str: Isobel Caldwell, Cox: Alice Brady, Cch: Lauren Wilson
2nd Haileybury - Bow: Danielle Frawley, 2: Christy Selemidis, 3: Zoe Preston, Str: Hannah Pastore, Cox: Felicity O'Brien, Cch: Ashleigh Farren
3rd Geelong College - Bow: Charlotte Crawford, 2: Lucinda Murphy, 3: Lucy Allinson, Str: Brydie Rankin, Cox: Alexa Bedford, Cch: John Hill
4th Loreto College - Bow: Maddison Peterkin, 2: Emily Burnett, 3: Kira Murphy, Str: Madeline Anderson, Cox: Zoe Wilson, Cch: Natalie Stryker
Final A
1st Carey GS - Bow: Brigitte O'Neill, 2: Kate Burgess, 3: Sienna Jones, Str: Lucy Jepson, Cox: Ophelia Davenport, Cch: Alysha Batliwalla, Clare Hollebone
2nd Wesley - Bow: Hannah Blackney, 2: Alexandra Ellem, 3: Olivia Gardiner, Str: Jackie Parry, Cox: Emma Wilkie, Cch: Emily Petricola
3rd Geelong Grammar - Bow: Georgina Voss, 2: Isabella Mainwaring, 3: Isabella Greed, Str: Hannah Starkins, Cox: Erin Strong, Cch: Andrew Beauchamp
4th Melbourne GC - Bow: Louella Exton, 2: Holly Fahey, 3: Elise Thorbecke, Str: Brianna Hayes, Cox: Eleanor Quantock, Cch: Caroline Edwards
Coxed Quad Scull Year 10 Division 2
(1,000 metres)
Final B
04:12.65
04:26.01
04:31.36
Final A
03:52.22
03:56.20
03:58.05
03:58.27
Final B
1st Sacred Heart - Bow: Elizabeth Ballan, 2: Jess Farley, 3: Bridget McGivern, Str: Klara Wilkinson, Cox: Pep Salmon, Cch: Leisa Wilson, Gemma Walmsley
2nd PLC Melbourne - Bow: Sumudu Setunge, 2: Imogen Williams, 3: Ji Anne Kwan, Str: Caitlin Wong, Cox: Sandra Suen
3rd Lowther Hall - Bow: Emma Rowe, 2: Bridie Duffus, 3: Hannah Sallay, Str: Georgia Denham, Cox: Simone Mirigliano, Cch: Zoe Ryan
Final A
1st Firbank GS - Bow: Molly Steele, 2: Iona Miller, 3: Greta Dickson, Str: Rachael Sargent, Cox: Kimberley Petryshyn, Cch: Lucy Haworth
2nd Genazzano - Bow: Eilwen Jones, 2: Tess Kennedy, 3: Sophia Bendall, Str: Ciara O'Keeffe, Cox: Alice Dowell, Cch: Gabbie Lodge
3rd Melbourne Girls' GS - Bow: Lily Elliott, 2: Olivia Grimwade, 3: Georgina Fowler, Str: Julia Honan, Cox: Anna Lane, Cch: Jess Renzella, Isabel Rothe
4th Methodist LC - Bow: Matilda Rapke, 2: Annabel Lanyon, 3: Bec Joyce, Str: Tildy Dinnison, Cox: Charlie Byers-Armstrong, Cch: Harriet Bawden
Coxed Four Year 10 Division 2
(1,000 metres)
Final C
04:28.96
04:47.83
Final B
04:23.03
04:43.11
05:02.40
Final A
04:05.53
04:08.25
04:08.47
04:14.96
Final C
1st Haileybury - Bow: Sophia Tan, 2: Emily Tyler, 3: Siobhan McDonnell, Str: Georgina Hepenstall, Cox: Miranda Fock, Cch: Gemma Walter
2nd Hamilton & Alexandra - Bow: Rhiannon Kennedy, 2: Charlotte Dufty, 3: Georgina Morrison, Str: Georgia McClure, Cox: AJ Hill, Cch: Catherine Agar
Final B
1st Lauriston GS - Bow: Claire Lucas, 2: Claire Lazarides, 3: Sophie Ralph, Str: Susanna Cartwright, Cox: Lauren Briggs, Cch: Darcy Hare
2nd Shelford GS - Bow: Morgan Gregson, 2: Lizzy Hird, 3: Alex Kinsman, Str: Chloe Kamaretsos, Cox: Grace Appleford, Cch: Oliver Whitehead
3rd Loreto College - Bow: Tess McDonald, 2: Alanna Bennetts, 3: Anna Tuncks, Str: Clare McErvale, Cox: Hannah McErvale, Cch: Natalie Stryker
Final A
1st Carey GS - Bow: Georgia Craig, 2: Nicky Deev, 3: Nicola Hammond, Str: Zoe Younger, Cox: Olivia Newbold, Cch: Jordan Champness
2nd Wesley - Bow: Celene White, 2: Alexandra Strachan, 3: Jacqueline Patishman, Str: Chilli Anderson, Cox: Emma Burrows, Cch: Zachary Smith
3rd Geelong Grammar - Bow: Belle McDonald, 2: Lucy Moore, 3: Arabella Stanley, Str: Lotti Spence-Fletcher, Cox: Annabel Richardson, Cch: Kim Baker
4th Caulfield GS - Bow: Katerina Gallucci, 2: Sarah Knowles, 3: Ariadne Paras, Str: Freya Tulloch, Cox: Isabelle Szyman, Cch: Alison Rady
Coxed Quad Scull Year 10 Division 3
(1,000 metres)
Final A
04:06.34
04:10.14
04:11.47
04:13.53
Final A
1st Genazzano - Bow: Prue Renehan, 2: Chloe Anderson, 3: Catherine Fitzgerald, Str: Sarah Cust, Cox: Jessica Van Haandel, Cch: Leah Tremewen
2nd Loreto - Bow: Francesca Broome, 2: Imogen Bower, 3: Hattie Davenport, Str: Nicki Barnett, Cox: Meaghan Howard, Cch: Clare Daly
3rd Firbank GS - Bow: Isabella Stafford, 2: Ellie Thornton, 3: Tatjana Frei, Str: Kerry Jonker, Cox: Georgia Goodings, Cch: Nicole Vanderzee
4th Methodist LC - Bow: Sophia Dahm, 2: Anna Fisher, 3: Elena McGannon, Str: Lucy O'Shannessy, Cox: Sarah Ben-David, Cch: Jane McMahon
Coxed Four Year 10 Division 3
(1,000 metres)
Final B
04:41.04
04:43.86
04:48.99
04:53.46
Final A
04:13.64
04:22.60
04:23.16
04:31.68
Final B
1st Geelong College - Bow: Madeleine Brown, 2: Annie Foley, 3: Olympia Wild, Str: Annanbel Scott, Cox: Isla Dobie, Cch: Christine McGlade
2nd Haileybury - Bow: Kiara Stokeld, 2: Dominique Smit, 3: Gabby Kent, Str: Lauren Genoni, Cox: Ashleigh Francke, Cch: Kirsty Wynn
3rd Ballarat Grammar - Bow: Miranda Fenton, 2: Amy Ahearn, 3: Stephanie Cartledge, Str: Ellen O'Donohue, Cox: Anna Klopak
4th Shelford GS - Bow: Camille Murphy, 2: Rachel Beck, 3: Michaela Hughes, Str: Kaitlin Russell, Cox: Romi McGraw, Cch: Samuel Jeffreys
Final A
1st Carey GS - Bow: Giorgia Grant, 2: Samantha White, 3: Ella Harris, Str: Anna White, Cox: Isabella Di Nello, Cch: Bridget Cremean
2nd Lauriston GS - Bow: Matilda McGuire, 2: Olivia Freeman, 3: Eloise Davie, Str: Georgia Sinclair, Cox: Holly Mead, Cch: Grace Mead, Stephanie Parsons
3rd Wesley - Bow: Lara Nathie, 2: Majella Jones, 3: Eliza Sabbatucci, Str: Sophia Dearie, Cox: Irene Tzelepis, Cch: Alice Arch
4th Melbourne GC - Bow: Ruby Betts, 2: Charley Longstaff, 3: Emily Merry, Str: Camille Hepworth, Cox: Lily Von Gies, Cch: Elise Regan Gomm
Coxed Quad Scull Year 10 Division 4
(1,000 metres)
Final A
04:16.67
04:19.60
04:35.31
04:43.76
Final A
1st Genazzano - Bow: Bethanie Storey, 2: Tess McIntosh, 3: Emma Douglas, Str: Caillin Flynn, Cox: Kate Frawley, Cch: Prip Lodge, Lilly Alexander
2nd Methodist LC - Bow: Brianna Stephens, 2: Alexandra Herrington, 3: Paris Jones, Str: Lucinda Bowra, Cox: Annabel Tarrent, Cch: Holly Kelly
3rd Loreto - Bow: Jacqueline Mattner, 2: Sophie Russell, 3: Mimma Roach, Str: Laura Cafari, Cox: Aimee Dummett, Cch: Roz Stanley
4th Strathcona - Bow: Maddy Chetcuti, 2: Cheyenne Bradley, 3: Elle Morley, Str: Anna Wittwer, Cox: Rachael Cox, Cch: Emily Cornwell
Coxed Four Year 10 Division 4
(1,000 metres)
Final B
04:35.37
04:39.01
Final A
04:17.70
04:24.04
04:36.07
04:50.13
Final B
1st Loreto College - Bow: Chelsea Bennett, 2: Veronica Norton, 3: Felicity Cole, Str: Ebony O'Neil, Cox: Georgia Waller
2nd Kardinia Int'l College - Bow: Alexandra Keily, 2: Elizabeth Eden, 3: Matisse Patterson, Str: Sophie Walsh, Cox: Sarah Ryan, Cch: Phil Ryan
Final A
1st Carey GS - Bow: Mia Fitton, 2: Anna McDonald, 3: Chloe Ansell, Str: Holly Martin, Cox: Zoe Gallent, Cch: Tori Gluning
2nd Melbourne GC - Bow: Kate Merry, 2: Scarlett McClure, 3: Annabel Lee, Str: Isobel Freeman, Cox: Sarah Williams, Cch: Sian Sharpe
3rd Geelong Grammar - Bow: Rebecca Shaw, 2: Louisa Christie, 3: Alexandra Kent, Str: Malakye Carroll, Cox: Angela Zheng, Cch: Emmie Taylor
4th Caulfield GS - Bow: Eleanor Herbert, 2: Madison Harvey, 3: Isabella Care, Str: Catherine Hronakis, Cox: Sophie Lowrie, Cch: Stephanie Eaves
Coxed Quad Scull Year 10 Division 5
(1,000 metres)
Final A
04:21.57
04:24.29
04:27.95
04:28.54
Final A
1st Melbourne Girls' GS - Bow: Simone Karambelas, 2: Olivia Watson, 3: Alice Hibbard, Str: Matilda McDonald, Cox: Amelia Larsen, Cch: Freya Brolsma
2nd Genazzano - Bow: Elizabeth Simpson, 2: Kate Mani, 3: Amelia Clark, Str: Molly Pisasale, Cox: Gabby Downes, Cch: Georgia Daniel
3rd Melbourne GC - Bow: Skye MacDade, 2: Jasmine Moya, 3: Bronte Morrison, Str: Ginger Clark, Cox: Lorraine Phung, Cch: Andrew Wood-Collier
4th Loreto - Bow: Isabella Roberts, 2: Lauren Bastone, 3: Emily Tuddenham, Str: Lara Shearer, Cox: Tara Impala, Cch: Matthew Caulfield
Coxed Four Year 10 Division 5
(1,000 metres)
Final A
04:18.84
04:25.01
04:32.35
04:34.23
Final A
1st Carey GS - Bow: Cecilia Fedi, 2: Eli Higlett, 3: Phoebe Hutson, Str: Madeleine Gilfillan, Cox: Gabrielle Dupe, Cch: Emily Avery
2nd Geelong Grammar - Bow: Phoebe Chirnside, 2: Emma Szepe, 3: Zara Stewart, Str: Madde McCartney, Cox: Lily Judd, Cch: Brittany Fitzpatrick
3rd Geelong Grammar - Bow: Amy Graves, 2: Martha Ollason-Brown, 3: Ashleigh Smart, Str: Sophie Batten, Cox: Ruby Hill, Cch: Lucy Brayshaw
4th Caulfield GS - Bow: Milly Dwyer, 2: Alexandra Sinclair, 3: Lucy Ansell, Str: Arielle Meretz, Cox: Georgia Simm, Cch: Georgia Campbell
Coxed Four Year 10 Division 6
(1,000 metres)
Final B
04:40.54
04:47.53
Final A
04:35.17
04:39.86
04:42.00
04:47.81
Final B
1st Methodist LC - Bow: Camille Lourdes, 2: Emily Andolfatto, 3: Gilda Good, Str: Ruth Healy-McFarlane, Cox: Imogen Beams, Cch: Felicity Evans
2nd Carey GS - Bow: Jane Watson, 2: Isabella Viero, 3: Mariel Dalton, Str: Alexandra Wright, Cox: Cassie Dyson, Cch: Caroline Morgan, Anna Grutzner
Final A
1st Loreto - Bow: Cienna Irwin, 2: Aimee Burn, 3: Cassandra Votzourakis, Str: Annabelle Knight, Cox: Vivian Cheng, Cch: Emma Quirk
2nd Geelong Grammar - Bow: Billie Hook, 2: Hebe Colquhoun, 3: Hailey Holloway, Str: Pru Illingworth, Cox: Emily Kliman, Cch: Jessica Beauchamp
3rd Genazzano - Bow: Emily Rainford-Galjar, 2: Rachael Lee, 3: Molly O'Halloran, Str: Erica Sinni, Cox: Laura Bengasino, Cch: William Stoltz
4th Geelong Grammar - Bow: Bella Brady, 2: Rebecca Shaw, 3: Alabama McMurrick, Str: Bridget Sharp, Cox: Georgia Sherwood, Cch: Kelly Banks
Year 9 Race Results
Single Scull Year 9 Division 1A
(1,000 metres)
Final B
06:17.06
06:32.62
Final A
04:45.27
04:54.48
04:59.46
05:27.15
Final B
1st Frankston HS - Louise Kelly, Cch: Mary Hunter, Scott Taylor
2nd Melbourne Girls' GS - Savannah Noack
Final A
1st Siena College - Peta Terrell
2nd Braemar College - Bridgette Hardy, Cch: Sue Chapman-Popa, David Ochert
3rd Melbourne GC - Violet Davies-Brown, Cch: Tessa Vandergriff
4th Strathcona - Sophia Harrison, Cch: Michael Cornwell
Single Scull Year 9 Division 1B
(1,000 metres)
Final B
05:38.02
Final A
04:49.15
04:57.18
05:11.09
Final B
1st Fintona GS - Kylie Zhang, Cch: Lucy Crock, Georgia Harty
Final A
1st Kardinia Int'l College - Fairley McPherson, Cch: David McPherson
2nd Mentone Girls Grammar - Nadia Oosthuizen
3rd Loreto - Grace van Veenendaal, Cch: Matt Giulieri, Alex Saundry
Scratched Ave Maria College - Sabrina Pilla, Cch: Glenn Bottrell, Barry Gardner
Coxed Quad Scull Year 9 Division 1
(1,000 metres)
Final B
04:09.37
04:10.53
04:12.75
04:25.64
Final A
03:53.02
03:56.89
03:57.80
04:03.54
Final B
1st Strathcona - Bow: Jaimie Norbury, 2: Holly Hunt, 3: Marnie Oblak, Str: Steph Thom, Cox: Delia McKeon, Cch: Michael Cornwell
2nd Kardinia Int'l College - Bow: Fairley McPherson, 2: Amelia Elsworth, 3: Shannon Dillon, Str: Emma Ferguson, Cox: Jemima Phillips, Cch: David McPherson
3rd Lowther Hall - Bow: Leshaye Di Stefano, 2: Lucy Gregg, 3: Amy Roscoe, Str: Ria Thompson, Cox: Simone Mirigliano, Cch: Emily Gregg
4th Sacred Heart - Bow: Meg Blood, 2: Sarah Mousley, 3: Hayley Blake, Str: Emily Bowker, Cox: Zelda Farley, Cch: Lauren McGowan
Final A
1st Loreto - Bow: Katherine Kennedy, 2: Jacqueline Hart, 3: Kate Pereira, Str: Jessica Kilroe-Smith, Cox: Sadie Mason, Cch: Matt Giulieri, Florence McDonald
2nd Firbank GS - Bow: Hannah Holbrook, 2: Lauren McElroy, 3: Rhiannon Sandiford, Str: Charlotte Barrow, Cox: Molly Ingram, Cch: John Saunders
3rd Genazzano - Bow: Alicia Smaldino, 2: Hannah Utri, 3: Gemma Sibillin, Str: Ciara Jackson, Cox: Mary Gilmour, Cch: David McGrath
4th St Catherine's - Bow: Jessie Gleeson, 2: Julia Zwar, 3: Olivia Menzies, Str: Lucy Gullifer, Cox: Eliza Court
Coxed Four Year 9 Division 1
(1,000 metres)
Final B
04:21.95
04:26.11
Final A
04:19.04
04:23.01
04:24.35
04:28.30
Final B
1st Melbourne GC - Bow: Hannah Mitchell, 2: Alana Bolger, 3: Mckinley Ryder, Str: Mallory Shelton, Cox: Jessica Cuddy, Cch: Elise Regan Gomm
2nd Geelong College - Bow: Rebecca Finlay, 2: Katie-Rose Campbell, 3: Zoe Gorell, Str: Kirsten Caithness, Cox: Olivia Clark, Cch: Louise Monotti
Final A
1st Toorak College - Bow: Alix Westley, 2: Sinead Waterson, 3: Laura Day, Str: Tess Rolley, Cox: Zoe Summers
2nd Haileybury - Bow: Kelly Albury, 2: Lucy Pearce, 3: Rebecca Knott, Str: Juliette Berry, Cox: Anna Lewis, Cch: Sally Trudzik
3rd Wesley - Bow: Isabella Goodwin, 2: Georgia Bowman, 3: Georgia McMahon, Str: Prue McLardie-Hore, Cox: Jao Carminati, Cch: Richard Parker
4th Shelford GS - Bow: Chloe Patterson, 2: Bridgette Hynes, 3: Lucy Chesterfield, Str: Christy Landwehr, Cox: Xanthe Matheson, Cch: Matilda Barrie
Coxed Quad Scull Year 9 Division 2
(1,000 metres)
Final B
04:16.10
04:17.46
04:19.31
Final A
03:57.79
04:01.82
04:02.78
04:10.79
Final B
1st Ruyton GS - Bow: Laura Aldous, 2: Josie Graham, 3: Maddy Benallack, Str: Lucy Fowler, Cox: Elena Ancarola, Cch: Nick Watson
2nd PLC Melbourne - Bow: Tessa Rivett, 2: Leeyarna Kannlappan, 3: Brittany Argent, Str: Stephanie Boone, Cox: Sarah Hall
3rd Strathcona - Bow: Erica Quan, 2: Steph Lee, 3: Sarah Foster, Str: Hannah Mclean, Cox: Sophie Homes-Smith, Cch: Phoebe McMahon
Final A
1st Firbank GS - Bow: Jaime Worboys, 2: Saskia Schneider, 3: Madison Benton, Str: Clare Cameron, Cox: Elena Maratos, Cch: Katelyn Johnson
2nd Genazzano - Bow: Lucy Sedawie, 2: Ella Menzies, 3: Emma McKay, Str: Alice Quinlan, Cox: Emily Rickard, Cch: Alice Alexander
3rd St Catherine's - Bow: Annabel Young, 2: Sophie Joubert, 3: Isabelle Ferrali, Str: Juliette Cody, Cox: Emma Thompson
4th Methodist LC - Bow: Georgia Woodley, 2: Bella Grooby, 3: Amy Arundel, Str: Georgia Fink, Cox: Ada Dong, Cch: Georgia Brander
Coxed Four Year 9 Division 2
(1,000 metres)
Final B
04:40.39
04:42.53
04:48.25
Final A
04:09.55
04:21.83
04:23.92
04:28.78
Final B
1st Shelford GS - Bow: Sidney Denham-Roberts, 2: Ella Ballerini, 3: Sarah Barker, Str: Marnie McBride, Cox: Sigrid Happell, Cch: Madeline Brenker
2nd Toorak College - Bow: Abbie Westley, 2: Vanessa Bradbury, 3: Kate Hollyock, Str: Beth Dahlsen, Cox: Hannah Ben'Mrad, Cch: Clare Gilheany
3rd Geelong College - Bow: Elizabeth Hanrahan, 2: Ella Wood, 3: Abby Brierly, Str: Emma Dixon, Cox: Amanda Ioannou, Cch: Alice Morgan
Final A
1st Melbourne GC - Bow: Loulou Saleres, 2: Harriet Harte, 3: Edith McLellan, Str: Chloe Betts, Cox: Elizabeth Everett, Cch: Sian Sharpe
2nd Methodist LC - Bow: Emma McShane, 2: Olivia Heasley, 3: Stacey Mastras, Str: Claudia Plowright, Cox: Rachel Colman, Cch: Claire Endersbee
3rd Ballarat Grammar - Bow: Zoe Nevett, 2: Emily Oliver, 3: Maegan Osmond, Str: Chelsea Trainor, Cox: Kristen Varnis
4th Haileybury - Bow: Alexandra Gibson, 2: Aili Cato, 3: Meg Hazell, Str: Paige Martin, Cox: Lauren Tzilantonis, Cch: Melissa Allen
Coxed Quad Scull Year 9 Division 3
(1,000 metres)
Final B
04:26.80
04:36.16
05:01.06
Final A
04:05.83
04:07.09
04:13.60
04:23.70
Final B
1st Ruyton GS - Bow: Stephanie Bolam, 2: Nicola Bonin, 3: Bec Jackson, Str: Alice Hannebery, Cox: Jennifer Weigold, Cch: Sarah Bush
2nd Korowa AGS - Bow: Karina Savur, 2: Annika Wagar, 3: Nicola Gleeson, Str: Sophie Macfarlane, Cox: Kathryn Ng, Cch: Jordan Faulkhead
3rd Fintona GS - Bow: Smita Bhattacharjee, 2: Elena Couper, 3: Sylvie Le Couteur, Str: Brydie Parker, Cox: Estelle Hanney, Cch: Caitlin Cellini
Final A
1st Genazzano - Bow: Ciara Ward, 2: Catherine Ingham, 3: Isobel Anderson, Str: Caity Krumples, Cox: Phoebe Richardson, Cch: Madeleine Frost
2nd Loreto - Bow: Ruby Kerr, 2: Bronte Evans, 3: Sarah Guy, Str: Madeleine Smith, Cox: Angela Connors, Cch: Clare Daly
3rd Methodist LC - Bow: Mia Davies, 2: Lucia Pirc, 3: Emily Farrow, Str: Bella Dixon, Cox: Isabella Holckner, Cch: Felicity Jacob
4th St Catherine's - Bow: Daisy Wood, 2: Sophie Ford, 3: Manon Dennison, Str: Grace Lightfoot, Cox: Harriet Renn
Coxed Four Year 9 Division 3
(1,000 metres)
Final B
04:40.68
04:50.66
05:11.15
Final A
04:20.96
04:22.87
04:25.56
04:26.14
Final B
1st Haileybury - Bow: Tania Ellison, 2: Grace Knight, 3: Jamie Sturgess, Str: Mikayla Smith, Cox: Hayley McKenna, Cch: Felicity Adamson
2nd Toorak College - Bow: Jaymie Moynihan, 2: Bella Dunksinson, 3: Candace Hewitt-Thomas, Str: Stephanie Farag, Cox: Natalie Cocks, Cch: Kirsten Hood
3rd Shelford GS - Bow: Bianca McMahon, 2: Mia Psofimis, 3: Freya Feddersen-Browne, Str: Grace Kennedy, Cox: Imogen Phillips, Cch: Grace Blake
Final A
1st Ballarat Grammar - Bow: Tayla Hewat, 2: Mimi Ingram, 3: Ellen Stephens, Str: Jane McConchie, Cox: Stephanie Leishman
2nd Methodist LC - Bow: Kassandra De Boer, 2: Tess O'Connor, 3: Annabel Mahon, Str: Amelia Tomkins, Cox: Rachael Park, Cch: Chloe Sanford
3rd Carey GS - Bow: Matilda Hubbard, 2: Shanti Benson, 3: Saska Balshaw, Str: Grace Butcher, Cox: Katherine Burns, Cch: Josh McCormach
4th Caulfield GS - Bow: Katie O'Rielly, 2: Celia Grigg, 3: Alex Nixon, Str: Robyn Kalkhoven, Cox: Karis Oka, Cch: Megan Fraumano
Coxed Quad Scull Year 9 Division 4
(1,000 metres)
Final B
04:27.92
04:41.01
Final A
04:06.22
04:09.03
04:15.51
04:20.30
Final B
1st Ruyton GS - Bow: Niamh McCarthy, 2: Jemma Billinghurst, 3: Claudia Aikman, Str: Bella Armstrong, Cox: Chloe Rosenberg, Cch: Mia Antonopoulos, Stephanie Mirabito
2nd Strathcona - Bow: Tess Hewitt, 2: Olivia Newman, 3: Rebecca Gill, Str: Sammy Cox, Cox: Sasha Giourouki, Cch: Genevieve Nenna
Final A
1st Methodist LC - Bow: Emma Jaynes, 2: Catie Lear, 3: Alice Spencer, Str: Isobel Smart, Cox: Katie Lukis, Cch: Georgie Lanyon
2nd Loreto - Bow: Sarah McNamara, 2: Abbey Snell, 3: Ruby Johnson, Str: Claudia Petruccelli, Cox: Stephanie Morgan Schlicht, Cch: Camilla Doyle
3rd Firbank GS - Bow: Hannah Matthiesson, 2: Halley Derera, 3: Eliza Nugent, Str: Eliza Grubb, Cox: Kimberley Petryshyn, Cch: Freya Breidahl
4th Genazzano - Bow: Caitlin O'Toole, 2: Chelsea Snell, 3: Hannah Kelly, Str: Casey Targett, Cox: Georga Prawdiuk, Cch: Giulia Cassarino
Coxed Four Year 9 Division 4
(1,000 metres)
Final A
04:29.53
04:36.81
04:44.97
04:51.75
Final A
1st Carey GS - Bow: Olivia Yammouni, 2: Eddie Lewinsky, 3: Kiara Perin, Str: Eliza Wade, Cox: Lauren Di Pietro, Cch: Eliza Dyer
2nd Melbourne GC - Bow: Steffany Campbell, 2: Lauren Bowe, 3: Alice Richardson, Str: Olivia O'Connor, Cox: Nicola Crowley, Cch: Emma Clampett
3rd Caulfield GS - Bow: Anna Granter, 2: Harriet Nunan, 3: Amy Vadiveloo, Str: Perri Dudley, Cox: Annie Hicks, Cch: Marisa Pineo
4th Wesley - Bow: Isabella Michaelides, 2: Olivia Vandenbossche, 3: Sienna Heron, Str: Julia Kay, Cox: Eloise Bagnara, Cch: Rachel McCloskey, Joshua Hetzel
Coxed Quad Scull Year 9 Division 5A
(1,000 metres)
Final B
04:36.74
04:39.18
Final A
04:13.62
04:18.37
04:29.13
04:33.45
Final B
1st Melbourne GC - Bow: Eileen Cheong, 2: Maddie Bradley, 3: Oriana Mato, Str: Christina Li, Cox: Jamie Roubin, Cch: Tessa Vandergriff, David Wollermann
2nd Methodist LC - Bow: Olivia McGrath, 2: Emma Pham, 3: Sophie Watt, Str: Natasha West, Cox: Sabrina Maier, Cch: Ellen Lucas
Final A
1st Methodist LC - Bow: Georgia Johnson-King, 2: Ella Jackson, 3: Madeleine Beesey, Str: Gabrielle Chesbrough, Cox: Anja Keith, Cch: Alex Clark
2nd Firbank GS - Bow: Lara Opat, 2: Darcie Clarke, 3: Alicia Yokoyama, Str: Emily Bullock, Cox: Lauren Carroll, Cch: Grace Killmer
3rd Melbourne Girls' GS - Bow: Marion Wilson, 2: Holly Britt, 3: Mana Ohashi, Str: Elizabeth Richardson, Cox: Georgia Kamvissis, Cch: Georgia Walter, Olli Langdon
4th Ruyton GS - Bow: Tess Macallan, 2: Sophia Currie, 3: Alana Grollo, Str: Schrader McLeay, Cox: Isabelle Thomas, Cch: Amy Moore, Felicity Allen, Emma Ulrick
Coxed Quad Scull Year 9 Division 5B
(1,000 metres)
Final B
04:39.58
04:44.78
Final A
04:07.71
04:09.40
04:17.99
04:24.57
Final B
1st Melbourne Girls' GS - Bow: Isabella Nilsson, 2: Emma Rogerson, 3: Freya Lauersen, Str: Annabel Dyson, Cox: Stella Genser, Cch: Lilli Craig
2nd Strathcona - Bow: Maddie Bowden, 2: Sarah Abrahams, 3: Claire Watson, Str: Lily Sawers, Cox: Madelene Saligari, Cch: Reuben Inglis
Final A
1st Loreto - Bow: Emilie Guy, 2: Alex McCombe, 3: Eliza Murphy, Str: Ruby McDonald, Cox: Francesca Scheriani, Cch: Rebecca Olle, Bridget Moran
2nd Firbank GS - Bow: Melanie Hickey, 2: Amelia Acheson, 3: Madeleine Clark, Str: Fleur Goodman, Cox: Charlotte Curwen, Cch: Georgia Morgan
3rd Melbourne Girls' GS - Bow: Lauren Martin, 2: Freya Madders, 3: Emme Richardson, Str: Hattie Chew, Cox: Irini Levou, Cch: Isabel Coburn
4th Genazzano - Bow: Sarah Biasotto, 2: Alexandra Fox, 3: Naomi Brooks, Str: Madeleine Pane, Cox: Lily Rokebrand, Cch: Ruby Heffernan
Coxed Four Year 9 Division 5
(1,000 metres)
Final A
04:12.22
04:18.53
04:21.29
04:24.36
Final A
1st Loreto - Bow: Vanessa Hope, 2: Elizabeth Papapetrou, 3: Molly Stephenson, Str: Isabel Wright, Cox: Melissa Tran, Cch: Charles McDonald
2nd Melbourne GC - Bow: Maggie Williams, 2: Kerime Guresci, 3: Eidan Doidge, Str: Molly Cacopardo, Cox: Saskia Blow, Cch: Courtney Higlett
3rd Carey GS - Bow: Katherine Muir, 2: Renee Zumbo, 3: Kristin Cooke, Str: Bella-Daisy Charlwood, Cox: Ginger Barro, Cch: Josh Lloyd
4th Genazzano - Bow: Johanna Curtain, 2: Tahlia Furlan, 3: Ailish Dempsey, Str: Georgia Dow, Cox: Miranda Hill, Cch: Chloe Jones
Coxed Four Year 9 Division 6
(1,000 metres)
Final B
04:54.49
04:57.60
Final A
04:13.73
04:22.84
04:25.22
04:26.02
Final B
1st Carey GS - Bow: Alanna Baschera, 2: Viktoria Magdalinos, 3: Hannah Pugh, Str: Mercedes Poutakidis, Cox: Maddie Webster, Cch: Tori Gluning
2nd Melbourne GC - Bow: Hannah Robinson, 2: Manon Toussat, 3: Megan Kelly, Str: Helena Argiriou, Cox: Rosa Cass-Simpson, Cch: Andrew Wood-Collier
Final A
1st Loreto - Bow: Maggie Dunn, 2: Adela Michelson, 3: Charlotte Casey, Str: Scarlett Dunell, Cox: Aileish O'Keefe, Cch: Alexa Madden
2nd Melbourne GC - Bow: Ceilla Berman, 2: Cate Gifford, 3: Stephanie Toussat, Str: Echo Nadin, Cox: Bonita Dowding, Cch: Andriana Ganotis
3rd Genazzano - Bow: Rachel Macfarlane, 2: Bridget Connelly, 3: Andisen Short, Str: Emma Lawrence, Cox: Kate Renney, Cch: Emily Massey
4th Carey GS - Bow: Charlotte White, 2: Maree Marinelis, 3: Emma Aynsley, Str: Rachael Esler, Cox: Ellie Gluning, Cch: Tyler Brenchley
Coxed Four Year 9 Division 7
(1,000 metres)
Final C
04:46.33
04:48.07
04:58.07
05:13.94
Final B
04:36.79
04:52.78
05:01.37
Final A
04:27.69
04:29.38
04:35.33
04:47.09
Final C
1st Caulfield GS - Bow: Stephanie Psaradellis, 2: Samantha Grant, 3: Darcy Lubich, Str: Rebecca Trytell, Cox: Tayla Duncan, Cch: Alexandra Stone
2nd Carey GS - Bow: Grace Elliot, 2: Issy Stevens, 3: Gen Thompson, Str: Adrienne Gamble, Cox: Charlotte Hansford, Cch: Tamara Charlwood
3rd Caulfield GS - Bow: Naomi Bichler, 2: Bonnie Usher, 3: Camilla Gray, Str: Akita Pham, Cox: Annie Hicks, Cch: Nicole Salamy
4th Geelong College - Bow: Sarah Smith, 2: Ruby Brownless, 3: Shannessy Ward, Str: Arcadia De Young, Cox: Grace Forshaw, Cch: Claire Allinson
Final B
1st Melbourne GC - Bow: Grace Bennett, 2: Amanda Scully, 3: Ingrid Lee Scott, Str: Una Memery, Cox: Zoe Lazarides, Cch: Alice Fotheringham
2nd Caulfield GS - Bow: Sachi Skurnik, 2: Linda Zuo, 3: Gemma Bland, Str: Brianna Luckins, Cox: Abbey Gallop, Cch: Bridget Lane
3rd Carey GS - Bow: Ann Wang, 2: Ebony Lowery, 3: Tegan Hockaday, Str: Sarita Barnett, Cox: Harriet Wing, Cch: Madi Hickey
Final A
1st Methodist LC - Bow: Stephanie Kleores, 2: Grace Endersbee, 3: Heloise Pickering, Str: Annabel Arnold, Cox: Lauren Hadley, Cch: Jessica Durst, Olympia Ward
2nd Loreto - Bow: Madeleine Leyden, 2: Isabella Werka, 3: Bronte Mather, Str: Isabella Manton, Cox: Chiara Donovan, Cch: Frances DiNatale, Emily Smith
3rd Genazzano - Bow: Yihsan Richardson, 2: Imogen Kuner, 3: Constance Iliadis, Str: Jessica Landy, Cox: Isabella Lauria, Cch: Katie Lovelock, Brigid Brown
4th Caulfield GS - Bow: Madeline Long, 2: Tayla Nelson, 3: Annabel Phillips, Str: Alisha Baswa, Cox: Natasha Spanos, Cch: Tessa Fraumano