2007 VIC Head of Schoolgirls' Regatta
The innovation for 2007 was the realignment of the Barwon River course. The course was now 10 metres away from the south bank with buoys every 10 metres. The Barwon River was alive with craft in the days before the regatta testing it out. The new judges box was also finished and opened by the Rowing Victoria President Andrew Guerin.
Naming rights for the regatta were awarded to Sykes Racing.
Sadly in 2007, there was a severe drought in Victoria and many courses in Victoria could not support rowing. Lake Wendouree was probably the worst impacted with the lake being emptied of all water.
Accordingly, the number of competitors dropped although most schools were able to boat some crews. 40 schools and 361 crews competed. Of note was that MLC won the open eights race for the third time is succession.
A sculler from Scot's School was the first interstate crew to compete at this regatta.
Full results can be found through this link.
---
Organising Committee and Officials
Head of the Schoolgirls Regatta Committee: Josie Millard (President), Robert Zahara and Steve Mollard (Vice-Presidents), Fleur Worboys (Secretary), Robin Burrows (Treasurer), Frank Covill (Executive Officer), Leisa Wilson, Trish Morgan, James Petering, Neil Myers, Brenton Terrell, Ron Podbury, Brent McDonald and Tony Green.
Regatta personnel: Steve Mollard (Regatta Secretary), Roger Wilson (Commentary), Grant Cosgriff, Regina Kennedy, Alice Evans, Phil Sandford and Jenny Shouten (Event management team)
Jury: Rene Klupacs (Referee), Terry Blyth, Robin Burrows, Rod Florence, Greg Falk, David Grubits, Mark Hubbard, Kelly Jenkins, Ron Podbury, Debbie Clingeleffer
Open Race Results
Single Scull Open Division 1
(1,500 metres)
Final A
1st Melbourne Girls College - Jess Lowe
2nd Melbourne Girls College - Hannah Brown
3rd Essendon Rowing Club - Sarah Nugent, Cch: Mark Dwyer
4th Genazzano FCJ College - Katie Gall, Cch: Matt Wilson
Single Scull Open Division 2
(1,500 metres)
Coxed Quad Scull Open Division 1
(1,500 metres)
Final B
No time
Final A
5:45.86
Final B
1st Ruyton Girls' School - Bow: Tori Allan, 2: Sarah Sturgeon, 3: Lucinda Hodgson, Str: Sarah Friend, Cox: Krysten Egan, Cch: Julian Voller
2nd Gippsland Grammar School - Bow: Kate Dennis, 2: Nicky Rawlings, 3: Saada Malouf, Str: Jessica Johnston,Cox: Athlete Unknown, Cch: Charles Robinson
Final A
1st Firbank Grammar School - Bow: Stephanie Parish, 2: Tess Lombard, 3: Brigette Carlile, Str: Rachel Thomas, Cox: Lucie Turner, Cch: Craig Pickett, Brenton Terrell
2nd Genazzano FCJ College - Bow: Stephanie Radford, 2: Laura Butler, 3: Nicola Daniel, Str: Harriet Chesterfield, Cox: Emily O'Brien, Cch: Matt Wilson
3rd Sacred Heart College - Geelong - Bow: Emma Rogan, 2: Sarah Goring, 3: Emily Amezdroz, Str: Adele Thomson, Cox: Stephanie Hellard, Cch: Leisa Wilson
4th Loreto - Mandeville Hall - Bow: Milli Dynon, 2: Sophia Robinson, 3: Eleanor Angley, Str: Annabel Suffren, Cox: Sarah Simpson, Cch: Emily Wilmoth
Coxed Four Open Division 1
(1,500 metres)
Final A
1st Ballarat Grammar School - Bow: Caitlin Paton, 2: Hannah McDonald, 3: Stephanie Heinz, Str: Kate Gazzard, Cox: Emily Fisken, Cch: Bill Gribble
2nd Korowa Anglican Girls School - Bow: Sally Baker, 2: Alex Neilson, 3: Alice Tyers, Str: Donna Kabel, Cox: Laura Hartley, Cch: Peter Somerville
3rd Toorak College - Bow: Dana De Bondt, 2: Stephanie Langton, 3: Megan Sheedy, Str: Alexa Lowther, Cox: Katherine Peck, Cch: Belinda Mathews
4th Presbyterian Ladies College Melb - Bow: Tessa Spence, 2: Emma Gellert, 3: Hannah Saunders, Str: Lara McDonald, Cox: Melissa Pritchard, Cch: John Reddaway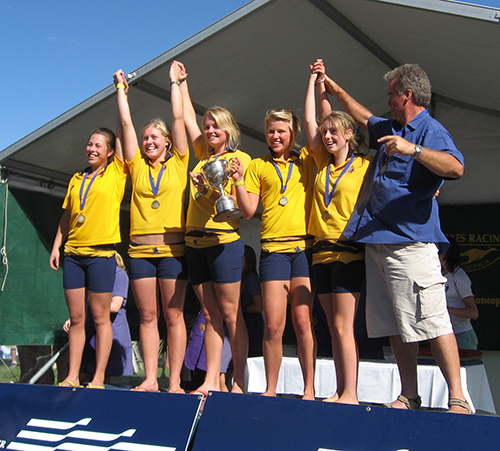 Eight Open Division 1
(1,500 metres)
Final B
No time
Final A
5:24.71
Final B
1st Caulfield Grammar School - Bow: Adele Knights, 2: Harriet Houghton, 3: Jessica Dean, 4: Rosie Popa, 5: Stephanie Burgess, 6: Kate Hanley, 7: Alice Nixon, Str: Sarah Adamson, Cox: Lisa Pilley, Cch: Georgia Radcliffe-Smith
2nd Haileybury College - Bow: Jacquelyn Dwyer, 2: Samantha Stewart, 3: Abbi Thatcher, 4: Samantha Dowel, 5: Louise Driscoll, 6: Jennifer Murray, 7: Nua-Ya Whitfield, Str: Ashleigh Farren, Cox: Kirsty Walsh, Cch: Guy Begley
Final A
1st Methodist Ladies College - Bow: Claire Henly, 2: Rosie Marshman, 3: Emily Von Moger, 4: Lucy Eva, 5: Gabby Duncan, 6: Emily McCallum, 7: Julia Lake, Str: Lisa Cathels, Cox: Georgia Smail, Cch: Brent McDonald
2nd Geelong Grammar School - Bow: Olivia Fleetwood, 2: Jess Lumley, 3: Charlotte Harris-Nave, 4: Annie Trumble, 5: Alexandra Hill, 6: Jessica Hill, 7: Madeline Wagg, Str: Allegra Blain, Cox: Jessica North, Cch: Stewart Edge, Rob England
3rd Melbourne Girls Grammar School - Bow: Elizabeth Wettenhall, 2: Charlotte Righetti, 3: Olivia Davie, 4: Ali Davidson, 5: Hannah Pascoe, 6: Paris Thomson, 7: Jessica Morrell, Str: Charlotte Roberts, Cox: Samantha Brooks, Cch: David Douglas, Andrew Latreille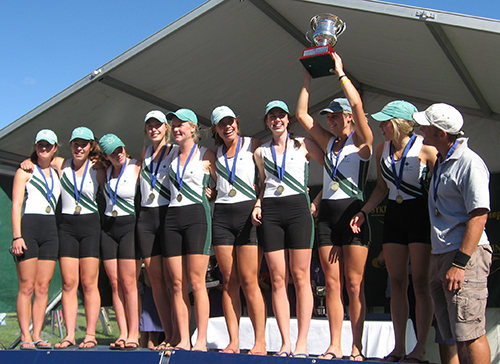 Single Scull Open Division 2A
(1,000 metres)
Final A
1st Genazzano FCJ College - Molly Lynch, Cch: Matt Wilson
2nd Lowther Hall AGS - Stephanie Naylor, Cch: Elsie Madigan
3rd Loreto - Mandeville Hall - Brighid Ginnane-Smith, Cch: Charlotte McNamara, Emma Simpson
4th Brauer Secondary College - Megan Earls, Cch: Kirsty Wright
Single Scull Open Division 2B
(1,000 metres)
Final A
1st The Scots School - Phoebe Ward

Coxed Quad Scull Open Division 2
(1,500 metres)
Final B
No time
Final A
5:54.52
Final B
1st Fintona Girls' School - Bow: Laura Browne, 2: Kitty Parke, 3: Ashley Chapman, Str: Morgana Allen, Cox: Hannah Sutherland, Cch: Simon Harrison, Courtney Date
2nd Ruyton Girls' School - Bow: Eliza Jonson, 2: Sarah Tulloch, 3: Elizabeth Vogan, Str: Martha Dwyer, Cox: Phoebe Nunn, Cch: Elizabeth Archer
3rd Sacred Heart College - Geelong - Bow: Jessica Seeley, 2: Rhiannah Sgarbi, 3: Jessica Mewing, Str: Melissa Hellard, Cox: Lucinda Pendergast, Cch: Gus Higgins
4th Korowa Anglican Girls School - Bow: Fiona Yeaman, 2: Freya Coker, 3: Emily Purcell, Str: Shannon Woods, Cox: Rachel Painter, Cch: Eduardo Inostroza
Final A
1st Loreto - Mandeville Hall - Bow: Ellie Tiernan, 2: Annabel Healey, 3: Claire Saundry, Str: Catherine Randles, Cox: Sarah Olle, Cch: Alice McNamara, Hilary Poole
2nd Methodist Ladies College - Bow: Fiona Pearse, 2: Ellen McNamara, 3: Stephanie Wellings, Str: Ellie Bradford, Cox: Elly Brown, Cch: Holly Pinnis
3rd Genazzano FCJ College - Bow: Gabbie Lodge, 2: Alexandra Shinners, 3: Ellese Chambers, Str: Madeline Waugh, Cox: Madeleine Shepherd, Cch: Jess Hergott
4th Firbank Grammar School - Bow: Georgia Morgan, 2: Stephanie Fakhry, 3: Natasha Van Leeuwen, Str: Lucy Barker, Cox: Clara Jessop, Cch: Sarah Forsterling, Claire Szatsznajder
Coxed Four Open Division 2
(1,500 metres)
Final A
1st Ballarat Grammar School - Bow: Gabby Ritchie, 2: Stephanie Boadle, 3: Claire Moss, Str: Anna Fry, Cox: Alice Osmond, Cch: John Nevett
2nd Lauriston Girls' School - Bow: Amelia Mavrodis, 2: Sophie-Scarlet Stone, 3: Georgina Robinson, Str: Alexandra Hurley, Cox: Anna Sim, Cch: David Crawshay
3rd Toorak College - Bow: Ellie Jack, 2: Louise Sloan, 3: Hayley Surgenor, Str: Ella Carley, Cox: Erin Ferguson, Cch: Penny Rosser
4th Presbyterian Ladies College Melb - Bow: Adele Blow, 2: Caroline Chong, 3: Alexandra Dandanis, Str: Bianca McCormack, Cox: Ariane Zihlmann, Cch: Christopher Carmody
Eight Open Division 2
(1,500 metres)
Final B
No time
Final A
5:35.98
Final B
1st Carey Grammar School - Bow: Sian Salmon, 2: Georgia Dyer, 3: Stephanie Vipond, 4: Jayne Roper, 5: Claire Cooney, 6: Hannah Wallace, 7: Meghan Davies, Str: Tori Wandke, Cox: Lucy Arthur, Cch: Caroline Duffield, Suzanne Kumnick
2nd Caulfield Grammar School - Bow: Marisa Pineo, 2: Scarlett McNab, 3: Claire Perriman, 4: Dani Carter, 5: Alison Rady, 6: Jillian Beale, 7: Emily Graham, Str: Philippa Howard, Cox: Melanie Wakeling, Cch: Greg Meredith
3rd Haileybury College - Bow: Cate-Linne Fraser, 2: Neetu Mysore, 3: Charlotte Hannah, 4: Jessica Hird, 5: Felicity Adamson, 6: Michelle Kim, 7: Terri-Leigh Jacobs, Str: Candice Spector, Cox: Faye Alessandrello, Cch: Katrina Blaubaum
Final A
1st Methodist Ladies College - Bow: Stephanie Reilly, 2: Frances Crotty, 3: Nicole Kuehlich-Zippel, 4: Madeleine Thomas, 5: Marietta Ouzas, 6: Ane Glahn-Bertelsen, 7: Sarah Case, Str: Sarah Brownell, Cox: Harriet Bawden, Cch: Katie Minogue, Rhys Tyrrell
2nd Melbourne Girls Grammar School - Bow: Jess Renzella, 2: Lucy Desmond, 3: Emma McLaughlin, 4: Chloe Holyman, 5: Natalie Crosby, 6: Emma Goetz, 7: Rose Donohoe, Str: Daisy Slade, Cox: Sarah Dungey, Cch: Justine Tonner-Joyce, Stephen Craig
3rd Geelong Grammar School - Bow: Eleanor Beatty, 2: Georgina Heath, 3: Elizabeth Cameron, 4: Cecilia Archer, 5: Kate McArthur, 6: Sam Champion de Crespigny, 7: Virginia Heal, Str: Freya Byrne, Cox: Ariani Anwar, Cch: Andrew Logan
Coxed Quad Scull Open Division 3
(1,500 metres)
Final B
No time
Final A
5:53.13
Final B
1st Sacred Heart College - Geelong - Bow: Louisa Buchanan, 2: Laura Benton, 3: Louise Taylor, Str: Madeleine Smith, Cox: Sarah Lyons, Cch: Stuart Wilson
Final A
1st Methodist Ladies College - Bow: Lauren Cunningham, 2: Sasha Hyde, 3: Georgia Lloyd, Str: Camilla Cooper, Cox: Megan Sewell, Cch: Jess Stewart
2nd Fintona Girls' School - Bow: Caitlin Murray, 2: Stephanie Freemantle, 3: Eleanor Cooper, Str: Tara Winney, Cox: Chantal Drysdale, Cch: Alexander Scharp
3rd Methodist Ladies College - Bow: Lauren Cunningham, 2: Sasha Hyde, 3: Georgia Lloyd, Str: Camilla Cooper, Cox: Megan Sewell, Cch: Jess Stewart
4th Loreto - Mandeville Hall - Bow: Aleksandra Lobaza, 2: Sarah Trapani, 3: Kate Conlan, Str: Brigette Reid, Cox: Renata Kopinski, Cch: Tim Deveson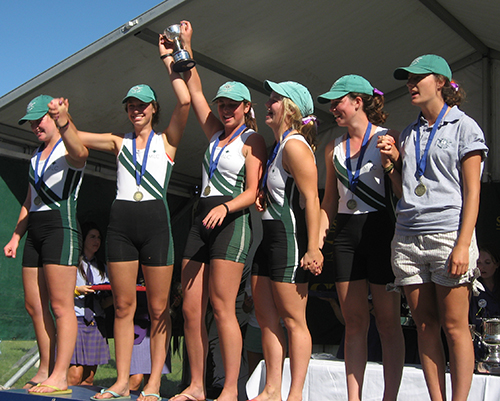 Coxed Four Open Division 3
(1,500 metres)
Final A
1st Genazzano FCJ College - Bow: Grace Peterson, 2: Anna Downey, 3: Leah Tremewen, Str: Rachel Farrell, Cox: Stephanie Ongarello, Cch: Alice Evans
2nd St Catherine's School - Bow: Jane Bubb, 2: Emily Redman, 3: Isabelle Scharp, Str: Kate Hatherley, Cox: Katy Bristow, Cch: Tom Nickson, Xanthe Ranger
3rd Toorak College - Bow: Jessica Dennison, 2: Maree De Wijn, 3: Jacqueline Kusters, Str: Jessie Rafeld, Cox: Emma Lockwood, Cch: Laura Tsindos
4th Lauriston Girls' School - Bow: Elise Dumbrell, 2: Camilla Counsel, 3: Katherine Kibby, Str: Millie Ward, Cox: Eugenie Buchan, Cch: Kate Kearney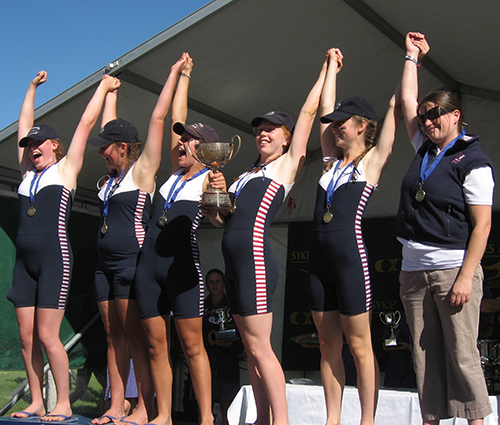 Coxed Quad Scull Open Division 4
(1,000 metres)
Final A
1st Methodist Ladies College - Bow: Laura Mescher, 2: Maddy Miller, 3: Aimee Hounsell, Str: Sophie McNaught, Cox: Olivia Ralph, Cch: Alison Crowe, Laura Agostini
2nd Genazzano FCJ College - Bow: Laura Cantwell, 2: Gab Murphy, 3: Gemma Kenfield, Str: Jane Quinlan, Cox: Ebony Manusama, Cch: John Acton
3rd Fintona Girls' School - Bow: Asami Ako, 2: Claire Billings, 3: Tessa Young, Str: Michelle Pickering, Cox: Nicole Pickering, Cch: Phillip Bickerstaff
4th Camberwell Girls Grammar School - Bow: Alexandra Fildes, 2: Sophie Cant, 3: Alexandra Apostolidis, Str: Sarah Ricketson, Cox: Rhiannon Fish, Cch: Alexandra Suffren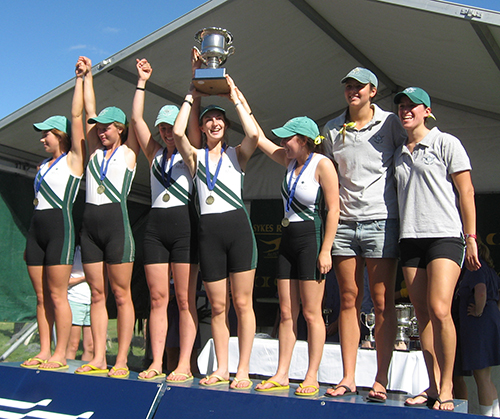 Coxed Four Open Division 4
(1,000 metres)
Final A
1st Methodist Ladies College - Bow: Melissa Zanon, 2: Harriet Barrile, 3: Sophie Cocks, Str: Alison McNicol, Cox: Madie Gostin, Cch: Ginny Atkins
2nd Hamilton & Alexandra College - Bow: Fiona Smith, 2: Prue McIntyre, 3: Kate Warner, Str: Sammi Anderson, Cox: Amanda Horne, Cch: Andy Sutherland
3rd Toorak College - Bow: Talia Malcomson, 2: Liria Isufi, 3: Emma Burton, Str: Julia Sewell, Cox: Georgia Morrison, Cch: George Tsindos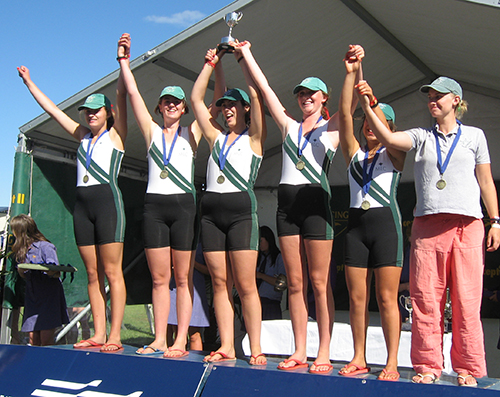 Coxed Four Open Division 5
(1,000 metres)
Final A
1st Genazzano FCJ College - Bow: Sonia Tieppo, 2: Bec Daniher, 3: Alice Wright, Str: Olivia Phyland, Cox: Catherine Sharkey, Cch: Meg Considine
2nd Geelong Grammar School - Bow: Stephanie Kerr, 2: Cherry More, 3: Alexandra Lumley, Str: Georgie Cahill, Cox: Tara Allen, Cch: Jane Hawkins
3rd Methodist Ladies College - Bow: Ella King, 2: Molly Rizzo, 3: Johanna Moot, Str: Madeleine Thwaites, Cox: Mia Abrahams, Cch: Frances Smyth
Coxed Four Open Division 6
(1,000 metres)
Final A
1st Methodist Ladies College - Bow: Sarah Mote, 2: Meagan Lynch, 3: Claire Heland, Str: Elle Voulgaris, Cox: Chen Yang, Cch: Louise Brown, Kate McNamara
2nd Genazzano FCJ College - Bow: Pia Bertrand, 2: Bryden Cleeve, 3: Erin Molan, Str: Bronwyn Labrooy, Cox: Maddie McMahon, Cch: Meg Considine
3rd Genazzano FCJ College - Bow: Alex Barro, 2: Kathryn Considine, 3: Megan Hickie, Str: Alice Hicks, Cox: Amelia O'Sullivan, Cch: Rose Stephens
4th Genazzano FCJ College - Bow: Kate Seenan, 2: Sophie Gleeson, 3: Gab Morona, Str: Angela Wilton, Cox: Amelia Fisher, Cch: Rose Stephens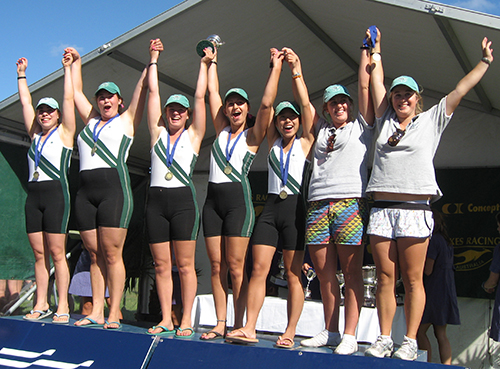 Year 10 Race Results
Single Scull Year 10 Division 1
(1,000 metres)
Final B
No time
Final A
4:48.60
Final B
1st Sacred Heart College - Geelong - Phoebe Anderson, Cch: Carolyn West
2nd Essendon Rowing Club - Jess Stevens, Cch: Mark Dwyer
3rd Toorak College - Clare Towler, Cch: Gary Tsindos
Final A
1st Melbourne Girls College - Ruby Kennedy-Mayne, Cch: Geoff Lowe
2nd Lowther Hall AGS - Alice Backwell, Cch: Elsie Madigan
3rd Melbourne Girls College - Racheal Paul
4th Lauriston Girls' School - Sarah Cathcart, Cch: Simon Booth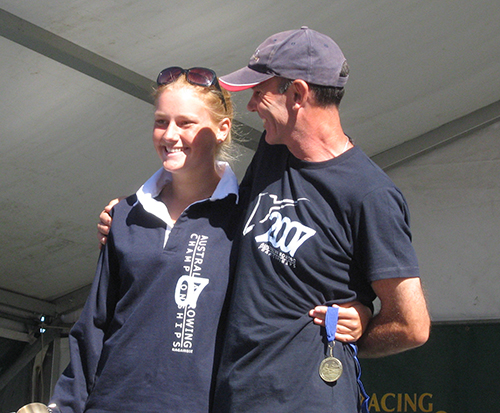 Coxed Quad Scull Year 10 Division 1
(1,000 metres)
Final B
No time
Final A
3:43.70
Final B
1st Korowa Anglican Girls School - Bow: Lucy Cranstoun, 2: Amy Fettes, 3: Jordan Faulkhead, Str: Danielle Smith, Cox: Alex Bolger, Cch: Peter Somerville, Stephanie Martin
2nd Ruyton Girls' School - Bow: Jacqueline McPherson, 2: Jenny Vogan, 3: Amelia Steele, Str: Emily Caroll, Cox: Sophie Purdue, Cch: David Purdue
Final A
1st St Catherine's School - Bow: Kate Eaves, 2: Lucy Nettlefold, 3: Lily Baker, Str: Isabelle Sayers, Cox: Laura Homewood, Cch: Jess Tallent, Edward Cruickshank
2nd Loreto - Mandeville Hall - Bow: Carly Gilbert, 2: Julia Walker, 3: Shannon Contin, Str: Siana Madden, Cox: Megan Allanadale, Cch: Andrew Short
3rd Methodist Ladies College - Bow: Hannah Clark, 2: Ashley Sturrock, 3: Ashleigh Forbes, Str: Julia Say, Cox: Kit Burgess, Cch: Bree Harris
4th Genazzano FCJ College - Bow: Alisen Merrey, 2: Olivia Hannan, 3: Clare Canty, Str: Anna Lumb, Cox: Madeleine Corridon, Cch: Scott Riddell
Coxed Four Year 10 Division 1
(1,000 metres)
Final B
No time
Final A
3:53.03
Final B
1st Geelong Grammar School - Bow: Georgiana Cameron, 2: Tessa Mead, 3: Claire Hamilton, Str: Rosie Wilson, Cox: Gabriella Favaloro, Cch: Ken Smith
2nd Presbyterian Ladies College Melb - Bow: Jennifer Bolger, 2: Paris Baravykas, 3: Jessica Hayes, Str: Chloe McCormack, Cox: Julia Caldwell, Cch: Bronwyn Owen
3rd Caulfield Grammar School - Bow: Matilda Gledhill, 2: Michelle Burke, 3: Laura Hamilton, Str: Heidi Graham, Cox: Laura Cameron, Cch: James Walmsley
Final A
1st Carey Grammar School - Bow: Josie Kerford, 2: Bridget Cremean, 3: Clare Hollebone, Str: Sophie Richards, Cox: Lara Stoll, Cch: Emily Muir, Robert Hore
2nd Toorak College - Bow: Rowena Baer, 2: Gaby Purvis, 3: Grace Anderson, Str: Kate O'Halloran, Cox: Lily Anderson, Cch: Kath Bennett
Coxed Quad Scull Year 10 Division 2
(1,000 metres)
Final B
No time
Final A
3:56.44
Final B
1st St Catherine's School - Bow: Annabel Pirrie, 2: Emmaline Raggatt, 3: Madelaine Mountford, Str: Emily Hamilton, Cox: Emily Steven, Cch: Anna Glynn
2nd Ruyton Girls' School - Bow: Spencer Brown, 2: Lilly Poulier, 3: Lisa Ransom, Str: Julia McCahey, Cox: Rebecca Starkins, Cch: Maria Looringh van Beeck
3rd Gippsland Grammar School - Bow: Jessie Mackay, 2: Carly Woods, 3: Louise Larcombe, Str: Linley Hurrell, Cox: Jane Fay, Cch: Stewart Baird
Final A
1st Methodist Ladies College - Bow: Immi Lovick, 2: Emma Adams, 3: Jill Kentish, Str: Gabriella Bornstein, Cox: Jasmine Sim, Cch: Jess Stewart
2nd St Catherine's School - Bow: Annabel Pirrie, 2: Emmaline Raggatt, 3: Madelaine Mountford, Str: Emily Hamilton, Cox: Emily Steven, Cch: Anna Glynn
3rd Firbank Grammar School - Bow: Megan Grubb, 2: Eliza Jackson, 3: Alexandra Campbell, Str: Katelyn Johnson, Cox: Lucy Rutherford, Cch: Lucy Peatling
4th Genazzano FCJ College - Bow: Eloise Hollins, 2: Alice Alexander, 3: Sarah Ongarello, Str: Sarah Case, Cox: Fiona Kennedy, Cch: Scott Riddell
Coxed Four Year 10 Division 2
(1,000 metres)
Final B
No time
Final A
4:02.26
Final B
1st Toorak College - Bow: Laura Batch, 2: Hannah Doyle, 3: Melissa Pavic, Str: Ellie Dixon, Cox: Gemma Wilson-Dunleavy, Cch: jacqui Pavic
2nd Presbyterian Ladies College Melb - Bow: Tess Vogel-Paul, 2: Steffi Walters, 3: Lizzie Purcell, Str: Katherine Bailey, Cox: Amelia Kemister, Cch: Katherine Markham
Final A
1st Lauriston Girls' School - Bow: Lauren Wilson, 2: Sophie Cooper, 3: Emma Webley, Str: Sophie Snow, Cox: Milly Dunn, Cch: Gary Fitzpatrick
2nd Geelong Grammar School - Bow: Georgina Landale, 2: Daisy Gubbins, 3: Olivia Bakonyi, Str: Kara Pickard, Cox: Lucy Fleetwood, Cch: Ken Smith
3rd Haileybury College - Bow: Melissa Allen, 2: Georgia Anson, 3: Courtney Clarkeson, Str: Holly McEvoy, Cox: Alex Cook, Cch: Michael Dentry
Coxed Quad Scull Year 10 Division 3
(1,000 metres)
Final B
No time
Final A
3:57.96
Final B
1st Firbank Grammar School - Bow: Chrystie Siapkas, 2: Kathryn Lee, 3: Michaela Harney, Str: Lauren Burton, Cox: Charlotte Fisher, Cch: Susie Dawes
2nd Korowa Anglican Girls School - Bow: Coby Lees, 2: Stephanie Swann, 3: Amelia Brear-Smith, Str: Christina Lucato, Cox: Tamar Green, Cch: Penny Senior
3rd Firbank Grammar School - Bow: Chrystie Siapkas, 2: Kathryn Lee, 3: Michaela Harney, Str: Lauren Burton, Cox: Charlotte Fisher, Cch: Susie Dawes
4th Ruyton GS - Bow: Katherine Southwell, 2: Athlete Unknown, 3: Eliza Bramwell, Str: Laura McNicol-Smith, Cox: Pip Pietromonaco, Cch: Sophie Robson, Katie Fearnside
Final A
1st Genazzano FCJ College - Bow: Erin Rooney, 2: Ruby Heffernan, 3: Celeste Koens, Str: Hannah Bergin, Cox: Bessie O'Sullivan, Cch: Margot Lodge
2nd St Catherine's School - Bow: Olivia Shackell, 2: Juliet Israel, 3: Emily Hodgetts, Str: Samantha Garrisson, Cox: Molly Berry, Cch: Ed Pullen
3rd Methodist Ladies College - Bow: Elly Benson, 2: Isabelle Miller, 3: Amelia Willis, Str: Lucca Meagher, Cox: Meghan Rundus, Cch: Ginny Atkins
Coxed Four Year 10 Division 3
(1,000 metres)
Final B
No time
Final A
4:04.58
Final B
1st Caulfield Grammar School - Bow: Bridget Lane, 2: Emma Gillett, 3: Lauren Crockett, Str: Annie Guillaume, Cox: Allie Legg, Cch: James Russell
Final A
1st Carey Grammar School - Bow: Hannah Herauld-Williams, 2: Jennifer Burridge, 3: Kelly Birch, Str: Alex Andrews, Cox: Katherine Newton, Cch: Kate McLean, Alysha Batliwalla
2nd Geelong Grammar School - Bow: Edwina Kolomanski, 2: Lizzie Lockie, 3: Caroline Edwards, Str: Liv Ramsay, Cox: Sophie Officer, Cch: Kim Baker
Coxed Quad Scull Year 10 Division 4
(1,000 metres)
Final A
1st Genazzano FCJ College - Bow: Genevieve Kofoed, 2: Stephanie McLennan, 3: Kate Scott, Str: Sarah Anderson, Cox: Annabelle Whitty, Cch: Margot Lodge
2nd Methodist Ladies College - Bow: Georgie Arnold, 2: Ellie Dickson, 3: Madi Pell, Str: Lucy Prowse, Cox: Stephanie Watson, Cch: Mollie Bobeff, Hannah Markoff
3rd Sacred Heart College - Geelong - Bow: Sinead Larkins, 2: Sarah McIvor, 3: Dion Wierzbowski, Str: Jemma Pickering, Cox: Ruth Nolan, Cch: Carolyn West
Coxed Four Year 10 Division 4
(1,000 metres)
Final B
No time
Final A
4:06.75
Final B
1st Geelong Grammar School - Bow: Charlotte Sutherland, 2: Prue Hood, 3: Natasha Montgomery-Hribar, Str: Sophie Sutherland, Cox: Elle Roberts-Nissen, Cch: Emmie Taylor
2nd Caulfield Grammar School - Bow: Evonne Margiannis, 2: Kara Hulls, 3: Lucy Young, Str: Rebecca Abel, Cox: Alice Powell,
3rd Methodist Ladies College - Bow: Cassie Clark, 2: Leah Ferguson, 3: Alexandra Lam, Str: Jaclyn Georgiou, Cox: Eloise Watson, Cch: Kate McNamara
Final A
1st Methodist Ladies College - Bow: Cassie Clark, 2: Leah Ferguson, 3: Alexandra Lam, Str: Jaclyn Georgiou, Cox: Eloise Watson, Cch: Kate McNamara
2nd Lauriston Girls' School - Bow: Anita Schmidt, 2: Jacqui Scanlan, 3: Eleanor Bulford, Str: Jess Carter, Cox: Lexie White, Cch: Eddie Butler
3rd Carey Grammar School - Bow: Jesse Chapman, 2: Sarah Gilbert, 3: Francesca Tull, Str: Georgina Rhodes, Cox: Olivia Cordener, Cch: Monique Portelli
Coxed Four Year 10 Division 5
(1,000 metres)
Final B
No time
Final A
4:15.49
Final B
1st St Catherine's School - Bow: Ariana Squillacciotti, 2: Rosie Sulper, 3: Hannah Bickerton, Str: Annabel Willder, Cox: Laura Mitchell, Cch: Eloise Tallent
Final A
1st Genazzano FCJ College - Bow: Zoe Bertrand, 2: Amy Hermans, 3: Madeleine Frost, Str: Ursula Keith, Cox: Claire Schiller, Cch: Jessica Wraith
2nd Caulfield Grammar School - Bow: Naomi Dick, 2: Mia D'Aloia, 3: Rachael O'Dea, Str: Lauren Turner, Cox: Caitlin Carroll, Cch: Alice King
3rd Methodist Ladies College - Bow: Alexandra Harper, 2: Bridget Mylecharane, 3: Amelia Barker, Str: Emily Ogg, Cox: Dem Kingsford, Cch: Emmie Kinsman, Kathy McBride
4th Lauriston Girls' School - Bow: Talisa Juracich, 2: Jessica Stockton, 3: Alice Roberts, Str: Louise Daley, Cox: Rebecca Hibbard, Cch: Tom Abramowski
Coxed Four Year 10 Division 6A
(1,000 metres)
Final B
No time
Final A
4:17.68
Final B
1st Caulfield Grammar School - Bow: Mia D'Aloia, 2: Rachael O'Dea, 3: Marisa Pineo, Str: Alexandra Hamilton, Cox: Scarlett McNab, Cch: Sarah Tubb
Final A
1st Loreto - Mandeville Hall - Bow: Stephanie Gorman, 2: Mikala Maher, 3: Genevieve Venosta, Str: Elizabeth Jones, Cox: Charlotte Keel, Cch: Emma Roche
2nd Carey Grammar School - Bow: Roseanne Tiziani, 2: Alex Meehan, 3: Lucy Maxwell, Str: Alice Meredith, Cox: Alyeisha Plant, Cch: Lauren Battaglia, Kyle Parker
3rd Genazzano FCJ College - Bow: Kate Bailey, 2: Megan O'Hara, 3: Carla Oliva, Str: Brittany Wilton, Cox: Francis Hardy, Cch: Lauren Wilton
4th Methodist Ladies College - Bow: Valdeta Mala, 2: Annabella McDermott, 3: Jackie Garfield, Str: Zoe Bacolas, Cox: Kate Green, Cch: Melissa Von Moger
Coxed Four Year 10 Division 6B
(1,000 metres)
Final A
1st Genazzano College - Cassarino, Taylor, Gill, Arnold, Cox: Harman

Year 9 Race Results
Single Scull Year 9 Division 1A
(1,000 metres)
Final A
1st Barwon Rowing Club - Courtney Blythe, Cch: Terry Blyth
2nd Essendon Rowing Club - Brittany Jones, Cch: Mark Dwyer
3rd Essendon Rowing Club - Emma Thomason, Cch: Elsie Madigan, Mark Dwyer
4th Nestles Rowing Club - Bek Conheady, Cch: Kirsty Wright
Single Scull Year 9 Division 1B
(1,000 metres)
Final A
1st St Columba's College - Jacqueline Blake
2nd Warrnambool College - Shaina Welsford
3rd Melbourne Girls College - Stephanie Lowe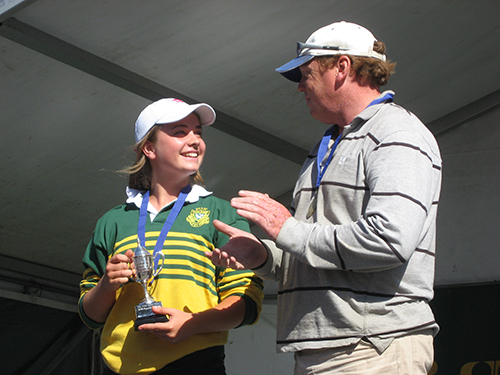 Coxed Quad Scull Year 9 Division 1
(1,000 metres)
Final B
No time
Final A
3:48.39
Final B
1st Sacred Heart College - Geelong - Bow: Grace Mandic, 2: Gabby Alessi, 3: Anna McKernan, Str: Jessi Canny, Cox: Stevie Pitcher, Cch: Madeleine Jackman
2nd Ruyton Girls' School - Bow: Sarah Bush, 2: Claire McBride, 3: Alice Sweeney, Str: Alice Tulloch, Cox: Elizabeth Cox, Cch: Skye Stansfield, Rosie Purdue
3rd Korowa Anglican Girls School - Bow: Laura White, 2: Sophie Wright, 3: Thea Harker, Str: Jessica Dee, Cox: Georgia Schroeder, Cch: Stephanie Martin
Final A
1st Methodist Ladies College - Bow: Greta Hicks, 2: Kirsty Foster, 3: Lauren Sparkman, Str: Olympia Ward, Cox: Tori Dinnison, Cch: Frances Smyth
2nd St Catherine's School - Bow: Ellie Grammelsberger, 2: Alexandra L'Estrange, 3: Matilda Schoeffel, Str: Victoria Landale, Cox: Emily Eldredge, Cch: Warwick Kiel
3rd Firbank Grammar School - Bow: Emma Hoy, 2: Gabrielle Howard, 3: Mary Trumble, Str: Freya Breidahl, Cox: Alexandra Jessop, Cch: Sophie Johnston, Alice Lyons
4th Melbourne Girls Grammar School - Bow: Madison Pyke, 2: Natassia Smith, 3: Taylor McKay, Str: Edwina Strange, Cox: Paige Mackay, Cch: Edwina Dane, Chris Gillon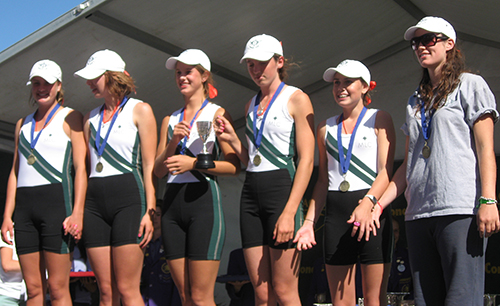 Coxed Four Year 9 Division 1
(1,000 metres)
Final A
1st Methodist Ladies College - Bow: Amy Crosthwaite, 2: Ruby Watson, 3: Eleanor Hobbs, Str: Laura Whitelaw, Cox: Molly McNamara, Cch: Meg Hutchins
2nd Toorak College - Bow: Rebecca Piesse, 2: Krystin Borain, 3: Bonnie-Mae Rogers, Str: Casey Harrison, Cox: Biddy Chaur, Cch: Jessica Johnson, Gary Tsindos
3rd Carey Grammar School - Bow: Tori Gluning, 2: Eliza Dyer, 3: Georgina Bing, Str: Deborah Yann, Cox: Emily Harbard, Cch: Courtney Dunbabin, Stephanie Walton
4th Presbyterian Ladies College Melb - Bow: Christie Parkinson, 2: Greta Walters, 3: Audrey Tan, Str: Katherine Oldfield, Cox: Fiona Moreillon, Cch: Vincent Marziale
Coxed Quad Scull Year 9 Division 2
(1,000 metres)
Final B
No time
Final A
4:04.54
Final B
1st Sacred Heart College - Geelong - Bow: Rebecca Nolan, 2: Shae Stabryla, 3: Madeline Thomson, Str: Caroline Powers, Cox: Eve Lancaster, Cch: Madeleine Jackman
2nd Loreto - Mandeville Hall - Bow: Bridgette Gorman, 2: Alex Saundry, 3: Sonia Kopinski, Str: Stephanie Mattei, Cox: Natalie Wilkinson, Cch: Sarah Inman
3rd Ruyton Girls' School - Bow: Alicia Beirne, 2: Felicity Allen, 3: Melanie Connell, Str: Jessica Roberts, Cox: Angelica Rush, Cch: Felicity Connon
Final A
1st Methodist Ladies College - Bow: Rosie Penman, 2: Nina Abrahams, 3: Alex Virgo, Str: Margot Symon, Cox: Matilda Barrie, Cch: Louise Brown
2nd Genazzano FCJ College - Bow: Alexandra O'Halloran, 2: Rebecca Grey, 3: Georgia Daniel, Str: Chloe Jones, Cox: Maddie Robin, Cch: Scott Riddell
3rd Firbank Grammar School - Bow: Kate Whittle, 2: Amy Fogarty, 3: Minka Dickson, Str: Kate Doyle, Cox: Bonnie Ross, Cch: Georgia Nelson, Tom Francis
4th Melbourne Girls Grammar School - Bow: Rosie Jenkins, 2: Calypso Strauss, 3: Hannah Lasren, Str: Alice Targett, Cox: Cecelia Peters, Cch: Angus Carter, Angus Tandy
Coxed Four Year 9 Division 2
(1,000 metres)
Final B
No time
Final A
4:13.95
Final B
1st Presbyterian Ladies College Melb - Bow: Christine Slade, 2: Caitlyn Burke, 3: Alex Ganter, Str: Bethany Salisbury, Cox: Bryndyll Hornett-Devers, Cch: Katherine Markham
Final A
1st Methodist Ladies College - Bow: Jane McMahon, 2: Alice Stephens, 3: Lauren Nankervis, Str: Elodie Honore, Cox: India Nicholson, Cch: Hannah Kent
2nd Carey Grammar School - Bow: Katherine Clark, 2: Morgan Dalton, 3: Brigitte Fitzpatrick, Str: Alice Wandke, Cox: Charlotte Arthur, Cch: James Raftopoulos
3rd Toorak College - Bow: Joey Graham, 2: Clare Gilheany, 3: Lauren Barr, Str: Emma Blakey, Cox: Jordy Lawson, Cch: Jessica Harney
Coxed Quad Scull Year 9 Division 3
(1,000 metres)
Final B
No time
Final A
4:10.05
Final B
1st Melbourne Girls College - Bow: Charlotte Jenkins, 2: Emma Dotter, 3: Sian Sharpe, Str: Kate Driman, Cox: Aylin Gedik, Cch: Corey Connell
2nd Ruyton Girls' School - Bow: Stephanie Gallacher, 2: Stephanie Mirabito, 3: Madeliene Reilly, Str: Julia Mulcahy, Cox: Hannah Tabart, Cch: Alice Fraser, Phoebe Settle
3rd Fintona Girls' School - Bow: Annie Ming, 2: Georgia Fennell, 3: Maria Tseprailidis, Str: Nicole Elsegood, Cox: Mackayla Hanney, Cch: Tommy Bertrand, Katie Cokalis
Final A
1st Methodist Ladies College - Bow: Lucy Volard, 2: Emma Dewan, 3: Jessie Sabbadini, Str: Jessica Clark, Cox: Frances Rickard, Cch: Kate Brown
2nd St Catherine's School - Bow: Stephanie Ritchie, 2: Hilary Grover, 3: Lucy Cameron, Str: Victoria Hamilton-Wilson, Cox: Amy Wilson, Cch: Georgina Roberts
3rd Korowa Anglican Girls School - Bow: Simone Gunsberger, 2: Aleesha Chambers, 3: Katie Heine, Str: Jacqueline Daggian, Cox: Emma Baldwin, Cch: Stephanie Bruce
4th Firbank Grammar School - Bow: Georgia Cooper, 2: Anna Brownlee, 3: Alexandra Hewett, Str: Sophie Hoy, Cox: Emily Vassella, Cch: Lisa Szatsznadjer
Coxed Four Year 9 Division 3
(1,000 metres)
Final B
No time
Final A
4:18.54
Final B
1st Toorak College - Bow: Jayde de Bondt, 2: Annabel Bond, 3: Millie Sloan, Str: Hattie Molloy, Cox: Katherin Sloan, Cch: Pip Doyle
2nd Caulfield Grammar School - Bow: Emily Scott, 2: Jessica Jackson, 3: Nicolette Vasy, Str: Kate Djumas, Cox: Elly Moss, Cch: Eliza Kirby
Final A
1st Methodist Ladies College - Bow: Stephanie Zanon, 2: Florien Pickering, 3: Alex Waddell, Str: Annabelle Ingham, Cox: Georgia Flood, Cch: Amy McNeill
2nd Carey Grammar School - Bow: Scarlett Morwood, 2: Stephanie Dimopoulos, 3: Antonia Coffey, Str: Amie Watson, Cox: Claudia Henderson, Cch: Edward Love, Hamish Adam
3rd Methodist Ladies College - Bow: Stephanie Zanon, 2: Florien Pickering, 3: Alex Waddell, Str: Annabelle Ingham, Cox: Georgia Flood, Cch: Amy McNeill
Coxed Quad Scull Year 9 Division 4
(1,000 metres)
Final B
No time
Final A
4:14.24
Final B
1st Korowa Anglican Girls School - Bow: Anneliese Kyte, 2: Brooke Reynolds, 3: Anna Hays, Str: Bailey Ryan, Cox: Katriana Antoniadis, Cch: Natasha Anstee
2nd Ruyton Girls' School - Bow: Joanna Von Moger, 2: Georgia Howard, 3: Sarah McLaughlan, Str: Alexandra Aikman, Cox: Alexandra Neylon, Cch: Vanessa Steele, Laura Tulloch
Final A
1st Genazzano FCJ College - Bow: Jennifer Semetas, 2: Melissa Galbraith, 3: Emily Nicholson, Str: Kasia Delaney, Cox: Alex Ash, Cch: Margot Lodge
2nd Firbank Grammar School - Bow: Ailie Miller, 2: Claire Szczepkowski-Collins, 3: Rosie Martin, Str: Isabella Horsley, Cox: Madeleine Gwynne, Cch: Catherine Arblaster
3rd Ruyton Girls' School - Bow: Jessica Longmuir, 2: Sophie De Bavay, 3: Danielle Deriu, Str: Kimberley Stockdale, Cox: Emma Ulrick, Cch: Jaimee Salmon
4th Methodist Ladies College - Bow: Georgie Lanyon, 2: Madeline Merritt, 3: Caitlin Warren, Str: Felicity Jacob, Cox: Fiona Stocky, Cch: Cecelia Riley
Coxed Four Year 9 Division 4
(1,000 metres)
Final B
No time
Final A
4:12.55
Final B
1st Caulfield Grammar School - Bow: Alexandra Stone, 2: Amie Crawley, 3: Kate Rivington, Str: Ally Theng, Cox: Sasha Malignaggi, Cch: Heidi Gartner, Edwina Banks-Anderson
2nd Melbourne Girls College - Bow: Biddy McPhee-Lam, 2: Emily Eller, 3: Elise Regan Gomm, Str: Rebecca Jackson, Cox: Zoe Hutchison, Cch: Michala Barbas, Zara Love
Final A
1st Loreto - Mandeville Hall - Bow: Lilybet Holt, 2: Rachael Vaughan, 3: Elizabeth Pattison, Str: Meg Stewart, Cox: Bridget Bond, Cch: Christian Keel
2nd Melbourne Girls Grammar School - Bow: Astrid Gardiner, 2: Claire Peake, 3: Emily Brockhoff, Str: Lucy McLaughlin, Cox: Natalie Burne, Cch: Sophie Byrne
3rd St Catherine's School - Bow: Cate Cormie, 2: Lucilla Colman, 3: Mimi Horman, Str: Sophie Mitchell, Cox: Caroline Ramsden, Cch: Melanie Hughes
Coxed Four Year 9 Division 5
(1,000 metres)
Final B
No time
Final A
4:06.14
Final B
1st Caulfield Grammar School - Bow: Bianca Tomaino, 2: Charlotte Snowball, 3: Jessica Lee, Str: Nastasia Bassili, Cox: Belinda Connor
2nd Genazzano FCJ College - Bow: Stephanie Skevington, 2: Adrienne Pezzi, 3: Olivia Cosgrave, Str: Sorrel Svensson, Cox: Catherine Rezk, Cch: Jessica Wraith
Final A
1st Firbank Grammar School - Bow: Grace Killmer, 2: Alex Beck, 3: Becky Bannar-Martin, Str: Sarah Lauterstein, Cox: Alex Briggs, Cch: Brenton Terrell, Jane Biggin
2nd Melbourne Girls Grammar School - Bow: Charlotte Swinburn, 2: Alessia Nicolao, 3: Bridget McDonald, Str: Freya Hodge, Cox: Anna Ryan, Cch: Olivia Wharton
3rd Methodist Ladies College - Bow: Kathleen Appleton, 2: Alexandra Keefe, 3: Grace Kent, Str: Kate Wischusen, Cox: Elise Brookes, Cch: Jen Bailey, Jacqueline Forbes
4th Loreto - Mandeville Hall - Bow: Claire Whitehead, 2: Olivia Giordano, 3: Alison Prowse, Str: Simone Hubbard, Cox: Alice Dunn, Cch: Louise Parry
Coxed Four Year 9 Division 6
(1,000 metres)
Final B
No time
Final A
4:19.20
Final B
1st Carey Grammar School - Bow: Grace Thomson, 2: Heather Smillie, 3: Anna Lyons, Str: Kassandra Pappas, Cox: Nicole Dempster, Cch: Lani Seaborne, Sophie Walton
2nd Melbourne Girls College - Bow: Emily Thwaites, 2: Isobel Hepworth, 3: Joanna Broadley, Str: Chelsea Hurley, Cox: Imogen Buckle, Cch: Susan Morcom
3rd Caulfield Grammar School - Bow: Alice Wilson, 2: Pippa Tamblyn, 3: Emmy Nan Tie, Str: Rachel Harris, Cox: Georgia Whitford, Cch: Sarah Tubb
Final A
1st Methodist Ladies College - Bow: Alexandra Searles, 2: Alice McDonald, 3: Lizzy Arthur, Str: Kira Georgakopoulos, Cox: Katriana Antoniadis, Cch: Stephanie Madner
1st St Catherine's School - Bow: Emily Brookes, 2: Ella Maartins, 3: Emma O'Bryan, Str: Amanda Teale, Cox: Christina Douglas, Cch: Emma Hays
3rd Melbourne Girls Grammar School - Bow: Lilli Craig, 2: Olivia Giles, 3: Holly Gillham, Str: Louise Kelly, Cox: Georgia Firth, Cch: Sophie Crittenden
4th Melbourne Girls Grammar School - Bow: Fiona Laidlaw, 2: Adriana Vamvakas, 3: Annabelle Jefferies, Str: Asta Cameron, Cox: Margot Franklin-Hensler
Coxed Four Year 9 Division 7
(1,000 metres)
Final B
No time
Final A
4:18.64
Final B
1st Caulfield Grammar School - Bow: Verity Nunan, 2: Maddison Smith, 3: Rebecca Moss, Str: Adilah Haque, Cox: Madelaine Seaholme, Cch: Alice King
2nd Carey Grammar School - Bow: Mollie Booth, 2: Emma Hing, 3: Sarah Hooper, Str: Dominique Hariss, Cox: Laura Viero, Cch: Naomi Field, Claire Laidlaw
3rd Melbourne Girls Grammar School - Bow: Elizabeth Cooper, 2: Margot Watson, 3: Georgia Mackenzie, Str: Kit Casey, Cox: Nathalie Darcas, Cch: Sarah Ristrom
Final A
1st Genazzano FCJ College - Bow: Marisa Gleeson, 2: Jacqueline Butler, 3: Eloise Guzzardi, Str: Alice Skidmore, Cox: Madeleine Johnson, Cch: Lauren Wilton
2nd Methodist Ladies College - Bow: Laura James, 2: Dharshini Brennan, 3: Phoebe Harkness, Str: Ashleigh Otter, Cox: Sophie Murphy, Cch: Christie Madsen
3rd Methodist Ladies College - Bow: Sophie Herrington, 2: Millie Waller, 3: Chloe Dawson, Str: Kate Fleiter, Cox: Charlotte Scales, Cch: Krystina Wallis
4th Melbourne Girls Grammar School - Bow: Nicola Read, 2: Nina Breidahl, 3: Olli Langdon, Str: Abbey Morgan, Cox: Kate Peddey