2022 Under 21 Trans Tasman Regattas
The team was selected at a combined under age selection trial in Canberra. It was to be the first time since 2019 that Australia has been represented at an underage level internationally.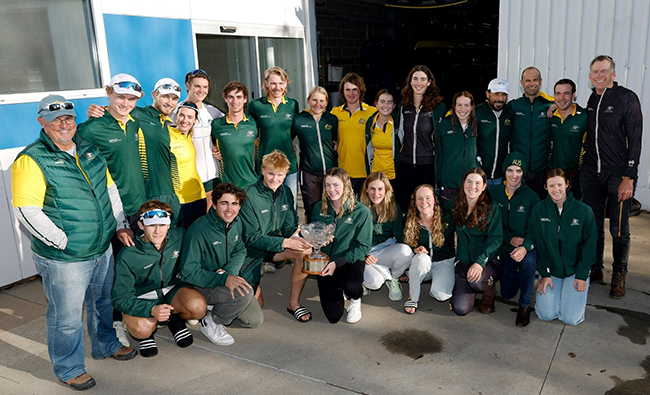 The Australian Team with The Rusty Robertson Trophy
Final Trans-Tasman Regatta Points Score
Australia 217.5
New Zealand: 112.5
The Under 21 crews competed in the Trans-Tasman regatta from 16-18 June at Lake Burley Griffin, in Canberra. 2022. Rowing Australia reported on the regatta as follows.
The final day of the 2022 Trans-Tasman Regatta saw crystal blue skies and flat water to finish off a great three days of racing, with the Rusty Robertson trophy reclaimed from New Zealand. It was a clear victory for the Australians with a clean sweep across the board, losing no races across the week.
Head of Pathways, Jason Lane said of the week "It's been a really good week. I've been really impressed with how well they've come together as a team and the team bonding has been really good."
Head Coach of the U21 Team, Ben Southwell added "I'm very proud of the way that the athletes handled themselves this week, with the changes to crews and the schedule, and importantly how well they raced as a team consistently over the three days".
With the strong showing of the athletes in the Trans-Tasman Regatta and bringing the Rusty Robertson trophy back to Australia, the future of Australian Rowing is looking strong. As it approaches ten years to Brisbane 2032, it has been great to see that the pathways program and the future of Australian rowing on the water competing internationally once again.
Jaime Fernandez, Deputy Performance Director concluded: "Thanks to all staff, athletes, coaches and the family and friends who turned out to support our team. The results are of course very pleasing, however, the U21 series is also a wonderful opportunity for learning and development for our young, up and coming athletes."
"It is very much a team event with every member playing a key role – this team has exemplified that in every way. I'm very proud of this team and the manner with which they conducted themselves, both on and off the water."
Australian Team
U21 Women's Four
Caitlin McManus‐Barrett ‐ NSW
Isabella Scammell ‐ NSW
Rebecca Pretorius ‐ WA
Lola Quinn ‐ WA
Coach: Mark Beer ‐ WA
U21 Women's Quadruple Scull
Madeline Vagg ‐ ACT
Livia Rosaia ‐ VIC
Danica Free ‐ QLD
Rebecca Bolster ‐ WA
Coach: Duncan Free ‐ QLD
U21 Men's Four
Daniel Horsley ‐ QLD
Mitch Salisbury ‐ QLD
Jarrod Lord ‐ QLD
Samuel Atherton ‐ QLD
Coach: Scott Rowe ‐ QLD
U21 Men's Quadruple Scull
Felix Oliver ‐ VIC
Cormac Hayes ‐ ACT
Nicholas Blackman ‐ SA
Harry Curtin ‐ NSW
Coach: Tom Minifie ‐ VIC
Under 21 Team Coxswains
Aidan Hughes (W8+) ‐ SA
Hayley Verbunt (M8+) ‐ VIC
Under 21 Team Reserves
Charlotte Broad ‐ WA
Bradley Graham ‐ NSW
Head coach: Ben Southwell