2007 Youth Cup Regatta– Nagambie Lakes VIC
Photo Gallery
This regatta was conducted at Nagambie Lakes Victoria from 31st August to 2nd September 2007. It was a well run regatta which produced excellent racing. The athletes were disciplined, focussed and attentive to the task at hand and this produced high standard, consistent and great racing. The traditional regatta dinner was conducted on the Saturday night with Peter Antonie as the guest speaker and everyone also enjoyed the other tradition of the post regatta barbeque.
Organising Committee
David Deeble (Chairman), Regina Kennedy (Event Co-ordinator), Andrew Guerin, Sandy Mitchel, Daniel Hutchinson, Eric Waller & Ian Burgess.
Regatta Staff
Daniel Hutchinson, Regina Kennedy, Phil Sandford, Jenny Shouten, Alice Evans, Eric Waller, Ron Widgery, Pauline Day, Peter Shouten, Don Christie, Brandon Bunton, Alex Tattersall, Jake Manifold, Renee Tattersall, Roger Wilson, Sue Flynn Chong, Andrew Cleary, Lachlan McKenzie, Ken Charge, Lynne Charge, Robert Shouten, Laura O'Bryan, Paul Blanchfield, Aaron Bunton, Bill Day, Nick Shouten, Will Day, Dr Denis Bourke and Dr Krys Szatsznajder.
Jury
John Murdoch WA (President of the Jury), Andrew Guerin VIC, Greg Smith NSW, Norm Saunders SA, Rod Florence VIC, Bill Webster VIC, Kelly Jenkins VIC, Rene Klupacs VIC, Robert Kemp VIC and David Grubits VIC.
Results
New Zealand again won the event in a close tussle with New South Wales and Victoria. The New Zealand, Victorian and New South Wales teams were tied on 76 points going into the last day of racing which meant the eights would decide the eventual winners. New Zealand's win in the female eight and silver in the male eight gave them a total of 93 points to win the trophy. This was in addition to the 4 golds won in the male and female coxless pair division 2, in the female coxless four and eight, as well as five silver and two bronze won on the two preceding days. (One gold and two bronze in reserves races).
| Points | Team |
| --- | --- |
| 93 | New Zealand |
| 91 | Victoria |
| 88 | New South Wales |
| 82 | Tasmania |
| 76 | Queensland |
| 76 | Western Australia |
| 37 | South Australia |
| 33 | Australian Capital Territory |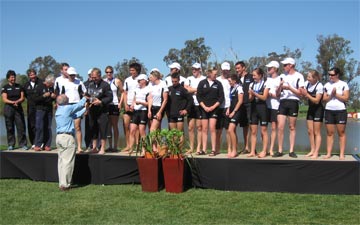 Men's Scull - Division 1
E1: 1st VIC, 2nd WA, 3rd SA, 4th NSW
E2: 1st TAS, 2nd NZL, 3rd QLD, 4th ACT
Final B: 1st NSW (Jieran Kobelke), 2nd ACT (Riley Owen)
Final A: 1st WA ( Adam Seroka), 2nd VIC (Tom Swann), 3rd NZL (Jade Uru), 4th TAS (Alister Foot), 5th QLD (Robert Lewis-Swan), 6th SA (Matthew Bolt)
Men's Scull - Division 2
E1: 1st TAS, 2nd NZL, 3rd NSW, 4th SA
E2: 1st WA, 2nd VIC, 3rd QLD, 4th ACT
Final B: 1st SA (Andrew Jackson), 2nd ACT (Henry Walker)
Final A: 1st VIC (Blair Brown), 2nd NSW (Cadeyrn Neville), 3rd TAS (Nicholas Harris), 4th WA (Michael Glorie), 5th QLD (Hugo Struss), 6th NZL (Matthew Glenn)
Women's Pair - Division 1
E1: 1st ACT, 2nd VIC, 3rd WA, 4th SA
E2: 1st NZL, 2nd NSW, 3rd QLD, 4th TAS
Final B: 1st TAS (French & Garcia), 2nd SA (Connelly & Webb)
Final A: 1st VIC (Drowe & Bailey), 2nd NZL ( Arbuckle & Sorensen), 3rd ACT (Northam & Tamsitt), 4th NSW (Darke & O'Regan), 5th QLD (Hewson & O'Loughlin), 6th WA (Del la Hunty & Burton)
Women's Pair - Division 2
E1: 1st TAS, 2nd QLD, 3rd VIC, 4th SA
E2: 1st NSW, 2nd NZL, 3rd ACT, 4th WA
Final B: 1st WA (Mancktelow & Smith), 2nd SA (Hawke & Molsher-Jones)
Final A: 1st NZL (Baker & Burson), 2nd QLD (Lindley & Gilbride), 3rd VIC (Batliwalla & Battaglia), 4th NSW (Costello & Sedgman), 5th TAS (Morris & Gehrich), 6th ACT (Kilby & McDonald)
Men's Lightweight Double Scull
E1: 1st QLD, 2nd SA, 3rd WA, 4th NSW
E2: 1st VIC, 2nd TAS, 3rd NZL, 4th ACT
Final B: 1st NSW (Warren & White), 2nd ACT (Watkins & Adams)
Final A: 1st WA (Hewlett & Longman), 2nd SA Jackson & Martin), 3rd TAS (Rafferty & Rippon). 4th QLD (Kachyckyi & Greenland), 5th VIC (Osborne & Bertrand), 6th NZL (Sharp & Scott)
Men's Lightweight Scull (reserves)
E1: 1st NZL, 2nd QLD, 3rd NSW, 4th VIC
E2: 1st TAS, 2nd SA, 3rd WA, 4th ACT
Final B: 1st VIC (Tim Cleary), 2nd ACT (Jared Watt)
Final A: 1st QLD (Jerom Norris), 2nd TAS (Jarrod Matthews), 3rd NZL (Hamish Foster), 4th NSW (Adam de Koning), 5th WA Alex Watson, 6th SA (Angus Moore)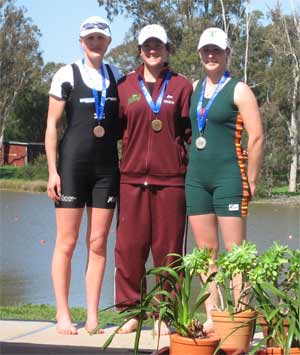 Women's Scull - Division 1
E1: 1st WA, 2nd ACT, 3rd SA, 4th VIC
E2: 1st NZL, 2nd NSW, 3rd QLD, 4th TAS
Final B: 1st TAS (Brianna McShane), 2nd VIC (Sarah perkins)
Final A: 1st WA (Alexandra Hagan), 2nd NSW (Peta Eddington), 3rd NZL (Odette Sceats), 4th QLD (Francesca Paterson), 5th ACT (Amy Fowler), 6th SA (Laura Osti)
Women's Scull - Division 2
E1: 1st WA, 2nd QLD, 3rd VIC, 4th SA
E2: 1st NSW, 2nd TAS, 3rd ACT, 4th NZL
Final B: 1st (Kate French), 2nd SA (Peta White)
Final A: 1st WA (Georgia Baker), 2nd VIC (Jes Lowe), 3rd TAS (Mel Homan), 4th NSW (Ashleigh Peppernell), 5th QLD (Karla Dexter), 6th ACT (Lauren Burruston)
Men's Pair - Division 1
E1: 1st WA, 2nd NSW, 3rd QLD, 4th NZL
E2: 1st VIC, 2nd TAS, 3rd SA, 4th ACT
Final B: 1st NZL (Storey & Vandenbosch), 2nd ACT (Cookman & Tridgell)
Final A: 1st NSW (Newhaus & Quilty), 2nd QLD (Smith & Dickson), 3rd VIC (Adams & Tyers), 4th TAS (Hemm & Davey), 5th WA (Grant & Nelligan), 6th SA (Drought & Girardi)
Men's Pair - Division 2
E1: 1st VIC, 2nd TAS, 3rd WA, 4th SA
E2: 1st NZL, 2nd QLD, 3rd NSW, 4th ACT
Final B: 1st SA (Maddern * Shelton), 2nd ACT (Cotterill & Bradshaw)
Final A: 1st NZL (O'Connor & Nisbet), 2nd VIC (Mosley & Booth), 3rd TAS (Dowling & Foot), 4th QLD (Camphin & McRae), 5th WA (Watson & Murray), 6th NSW (Anderson & Waddell)
Women's Lightweight Double Scull
E1: 1st NSW, 2nd QLD, 3rd WA, 4th VIC
E2: 1st NZL, 2nd TAS, 3rd SA, 4th ACT
Final B: 1st VIC (Madsen & Brown), 2nd ACT (Balmarks & Willis)
Final A: 1st NSW (Peile & Smith), 2nd TAS (Flecker & Trethwaite), 3rd WA (Hayes & Jones), 4th QLD (Fernandez-Preiksa & Rose), 5th NZL (Strack & Van Gessel), 6th SA (Daniel & Munns-Cook)
Women's Lightweight Scull (reserves)
E1: 1st TAS, 2nd NZL, 3rd QLD, 4th WA
E2: 1st NSW, 2nd VIC, 3rd ACT, 4th SA
Final B: 1st WA (Nicole Depiazzi), 2nd SA (Joscelyn Spurr)
Final A: 1st QLD (Lissa Lyons), 2nd TAS Natalie Shelton), 3rd NZL (Kate Fench), 4th NSW (Olivia Heath), 5th VIC (Morgana Allen), 6th ACT (Alice Bowen)
Teams
ACT Team

| | Women | Men |
| --- | --- | --- |
| Bow | Christabelle Northam | Gavin Cookman |
| 2 | Veronica Tamsitt | Anthony Tridgell |
| 3 | Louise Kilby | Tom Cotterill |
| 4 | Aile McDonald | Toby Bradshaw |
| 5 | Amy Fowler | Riley Owen |
| 6 | Laura Burraston | Henry Waldren |
| 7 | Emily Balmaks | Tom Watkins |
| Str | Jessica Willis | Ben Adams |
| Cox | Anna Trindle | Shannon Narracott |
| Cch | Dafydd Gwynn-Jones | |
| Emerg | Alice Bowen | Jared Watt |
NSW Team

| | Women | Men |
| --- | --- | --- |
| Bow | Alison Smith | Tom Warren |
| 2 | Jacky Peile | Jason Waddell |
| 3 | Peta Eddington | Cadeyrn Neville |
| 4 | Ashleigh Peppernell | Kieran Kobelke |
| 5 | Emma Costello | Tom Quilty |
| 6 | Lauren Sedgeman | David Neuhaus |
| 7 | Kate Darke | James Anderson |
| Str | Chloe O'Regan | Edward White |
| Cox | Gabriella Poletto | Toby Lister |
| Cch | Stani Slavova & Alan Bennett | Gary Robertson & Neil Holmes |
| Emerg | Olivia Heath | Adam de Koning |
Queensland Team

| | Women | Men |
| --- | --- | --- |
| Bow | Karla Dexter | Jack Greenland |
| 2 | Catriona Rose | Adam Kachyckyj |
| 3 | Stephanie Fernandez-Preiksa | Chris Camphin |
| 4 | Fran Paterson | Adam McRae |
| 5 | Anne Hewson | Michael Smith |
| 6 | Clare Gilbride | John Dickson |
| 7 | Philippa Lindley | Hugo Struss |
| Str | Hannah O'Loughlin | Robert Lewis-Swan |
| Cox | Jade O'Neill | Daniel LiCastro |
| Cch | Peter Howard & Honor Conrad | John Bowes & Andrew Service |
| Emerg | Lissa Lyons | Jerom Norris |
New Zealand Team

| | Women | Men |
| --- | --- | --- |
| Bow | Rachel Arbuckle | John Storey |
| 2 | Natalie Sorensen | Sam O'Connor |
| 3 | Rebecca Baker | Michael Nisbet |
| 4 | Charlotte Burson | Scott Vandenbosch |
| 5 | Odette Sceats | Jade Uru |
| 6 | Kate French | Matthew Glenn |
| 7 | Lucy Strack | Richard Sharp |
| Str | Catherine Van Gessel | Finian Scott |
| Cox | Jenny Mathews | Michael Dessoulavy |
| Cch | Sandy Stuart & Judith Hamilton | Bruce Jones |
| Emerg | Leah Stanley | Hamish Foster |
South Australian Team

| | Women | Men |
| --- | --- | --- |
| Bow | Alex Daniel | John Jackson |
| 2 | Edwina Munns-Cook | Sam Martin |
| 3 | Amelia Hawke | Patrick Maddern |
| 4 | Jessica Molsher-Jones | Tom Shelton |
| 5 | Peta White | Tom Drought |
| 6 | Mieka Webb | Andrew Jackson |
| 7 | Mary Connelly | Matthew Bolt |
| Str | Laura Osti | Owen Girardi |
| Cox | Sarah-Jane Hyde | Robert Barteletti |
| Cch | | |
| Emerg | Joscelyn Spurr | Angus Moore |
Tasmanian Team

| | Women | Men |
| --- | --- | --- |
| Bow | Nadia Gehrich | William Rafferty |
| 2 | Laura Morris | Mark Rippon |
| 3 | Abby Garcia | Nicholas Harris |
| 4 | Elizabeth French | Alister Foot |
| 5 | Brianna McShane | George Foot |
| 6 | Mel Homan | Hamish Dowling |
| 7 | Rebecca Trethewie | Reinhard Hemm |
| Str | Ella Flecker | Lachlan Davey |
| Cox | Jamie Sluce | Giles Harvey |
| Cch | | |
| Emerg | Natalie Shelton | Jarrod Matthews |
Victorian Team

| | Women | Men |
| --- | --- | --- |
| Bow | Hannah Brown | Tom Bertrand |
| 2 | Jess Lowe | James Osborne |
| 3 | Madsen | Tom Mosely |
| 4 | Sarah Perkins | Tom Swann |
| 5 | Alysha Batiwalla | Blair Brown |
| 6 | Lauren Battaglia | Simon Booth |
| 7 | Alison Crowe | James Adams |
| Str | Jen Bailey | Angus Tyers |
| Cox | Nicole Hirst | David Webster |
| Cch | Tim Dolphin & David Ochert | Ian Wright & Nick Lloyd |
| Emerg | Morgana Allen | Tim Cleary |
Western Australian Team

| | Women | Men |
| --- | --- | --- |
| Bow | Hannah Jones | Jamie Hewlett |
| 2 | Rosie Burton | Brendan Longman |
| 3 | Jamie Mancktelow | Michael Glorie |
| 4 | Rebecca Smith | Thomas Nelligan |
| 5 | Alexandra Hagan | Brendan Murray |
| 6 | Alexandra Hayes | Alex Watson |
| 7 | Daisy Del la Hunty | Rhys Grant |
| Str | Georgia Baker | Adam Seroka |
| Cox | Connor McCombe | Hugh Rawlinson |
| Cch | Mike Quinn | Jamie Jones |
| Emerg | Nicole Depiazzi | Michael O'Shea |
Men's Coxless Four
E1: 1st NSW, 2nd VIC, 3rd NZL, 4th ACT
E2: 1st TAS, 2nd QLD, 3rd SA, 4th WA
Final B: 1st WA (Grant, Nelligan, Watson, Murray), 2nd ACT (Cookman, Tridgell, Cotterill, Bradshaw)
Final A: 1st VIC (Mosley, Booth, Adams, Tyers), 2nd NZL (O'Connnor, Storey, Vandenbosch, Nisbet), 3rd NSW (Anderson, Neuhaus, Quilty, Waddell), 4th QLD (Camphin, Dickson, Smith, McRae), 5th TAS (Foot, Dowling, Hemm, Davey), 6th SA (Maddern, Shelton, Drought, Giradi)
Women's Quad Scull
E1: 1st NZL, 2nd QLD, 3rd WA, 4th SA
E2: 1st NSW, 2nd TAS, 3rd VIC, 4th ACT
Final B: 1st SA (White, Daniel, Munns-Cook, Osti), 2nd ACT (Fowler, Burraston, Balmarks, Willis)
Final A: 1st NSW (Smith, Eddington, Peppernell, Peile), 2nd NZL (Strack, Sceats, french, Van Gessel), 3rd TAS (Trethewie, Flecker, McShane, Homan), 4th QLD (Dexter, Rennandez-Preiksa, Rose, Paterson), 5th VIC (Brown, Lowe, Perkins, Madsen), 6th WA (Jones, hayes, Baker, Hagan)
Mixed Double Scull (reserves)
E1: 1st VIC, 2nd WA/NZL, 3rd QLD, 4th ACT
E2: 1st NSW, 2nd TAS, 3rd SA, 4th WA
No final B due to insufficient entries.
Final A: 1st NSW (de Koning, Heath), 2nd TAS (Matthews & Shelton), 3rd VIC (Madsen & Cleary), 4th QLD ( Lyons & Norris), 5th SA (Spurr & Moore), 6th ACT (Bowen & Watt), unplaced WA/NZL rowing by invitation
Men's Quad Scull
E1: 1st WA, 2nd NZL, 3rd QLD, 4th ACT
E2: 1st NSW, 2nd TAS, 3rd VIC, 4th SA
Final B: 1st SA (Jackson, Martin, Jackson, Bolt), 2nd ACT (Owen, Waldren, Watkins, Adams)
Final A: 1st TAS (Rafferty, Rippon, Harris, Foot), 2nd NZL (Sharp, Uru, Glenn, Scott), 3rd VIC (Osborne, Brown, Swann, Bertrand), 4th NSW (Warren, Kobelke, Neville, White), 5th WA (Longman, Hewlett, Glorie, Seroka), 6th QLD (Kachyckyi, Lewis-Swan, Struss, Greenland)
Women's Coxless Four
E1: 1st NSW, 2nd NZL, 3rd ACT, 4th SA
E2: 1st VIC, 2nd QLD, 3rd TAS, 4th WA
Final B: 1st WA (Burton, Smith, Mancktelow, Del la Hunty), 2nd SA (Hawke, Molsher-Jones, Connelly, Webb)
Final A: 1st NZL ( Arbuckle, Burson, Baker, Sorensen), 2nd NSW (Costello, Sedgman, Darke, O'Regan), 3rd QLD (Hewson, Gilbride, Lindley, O'Loughlin), 4th ACT (Northam, Tamsitt, Kilby, McDonald), 5th VIC (Battaglia, Batliwalla, Crowe, Bailey), 6th TAS (Gehrich, Morris, Garcia, French)
Mixed Quad Scull
Final: 1st NSW/TAS, 2nd ACT/SA, 3rd QLD/WA, 4th VIC/NZL (by invitation)
Men's Eight - names above
E1: 1st VIC, 2nd QLD, 3rd NSW, 4th ACT
E2: 1st WA, 2nd TAS, 3rd NZL, 4th SA
Final B: 1st SA, 2nd ACT
Final A: 1st VIC, 2nd NZL, 3rd WA, 4th TAS, 5rg NSW, 6th QLD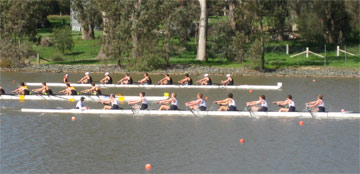 Women's Eight - names above
E1: 1st NSW, 2nd VIC, 3rd TAS, 4th SA
E2: 1st QLD, 2nd NZL, 3rd WA, 4th ACT
Final B: 1st ACT, 2nd SA
Final A: 1st NZL, 2nd TAS, 3rd NSW, 4th VIC, 5th QLD, 6th WA