Trans Tasman Regattas– 1965 Ampol Series
The winning NSW crew formed the basis of the Australian crew with the inclusion of Campbell and Ranch at the expense of Howard Croker and Ian Tutty. Croker and Gordon McWhirter competed as the Australian reserve pair. A win by the pair was the only Australian win out of the 9 races. One of the races was to be a twilight regatta at Sydney Rowing Club but bad weather cancelled the event.
The three regattas were conducted as follows:
First test - Iron Cove, Leichhardt NSW - 6 Nov 1965
Second test - Nepean River, Penrith NSW - 13 Nov 1965
Third test - Lake Wendouree, Ballarat VIC - 20 Nov 1965
The new Rothmans National Sports Foundation provided major financial assistance for this event.
New Zealand won eight of the nine races thus winning the Ampol Trophy. The point score was a little more even with New Zealand 120 as against Australia 93.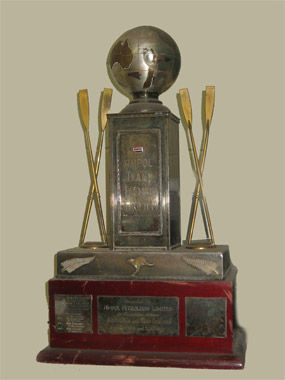 Australian Team
Men's Eight (also raced in fours)
Bow: Errol Brazenall (NSW)
2: John Campbell (NSW)
3: Bruce Dickson (NSW)
4: John Ranch (NSW)
5: Alf Duval (NSW)
6: Peter Dickson (NSW)
7: Ian McWhirter (NSW)
Str: Brian Denny (NSW)
Cox: Brian Thomas (NSW)
Cch: Owen Ruffels (NSW)
Men's Pair (reserves)
Bow: Howard Croker (NSW)
Str: Gordon McWhirter (NSW)
Men's Scull
Gary Pearce (NSW)
Men's Double Scull
No Australia representative crew
Manager: Ossie Rosevear (NSW)
New Zealand Team
Men's Eight (also raced in fours)
Bow: Peter Delaney
2: Gil M Cawood
3: Darien G Boswell
4: Max A Larsen
5: Gordon E Trevett
6: Mark Brownlee
7: Dudley L Storey
Str: Alan J Webster
Cox: Bruce A Jones
Cch: Wally Parnell
Men's Pair No 1 (reserves)
Bow: G Bryan Walford
Str: Ian R Dixon
Cch: Wally Parnell

Men's Pair No 2
Bow: Trevor B Smith
Str: John A Richards
Cch: T Sullivan
Men's Scull
Murray Watkinson
Men's Double Scull
Bow: David Molesworth
Str: Tom Reid
Cch: C D Molesworth
Manager: Don Croot
Results
Men's Eight
First test
1st NZL, 2nd: AUS, 3rd Sydney, margin 3/4 length, time 6 min 47 secs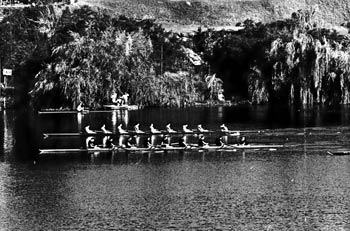 Second test
1st NZL, 2nd AUS, 3rd Banks, 4th Sydney margins 2 feet, 1 length and 2 lengths time 6 min 16.8 secs
Men's Pair
First test
1st NZL No 2, 2nd AUS, margin 2 lengths, time 8min 25.4 secs
Second test
1st NZL No 1, 2nd NZL No 2, 3rd Nepean
Third test
1st AUS, 2nd NZL No 2, 3rd NZL No 1, margin 1 1/4 length time 8 min 12.2 secs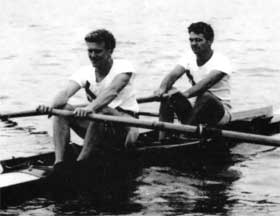 Men's Scull
First test
1st Murray Watkinson (NZL), 2nd Gary Pearce (AUS), margin 1 1/2 lengths, time 8 min 35.5 secs
Second test
1st Murray Watkinson (NZL), 2nd Jeff Sykes (Corio Bay), 3rd Gary Pearce (AUS), Bob Shirlaw (Mosman) did not finish, margins 5 lengths and easily, time 7 min 44.8 secs
Third test
1st Murray Watkinson (NZL), 2nd Peter Edwards (Melbourne), 3rd Gary Pearce (AUS), margin 10 lengths, time 9 min 33.1 secs
Coxed Four
First test
1st NZL, 2nd NZL
Second test
1st NZL, 2nd Sydney, 3rd Haberfield, time: 7:28.5, margins 1.5 lengths and 6 lengths
Third test
1st NZL No 1, 2nd Hawthorn, 3rd Mercantile
Double Scull
First test
1st Mosman, 2nd NZL
Second test
1st NZL, 2nd Mosman
Third test
1st Mosman, 2nd NZL, 3rd Wendouree/Corio Bay
Pair
Second test
1st NZL No 1, 2nd NZL No 2, 3rd Nepean, time: 7:51, margins 1 length and 1 length
Third test
1st NZL, 2nd Mildura, 3rd Nagambie