Trans Tasman Regattas– 1961 Test Series
Three Test Series in New Zealand
With the vast increases in equipment and training methods made evident at the 1960 Olympic Games, both Australia and New Zealand were determined to get racing experience locally.
New Zealand issued an invitation to Australia for a three test series in 1961 which was accepted. NSWRA conducted test races for the New Zealand test series in November 1961. The first Test was held at Hamilton on December 2nd, the second at Wanganui on December 9th and the third at Christchurch on December 16th December.
The Mosman eight won the eights race and the right to represent Australia.
Richard Palmisano reports that the original six man for the eight was Stuart Evans, the stroke man's brother. Shortly before departure to New Zealand, tragedy struck Stuart in losing an arm in a car accident whilst driving to work after rowing. Stuart became a noted rowing coach like his brother Bruce. Mick Johnman joined the crew after Stuart's misfortune.
Further misfortune struck the crew and the Evans family with Bruce & Stuart's father, Fred, dying suddenly whilst in New Zealand. Bruce returned for the funeral and was replaced by Roger Ninham in the last test race.
Bruce and Helen Evans were to give birth to the next generation of great Australian oarsmen in the following year with the birth of future world champion, Steve Evans.
The sculler Roger Ninham had won the President's Cup in 1961 from Squires of Tasmania. He then moved to Sydney and raced for Mosman Rowing Club. He won the selection race from Ian Tutty from Sydney RC.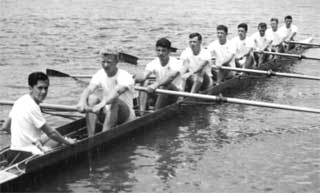 Please note the offset blades on the 2, 4 & 6 seats. The coach Eric Longley had long debated the logic of offset blades and determined that this crew should use them. The oars were made in wood of course and the oar maker was Barry Green. They had not yet worked out the gearing of such oars with too much outboard and so the work was too heavy. However the crew liked the feel of the new oar. Richard Palmisano's view was that "you really got a spoonful".
Australian Team
Men's Eight
Bow: Paul Hyman (NSW)
2: Mick Johnman (NSW)
3: Richard Palmisano (NSW)
4: Gary Herford (NSW)
5: Robert (Bob) G Tipping (NSW)
6: Kevin Evans (NSW)
7: Graeme ("Mick") Allen (NSW)
Str: Bruce Evans (NSW)
Cox: Tony Whybrow (NSW)
Cch: Dr Eric Longley (NSW)
Men's Scull
Roger Ninham (NSW)
Manager: Geoff McIntyre (NSW)
Results
The All Blacks won all three eights tests showing the great strength of New Zealand rowing. The New Zealander Jim Hill, who narrowly missed a bronze medal at the Rome Olympics, also gaining three wins over Ninham.