2016 Under 21 Trans Tasman Regattas
This regatta is scheduled to be run in two parts. The first leg is to be held in Sydney from 30th June to 2nd July 2016 with the second leg held at Lake Karapiro in New Zealand from 8-10th September 2016.
This is a teams event very similar to past series and highly effective in providing high level competition in a number of boat classes. There is one reserve per gender per team and squad rather than crew coaches.
The scullers row singles and a double. The sweep rowers pairs and a four. The scullers and sweep combine into eights. The reserves race a mixed double scull.
Points for racing are awarded in the finals as follows:
For W1x, M1x, W2- and M2-,
1st – 6 points
2nd – 4 points
3rd – 2 points
4th – 1 point
For LW2x, LM2x, W4-, M4-, W4x, M4x, W8+ and M8+
1st – 6 points
2nd – 4 points
For LW1x, LM1x and MixL2x
1st – 2 points
2nd – 1 point
Medals are awarded to the first-placed boat in each category.
The teams compete for the Rusty Robertson Trophy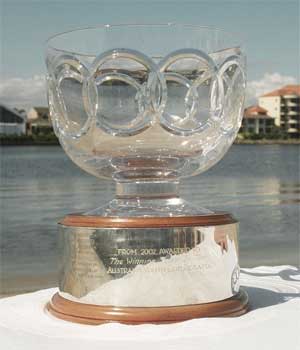 Results
Penrith Regatta - 30th June to 2nd July 2016
Australia won the first leg of the Trans Tasman series with the finla scores:
Australia 146
New Zealand 131.
These points will carry over to the second round of the series to be conducted at Lake Karapiro, New Zealand from 8 – 10 September. The Australian U21 team returned to their home bases before coming together in Canberra for a pre-competition camp in September.
Women's Single Scull - final
1st NEW ZEALAND 1 8:05.06 0.00
2nd AUSTRALIA 2 8:15.12 10.06 +10.06
3rd NEW ZEALAND 2 8:19.88 4.76 +14.82
4th AUSTRALIA 1 5 8:28.62 8.74 +23.56
Men's Pair - final
1st NEW ZEALAND 1 6:54.48 0.00
2nd AUSTRALIA 1 7:06.77 12.29 +12.29
3rd NEW ZEALAND 2 7:10.97 4.20 +16.49
4th AUSTRALIA 2 7:20.62 9.65 +26.14
Women's Lightweight Double Scull - final
1st AUSTRALIA 7:40.49 0.00
2nd NEW ZEALAND 7:47.00 6.51 +6.51
Men's Single Scull - final
1st AUSTRALIA 1 7:19.78 0.00
2nd AUSTRALIA 2 7:26.25 6.47 +6.47
3rd NEW ZEALAND 2 7:28.40 2.15 +8.62
4th NEW ZEALAND 1 7:41.04 12.64 +21.26
Women's Pair - final
1st AUSTRALIA 1 7:42.08 0.00
2nd NEW ZEALAND 1 7:47.24 5.16 +5.16
3rd AUSTRALIA 2 7:51.13 3.89 +9.05
4th NEW ZEALAND 2 7:58.59 7.46 +16.51
Men's Lightweight Double Scull - final
1st AUSTRALIA 6:50.80 0.00
2nd NEW ZEALAND 6:55.29 4.49 +4.49
Men's Reserve Lightweight Single Scull
Women's Reserve Lightweight Single Scull
1st 1st ML1x AUSTRALIA 7:41.05 0.00
2nd 2nd ML1x NEW ZEALAND 7:50.56 9.51 +9.51
3rd 1st WL1x NEW ZEALAND 8:28.64 38.08 +47.59
Women's Coxless Four -final
1st AUSTRALIA 7:34.83 0.00
2nd NEW ZEALAND 7:45.06 10.23 +10.23

Men's Quadruple Scull -final
1st AUSTRALIA 6:30.45 0.00
2nd NEW ZEALAND 6:35.63 5.18 +5.18

Women's Quadruple Scull -final
1st NEW ZEALAND 7:10.31 0.00
2nd AUSTRALIA 7:14.68 4.37 +4.37

Men's Coxless Four -final
1st NEW ZEALAND 6:43.86 0.00
2nd AUSTRALIA6:54.71 10.85 +10.85
Women's Eight- final
1st 1st W8+ AUSTRALIA 6:40.08 0.00
2nd 2nd W8+ NEW ZEALAND 6:48.60 8.52 +8.52
Men's Eight - final
1st AUSTRALIA 5:54.08 0.00
2nd NEW ZEALAND 5:55.54 1.46 +1.46
Australian Team
Men's Sweep
Callum Chisholm (Toowong RC/QLD)
Elliott Apel (Toowing RC/QLD)
Kane Grant (Adelaide RC/SA)
Tim Satin (Adelaide RC/SA)
Coxswain – George Davis (Sydney RC/NSW)
Men's Sculling
Tyron Boorman (Black Mountain RC/ACT)
Sam Marsh (Swan River RC/WAIS/WA)
Men's Lightweight Sculling
Sean Murphy (Mosman RC/NSWIS/NSW)
Matthew Curtin (UTS RC/NSW)
Women's Sweep
Bree Kennedy-Smith (University of Western Australia BC/WA)
Bronwyn Cox (University of Western Australia BC/WA)
Eloise Parker (University of Queensland BC/QLD)
Kelly Drenth (University of Queensland BC/QLD)
Coxswain – Sarah Ben-David (Melbourne University BC/VIC)
Women's Sculling
Ria Thompson (Melbourne RC/VIC)
Ellen Pozzi (University of Queensland BC/QLD)
Lightweight Women's Sculling
Wallis Russell (University of Queensland BC/QLD)
Verayna Zilm (Adelaide RC/SA)
Travelling Reserves
Georgina Masters (UTS RC/NSW)
Matthew Byrne (New Norfolk RC/TAS)
Men's Coaches
Jarrad Schar (SASI/SA)
Matthias Ungemach (Mosman RC/NSW)
Women's Coaches
Jennifer Gilbert (University of Queensland/QLD)
Renae Domaschenz (ANU Boat Club/ACT)
New Zealand Team
Men's Sweep
George Howat (Cure Boating Club/Southern RPC)
Tom Mackintosh (Canterbury Rowing Club/Southern RPC)
Elliot Rhodes (Waikato Rowing Club)
Thomas Bedford (Waikato Rowing Club/Waikato RPC)
Coxswain: Timothy Zouch (North Shore Rowing Club/Auckland RPC)
Men's Sculling
Matthew Mesman (Canterbury Rowing Club/Southern RPC)
Ben Kirsop (Cambridge Rowing Club/Waikato RPC)
Men's Lightweight Sculling
Jordan Gasson (Blenheim Rowing Club/ Marlborough Boys College)
Zak Everitt (St George Rowing Club/Auckland RPC)
Women's Sweep
Lucy Hutchinson (Avon Rowing Club/Southern RPC)
Laura Glen (Avon Rowing Club/Southern RPC)
Finau Mos'ati-Fosita (Hamilton Rowing Club/Scared Heart Girls College Hamilton)
Claudia Mecchia (Hamilton Rowing Club/Scared Heart Girls College Hamilton)
Coxswain – Amber Fordham (North Shore Rowing Club/Auckland RPC)
Women's Sculling
Samantha Voss (Cambridge Rowing Club/Waikato RPC)
Ella Toa (Clifton Rowing Club/Central RPC)
Women's Lightweight Sculling
Courtney Rennie (Tauranga Rowing Club/Waikato RPC)
Macaela Turfus (Dunstan Arms Rowing Club/Dunstan High School)
Travelling Reserves
Stella Blake (Wairau Rowing Club/Marlborough Girls College)
Hugh Pawson (Aramoho Wanganui Rowing Club)
Men's Coaches
Roger Batley
Kaye Surgenor
Women's Coaches
Nick Barton
Joshua Schmidt