2018 SATIS Head of the River
Lake Barrington - Saturday, March 17
Schoolboy First Eight
The 102nd edition of the Tasmanian Head of the River was raced in good conditions. In the Schoolboy Eight, Scotch Oakburn College were able to break the 4-year streak held by the Hutchins School, defeating them by 1.15 seconds.
Scotch Oakburn College's last win in the First Eight was in 2013.
Schoolgirl First Eight
The Friends' School won for the fourth year-in-a-row with a dominant 9½ second win over St. Michael's Collegiate School in 2nd.
Order of Events
| | |
| --- | --- |
| # | Event |
| 1 | Boys Open Coxed Quad Scull |
| 2 | Girls Open Coxed Four |
| 3 | Boys Under 16 Double Scull |
| 4 | Girls Under 16 Single Scull |
| 5 | Boys Under 15 Coxed Quad Scull |
| 6 | Girls Under 15 Double Scull |
| 7 | Boys Under 13 Single Scull |
| 8 | Girls Under 13 Double Scull |
| 9 | Boys Under 14 Coxed Quad Scull |
| 10 | Girls Open Single Scull |
| 11 | Boys Open Double Scull |
| 12 | Girls Under 16 Coxed Four |
| 13 | Boys Under 16 Single Scull |
| 14 | Boys Open Coxed Four |
| 15 | Girls Open Coxed Quad Scull |
| 16 | Para Single Scull |
| 17 | Boys Under 14 Double Scull |
| 18 | Girls Under 14 Single Scull |
| 19 | Girls Under 13 Coxed Quad Scull |
| 20 | Boys Under 13 Double Scull |
| 21 | Boys Under 15 Single Scull |
| 22 | Girls Under 16 Coxed Quad Scull |
| 23 | Boys Under 16 Eight |
| 24 | Girls Under 14 Double Scull |
| 25 | Girls Under 15 Coxed Quad Scull |
| 26 | Boys Open Single Scull |
| 27 | Girls Open Double Scull |
| 28 | Para Double Scull |
| 29 | Boys Under 16 Coxed Four |
| 30 | Girls Under 16 Eight |
| 31 | Boys Under 14 Single Scull |
| 32 | Boys Under 13 Coxed Quad Scull |
| 33 | Girls Under 13 Single Scull |
| 34 | Boys Under 15 Double Scull |
| 35 | Girls Under 14 Coxed Quad Scull |
| 36 | Girls Under 15 Single Scull |
| 37 | Boys Under 16 Coxed Quad Scull |
| 38 | Girls Under 16 Double Scull |
| 39 | Boys Open Eight |
| 40 | Girls Open Eight |
The events and distances for both the Boys and the Girls in the 2018 regatta were:
| | | | | | |
| --- | --- | --- | --- | --- | --- |
| | 1x | 2x | 4x+ | 4+ | 8+ |
| U13 | 500m | 500m | 500m | N/A | N/A |
| U14 | 1000m | 1000m | 1000m | N/A | N/A |
| U15 | 1000m | 1000m | 1000m | N/A | N/A |
| U16 | 1500m | 1500m | 1500m | 1500m | 1500m |
| OPEN | 1500m | 1500m | 2000m | 2000m | 2000m |
| Para | 500m | 1000m | N/A | N/A | N/A |
---
2018 Head of the River at Lake Barrington – Saturday 17th March
(Source: http://www.satis.com.au/2018-head-of-the-river-rowing-regatta/)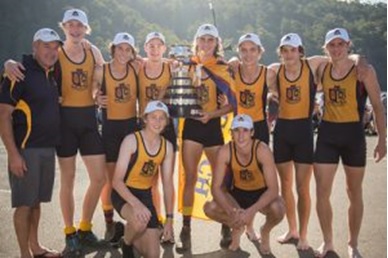 Winners of the Schoolboy First Eight in 2018 - Scotch Oakburn College
(Source: http://www.satis.com.au/2018-head-of-the-river-rowing-regatta/)

Winners of the Schoolgirl First Eight in 2018 - The Friends' School
(Source: http://www.satis.com.au/2018-head-of-the-river-rowing-regatta/)
Organising Committee
(a) Sports Association of Tasmanian Independent Schools (SATIS) & Rowing Tasmania
(b) Boatrace Officials' Association of Tasmania
Officials
(a) Sports Association of Tasmanian Independent Schools (SATIS) & Rowing Tasmania:
Chair SATIS:
Mr Damian Messer (Principal, St Virgil's College)
Administrative Officer NSATIS:
Mrs Barb McBride
Administrative Officer SSATIS:
Ms Emma Johnson
Organising Schools:
Fahan School,
St Mary's College,
St Michael's Collegiate School,
St. Virgil's College,
The Friends' School, and
The Hutchins School
Course Officials:
Boat Race Officials Association of Tasmania (B.O.A.T.)
Rowing Tasmania Officials:
Mr Jim Gibson (President)
Mr Rob Prescott (Executive Officer)
Mr Phillip Fraser
Event Coordinator:
Mr James Dalton
Regatta Secretary:
Mr Julian Joscelyne (School Rowing Coordinator, Rowing Tasmaia)
Results Recorder:
Mr Adrian Broughton, Technical Officer, SATIS
Commentator:
Simon Ancher
Katharine O'Donnell
Mr Andrew Gibson
Mr Michael Banks

Medical Assistance:
Event Medical Edge Services Australia
Parking:
St. Michael's Collegiate School
(b) Boatrace Officials' Association of Tasmania:
President of Jury/Referee:
Mr Phil Fraser
(Fédération Internationale des Sociétés d'Aviron (FISA), Rowing Australia, Rowing Tasmania)
Boat Race Officials:
Ms Tina Maher (Rowing Australia/Rowing Tasmania)
Mr Chris Symons (Rowing Australia/Rowing Tasmania)
Mr Jim Gibson (Rowing Tasmania)
Mr Peter Wade (Rowing Tasmania)
Mr Rob Tenbensel (Rowing Tasmania)
Mr Tim Morris (Rowing Tasmania)
Mr Jim Fletcher (Rowing Tasmania)
Chief Judges:
Mrs Rachel Kitson (Rowing Tasmania)
Ms Amanda Knight (Rowing Tasmania)
Judges:
Mrs Emma McLeod (St Michael's Collegiate School)
Mrs Sally Blanden (St Michael's Collegiate School)
Mrs Trudy Sayers (St Michael's Collegiate School)
Ms Melissa Mace (The Friends' School)
Mrs Jo Morris (The Friends' School)
Ms Di Gregg (The Friends' School)
Ms Annalisa Doedens (The Friends' School)
Mrs Jo Jubb (St Michael's Collegiate School)
Ms Bridgette Bye (St Patrick's College)
Ms Janice March (St Patrick's College)
Rescue:
Mr Dean Johnson (The Friends' School)
Mr Trent Sayers (St Michael's Collegiate School)
Mr Heath Davis (St Michael's Collegiate School)

Ferryman:
Mr Rob Prescott (Rowing Tasmania)
Mr Stephen Hepburn (St Patrick's College)
Marshall:
Ms Jenna Driessen (Rowing Tasmania)
Boat Driver Coordinator:
Mr Peter George (Rowing Tasmania)
---
Schoolboy First Eight
Golden Fleece Cup
5:49.95


5:51.10


5:59.04


6:03.36
1st Scotch Oakburn College – Cameron George, Oliver Cox, Henry Napier, Hamilton Cox, Finnian Colley, Samuel Gray, Nick Cash, Jacob Finnigan, Cox: Edward Napier
2nd Hutchins School – Thomas Vermey, Will Jackson, Brentyn Muir, Axel Moore, Oliver Lamb, Hamish Allan, Dylan Taylor, Jarrod McMullen, Cox: Charles Parnham
3rd Launceston Church Grammar – Riley Chilcott, Will Barber, Alec Poole, Lewis Alexander, Thomas Bates, Declan Underwood, Samuel Dowling, Lachlan Stedman, Cox: Georgia Henderson
4th The Friends' School – Noah Donnelly, Thomas Vickers, Angus Harding-Colliss, Grant Booth, Oliver Gunn, Max Doyle, Finnbar O'Neill, Luke Haas, Cox: Sophia Pauchet
---
Schoolgirl First Eight
Final
6:37.04



6:46.54



6:51.45


6:53.35


7:09.12
1st The Friends' School – Jessica Chesterman, Gabrielle Larsson, Isabella Pauchet, Amelia Newman, Jemima Morgan, Georgia Hines, Ashleigh Brookes, Felixe Boutin-Reeve, Cox: Kate Damen
2nd St. Michael's Collegiate School – Annie Bignell, Brooke Phillips, Georgia Sayers, Kate Hughes, Penelope Boman, Jessica Stephens, Eva Davis, Caitlin Hogan-Jones, Cox: Alexandria Blanden
3rd Launceston Church Grammar – Josephine Gracey, Ruby Lowe, Isobel Wallace, Isabella Banks, Ella Lamplugh, Matilda Ford, Grace Elliott, Josie Adkins, Cox: Poppy Eastaugh
4th Fahan School – Jessica Cowen, Georgia Burgess, Ailish Ansell, Isabelle Hemmings, Esther Gardner, Isabelle Higgins, Josephine Burbury, Isabella Farid, Cox: Iris Fox
5th Scotch Oakburn College – Sophie Loane, Taylor Brown, India Veevers, Claudia Gruber, Greta Brown, Laura Green, Caoilainn O'Loughlin, Alice Breier, Cox: Molly Fox
---
Schoolboy Open Coxed Four
Division 1
6:40.96


6:45.33

Division 2
6:59.50


7:04.88


7:12.18


7:22.05
1st Hutchins School – Oliver Lamb, Hamish Allan, Dylan Taylor, Jarrod McMullen, Cox: Charles Parnham
2nd Scotch Oakburn College – Nick Cash, Samuel Gray, Cameron George, Jacob Finnigan, Cox: Edward Napier
1st Scotch Oakburn College 2 – Hamilton Cox, Finnian Colley, Oliver Cox, Henry Napier, Cox: William Dowling
2nd Scotch Oakburn College 3 – Bradley Lawrence, George Taylor, William Birchmore, Thomas Dowling, Cox: Roland Lockwood
3rd Hutchins School 2 – Ewan Sinclair, Hamish Johnston, Brentyn Muir, Will Jackson, Cox: Sebastian Fry
4th Hutchins School 4 – Oscar Bramich, Chap Macpherson, Harry Ireland, Will Hodgman, Cox: Fergus Grant
---
Schoolgirl Open Coxed Four
Division 1
7:32.99


7:41.80


7:54.75


8:15.75


8:22.22


8:26.87


Division 2
8:02.33


8:06.54


8:11.54


8:14.80


8:15.23


8:50.52
1st St. Michael's Collegiate School – Penelope Boman, Jessica Stephens, Eva Davis, Caitlin Hogan-Jones, Cox: Clementine Harris
2nd The Friends' School – Georgia Hines, Jemima Morgan, Ashleigh Brookes, Felixe Boutin-Reeve, Cox: Kate Damen
3rd Fahan School – Esther Gardner, Isabelle Higgins, Josephine Burbury, Isabella Farid, Cox: Iris Fox
4th Scotch Oakburn College – Sophie Loane, Laura Green, Caoilainn O'Loughlin, Claudia Gruber, Cox: Molly Fox
5th Launceston Church Grammar – Josephine Gracey, Ruby Lowe, Ella Lamplugh, Isobel Wallace, Cox: Poppy Eastaugh
6th St. Patrick's College – Chloe Bessell, Nicole Ross, Tayla Cherry, Neika Morrow, Cox: Esmae Morrow
1st St. Michael's Collegiate School 3 – Ella Hannaford, Neve Hannaford, Iris Dobson, Emma Calvert, Cox: Alexandria Blanden
2nd The Friends' School 2 – Mem Thorpe, Emily Taylor, Meg Pointon, Lotte Newton, Cox: Alec Slamen
3rd Fahan School 2 – Jessica Cowen, Georgia Burgess, Ailish Ansell, Isabelle Hemmings, Cox: Daisy Pilkington
4th Scotch Oakburn College 2 – India Veevers, Tamika McHenry, Taylor Brown, Alice Breier, Cox: Edward Napier
5th St. Michael's Collegiate School 2 – Annie Bignell, Brooke Phillips, Georgia Sayers, Kate Hughes, Cox: Ellia Kelleher
6th Fahan School 3 – Lucy Taranto, Georgia Britten, Lily O'Donnell, Emma Ward, Cox: Georgia Heyward
---
Schoolboy Open Coxed Quad Scull
Division 1
6:48.99


6:54.29


7:04.10


7:04.73


7:17.97


7:33.24
1st Launceston Church Grammar – Declan Underwood, Alec Poole, Lewis Alexander, Samuel Dowling, Cox: Georgia Henderson
2nd Launceston Church Grammar 2 – Riley Chilcott, Will Barber, Thomas Bates, Lachlan Stedman, Cox: Mollie Dowling
3rd Scotch Oakburn College – Bradley Lawrence, George Taylor, William Birchmore, Thomas Dowling, Cox: Roland Lockwood
4th Hutchins School – Oscar Bramich, Chap Macpherson, Harry Ireland, Will Hodgman, Cox: Sebastian Fry
5th Launceston Church Grammar 3 – William Barrenger, Tyson Wood, Henry Barrenger, George Gray, Cox: Emily Fryet
6th The Friends' School – Alasdair Cooper, William Merritt, Jack Roland, Lachlan Hutchinson, Cox: Sophia Pauchet
---
Schoolgirl Open Coxed Quad Scull
Division 1
7:27.36


7:41.78


7:56.56


8:02.99


8:08.43

8:11.64


8:30.45
1st Launceston Church Grammar – Isabella Banks, Matilda Ford, Grace Elliott, Josie Adkins, Cox: Poppy Eastaugh
2nd The Friends' School – Jessica Chesterman, Gabrielle Larsson, Amelia Newman, Felixe Boutin-Reeve, Cox: Kate Damen
3rd St. Patrick's College – Lilly Slater, Tayla Cherry, Neika Morrow, Nicole Ross, Cox: Esmae Morrow
4th St. Michael's Collegiate School – Ella Hannaford, Ella Marshall, Emma Calvert, Neve Hannaford, Cox: Alexandria Blanden
5th Fahan School – Lucy Taranto, Bronte Oh, Saffron Warden, Emma Ward, Cox: Iris Fox
6th The Friends' School 2 – Mem Thorpe, Emily Taylor, Meg Pointon, Lotte Newton, Cox: Lachlan Cooper
7th Fahan School 2 – Grace Higgins, Georgia Britten, Matilda Grant, Lily O'Donnell, Cox: Daisy Pilkington
---
Schoolboy Open Double Scull
Division 1 – 1500m
5:34.90
5:39.31
5:40.29
5:47.69
5:56.52
1st Hutchins School – Sam King, Hamish Vermey
2nd Launceston Church Grammar – Henry Barrenger, Tyson Wood
3rd Launceston Church Grammar 2 – Winston Stuart, George Gray
4th The Friends' School – Jack Roland, Lachlan Hutchinson
5th The Friends' School 2 – Alasdair Cooper, William Merritt
---
Schoolgirl Open Double Scull
Division 1 – 1500m
5:47.10
6:02.20
6:07.07
6:13.92
6:28.68
Division 2 – 1500m
5:58.41
6:03.26
6:12.46
6:34.34
6:41.67
6:49.22
6:49.88
1st Launceston Church Grammar – Grace Elliott, Josie Adkins
2nd Guilford Young College – Anja Bremmers, Madeleine Black
3rd St. Mary's College – Sophie Robinson, Alana Bellette
4th St. Patrick's College – Tayla Cherry, Neika Morrow
5th The Friends' School – Meg Pointon, Emily Taylor
1st Launceston Church Grammar 2 – Isobel Wallace, Matilda Ford
2nd St. Patrick's College 2 – Lilly Slater, Chloe Bessell
3rd Fahan School 2 – Saffron Warden, Emma Ward
4th Fahan School 3 – Lucy Taranto, Matilda Grant
5th The Friends' School 2 – Mem Thorpe, Lotte Newton
6th St. Michael's Collegiate School 2 – Iris Dobson, Rebecca Brown
7th Fahan School 4 – Georgia Britten, Lily O'Donnell
---
Schoolboy Open Single Scull
Division 1 – 1500m
5:42.13
5:45.16
6:03.57
6:13.44
Division 2 – 1500m
5:54.79
6:11.65
6:21.87
6:27.22
6:31.33
6:32.70
1st Guilford Young College – Tom Messer
2nd Hutchins School – Hamish Johnston
3rd Launceston Church Grammar – William Barrenger
4th The Friends' School – Lachlan Hutchinson
1st Hutchins School 2 – Will Hodgman
2nd Launceston Church Grammar 3 – George Gray
3rd Hutchins School 3 – Sam King
4th The Friends' School 2 – William Merritt
5th Launceston Church Grammar 2 – Winston Stuart
6th The Friends' School 3 – Alasdair Cooper
---
Schoolgirl Open Single Scull
Division 1 – 1500m
6:26.60
6:37.66
6:42.63
6:46.15
6:57.57
7:08.36
7:36.65
Division 2 – 1500m
6:38.09
6:54.61
6:54.92
1st The Friends' School – Jemima Morgan
2nd Guilford Young College – Madeleine Black
3rd St. Patrick's College – Chloe Bessell
4th St. Michael's Collegiate School – Ella Marshall
5th Fahan School – Matilda Grant
6th Scotch Oakburn College – Tamika McHenry
7th St. Brendan-Shaw College – Savanna Webb
1st The Friends' School 2 – Gabrielle Larsson
2nd Guilford Young College 2 – Anja Bremmers
3rd Fahan School 2 – Lily O'Donnell
---
Schoolboy Under 16 Eight
Division 1 – 1500m
4:38.72


4:50.49


4:59.66


5:00.22


5:05.84
1st Hutchins School – Andrew Maree, Oscar Campbell, Flynn Petersen-Stanton, James Rolls, Thomas Vermey, Axel Moore, Chris Law, Harry Black, Cox: Sebastian Fry
2nd St. Patrick's College – Dominic Grose, Neil Douglas, Lachlan Brown, Elijah McCullagh, Laurie Dean, Cody Smith, Beau Malkin, Oscar Birtwistle, Cox: William Reilly
3rd Scotch Oakburn College – William Hurd, Alfie Neville-Clark, Patrick Brown, Alexander Creak, Harry Cook, Roo Colley, Joseph Lawrence, Lachlan Stewart, Cox: Roland Lockwood
4th The Friends' School – Oscar Willink, Jeremy Temple, Alec Slamen, Elliot Doedens, Angus McMahon, Flynn Bradbury, Griffin Hooper, Alexander Exarhakos, Cox: Callum Jameson
5th Launceston Church Grammar – Manny Ellis, Thomas Ferrall, Thomas Hucker, Sebastian Trotman, Jordan Wiesse, Thomas Foster, Peter Strong, Will Gibson, Cox: Isabel Brown
---
Schoolgirl Under 16 Eight
Division 1 – 1500m
1st St. Michael's Collegiate School – Ellia Kelleher, Ruby Fiedler, Anais Jubb, Poppy Newton, Ebony Taylor, Lily Fisher, Lucy McHenry, Ellie Killion-Bridley, Cox: Clementine Harris
2nd Launceston Church Grammar – Sarah Adkins, Lucy Alexander, Adele McLaine, Amaya Caldwell, Elsie Quinn, Maggie Ralph, Molly Woolcock, Nicole Patrick, Cox: Thomas Ferrall
3rd Scotch Oakburn College – Gabrielle Merritt, Zoe Knight, Hannah Bryant, Isabella Shackcloth, Millicent Coleman, Ruby Lang, Juliette Cayoun, Ava Close, Cox: Kate Damen
---
Schoolboy Under 16 Coxed Four
Division 1 – 1500m
5:16.75


5:21.93


5:28.28


5:45.56


5:54.70
1st Hutchins School – Flynn Petersen-Stanton, James Rolls, Chris Law, Harry Black, Cox: Sebastian Fry
2nd Scotch Oakburn College – Bradley Lawrence, Lachlan Stewart, Roo Colley, Harry Cook, Cox: Roland Lockwood
3rd Launceston Church Grammar – Jordan Wiesse, Thomas Foster, Will Gibson, Peter Strong, Cox: Isabel Brown
4th The Friends' School – Oscar Willink, Jeremy Temple, Angus McMahon, Sam Wood, Cox: Callum Jameson
5th Launceston Church Grammar 2 – Manny Ellis, John Hutchinson, Sebastian Trotman, Thomas Hucker, Cox: Mollie Dowling
---
Schoolgirl Under 16 Coxed Four
Division 1 – 1500m
5:47.53


5:48.73


5:57.67


6:05.36


6:19.88


6:28.94


6:37.75
1st St. Mary's College – Sophie Robinson, Hannah O'Connell, Summer Carpenter, Kate Oliver, Cox: Holly Teale
2nd St. Michael's Collegiate School – Ebony Taylor, Lily Fisher, Lucy McHenry, Ellie Killion-Bridley, Cox: Clementine Harris
3rd Fahan School – Phoebe Fitzgerald, Maggie Green, Elsie Lamb, Sasha Gregg, Cox: Georgia Heyward
4th Launceston Church Grammar – Maggie Ralph, Elsie Quinn, Molly Woolcock, Nicole Patrick, Cox: Thomas Ferrall
5th Scotch Oakburn College – Caitlin Silberberg, Harriet Grimshaw, Bella Lindsay, Sophie Coe, Cox: Hashnavi Ponnusamy
6th The Friend's School – Juliette Cayoun, Gabrielle Merritt, Hannah Bryant, Ava Close, Cox: Millicent Coleman
7th Launceston Church Grammar 2 – Adele McLaine, Amaya Caldwell, Lucy Alexander, Sarah Adkins, Cox: Indigo Clarke
---
Schoolboy Under 16 Coxed Quad Scull
Division 1 – 1500m
5:09.90


5:19.94


5:22.43


5:25.26


5:27.46


5:31.73


5:52.18
1st Scotch Oakburn College – Thomas Dowling, Lachlan Stewart, Roo Colley, Harry Cook, Cox: Roland Lockwood
2nd St. Virgil's College – Kobey Cashion, William Lonergan, Angus Paynter, Jarrod Connolly, Cox: Jordan Woods
3rd The Friends' School – Elliot Doedens, Flynn Bradbury, Griffin Hooper, Alexander Exarhakos, Cox: Alec Slamen
4th St. Patrick's College 2 – William Reilly, Neil Douglas, Beau Malkin, Oscar Birtwistle, Cox: Darcy Waud
5th St. Patrick's College – Dominic Grose, Lachlan Brown, Cody Smith, Elijah McCullagh, Cox: Daniel Douglas
6th Launceston Church Grammar – Thomas Ferrall, Thomas Hucker, Sebastian Trotman, Peter Strong, Cox: Manny Ellis
7th Launceston Church Grammar 2 – John Hutchinson, Will Gibson, Jordan Wiesse, Thomas Foster, Cox: Hugo Barrenger
---
Schoolgirl Under 16 Coxed Quad Scull
Division 1 – 1500m
5:40.39


5:42.82


5:44.23


5:51.83


6:07.11


6:08.64


Division 2 – 1500m
6:04.41


6:18.68


6:55.49
1st St. Michael's Collegiate School – Ellia Kelleher, Ruby Fiedler, Lily Fisher, Ebony Taylor, Cox: Clementine Harris
2nd Launceston Church Grammar – Maggie Ralph, Elsie Quinn, Molly Woolcock, Nicole Patrick, Cox: Poppy Eastaugh
3rd St. Mary's College – Sophie Robinson, Maddison Lamb, Summer Carpenter, Kate Oliver, Cox: Holly Teale
4th The Friends' School – Hannah Bryant, Isabella Shackcloth, Ruby Lang, Millicent Coleman, Cox: Kate Damen
5th Fahan School – Grace Higgins, Maggie Green, Elsie Lamb, Phoebe Fitzgerald, Cox: Georgia Heyward
6th Mt. Carmel College – Imogen Nation, Melanie Bremmers, Isabella Albertini, Molly Marshall, Cox: Benedicta Foss
1st Launceston Church Grammar 2 – Lucy Alexander, Amaya Caldwell, Indigo Clarke, Sarah Adkins, Cox: Adele McLaine
2nd The Friends School 2 – Ava Close, Juliette Cayoun, Zoe Knight, Gabrielle Merritt, Cox: Jessen Mitchelmore
3rd St. Michael's Collegiate School 2 – Lucy McHenry, Jessica Hall, Anais Jubb, Poppy Newton, Cox: Ellie Killion-Bridley
---
Schoolboy Under 16 Double Scull
Division 1 – 1500m
5:30.37
5:36.72
5:39.66
5:55.95
5:59.47
6:21.03
Division 2 – 1500m
5:47.59
6:02.09
6:11.79
6:23.24
1st Scotch Oakburn College – Karl Breier, Lachlan Stewart
2nd Hutchins School – Chris Law, Harry Black
3rd St. Patrick's College – Lachlan Brown, Elijah McCullagh
4th St. Virgil's College – Kobey Cashion, William Lonergan
5th The Friends' School – Griffin Hooper, Angus McMahon
6th Launceston Church Grammar – Sebastian Trotman, Manny Ellis
1st Hutchins School 2 – Andrew Maree, Oscar Campbell
2nd The Friends' School 2 – Sam Wood, Flynn Bradbury
3rd Launceston Church Grammar 2 – Thomas Hucker, Thomas Ferrall
4th Hutchins School 3 – Flynn Petersen-Stanton, Ewan Sinclair
---
Schoolgirl Under 16 Double Scull
Division 1 – 1500m
5:49.33
5:54.24
5:54.61
5:55.73
6:09.75
Division 2 – 1500m (TT)
5:58.24
6:01.98
6:09.62
6:17.56
6:20.80
6:28.67
6:34.97
6:44.07
6:44.73
1st St. Mary's College – Summer Carpenter, Kate Oliver
2nd St. Michael's Collegiate School – Ellie Killion-Bridley, Lily Fisher
3rd The Friends' School – Ruby Lang, Millicent Coleman
4th Mt. Carmel College – Imogen Nation, Melanie Bremmers
5th Launceston Church Grammar – Indigo Clarke, Nicole Patrick
1st St. Michael's Collegiate School 3 – Ruby Fiedler, Ebony Taylor
2nd St. Michael's Collegiate School 4 – Clementine Harris, Lucy McHenry
3rd St. Michael's Collegiate School 5 – Anais Jubb, Poppy Newton
4th Launceston Church Grammar 2 – Maggie Ralph, Molly Woolcock
5th St. Mary's College 2 – Hannah O'Connell, Maddison Lamb
6th St. Michael's Collegiate School 2 – Jessica Hall, Ellia Kelleher
7th The Friends' School 2 – Zoe Knight, Isabella Shackcloth
8th The Friends' School 3 – Ava Close, Gabrielle Merritt
9th Launceston Church Grammar 3 – Adele McLaine, Sarah Adkins
---
Schoolboy Under 16 Single Scull
Division 1 – 1500m
5:57.47
6:10.04
6:13.55
6:17.05
6:20.51
6:25.63
6:54.55
Division 2 – 1500m
6:04.90
6:07.15
6:09.56
6:35.49
6:43.42
DNF
1st Hutchins School – Thomas Vermey
2nd Scotch Oakburn College – Roo Colley
3rd The Friends' School – Elliot Doedens
4th St. Patrick's College – Elijah McCullagh
5th Launceston Church Grammar – Peter Strong
6th St. Virgil's College – William Lonergan
7th St. Brendan-Shaw College – Harrison Nield
1st Hutchins School 2 – James Rolls
2nd St. Patrick's College 2 – Cody Smith
3rd St. Virgil's College 2 – Jarrod Connolly
4thThe Friends' School 2 – Alex Slamen
5th Launceston Church Grammar – Manny Ellis
6th Scotch Oakburn College 2 – Karl Breier
---
Schoolgirl Under 16 Single Scull
Division 1 – 1500m
6:32.05
6:45.49
6:51.07
6:55.52
6:56.74
7:04.61
7:04.96
7:32.09
Division 2 – 1500m
6:45.52
6:55.98
6:56.63
6:56.99
7:02.08
7:05.79
7:27.87
DNF
1st St. Patrick's College – Lilly Slater
2nd Fahan School – Sasha Gregg
3rd The Friends' School – Millicent Coleman
4th St. Mary's College – Summer Carpenter
5th Mt. Carmel College – Melanie Bremmers
6th Scotch Oakburn College – Jenna Towns
7th Launceston Church Grammar – Indigo Clarke
8th St. Brendan-Shaw College – Claire Ellis
1st The Friends' School 2 – Ruby Lang
2nd The Friends' School 3 – Isabella Shackcloth
3rd Fahan School 3 – Phoebe Fitzgerald
4th Fahan School 2 – Elsie Lamb
5th The Friends' School 4 – Zoe Knight
6th Launceston Church Grammar 2 – Elsie Quinn
7th Launceston Church Grammar 3 – Coco Thyne
8th St. Mary's College – Sophie Robinson
---
Schoolboy Under 15 Coxed Quad Scull
Division 1 – 1000m
3:26.07


3:36.31


3:42.44


3:45.01


3:49.17


4:02.73


Division 2 – 1000m
3:37.34


3:48.00


3:50.59


3:53.88


4:03.61
1st St. Patrick's College – Laurie Dean, Neil Douglas, Beau Malkin, Oscar Birtwistle, Cox: Daniel Douglas
2nd St. Virgil's College – Thomas Doyle, Joel Watling, Harry King, Tom Oliver, Cox: Jordan Woods
3rd The Friends' School – James Downie, Max Bishop, Harry Bevan, Thomas Procter, Cox: Sophie Procter
4th Hutchins School – Jack Dalton, Angus Byrne, Samuel Mounter, Harry Sillifant, Cox: Isaac Nugent
5th Scotch Oakburn College – Alfie Neville-Clark, William Hurd, Patrick Brown, Joseph Lawrence, Cox: Alexander Creak
6th Launceston Church Grammar – Thomas Wickham, Thomas Swan, Thomas Wyly, Charles Townsend, Cox: Harrison Lockrey
1st Hutchins School 3 – Jake Maumill, Alister Bradley, Oscar Newbury, Theo Chilcott, Cox: Sebastian Fry
2nd Hutchins School 2 – Oliver Elrick, Samuel Henning, Benjamin Boman, Henry Burnett, Cox: Henry Johnstone
3rd St. Patrick's College 2 – Conor Rae, Thomas Lette, Ryan Anderson, William Reilly, Cox: Darcy Waud
4th The Friends' School 2 – Josh Abell, Jessen Mitchelmore, Jack Horrocks, James Taylor, Cox: Ella Bishop
5th St. Virgil's College 2 – Fergus Webster, William Graves, Luke Johnson, Andrew Monks, Cox: Hugo Grubb
---
Schoolgirl Under 15 Coxed Quad Scull
Division 1 – 1000m
3:41.91


3:47.20


3:47.40


3:47.81


3:54.61


3:58.85


3:59.98


4:11.87


Division 2 – 1000m (TT)
3:50.67


3:56.52


4:00.86


4:01.32


4:04.32


4:06.38


4:11.26


4:14.35


4:17.54


4:22.37
1st St. Michael's Collegiate School – Georgie Sullivan, Tussy Thomas, Maya Prescott, Phoebe Davis, Cox: Clementine Harris
2nd Launceston Church Grammar – Emily Fryett, Sarah Curtis, Alayna Mackirdy, Mollie Dowling, Cox: Hugo Barrenger
3rd Fahan School – Daisy Maning, Lilly Ansell, Olivia Wilkins, Sophie Rule, Cox: Georgia Heyward
4th St. Patrick's College – Esmae Morrow, Eleanor March, Trilelle Vimpany-Tubb, Georgia McCord, Cox: Jaimie Duffy
5th The Friends' School – Paris Menadue, Cygnet Hornett, Zoe Shackcloth, Kayla Fajrianto, Cox: Charlotte Smith
6th Scotch Oakburn College – Jessica Finnigan, Millie Duigan, Heidi Schouten, Madeleine McCann, Cox: Stephanie Howell
7th St. Mary's College – Gabriella Woodhouse, Samantha Williams, Sarah Haas, Phoebe Teale, Cox: Holly Teale
8th Mt. Carmel College – Imogen Nation, Benedicta Foss, Isabella Albertini, Molly Marshall, Cox: Melanie Bremmers
1st Scotch Oakburn College 2 – Eva Baonza, Lindsay Calvert, Alecia Jepson, Eliza Muller, Cox: Amy Florance
2nd St. Michael's Collegiate School 2 – Olivia Viney, Alice McMahon, Mena McLeod, Olivia Clerk, Cox: Kiirra Johns
3rd Launceston Church Grammar 2 – Poppy White, India Bates, Elizabeth Brown, Charlotte Savva, Cox: Olivia Frost
4th Fahan School 2 – Emily Farquer, Indigo Osgerby, Miranda Jones, Lucinda Ramsay, Cox: Daisy Pilkington
5th Launceston Church Grammar 3 – Stella Gracey, Maddison Ward, Ella Swan, Zoe Bourne, Cox: Henry Barrenger
6th St. Michael's Collegiate School 2 – Dimity Taylor, Meera Doolabh, Abby Burrows-Cheng, Sarah Russell, Cox: Charlotte Elrick
7th St. Patrick's College 2 – Ava Connelly, Tia Melray, Lucy Waud, Bianca Duffy, Cox: Ella Slatter
8th Fahan School 3 – Anna Edwards, Juniper Clements, Marlo Jones, Hannah Cutherbert, Cox: Iris Fox
9th The Friends' School 2 – Petra Exarhakos, Ainsley Gardiner, Ava Thorpe, Sophia Maskell, Cox: Daisy Smith
10th The Friends' School 3 – Connie Gardiner, Sophie Rackham, Isabel Voss, Olivia Gough, Cox: Charlotte Ralph
---
Schoolboy Under 15 Double Scull
Division 1 – 1000m
3:25.11
3:26.21
3:37.48
3:47.70
3:49.00
3:50.75
Division 2 – 1000m (TT)
3:33.41
3:34.28
3:38.34
3:41.13
3:44.46
3:44.65
3:50.68
3:53.07
3:53.15
3:56.30
3:59.55
4:00.13
4:06.24
4:11.18
4:22.13
1st Hutchins School – Samuel Mounter, Jack Dalton
2nd St. Patrick's College – Laurie Dean, Oscar Birtwistle
3rd St. Virgil's College – Angus Paynter, Jarrod Connolly
4th Scotch Oakburn College – Alfie Neville-Clark, William Hurd
5th The Friends' School – James Taylor, Max Bishop
6th Launceston Church Grammar – Thomas Wickham, Charles Townsend
1st St. Virgil's College 2 – Tom Oliver, Harry King
2nd Hutchins School 2 – Angus Byrne, Oliver Elrick
3rd Hutchins School 3 – Oscar Newbury, Benjamin Boman
4th Scotch Oakburn College 2 – Patrick Brown, Joseph Lawrence
5th Hutchins School 4 – Samuel Henning, Theo Chilcott
6th The Friends' School 3 – Josh Abell, Reuben Kershaw-McHugh
7th The Friends' School 2 – Thomas Procter, James Downie
8th The Friends' School 4 – Jack Horrocks, Jessen Mitchelmore
9th St. Virgil's College 3 – Andrew Monks, Joel Watling
10th Hutchins School 5 – Jake Maumill, Alister Bradley
11th St. Virgil's College 4 – William Graves, Luke Johnson
12th Hutchins School 6 – Isaac Nugent, Henry Johnstone
13th Launceston Church Grammar 2 – Thomas Wyly, Harrison Lockrey
14th Scotch Oakburn College 3 – Alexander Creak, William Gray
15th St. Patrick's College 2 – Thomas Lette, William Reilly
---
Schoolgirl Under 15 Double Scull
Division 1 – 1000m (TT)
3:56.89
3:58.72
4:08.17
4:14.86
4:16.00
4:16.15
4:18.86
4:20.28
4:29.47
Division 2 – 1000m (TT)
4:00.09
4:13.14
4:14.12
4:14.26
4:15.14
4:16.29
4:18.51
4:21.31
4:21.33
4:21.94
4:23.77
4:23.85
4:27.69
4:27.90
4:28.27
4:29.62
4:31.69
4:32.05
4:34.39
4:35.64
4:35.95
4:42.48
4:46.42
4:49.20
1st St. Mary's College – Phoebe Teale, Sarah Haas
2nd St. Michael's Collegiate School – Maya Prescott, Sarah Russell
3rd Mt. Carmel College – Imogen Nation, Isabella Albertini
4th Launceston Church Grammar – Charlotte Savva, Alayna Mackirdy
5th Fahan School – Olivia Wilkins, Sophie Rule
6th The Friends' School – Kayla Fajrianto, Zoe Shackcloth
7th Scotch Oakburn College – Jessica Finnigan, Heidi Schouten
8th St. Patrick's College – Georgia McCord, Tia Melray
9th St. Brendan-Shaw College – Ineke Crate, Catherine Greenhill
1st St. Michael's Collegiate School 2 – Phoebe Davis, Kiirra Johns
2nd St. Patrick's College 3 – Bianca Duffy, Eleanor March
3rd Launceston Church Grammar 3 – Elizabeth Brown, Poppy White
4th St. Michael's Collegiate School 4 – Olivia Clerk, Mena McLeod
5th St. Michael's Collegiate School 3 – Tussy Thomas, Georgie Sullivan
6th Scotch Oakburn College 3 – Madeleine McCann, Eva Baonza
7th Fahan School 2 – Marlo Jones, Hannah Cutherbert
8th St. Michael's Collegiate School 5 – Olivia Viney, Alice McMahon
9th The Friends' School 2 – Sophie Rackham, Charlotte Ralph
10th Launceston Church Grammar 2 – Ella Swan, Sarah Curtis
11th Launceston Church Grammar 4 – India Bates, Zoe Bourne
12th The Friends' School 7 – Cygnet Hornett, Ava Thorpe
13th Fahan School 3 – Emily Farquer, Miranda Jones
14th Scotch Oakburn College 2 – Alecia Jepson, Millie Duigan
15th Mt. Carmel College 2 – Molly Marshall, Benedicta Foss
16th St. Patrick's College 2 – Ava Connelly, Esmae Morrow
17th The Friends' School 3 – Olivia Gough, Petra Exarhakos
18th St. Patrick's College 4 – Trilelle Vimpany-Tubb, Lucy Waud
19th Launceston Church Grammar 5 – Stella Gracey, Maddison Ward
20th St. Mary's College 2 – Gabriella Woodhouse, Samantha Williams
21st The Friends' School 6 – Sophia Maskell, Ainsley Gardiner
22nd St. Michael's Collegiate School 6 – Abby Burrows-Cheng, Dimity Taylor
23rd The Friends' School 4 – Daisy Smith, Isabel Voss
24th The Friends' School 5 – Charlotte Smith, Connie Gardiner
---
Schoolboy Under 15 Single Scull
Division 1 – 1000m
3:52.98
3:57.28
4:00.03
4:19.65
Division 2 – 1000m
3:54.95
3:57.47
4:04.49
4:06.25
4:08.17
4:29.80
4:31.46
1st Hutchins School – Samuel Mounter
2nd St. Virgil's College – Angus Paynter
3rd The Friends' School – Harry Bevan
4th Launceston Church Grammar – Charles Townsend
1st Hutchins School 2 – Harry Sillifant
2nd St. Virgil's College 3 – Harry King
3rd St. Virgil's College 2 – Joel Watling
4th Hutchins School 3 – Henry Burnett
5th The Friend's School 2 – Thomas Procter
6th Launceston Church Grammar 2 – Thomas Swan
7th Launceston Church Grammar 3 – Thomas Wickham
---
Schoolgirl Under 15 Single Scull
Division 1 – 1000m (TT)
4:10.44
4:14.00
4:14.79
4:17.01
4:18.97
4:20.69
4:40.96
4:45.94
5:08.25
Division 2 – 1000m
4:07.05
4:11.59
4:17.38
4:23.94
4:25.84
4:34.44
4:47.61
5:00.29
1st Scotch Oakburn College – Lindsay Calvert
2nd St. Mary's College – Phoebe Teale
3rd Fahan School – Lilly Ansell
4th Launceston Church Grammar – Mollie Dowling
5th St. Michael's Collegiate School – Sarah Russell
6th The Friends' School – Cygnet Hornett
7th St. Patrick's College – Georgia McCord
8th Mt. Carmel College – Benedicta Foss
9th St. Brendan-Shaw College – Ineke Crate
1st St. Michael's Collegiate School 2 – Kiirra Johns
2nd St. Mary's College 2 – Sarah Haas
3rd Launceston Church Grammar 2 – Emily Fryett
4th The Friends' School 2 – Paris Menadue
5th St. Patrick's College 2 – Trilelle Vimpany-Tubb
6th Fahan School 2 – Daisy Maning
7th Mt. Carmel College 2 – Molly Marshall
8th Scotch Oakburn College 2 – Amy Florance
---
Schoolboy Under 14 Coxed Quad Scull
Division 1 – 1000m
3:34.68


3:38.03


3:41.40


3:59.37


4:07.43


Division 2 – 1000m
3:58.68


4:16.11


4:18.28


4:20.15


4:23.49


4:33.45
1st Hutchins School – Angus Vermey, Tom Bayley, Tom Gibson, Hayden Mounter, Cox: Fergus Grant
2nd Scotch Oakburn College – Lachlan Breden, Jack Briggs, Harry Birchmore, William Gray, Cox: William Dowling
3rd The Friends' School – Calum Johnson, Ryan Fox, James Wilson, Lewis Morphett, Cox: Lachlan Cooper
4th St. Patrick's College – Thomas Peel, Darcy Waud, Ryan Anderson, Conor Rae, Cox: Daniel Douglas
5th Launceston Church Grammar – Lachlan Dean, Angus Farquhar, Henry Woolcock, Archie Ralph, Cox: Jack Ancher
1st The Friends' School 2 – Marcus Bryant, Isaac Fitzgerald, Henry Michel, Charles Colhoun, Cox: Sophia Pauchet
2nd Hutchins School 2 – Finn Sinclair, Ben Sillifant, Howard Newbury, Angus Mather, Cox: Tom Whatling
3rd Scotch Oakburn College 2 – James Watters, Oliver Lindsay, Sebastian Williams, Jak Langford, Cox: Stephanie Howell
4th Launceston Church Grammar 2 – Hugo Hirst, Toby Cannell, Liam Chilcott, William Bates, Cox: Coco Thyne
5th St. Patrick's College 2 – James Stuart, Henry Carls, Zeneca Mercer, Saxon McDermott, Cox: Lachlan Reily
6th The Friends' School 3 – Oliver Zakaria, Connor Johnson, Gryff Connah, Rory Glenn, Cox: Noah Donnelly
---
Schoolgirl Under 14 Coxed Quad Scull
Division 1 – 1000m
3:52.31


3:54.19


3:57.46


3:59.28


4:00.12


4:00.82


4:10.00


4:14.71


Division 2 – 1000m
4:01.46


4:02.69


4:04.45


4:12.09


4:22.27


4:33.36


5:24.26
1st Scotch Oakburn College – Emma Jepson, Charlotte Loane, Anna Golovko, Cassie Silberberg, Cox: Lily Cleeland
2nd St. Brendan-Shaw College – Ruby Skirving, Catherine Greenhill, Ella Spaulding, Jessica Welch, Cox: Sarah Ellis
3rd St. Mary's College – Holly Goward, Felicity Carter, Liliana Radic, Cecilia Hutchinson, Cox: Gabrielle Radic
4th Launceston Church Grammar – Isabel Brown, Ashton Billing, Isobel Goss, Elizabeth Tucker, Cox: Olivia Frost
5th St. Michael's Collegiate School – Elise Bird, Lucia Saunders, Claudia Johnston, Franki Selley, Cox: Phoebe Davis
6th The Friends' School – Julia Powell-Davies, Hannah Gregory, Annabel Woolward, Amanda Gardner, Cox: Chloe Mead
7th St. Patrick's College – Charlotte Roney, Jaimie Duffy, Morgan Brown, Kalani Ciantar, Cox: Esmae Morrow
8th Fahan School – Sarah Leary, Amelie Lumsden-Steel, Juniper Clements, Edie Jordan, Cox: Anna Edwards
1st Scotch Oakburn College 2 – Hannah Woolston, Imogen Duigan, Maisie Edwards, Catriona Stewart, Cox: Bianca Lockwood
2nd St. Patrick's College 2 – Jade Binns, Matilda Allen, Emily Hepburn, Laura Bye, Cox: Georgia McCord
3rd St. Michael's Collegiate School 2 – Meera Doolabh, Abbie Moore, Eliza Shelley, Lucy Stubbs, Cox: Rosie Forsyth
4th St. Mary's College 2 – Holly Sice, Imogen Brown, Eliza Mason, Meg Pinelli, Cox: Chloe Skinner
5th Launceston Church Grammar 2 – Jasmine Gowland, Alice Lowe, Emma Hawes, Emma Ferrall, Cox: Grace Robertson
6th Launceston Church Grammar 3 – Kathryn Hill, Madalyn Fleming, Ashlyn Mayes, Simone Loo, Cox: Chloe Lalor
7th The Friends' School – Amelia Prussner, Isobel Heathcote, YunHee Cho, Morgan White, Cox: Sophie Procter
---
Schoolboy Under 14 Double Scull
Division 1 – 1000m
3:37.75
3:42.78
3:46.26
3:48.67
3:49.79
4:30.83
Division 2 – 1000m (TT)
4:01.69
4:06.77
4:07.12
4:09.29
4:10.05
4:11.61
4:16.70
4:17.96
4:19.17
4:40.70
4:57.63
5:09.14
1st Scotch Oakburn College – Harry Birchmore, William Gray
2nd Hutchins School – Angus Vermey, Tom Bayley
3rd St. Patrick's College – Ryan Anderson, Conor Rae
4th Launceston Church Grammar – Hugo Hirst, Archie Ralph
5th The Friends' School – Ryan Fox, Charles Colhoun
6th St. Virgil's College – Jordan Woods, Fergus Webster
1st Hutchins School 2 – Tom Gibson, Hayden Mounter
2nd Hutchins School 3 – Howard Newbury, Angus Mather
3rd The Friends' School 2 – James Wilson, Lachlan Cooper
4th The Friends' School 6 – Calum Johnson, Rory Glenn
5th The Friends' School 3 – Isaac Fitzgerald, Henry Michel
6th The Friends' School 4 – Connor Johnson, Lewis Morphett
7th Launceston Church Grammar 3 – Angus Farquhar, Henry Woolcock
8th Scotch Oakburn College 3 – William Dowling, Jack Briggs
9th Scotch Oakburn College 2 – Sebastian Williams, Lachlan Breden
10th Launceston Church Grammar 2 – William Bates, Liam Chilcott
11th Hutchins School 4 – Finn Sinclair, Fergus Grant
12th The Friends' School 5 – Marcus Bryant, Oliver Zakaria
---
Schoolgirl Under 14 Double Scull
Division 1 – 1000m
3:59.36
4:00.02
4:06.15
4:08.05
4:08.63
4:22.79
4:23.79
4:39.27
Division 2 – 1000m (TT)
4:08.60
4:12.33
4:13.58
4:15.01
4:18.23
4:20.21
4:20.87
4:22.03
4:22.46
4:29.45
4:30.83
4:31.21
4:31.84
4:32.03
4:37.12
4:39.83
4:43.72
1st Launceston Church Grammar – Ashton Billing, Elizabeth Tucker
2nd St. Brendan-Shaw College – Ruby Skirving, Jessica Welch
3rd St. Mary's College – Felicity Carter, Cecilia Hutchinson
4th The Friends' School – Annabel Woolward, Amelia Prussne
5th St. Patrick's College – Emily Hepburn, Laura Bye
6th St. Michael's Collegiate School – Claudia Johnston, Lucy Stubbs
7th Fahan School – Edie Jordan, Ella Chung
8th Scotch Oakburn College – Emma Jepson, Charlotte Loane
1st The Friends' School 5 – Hannah Gregory, Julia Powell-Davies
2nd St. Michael's Collegiate School 2 – Elise Bird, Franki Selley
3rd St. Brendan-Shaw College 2 – Meg Castles, Ella Spaulding
4th The Friends' School 4 – Morgan White, Amanda Gardner
5th St. Patrick's College 3 – Morgan Brown, Jaimie Duffy
6th St. Patrick's College 2 – Charlotte Roney, Kalani Ciantar
7th Launceston Church Grammar 2 – Alice Lowe, Isobel Goss
8th Scotch Oakburn College 3 – Bianca Lockwood, Lily Cleeland
9th St. Mary's College 2 – Holly Sice, Holly Goward
10th St. Mary's College 3 – Imogen Brown, Meg Pinelli
11th Fahan School 2 – Amelie Lumsden-Steel, Sarah Leary
12th Launceston Church Grammar 3 – Jasmine Gowland, Simone Loo
13th Launceston Church Grammar 4 – Chloe Lalor, Emma Ferrall
14th St. Michael's Collegiate School 3 – Eliza Shelley, Abbie Moore
15th Scotch Oakburn College 2 – Hannah Woolston, Imogen Duigan
16th The Friends' School 2 – Chloe Mead, Sophie Procter
17th The Friends' School 3 – YunHee Cho, Isobel Heathcote
---
Schoolboy Under 14 Single Scull
Division 1 – 1000m
3:54.13
4:01.67
4:08.32
4:08.32
4:09.95
4:45.72
Division 2 – 1000m
4:09.73
4:15.03
4:21.02
4:28.89
4:48.57
4:50.67
5:00.83
5:02.27
1st St. Patrick's College – Ryan Anderson
2nd Scotch Oakburn College – William Gray
=3rd Hutchins School – Tom Bayley
=3rd The Friends' School – Calum Johnson
5th Launceston Church Grammar – Archie Ralph
6th St. Virgil's College – Jordan Woods
1st Scotch Oakburn College 2 – Harry Birchmore
2nd St. Patrick's College 2 – Conor Rae
3rd Hutchins School 2 – Howard Newbury
4th Scotch Oakburn College 3 – Jack Briggs
5th St. Patrick's College 2 – Darcy Waud
6th The Friends' School 2 – Lachlan Cooper
7th Launceston Church Grammar 3 – Toby Cannell
8th Launceston Church Grammar 2 – Jack Ancher
---
Schoolgirl Under 14 Single Scull
Division 1 – 1000m (TT)
4:14.07
4:22.90
4:24.44
4:26.77
4:31.34
4:36.62
4:39.75
4:53.45
5:01.05
Division 2 – 1000m
4:19.90
4:27.06
4:33.75
4:36.79
4:39.47
4:46.77
4:57.69
DNF
1st Mt. Carmel College – Imogen Nation
2nd St. Brendan-Shaw College – Jessica Welch
3rd St. Patrick's College – Jaimie Duffy
4th Launceston Church Grammar – Ashton Billing
5th St. Michael's Collegiate School – Lucia Saunders
6th The Friends' School – Amelia Prussner
7th Scotch Oakburn College – Cassie Silberberg
8th St. Mary's College – Liliana Radic
9th Fahan School – Ella Chung
1st St. Brendan-Shaw College 2 – Catherine Greenhill
2nd St. Patrick's College 2 – Morgan Brown
3rd Launceston Church Grammar 2 – Elizabeth Tucker
4th St. Michael's Collegiate School 2 – Lucy Stubbs
5th The Friends' School 2 – Sophie Procter
6th Scotch Oakburn College 2 – Maisie Edwards
7th St. Mary's College 2 – Eliza Mason
8th Fahan School – Juniper Clements
---
Schoolboy Under 13 Coxed Quad Scull
Division 1 – 500m
1:55.36


1:57.38


1:58.09


2:00.30


2:15.58


2:21.14


Division 2 – 500m (TT)
2:04.96


2:06.68


2:09.15


2:11.56


2:11.76


2:12.15


2:18.98


2:19.38


2:26.97


2:27.43


2:44.93
1st St. Patrick's College – James Stuart, Zeneca Mercer, Kade Cooley, Thomas Peel, Cox: Cody Smith
2nd Scotch Oakburn College – Samuel Brown, Hamish Fyffe, Matthew Russell, Rupert MacKenzie, Cox: Edward Napier
3rd Hutchins School – Finn Routley, Archie Stewart, Jacob Fiedler, Falcon Palmer, Cox: James Thiessen
4th St. Virgil's College – Francesco Mucci, Hugo Grubb, Caerwyn James, Krystian Jankowiak, Cox: Angus Paynter
5th The Friends' School – Nicholas Einoder, Markus Rowan, Thomas Sheard, Alex Rackham, Cox: Mem Thorpe
6th Launceston Church Grammar – Hugo Barrenger, Rueben Manning, Ned Adkins, Samuel Quinn, Cox: Coco Thyne
1st Launceston Church Grammar 3 – Lachlan Smith, Willam King, Xavier Bailey, Thomas Townsend, Cox: Henry Barrenger
2nd The Friends' School 2 – Al Hooper, Matthew Taylor, Benjamin Stankovich, Lachlan White, Cox: Meg Pointon
3rd Scotch Oakburn College 2 – Nathaniel Elijah, Samuel Wells, Mitchell Fulton, Robert Coskun, Cox: Stephanie Howell
4th The Friends' School 4 – Monty Edwards, Gabriel Williams, Mitch Galloway, Lachie Mackinnon, Cox: Gus Gowlland
5th St. Virgil's College 2 – Emmanuel Kounelis, Oliver Dinnessen, Oscar McLaren, Ryan Owens, Cox: Andrew Monks
6th St. Patrick's College 3 – Xavier Duffy, Lachlan Reily, Saxon McDermott, Daniel Douglas, Cox: Ella Slatter
7th St. Patrick's College 2 – Samuel Barrett, Cameron Cook, Liam Gordon, Henry Carls, Cox: Max Williams
8th Launceston Church Grammar 2 – Mac Mitchell, Samuel Rein, Oscar Holyman, Ted Peck, Cox: Milly Wickham
9th Hutchins School 2 – Lachlan O'Brien, Linden Clark, Byron Brown, Harry Fisher, Cox: Robert Zeeman
10th The Friends' School 3 – Archie Ballard, Harry Smith, Matthew Brook, Shenkar Sharma, Cox: Lotte Newton
11th Hutchins School 3 – Nick Jager, Will Terry, Sam Fisher, Luke Healy, Cox: Jermaine Crehan
---
Schoolgirl Under 13 Coxed Quad Scull
Division 1 – 500m
1:57.06


1:57.41


2:01.22


2:02.61


2:13.05


2:15.06


2:30.71


Division 2 – 1000m (TT)
2:06.56


2:15.96


2:16.89


2:17.40


2:28.83


2:29.74


2:33.28


2:41.66


2:45.30
1st St. Michael's Collegiate School – Jarrah Wilcox, Georgia Viney, Danica Griggs, Jenna Rogers, Cox: Charlotte Elrick
2nd St. Mary's College – Elizabeth Monks, Bellah Parker, Charlotte Barnes, Claire Oliver, Cox: Harriet Kelly
3rd The Friends' School – Ella Bishop, Charlotte Winter, Sophie Bryant, Maeve Bylsma, Cox: Chloe Mead
4th St. Patrick's College – Grace Howard, Ashlee Cherry, Jade Binns, Matilda Allen, Cox: Chloe Bessell
5th Fahan School – Olivia Farquer, Annabelle Fry, Anna Edwards, Evie Banks Smith, Cox: Amelie Lumsden-Steel
6th Scotch Oakburn College – Paris Creak, Jessica McCallum-Smith, Katherine Napier, Anna Golovko, Cox: Caoilainn O'Loughlin
7th Launceston Church Grammar – Lily Dunn, Charlotte Pilsbury-Milne, Alexandra Dunne, Mimi Brown, Cox: Coco Thyne
1st St. Mary's College 2 – Estella Whiting, Keeley Matulin, Stella Devine, Tilly Waddington, Cox: Evie Christie-Johnston
2nd St. Mary's College 3 – Brooke Sice, Eden Frame, Ella Hutcheon, Bell Thurley, Cox: Chloe Skinner
3rd The Friends' School 2 – Josie Gunner, Ella Newman, Miriam Reid, Georgie Fox, Cox: Julia Powell-Davies
4th Launceston Church Grammar 4 – Annabel Shearer, Phoebe Bennett, Skye Ellis, Ella Henty, Cox: Milly Wickham
5th Launceston Church Grammar 5 – Leila Hucker, Lottie Johnstone, Sophie Lamb, Mary Bradfield, Cox: Thomas Ferrall
6th St. Patrick's College 2 – Emma Blackett, Somer Harper, Hughes-Roberts Kayla, Grace Howard, Cox: Ava Connelly
7th Scotch Oakburn College 2 – Jasmine Harriss, Kate Atherton, Isabella Stones, Catriona Stewart, Cox: Sophie Loane
8th Launceston Church Grammar 3 – Ella Maddy, Meg Chapman, Mia Brown, Isobel Pengilley, Cox: Henry Barrenger
9th Launceston Church Grammar 2 – Lola Eastaugh, Serena Gray, Alice Bennett, Ruby Rockliff, Cox: Isabel Brown
---
Schoolboy Under 13 Double Scull
Division 1 – 500m
2:01.05
2:08.26
2:10.76
2:12.72
2:18.68
2:47.94
Division 2 – 500m (TT)
2:11.40
2:12.78
2:14.53
2:15.08
2:16.32
2:17.83
2:20.55
2:21.29
2:23.67
2:23.79
2:28.23
2:28.41
2:29.37
2:34.17
2:37.10
2:41.15
2:41.98
2:44.70
2:45.38
2:58.38
2:59.52
3:01.01
1st Hutchins School – Jacob Fiedler, Falcon Palmer
2nd Scotch Oakburn College – Samuel Brown, Rupert MacKenzie
3rd St. Patrick's College – Kade Cooley, Thomas Peel
4th St. Virgil's College – Hugo Grubb, Caerwyn James
5th The Friends' School – Harry Smith, Thomas Sheard
6th Launceston Church Grammar – Ted Peck, Rueben Manning
1st Hutchins School 2 – Finn Routley, Archie Stewart
2nd Hutchins School 4 – Byron Brown, Ben Sillifant
3rd Hutchins School 3 – James Thiessen, Harry Fisher
4th The Friends' School 3 – Al Hooper, Markus Rowan
5th Scotch Oakburn College 2 – Hamish Fyffe, Matthew Russell
6th The Friends' School 5 – Nicholas Einoder, Alex Rackham
7th Scotch Oakburn College 3 – Sven Stopford, Robert Coskun
8th St. Patrick's College 2 – Max Williams, Cameron Cook
9th The Friends' School 7 – Alex Rackham, Monty Edwards
10th The Friends' School 2 – Benjamin Stankovich, Matthew Taylor
11th The Friends' School 4 – Mitch Galloway, Gabriel Williams
12th St. Virgil's College 3 – Oliver Dinnessen, Oscar McLaren
13th Launceston Church Grammar 2 – Willam King, Oscar Holyman
14th St. Patrick's College 3 – Xavier Duffy, Lachlan Reily
15th St. Virgil's College 2 – Emmanuel Kounelis, Francesco Mucci
16th Hutchins School 7 – Luke Healy, Sam Fisher
17th Hutchins School 6 – Will Terry, Robert Zeeman
18th The Friends' School 6 – Gus Gowlland, Lachlan White
19th The Friends' School 8 – Lachie Mackinnon, Archie Ballard
20th Hutchins School 5 – Lachlan O'Brien, Linden Clark
21st Launceston Church Grammar 3 – Xavier Bailey, Mac Mitchell
22nd Hutchins School 8 – Nick Jager, Jermaine Crehan
---
Schoolgirl Under 13 Double Scull
Division 1 – 500m
2:00.50
2:03.68
2:08.54
2:11.51
2:13.57
2:27.04
2:29.50
3:26.24
Division 2 – 500m (TT)
2:03.32
2:16.09
2:16.87
2:19.09
2:19.32
2:19.68
2:19.98
2:28.49
2:32.14
2:33.25
2:34.28
2:36.19
2:38.35
2:38.95
2:43.73
2:44.19
2:47.02
2:53.69
1st St. Mary's College – Bellah Parker, Elizabeth Monks
2nd Scotch Oalburn College – Catriona Stewart, Anna Golovko
3rd St. Michael's Collegiate School – Maggie West, Danica Griggs
4th The Friends' School – Georgie Fox, Charlotte Winter
5th Fahan School – Evie Banks Smith, Anna Edwards
6th St. Patrick's College – Scarlett Pope, Ashlee Cherry
7th St. Brendan-Shaw College – Luka Mansell, Sarah Ellis
8th Launceston Church Grammar – Isobel Pengilley, Charlotte Pilsbury-Milne
1st The Friends' School 3 – Sophie Bryant, Maeve Bylsma
2nd St. Michael's Collegiate School 3 – Jasmine Zodins, Jenna Rogers
3rd St. Michael's Collegiate School 2 – Georgia Viney, Grace Viney
4th The Friends' School 4 – Josie Gunner, Ella Bishop
5th St. Mary's College 7 – Ella Hutcheon, Claire Oliver
6th The Friends' School 2 – Miriam Reid, Ella Newman
7th St. Mary's College 6 – Charlotte Barnes, Bell Thurley
8th St. Mary's College 4 – Tilly Waddington, Keeley Matulin
9th St. Patrick's College 3 – Emma Blackett, Somer Harper
10th Launceston Church Grammar 3 – Ella Henty, Lottie Johnstone
11th Fahan School 2 – Annabelle Fry, Olivia Farquer
12th St. Patrick's College 4 – Reagan Finn, Matilda Allen
13th Scotch Oakburn College 2 – Jessica McCallum-Smith, Kate Atherton
14th St. Patrick's College 2 – Molly Bretzke, Grace Howard
15th St. Mary's College 5 – Eden Frame, Brooke Sice
16th St. Mary's College 3 – Stella Devine, Ellie Anne Atkins
17th Launceston Church Grammar 2 – Lola Eastaugh, Serena Gray
18th St. Mary's College 2 – Harriet Kelly, Mia Christie Johnston
---
Schoolboy Under 13 Single Scull
Division 1 – 500m
2:17.86
2:23.68
2:27.75
2:28.91
2:36.35
2:43.18
2:43.96
Division 2 – 500m
2:19.43
2:27.93
2:32.31
2:39.37
2:42.15
2:42.48
2:46.61
2:47.61
1st Scotch Oakburn College – Rupert MacKenzie
2nd Hutchins School – Falcon Palmer
3rd St. Virgil's College – Hugo Grubb
4th The Friends' School – Alex Rackahm
5th St. Brendan-Shaw College – Mitchell Nield
6th Launceston Church Grammar – Hugo Barrenger
7th St. Patrick's College – Daniel Douglas
1st Hutchins School 2 – Jacob Fiedler
2nd Scotch Oakburn College 2 – Samuel Brown
3rd St. Virgil's College 2 – Krystian Jankowiak
4th Scotch Oakburn College 3 – Samuel Wells
5th The Friends' School 2 – Nicholas Einoder
6th St. Patrick's College 2 – Max Williams
7th St. Patrick's College 3 – Saxon McDermott
8th Launceston Church Grammar 2 – Ned Adkins
---
Schoolgirl Under 13 Single Scull
Division 1 – 500m
2:04.64
2:10.61
2:12.62
2:13.97
2:15.23
2:18.86
DNF
Division 2 – 500m
2:08.60
2:12.13
2:13.73
2:27.62
2:32.65
2:37.33
2:39.10
2:43.02
1st The Friends' School – Maeve Bylsma
2nd St. Mary's College – Ellie Anne Atkins
3rd St. Patrick's College – Matilda Allen
4th St. Michael's Collegiate School – Danica Griggs
5th St. Brendan-Shaw College – Meg Castles
6th Fahan School – Evie Banks Smith
7th Launceston Church Grammar – Mimi Brown
1st St. Patrick's College 2 – Jade Binns
2nd Scotch Oakburn College 2 – Kate Atherton
3rd Fahan School 2 – Anna Edwards
4th St. Michael's Collegiate School 2 – Maggie West
5th St. Mary's College 2 – Mia Christie Johnston
6th St. Brendan-Shaw College 2 – Luka Mansell
7th The Friends' School 2 – Josie Gunner
8th Launceston Church Grammar 2 – Alexandra Dunne
---
Para-Rowing Double Scull
Division 1 – 1000m
1st Scotch Oakburn College – Alexander Creak, Jonathan Clarke
2nd Launceston Church Grammar – Hugo Barrenger, Lachlan Moore
---
Para-Rowing Single Scull
Division 1 – 500m
1st Scotch Oakburn College – Jonathan Clarke
2nd Launceston Church Grammar – Lachlan Moore
---
Sources
2018 Head of the River Rowing Regatta, SATIS, Retrieved 22 June 2020, from http://www.satis.com.au/2018-head-of-the-river-rowing-regatta/
SATIS 2018 Tasmanian Head of the River Regatta Program, Retrieved 22 June 2020, from https://tas.rowingmanager.com/?regatta;file=10356
https://tas.rowingmanager.com/regattas/4405/results