1928 SATIS Head of the River
Saturday, May 5 - Tamar River:
The 1928 Head of the River regatta was returned to the Tamar along the one-mile Home Reach course. Like the previous year, 6 crews entered the regatta in 1928:
- Clemes College,
- Friends' High School,
- Hutchins School,
- Launceston Church Grammar School,
- Scotch College, and
- St. Patrick's College
There was considerable interest in this year's race, with crowds lining the banks and the Launceston Marine Board's punts. The Mercury reported that conditions were challenging with a breeze going against the crews. Launceston Church Grammar led the race as much as length before being rowed through by Hutchins and Clemes. Hutchins ended up winning the Golden Fleece Cup by half-a-length This was Hutchins School's third win in-a-row on the Tamar course.
---
The Mercury provided a detailed account of the 1928 regatta:
"A fairly good start was obtained by all crews, Grammar almost immediately going to the front, pulling strongly. After a few hundred yards had been negotiated Grammar had about a length's advantage, while St. Patrick's, Clemes, and Hutchins were almost in a line...At the cattle jetty Grammar were still rowing strongly, out a clear length, with Hutchins going steadily behind, Clemes being back about half a length level with St. Patrick's. Here Clemes, right in the deadwater, commenced to pull up on Hutchins, who, with Grammar, were rowing in the channel. St. Patrick's course was erratic, and this crew had fallen back a little. Friends and Scotch were some lengths back, with very little chance. Opposite King's Wharf Clemes were practically on even terms with Hutchins, and were pulling very strongly. By now they were right out in running water. St. Patrick's were back about a length. Hutchins and Clemes were hanging well on to Grammar, who were still plodding ahead, but had slowed down a little, losing some of their lead. At the end of the sheds on King's Wharf Hutchins quickened, and rowing beautifully, soon caught Grammar, who by this time were beginning to show signs of exhaustion, and were pulling too short. Clemes did not respond to the quicker pace set byHutchins, but remained on even terms with Grammar when the Northern crew fell back half a length from Hutchins at the end of King's Wharf. At this stage St. Patrick's, going in all directions, were two lengths away from the second crews, and appeared right out of it. Scotch College were eight lengths away from Hutchins, last, Friends being a length in front of them. Interest then resolved itself into the manoeuvres of Hutchins, Clemes, and Grammar, fighting it out in front, and who promised to provide a most interesting finish. Grammar were getting worse and worse, although they stuck grimly to their task. Clemes crept into second place by inches, and were after Hutchins nearing Town Point. The leaders, however, were rowing as well as ever, and Clemes made no impression on the half-length lead which Hutchins had obtained. Near the middle of the piling Grammar were exhausted, but kept at Clemes, who then began to slow a little. St. Patrick's were now three lengths behind Grammar, also showing signs of exhaustion. A little further on Clemes, leading Grammar, with Hutchins going well in front, did not have a final sprint left in them. The winning post was not far off, and with Clemes endeavouring to maintain second place from Grammar, Hutchins, rowing well within themselves, quickened to pass the gun a length to the good. There was a difference of half a length between Clemes and Grammar when these crews passed the post. St. Patrick's finished about two lengths back, with Friends four lengths further away, a length in front of Scotch. The time was 6min. 52sec."
Organising Committee:
Tasmanian Rowing Association
Officials:
Starter & Umpire: Mr. W. Robinson
Judge: Mr. J. E. Heritage
Timekeeper: Mr. H. R. Smith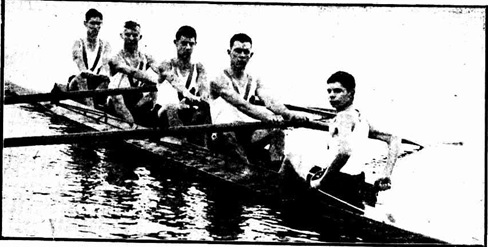 Winners of the 1928 Head of the River - Hutchins School
(Source: The Mercury, 7 May 1928)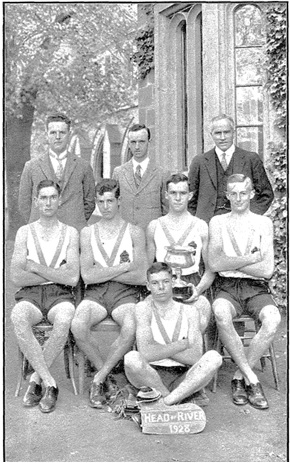 Hutchins School with the Golden Fleece Cup in 1928
(Source: Hutchins School Magazine, Midwinter 1928)
---
First Four
Golden Fleece Cup
1 mile
Time: 6 min 52 sec
Margins: 1, ½, 2, 4, 1 lengths
1st Hutchins School – Bow: E. C. Gray, 2: H. C. Butler, 3: F. C. Rodway, Str: J. H. Warner, Cox: J. T. Stops
2nd Clemes College – Bow: R. Turvey, 2: A. Palfreyman, 3: B. Wilkinson, Str: H. Long, Cox: D. Palfreyman
3rd Launceston Church Grammar School – Bow: A. Bowman, 2: E. H. Fenton, 3: K. B. Cutts, Str: A. G. McCallum, Cox: M. Harris
4th St. Patrick's College – Bow: K. Williams, 2: G. O'Reilly, 3: R. Dunn, Str: R. Grimes, Cox: C. O'Byrne
5th Friends' High School – Bow: W. F. Wells, 2: J. Annells, 3: J. Rowland, Str: F. Gourlay, Cox: P. Rowland
6th Scotch College – Bow: T. May, 2: Hood, 3: A. Wardlaw, Str: A. Cooper, Cox: D. Wardlaw
---
Sources
"HEAD OF THE RIVER". (1928, 7 May), The Mercury (Hobart, Tas.: 1860 – 1954), p. 7, Retrieved 7 May 2020, from https://trove.nla.gov.au/newspaper/article/29780167
Hutchins School Magazine, Midwinter 1928