1923 SATIS Head of the River
Friday, October 5 - Derwent River:
The 1923 Head of the River Regatta returned to the later part of the year, held on the Derwent River. It was raced over a one-mile course between "Government House Point to a buoy anchored in line with the judge's box". Five crews from both Northern and Southern schools entered the race:
- Hutchins School,
- Launceston Church Grammar School,
- Leslie House School,
- Scotch College, and
- St. Patrick's College
The 1923 Regatta was there first time that it was held on a Friday rather than a Saturday. This may attribute to the "lack of publicity" the regatta received. Nonetheless, The Mercury reported that a big crowd of schoolboys and the public viewed the race. The conditions were ideal for racing, and, Launceston Church Grammar's six-year winning streak had been broken. Their four-year stranglehold on the Golden Fleece Cup had also ended. Hutchins School won their first ever Head of the River over Leslie House by a length, with the defending champions settling for third.
---
The Mercury accounted the 1923 race below:
"Yesterday was an ideal day for the race. There was not a breath of wind to disturb the atmosphere, and the water was ideal for rowing. The crowd was composed mostly of schoolboys. who sported their college colours, while there were also a fair number of those of the general public who take a keen interest in school sport…A good start was effected, of which Grammar and Scotch got slightly the better. Leslie House were the slowest off the mark. For the first few hundred yards there was very little to choose between the five crews, who were hitting the water at a very even rate. Hutchins were first to show out from Scotch and Grammar. with Leslie and St. Patrick's a short distance away. Leslie then started to move up. but Hutchins had daylight showing between them and the other crews. Nearing the Derwent sheds St. Patrick's commenced to fall behind, and Grammar drew away from Scotch. Leslie House, rowing in very nice form, appeared to have plenty in reserve, but took a sweep into the bay and Hutchins drew further ahead of the other crews. The crews finished this order to the line. Leslie House finished with a fine burst of speed over the last few hundred yards, but were unable to overhaul Hutchins, who won by a length, while Grammar were about half a length further behind. Scotch rowed nicely throughout the race, but lacked the finishing effort to be dangerous, while St. Patrick's were a couple of lengths further away last. No official time was taken."
Organising Committee:
Tasmanian Rowing Association
Officials:
Starter: Mr. J. H. Sharp
Umpire: Mr. G. W. R. Ife
Judge: Mr. E. Sorell
Winners of the 1923 Head of the River - Hutchins School (Source: Hutchins School Magazine, December 1923)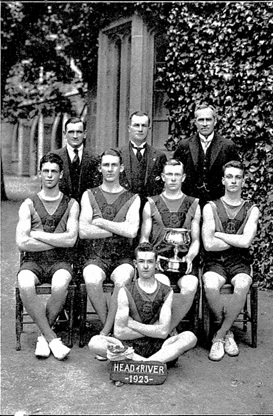 Hutchins School with the Golden Fleece Cup in 1923 (Source: Hutchins School Magazine, December 1923)
---
First Four
Golden Fleece Cup
1 mile
No Time Taken
Margins: 1, ½ lengths
1st Hutchins School – Bow: J. Hood, 2: S. Darling, 3: B. Law, Str: J. Cowburn, Cox: T. Francomb
2nd Leslie House School – Bow: D. Skinner, 2: R. Ford, 3: B. Chesterman, Str: M. Hay, Cox: H. Long
3rd Launceston Church Grammar School – Bow: P. Taylor, 2: E. Rowlands, 3: D. Hall, Str: R. Coogan, Cox: R. Wood
4th Scotch College – Bow: D. Hardy, 2: K. Tabart, 3: A. Knight, Str: T. Brownrigg, Cox: L. Acheson
5th St. Patrick's College – Bow: J. Marley, 2: J. Morgan, 3: F. Thomas, Str: O. Jones, Cox: M. Lyall
---
Sources
HEAD OF THE RIVER RACE. (1923, 6 October), The Mercury (Hobart, Tas.: 1850 – 1954), p. 7, Retrieved 5 May 2020, from https://trove.nla.gov.au/newspaper/article/23662448
Hutchins School Magazine, December 1923