World Professional Sculling Championships
1932 E A (Ted) Phelps (GBR) defeats Major L Goodsell (USA) in Long Beach California
Goodsell had by then become an American citizen. The race was won in the time of 17m 52s.The Saul family recalled that Mr Goodsell led an interesting life in America after his retirement. He owned 3 fishing boats in Baja, California USA and played roles in US movies such as 'The Sweetheart of Sigma Chi' that had a rowing theme.
---
1933 Henry (Bobby) Pearce (AUS) defeats Ted Phelps (GBR) on Lake Ontario CAN in 19.26
This mismatch had some severe implications for the sport of professional sculling. Pearce won by so much that it was doubted whether further matches could be made for high stakes. The race was conducted before a crowd of some 70,000 people.
---
1934 Henry (Bobby) Pearce (CAN) defeats W G (Bill) Miller (USA) at Toronto in 19.52.2
This challenge was raced as part of the Canadian National Exhibition and this time against 3 challengers, Eric Phelps (Ted's younger brother), Ernest Barry and Bob Miller, the US amateur champion.
Miller and Pearce won the heats and Pearce won the final by some 15 lengths. Pearce was now a permanent resident of Canada and so is now noted as Canadian.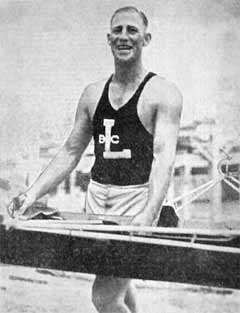 ---
9th Sept 1938 Henry (Bobby) Pearce (CAN) defeats Evans Paddon (AUS) in Toronto in 20.35.5
Pearce offered Paddon a fare to Toronto to race for the title and £500 a side. Pearce went out to an 8 length lead than paddled.
Evans Paddon
Evans Paddon was the son of World Champion sculler Jim Paddon and resided in the small fishing town of Evans Head on the north coast of New South Wales. He was the first student at the Evans Head Public School, but was not academically inclined and left at an early age to fish with his father and scull. He served with distinction in WWII in the RAAF.