World Professional Sculling Championships
Record of Racing
It is difficult to determine which race constitutes the start of World Professional Sculling Championships so the following record includes English Championship races before the Australian Champion Dick Green challenged the British Champion Robert Chambers in 1863 in the first international professional sculling race. However this race may only have been a challenge for the Championship of England.
The other possible claim for the first World Professional Sculling Championship was the 1866 race when Harry Kelley GBR defeated a challenge from J Hammill of Pittsburg USA. (Some reports list Hammill as a Canadian.) Despite this confusion, we know that by the time Edward Trickett won the title in 1876, the race wore the title of Championship of the World.
There are gaps in this record and in many cases there are good reasons for this such as a forfeiture or another challenge being more highly regarded as being the championship.
It must be remembered for much of the history of professional sculling, there were insufficient rules and no governing body other than the terms contained in the challenge. For example, Ted Hanlan claimed to be World Champion despite the fact that Edward Trickett had won the title from Joseph Sadler. Trickett was forced to return to England and challenge Hanlan to put the issue to rest.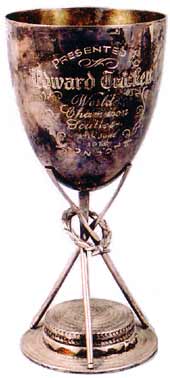 27 June 1876 London
The invincible Bobby Pearce reigned until World War II when he decided to retire. With his retirement the world professional sculling championships ceased to be the public spectacle it had been for more than half a century.
Bobby Pearce's dominance has been cited as one of the main reason for the demise of professional sculling. However the most likely reasons are the growth in team sports and the problems of unregulated betting