World Professional Sculling Championships
1880 Hanlan (CAN) defeats Trickett (AUS) in London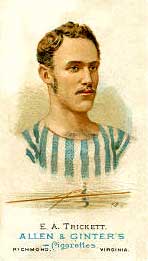 The authors quote from an unknown author in an article in the magazine Parade, No 176 of July 1965, which appears from other publications to be largely correct:
"Then in 1880, word was received that although Trickett's world title had been recognized in most countries, a Canadian named Edward Hanlan had arrived in England to challenge all comers. He was blandly advertising himself as the world sculling champion.
"Ned Trickett angrily rushed off to London. As a result of this trip Hanlan agreed to race the Australian on the Thames for the disputed title and a side bet of £1,000. The Canadian proved he had the ability to back up the boasts which made him one of the most disliked men in world sculling. Hanlan won by three lengths but over the concluding stages he had been merely pulling alternately with each oar."
Enormous interest in the race developed. The Rowing Canada web site reports that "over $100,000 was wagered in Australia alone, and two days before the race, a $42,000 bet was wired from Toronto. In those days, $1,500 was the annual salary of the President of a mid-sized company, so that bets totaling $100,000 then would be equivalent to bets of between $10 million and $20 million today."
The London Illustrated News reported on the event as follows:
CHAMPIONSHIP SCULLING-MATCH,
November 20th 1880.
Except on the occasion of an Inter-University Boat-race, or of the famous contests between Oxford and Harvard Universities, and the London and Atalanta Rowing Clubs, we never saw so many people between Putney and Mortlake as were assembled there on Monday morning.
The weather was singularly uninviting, as it was decidedly raw and cold, and a drizzling rain fell at intervals; but the towing-path was well patronised for the whole distance, whilst at Hammersmith, Barnes, and one or two other favourite places, the crowds were very dense.
Popular feeling seemed to have completely changed again, and was all in favour of Hanlan, though two days before slight odds were laid on Trickett. The previous achievements of the two men are so well known that we need only touch upon them slightly.
Edward Hanlan, of Toronto, is twenty-five years of age, stands just under 5 ft. 9 in., and weights 10 st. 12 lb. After a career of almost unbroken success in America, he came to England last year, and defeated Elliott and Hawdon in much style that it appeared hopeless for him to get any more matches in this country. He has carried off other prizes in America since then, but cut up very badly in the Hop Bitters Regatta (1879), his explanation being that he was taken ill during the race.
Edward Trickett, of Sydney, New South Wales, is four years older than his late opponent, is not less than 6 ft. 3 and a half in. in height, but, being of spare frame, only weighs 12 st. 5 lb. in strict training. He has beaten all the best men in his own country, and, in 1876, he came to England, and made a sad example of Joseph Sadler, who, though champion of England at the time, had undoubtedly seen his best day.
Both men have been located on the banks of the Thames—Trickett at Putney and his rival at Barnes—for some weeks past, and their practice has been watched with very great interest.
The race was fixed for twelve o'clock, but it was past that time before the competitors put off from the shore. Harry Kelley piloted the Australian, and Bright performed the same office for Hanlan, who looked wonderfully well and full of spirits and confidence, while his opponent, whose face is naturally rather haggard and careworn, seemed very anxious.
There was little or no tide, but the river was perfectly smooth, and Trickett gained scarcely any advantage from winning the toss and selecting the Middlesex station. There is little to say relative to the race itself, as it was really all over before they reached Hammersmith Bridge. Trickett began with a faster stroke than Hanlan, but he was sliding very short, and seemed to trust mainly to his immense strength to drive his boat along.
The Canadian, whose style is simply perfect, and has never been approached by that of any other sculler, at once took a slight lead, and appeared to wait in front until nearing Hammersmith Bridge, when he began to open out a gap between himself and Trickett, and the latter being in evident trouble, though persevering as gamely as possible, the contest was virtually at an end.
Hanlan was not long in finding out the state of affairs, and consequently could not resist from indulging in a series of wild antics, similar to those he went through on his previous visit here, during his matches with Elliott and Hawdon; and, had he lost the race in consequence, he would have had but a few sympathisers.
Just below the Doves, he put in "half-a-dozen" to show the spectators how much he had in hand, and then, clumsily dropping his sculls into the water, threw himself flat on his back in the bottom of the boat, and lay there for a second or two, the act occasioning great excitement amongst the large number of spectators who witness it, for they naturally imagined that something terrible had befallen him; however, he was soon up and at work again, laughing heartily.
The Canadian made at least half a dozen further stoppages before Barnes Bridge was reached, on each occasion going through a little performance, such as washing his face, kissing his hand, and cheerfully waving his handkerchief to different friends on the bank, and he eventually won at his leisure by three lengths, which he could have made a quarter of a mile had he so chosen, the time being 26 min. 12 sec.
It is a pity the winner indulged in the clowning business to the extent he did, for though possibly he was only giving vent to his satisfaction at finding himself master of the situation, still consideration for the feelings of his plucky opponent ought to have kept him from showing anything but respect for a beaten man. Apart from this, Hanlan's exhibition was splendid, and his superiority established beyond doubt. It is poor consolation for the second to know that in a match some one must lose, but let us hope that Trickett's next engagement may help to make amends for his recent defeat.
Edward Hanlan was born on 12th July 1855 of Irish immigrants who chose to make their living on the waters of Lake Ontario. The family started as fishers and prospered sufficiently to purchase a hotel. He started racing at the age of 16 and soon was bringing in substantial cash prizes.
A TRIBUTE TO NED TRICKETT*
Australia's first Sporting World Champion.
World Champion Sculler 1876 - 1880.
His father was a convict
sent from England in disgrace.
In Greenwich started quarrying,
for a living in this place.
Stone he cut, built Harbour walls,
near Opera House and shoreline
and young son Ned rowed that rock
as if it were his pastime.
Tall of frame and long of arm
he trained on Sydney Harbour,
rowed in Balmain regattas,
won races with great ardour.
Soon he was Australia's champ,
so they urged him on for more,
to seek the World's Rowing Crown
on the Thames on England's shore.
Trained so hard, was very fit,
chose to row with sliding seat.
Convict's son, the underdog,
but would be no easybeat.
In Eighteen Seventy Six
Ned and Saddler rowed that race.
The Aussie won the title,
was the first to set the pace.
When he sailed back to Sydney,
twenty thousand lined the docks.
Ned Trickett was their hero,
from Tasmania to the Rocks.
He gained much fame and fortune,
kept himself quite fit and trim,
defending his world title
seemed an easy thing for him.
Until in Eighteen Eighty,
he could just resist no more
that challenge from Ed Hanlan,
so he left for England's shore.
Lost his title on the Thames
and, although he'd not been well,
he offered no excuses,
a true sportsman, they all tell.
It wasn't easy after,
running pubs became his call,
in Sydney and Rockhampton,
then the Ninety's caused his fall.
Lost his pub and everything
so to Sydney he returned,
desperate now to find a job,
depressed, his own life he spurned.
But as he walked that lonely path,
sweet music caught his ear.
He felt himself attracted
and a message he did hear.
Those songs, that word, spoke of God,
Who cares for and loves mankind,
Who offers full salvation
for the needy soul to find.
That night upon the pavement,
he gave his heart to the Lord
and asked God to forgive him,
that price he couldn't afford.
His life was changed forever,
shared his faith without flurry,
started a job in Customs,
at Moama on the Murray.
He joined up with the Salvo's,
the ' Warcry' gave to travellers,
told youth of the love of God,
shared Jesus with the strangers.
One day in Nineteen Sixteen,
while mining in Uralla,
the walls collapsed, burying him
and killing this great fella.
Today some special people
have restored his monument.
We're here to celebrate him,
for the special things he meant.
He's gone but his story lives
within the hearts of family,
on many plaques and papers,
it is a good man's story.
If Ned could be here with us
I'm sure that he'd want to say,
he'd now won life's greatest prize,
rowing with Jesus is the way.
*Reproduced with permission of Lyn Lockery. © Lyn Lockrey (28/6/2003)—Great-grandson of Edward Trickett (With acknowledgement to Gordon Trickett's book, "Ned Trickett Champion Sculler of the World")