World Professional Sculling Championships
1876 Trickett (AUS) defeats Sadler (GBR) on the Thames in 24m 35s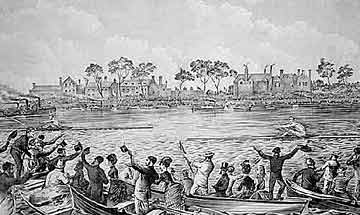 By the mid 1870s Edward Trickett became the pre-eminent sculler in Australia and became the Australian Professional Sculling Champion. In 1876, a committee was formed to raise funds to send him to England to challenge for the World Championship. The current World Champion and two time English Champion was Joseph Henry Sadler.
In 1876 Trickett challenged Sadler to become World Champion in London and the challenge was accepted. James Punch, a publican and also a skilled oarsman, formed a committee to arrange the challenge. Trickett trained with ex-champion Henry Keeley. Kelley introduced Trickett to the sliding seat which he used in the Championship. He also educated him on how to row the Thames River. On 27th June 1876, Trickett defeated Sadler on the three mile course from Putney to Chelsea in London by some twelve lengths. Tens of thousands of spectators lined the banks to witness this spectacle and ten steam boats were chartered to follow the race. The betting on this race was huge. The referee was W H Leverell.
Sadler led early but Trickett, under rating Sadler, caught him by the half way mark. Trickett and Sadler then fought a close race for a while before Trickett went out to a three length lead. Sadler challenged him at various stages but could get through. Trickett went on to win by four lengths in the time of 24m 35s for the 4 1/2 mile course.
25,000 people greeted Trickett on his return to Australia. The population of Sydney was then 200,000 and assuming that most attendees were men, it equated to roughly one in every four men in Sydney attended. Also upon his return some £900 was subscribed to a testimonial fund for him.
Trickett was the first Australian to be a world champion in any sport.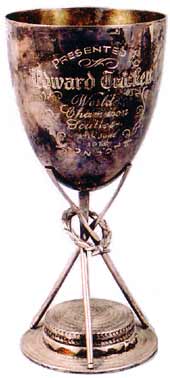 27 June 1876 London
Trickett, from Greenwich in Sydney, was born in 1851 to a convict father and Irish mother. His father operated a quarry and the stone was delivered by boat by his sons and presumably others.
The high quality stone produced was used in a variety of construction sites in Sydney including the wall around the water's edge of Sydney Botanic Gardens. Ned therefore learned his sculling on Sydney Harbour.
His first race was in the Anniversary Day Regatta at the age of ten where he finished second in the under 16 maiden sculls. At the age of fourteen he won the 12 foot dinghy title also at the Anniversary Day Regatta. He went on to defeat most of the State's professional scullers to become Australian Professional Sculling Champion.
His occupation was noted as a quarryman and he met his wife, the daughter of a lighthouseman, whilst delivering stone for the construction of a new lighthouse at South Head. He was an extremely tall person for that time being 6 feet 3 1/2 inches tall and he would have stood out in any crowd.
After his rowing career, Ned became a hotelier and licensee of the Oxford Arms Hotel in Rockhampton.
In 1888 he raced his old foe Edward Hanlan on the Fitzroy River. Some 10,000 spectators watched Ned Trickett, then 36-37, be beaten and lose his money on this race.
The economic downturn in the early 1890's caused Ned to also lose his hotel. He returned to Sydney to find employment and was a depressed man to the point of being suicidal.
He found religion whilst wandering the streets of Sydney which gave him the strength to continue and, through Salvation Army contacts, he obtained employment in the Customs Services.
He lived and worked at Moama on the Murray River in NSW for some time and his family remained in Sydney. His work then reverted to Sydney. He remained a committed Salvation Army supporter through out the rest of his life and became a good speaker for their cause.
Nearing his retirement, Ned visited his son Fred at Uralla NSW. Fred ran the General Store and as a hobby was mining gold. Ned helped Fred work the shaft until tragedy struck. Ned was hit by a cave-in and was covered by dirt. He survived the initial injuries but died soon after at his son's home at the age of 65. He was buried at the Uralla cemetery.
Also see A Tribute to Ned Trickett, a poem by his great-grandson, Lyn Lockrey.