World Professional Sculling Championships
1882 Edward Hanlan (CAN) defeats Edward Trickett (AUS)
From an unknown author in an article in the magazine Parade, No 176 of July 1965:
"Trickett would not admit Hanlan's superiority. He followed him back to Canada and the United States trying to arrange another match. But when they did finally race again in London in 1882, the Australian was again easily beaten."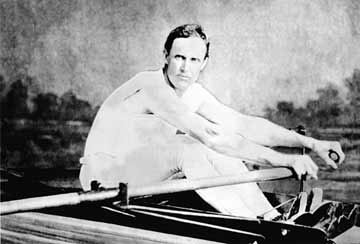 According to Gordon Trickett's book Ned Trickett – Champion Sculler of the World:
In July (1881) the leading dignitaries of Ottawa gave Ned a testimonial. The people planned this opportunity to express their thanks to him and the goodwill and admiration they had for him, particularly for his willingness to take part in a race for their Dominion Day celebrations. It was the first race he had rowed in Canada, and he did not perform at his best.
The Lord Mayor presented him with a handsome cup of sterling silver lined with gilt. The design was that of an egg-shaped bowl, supported on three crossed sculls, bound with a laurel wreath. The bowl of the cup bore the following inscription:
Presented to EDWARD TRICKETT
Champion Oarsman of Australia
As a Mark of Esteem
by his Friends in Ottawa, Canada
July, 1 : 81.