World Professional Sculling Championships
1919 Alf Felton (AUS) defeats Ernest Barry (GBR) on the Thames in London in 25.40
After the war, Paddon, Arnst and Felton all sought matches with Barry. Felton's challenge was accepted and he won the race by 6 lengths.
---
1920 Ernest Barry (GBR) defeats Alf Felton (AUS) on the Parramatta River in Sydney in 24.32
Barry journeyed to Australia to regain his title. A crowd of 150,000 witnessed the event. Felton led out well in the early stages but a foul occurred allowing Barry to dash away with Felton unable recover any ground.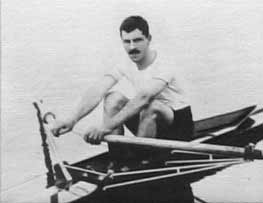 ---
1921 Richard Arnst (NZL) regains title by forfeit from Ernest Barry (GBR)
After Felton's loss to Barry, Arnst promptly challenged. Arnst regained the title because three months passed without Barry accepting a challenge.
It is recorded in at least one record of racing that Arnst defeated William Webb on the Wanganui River on 25th February 1921 after regaining the title. However this does not accord with other records and would be inconsistent with the timing of his return to New Zealand for the Hannan match and the usual timing between challenges. Also Bernard Hempseed of Christchurch NZ reports that Arnst said after losing to Hadfield that he would have liked to have equalled Beach's record of seven wins. If he had won against Webb, he would have had his seven wins.
---
1921 Richard Arnst (NZL) defeats Pat Hannan (NZL)
Won easily.
Photo courtesy of the Richmond River Historical Society