2023 World Under 19 Championships – Paris FRA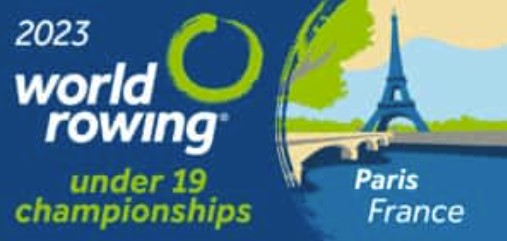 The World Under 19 Championships are scheduled to be conducted in August 2023 finishing on the weekend of 5th and 6th. This is the test regatta for the 2024 Olympic Games.
The team was selected at the under 19 selection regatta held in Sydney in late April and the team announced on 30th April 2023. The men's and women's coxed fours were school crews with the women's crew from Queenwood School in Sydney and the men's crew from St Augustine's College, also from Sydney. The men's double was also a composite crew comprising school rowers. The women's pair was an all Wendouree Ballarat Rowing Club crew.
Sources
Australian Team
Women's Double Scull
Eliza Bridgefoot (QLD)
Liesel Page (NSW)
Cch: Agustin Radero (QLD)
Women's Pair
Katie Jackson (VIC)
Lucy Richardson (VIC)
Cch: Jamie McDonald (VIC)
Women's Four
Georgia Montague (QLD)
Greta Spencer (WA)
Lyla Fievez (WA)
Minaya Bishop (QLD)
Cch: Mark Beer (WA)
Women's Coxed Four
Chloe Driver (NSW)
Charlotte Botha (NSW)
Alexandra O'Brien (NSW)
Imogen Grey (NSW)
Cox: Chloe Jureta (NSW)
Cch: Ray Boyle (NSW)
Men's Double Scull
Chad Willett (QLD)
Jack Power (NSW)
Cch: Sean Carolan
Men's Coxed Four
Oscar St Pierre (NSW)
Tane Potts (NSW)
Joseph Lynch (NSW)
Doohal McKenzie (NSW)
Cox: Ryder Taylor (NSW)
Cch: Judith Ungermach