2015 World Junior Championships– Rio de Janeiro, Brazil

The 2015 World Rowing Junior Championships will be one of the first of a series of test events for different sports that will be staged in Rio in the build-up to the Olympic and Paralympic Games. Test events are a vital part of an organising committee's preparations, allowing them to ensure their readiness and fine tune the venues that will host the competitions in 2016.
The course at Lagoa Rodrigo de Freitas
Situated in the heart of Rio de Janeiro, buffered by the upmarket neighbourhoods of Ipanema, Leblon, Copacabana and Jardim Botânico, Lagoa Rodrigo de Freitas is one of the city's most beautiful landmarks. Connected to the Atlantic Ocean by a narrow canal, the huge lagoon was originally inhabited by the Tupí Indians. It is framed by the lush vegetation and mountains of Floresta da Tijuca, the world's second largest urban forest, whose impressive peaks include the Pedra da Gávea and Corcovado. Atop of the latter stands the Christ the Redeemer statue, the quintessential symbol of Rio, which will watch over the 2015 World Rowing Junior Championships, and then the rowing and canoe sprint events at the Rio 2016 Olympic Games.
Selection
On 3 June 2015, Rowing Australia announced the selection of a Junior Men's Pair of Zac Whitehead (NSW) and Zac von Appen (NSW) to the Junior Australian Rowing Team. Unfortunately, due to a change in personal circumstances, the crew was withdrawn from selection.
A junior women's pair of Charlotte Medway (NSW) and Rafaela Stalph (NSW), coached by Alfie Young (NSW), was selected but also had to withdraw through injury to Rafaela Stalph. A withdrawal through injury to Georgia Seidel in the four left a place for Charlotte Medway from the withdrawn pair to race in the four.
Finally, appeals from the selection allowed the selection of the women's eight and men's coxless four. The team certainly had their fair share of issues coming together for the Championships.
Daily Results Summaries
Day 1 - 5th August 2015 - No daily results sheet but was only men's scull heats which are below
Result details – Men
Men's Scull
No event results sheet provided so results from key races below
Men's Double Scull
Men's Quad Scull
Men's Pair
Men's Four
No event results sheet so:

Final B results

Final A results
Men's Coxed Four
Men's Eight
No events result sheet - Final A results
Australian Team
Junior Men's Single Scull - Bronze
Adam Bakker (QLD)
Cch: John Bowes (QLD)
Junior Men's Four - Eleventh
Bow: Thomas Franey (QLD)
2: Callum Chisholm (QLD)
3: Angus Morrison (QLD)
Str: Thomas Davidson (QLD)
Cch: Paul Pettigrew (QLD)
Junior Men's Coxed Four - Fifth
Bow: Toby Starkey (NSW)
2: Thomas Barnes (NSW)
3: Hamish McDonald (NSW)
Str: Henry Kamp (NSW)
Cox: Benjamin Doyle (NSW)
Cchs: Robert Williams (NSW) and Jason Baker (NSW - Mentor Coach (non-travelling))
Junior Women's Double Scull - Fifth
Bow: Bridget Badenoch (SA)
Str: Georgia Wheeler (WA)
Cch: Jarrad Schar (SA)
Junior Women's Coxless Four - Did not start in final B due to medical reasons
Bow: Charlotte Medway (NSW)
2: Madeleine Southall (QLD)
3: Lily Alton-Triggs (QLD)
Str: Josephine Theile (QLD)
Cch: Ned Draydon (QLD)
Junior Women's Eight - Finished fourth but relegated to sixth as boat did not make weight
Bow: Jacqueline Hart (VIC)
2: Annika Hoffmann (VIC)
3: Kirsten Trengrove-Green (VIC)
4: Maddison Brown (VIC)
5: Chloe Betts (VIC)
6: Sasha Culley (VIC)
7: Bridgette Hardy (VIC)
Str: Sarah Harte (VIC)
Cox: Alexis Hancock (VIC)
Cch: Annabelle Eaton (VIC)
Development Cch: John Saunders (VIC)
Managers:
In Australia - Georgie Lee (NTC-Canberra)
Overseas - Wayne Diplock (NTC-Canberra)
Head coach: Jaime Fernandez (NTC-Canberra)
Doctor: Rachel Harris
Physiotherapist: Tristan Shipsides
Jury member: Greg Smith (NSW)
Results overview
Australia finished equal 8th on the medal tally with one bronze medal. The German team with their excellent club based junior program had a great regatta, clearly ahead of any other nation with 5 gold, 4 silver and 2 bronze medals.
The Australian highlight was of course Adam Bakker in the single scull. As a matter of historical interest, his father Robin was an Olympic rower back in 1992. Adam had a great race with both the second place German sculler for the silver and also for the first 1500 metres with the fourth placed Mexican sculler who he overtook in a blistering last 500 metres. The finish was sensational with the silver and bronze separated by only 2/100th second - see below.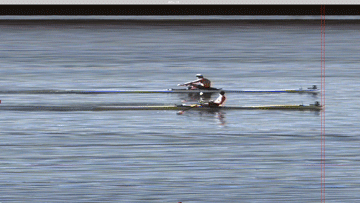 The women's eight raced a great race being 3rd through the 500 and second through the 1000 and 1500 metre marks. The Germans broke free of the rest of the field in the last 500m with the Italians, Americans, Australians and Roumanians fighting our for the minor medals. Australia finished in fourth place in a very fast finish. After the race, the Australians boat was weighed and found to be underweight meaning that they were relegated to last place in the final.
Result details – Women
Women's Scull
Women's Double Scull
Women's Quad Scull
Women's Pair
Women's Four
Women's Eight