2021 World Junior Championships – Plovdiv BUL
The World Junior Championships were conducted at Plovdiv Bulgaria without Australian representation.
On 17th March 2020, Rowing Australia advised:
Rowing Australia (RA) today confirmed that due to the ongoing COVID-19 pandemic, it does not intend to send Under 23, Under 21 or Under 19 athletes to compete internationally. This is in line with RA's announcement earlier this year that stated the organisation did not intend to send senior athletes to compete at international regattas throughout 2021, excluding the Final Olympic and Paralympic Qualification Regattas for the Tokyo Games.
It is still the intention of RA to select and support our pathway group athletes irrespective of international travel throughout 2021, and RA will announce, post trials, U23, U21 and U19 Australian Rowing Teams. The plan is that these teams will assemble for various camps, before then joining Australia's Olympic and Paralympic rowing teams in a World Rowing Cup 3 simulation regatta to be held at the Sydney International Regatta Centre (3 to 6 June 2021).
RA is dedicated to ensuring that its pathway continues to develop and that the future of our sport remains strong thanks to our underage athletes and the wider pathway network. RA looks forward to seeing these athletes compete at the 2021 Aon Australian Rowing Championships, ahead of their trials, and showcasing to the community the strength and depth of the sport in Australia.
But even that full squad did not get to race as planned with travel restrictions imposed by some State Governments. For example, the Victorians raced against other Victorian crews at a regatta at Carrum on the same weekend and received their uniforms at that regatta.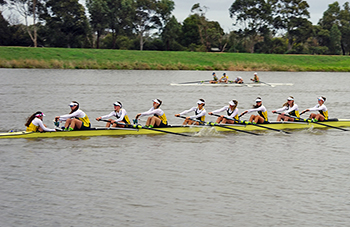 The women's junior eight at Carrum in June
It was an essential activity given that without it, no Australian under age teams would have been selected for two years.
Results by day
Results by event
Australian Team
U19 Men's Double Scull
Gordon Appelcryn (NSW)
Hamish Danks (NSW)
Cch: Chris Holliday (NSW)
This was a Sydney Rowing Club, Newington College combination.
U19 Men's Quadruple Scull
Josh Wilson (NSW)
Oliver St Pierre (NSW)
Brandon Smith (NSW)
Beau Nicholas (NSW)
Cch: Judith Ungemach (NSW)
This crew hailed from St Augustine's College.
U19 Men's Coxless Four
Fergus Cummins (QLD)
Maxwell Taylor (QLD)
Mackenzie Branch (QLD)
Lachlan Wright (QLD)
Cch: Duncan Free (QLD)
This comprised rowers from the University of Queensland and Griffith University Rowing Clubs.
U19 Men's Coxed Four
Harry Sillifant (TAS)
Oscar Newbury (TAS)
Samuel Mounter (TAS)
Benjamin Boman (TAS)
Cox: Angus Whatling (TAS)
Cch: Andrew Palmer (TAS)
This crew comprised rowers from the Hutchins School.
U19 Men's Eight
Adam Holland (SA)
Harry Bevan (TAS)
Hamish Hunter (NSW)
Tom Livingstone (NSW)
Hugo Hobbs (NSW)
James Isles (VIC)
Liam Walker (WA)
Alex Baroni (WA)
Cox: Ben Heatley (ACT)
Cch: Tom Gatti (WA)
U19 Women's Single Scull
Sophia Wightman (QLD)
Cch: Blaine Heseltine (QLD)
Sophia came from the University of Queensland Boat Club.
U19 Women's Double Scull
Ella Smith (QLD)
Jaeve Proberts (QLD)
Cch: Raymond Smith (QLD)
This crew hailed from the Pine Rivers Rowing Club.
U19 Women's Quadruple Scull
Isabella Scammell (NSW)
Freya Neville (NSW)
Zoe Bond (ACT)
Madeleine Vagg (ACT)
Cch: Sarah Cook (ACT)
This was a Kinross Wolaroi, Canberra Grammar combination.
U19 Women's Pair
Lily Gavan (NSW)
Lily Eales (NSW)
Cch: Brendan Longman (NSW)
This crew came from Sydney Rowing Club.
U19 Women's Coxless Four
Lindsay Calvert (TAS)
Nancy Duncan-Banks (QLD)
Ellyn Hill (QLD)
Heidi Schouten (TAS)
Cch: Blaine Heseltine (QLD)
This crew was a Scotch Oakburn, University of Queensland combination.
U19 Women's Coxed Four
Lucy Thomson (VIC)
Thea Coull (VIC)
Christina Kamenev (VIC)
Zara Lavery (VIC)
Cox: Fiona Dow (VIC)
Cch: Hannah Every-Hall (VIC)
This crew comprised rowers from Wesley College, Melbourne.
U19 Women's Coxed Eight
Zoe McKernan (VIC)
Chloe Cooper (VIC)
Bronte Cullen (VIC)
Zara Bongiorno (VIC)
Juliette Roysmith (VIC)
Olivia Nairn (VIC)
Sarah Marriott (VIC)
Elsa Ajani (VIC)
Cox: Alexandra Williams (VIC)
Cchs: Brigette Carlile and John Kloufetos (VIC)
This crew comprised rowers from St Catherine's and Merton Hall.
Head Coach: Ben Southwell (QLD)