2022 World Under 19 Championships – Varese ITA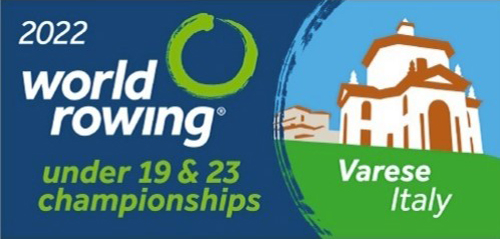 The World Under 19 Championships were conducted from 27th to 31st July 2022 at Varese in northern Italy again in a joint regatta with the Under 23 Championships. It was the first year of the name change from Junior World Championships to Under 19 World Championships.
The Australian team finished with one gold medal in the men's coxed four.
The four celebrates their win
The crews were selected following trials in Sydney in April. At the trials, the Victorian composite school men's and women's eight did well, but at the Championships, the straight school crew from St Augustine's College in Sydney won gold.
Rowing Australia reported as follows.
Australia finished the World Under 23 and 19 Championships in golden style by winning the Under 19 Men's Coxed Four. The crew of Joshua Wilson, Joseph Lynch, Oliver St Pierre, Brandon Smith and coxswain Ryder Taylor did it the hard way, sitting in third at the 1000 and 1500 metre points of the race. In the last 500 metres, the boys increased their stroke rate and rowed through the South African and Turkish crews. Italy made a late surge in the last 250 metres, but our boys hung on to win the gold medal by 0.53 of a second.
Post-race, coach Judith Ungemach said, "I always tell the boys, always expect the unexpected. In situations when we are trailing, we execute a big push called the Rossi (named after our 2019 stroke, Alex Rossi). We have been working on these types of race pushes for over a year now and it really paid off today."
The crew's coxswain, Ryder Taylor, is one of the youngest World Champions in regatta history. When asked to comment on his new World Champion status after the race, Ryder said, "It's pretty good and I have my Mum to thank."
Deputy Performance Director, Jaime Fernandez OLY, said, "It was a wonderful day of racing for our Under 19 crews. What today highlighted was the importance of ensuring we can have our younger athletes exposed to international competition. The standard of this World Championship regatta is at a significantly higher level (than previous years), which is fantastic."
Fernandez further commented and said, "What was so pleasing to see was that all our crews, no matter what race or final they were in, were always trying to improve, execute their plans on a more consistent level and take learnings from one race into the next."
"I must congratulate our World Champion Coxed Four crew and coach on not just winning but showing such maturity and poise, particularly when things were not going according to plan. Their grit and grace under pressure was extraordinary. Their coach Judith Ungemach has done an exceptional job in developing this fine crew." Fernandez continued.
Fernandez concluded the regatta: "As it is the final day of racing, I want to thank all of the coaches and support staff for their tireless work and guidance of the athletes. Likewise, the parents and supporters of the team – they were present in large numbers and without their commitment and backing, these types of opportunities would not be possible. It's the team that supports the team."
Daily Results Summaries
Event Summaries
Australian Team
Women's Double Scull - Thirteenth
Bow: Zoe Bond (NSW)
Stroke: Talisa Knoke-Driver (TAS)
Coach: Brendan Longman (NSW)
Women's Eight - Ninth
Bow: Charlotte Ball (VIC)
2: Lucy Richardson (VIC)
3: Victoria Trentin (VIC)
4: Olive Pascoe (VIC)
5: Chloe Amling (VIC)
6: Tiffany Crossthwaite (VIC)
7: Katie Jackson (VIC)
Str: Ellie McClure (VIC)
Cox: Jessica Rawolle (VIC)
Coach: Mitch Nelson (VIC)
Men's Quad Scull - Thirteenth
Bow: Jonah Nelson (QLD)
2: Lindsay Hamilton (VIC)
3: Samuel Burk
Stroke: Chad Willett (QLD)
Coach: Nick Bartlett (VIC)
Men's Four - Thirteenth
Bow: Josh Felderhof (SA)
2: Tom Saunders (SA)
3: Adam Holland (SA)
Stroke: Jake Nesbitt (SA)
Coach: Will Raven (SA)
Men's Coxed Four - Gold
Bow: Brandon Smith (NSW)
2: Oliver St Pierre (NSW)
3: Joseph Lynch (NSW)
Stroke: Joshua Wilson (NSW)
Cox: Ryder Taylor (NSW)
Coach: Judith Ungemach (NSW)
Men's Eight - Seventh
Bow: James Hart (VIC)
2: James Houghton (VIC)
3: Matthew Porter (VIC)
4: Tom Foley (VIC)
5: Nicholas Bryant (VIC)
6: Lachlan Idle (VIC)
7: Magnus Randall (VIC)
Stroke: Winston Hooper (VIC)
Cox: Josh Feferkranz (VIC)
Coach: Tom Abramowski (VIC)
Support Team
Jaime Fernandez OLY – Deputy Performance Director
Jason Lane - Head Coach, Pathways
Alan Bennet (NSW) – Team Manager
Men's Eight and coach at Varese