Olympic Games—1896-1908
1896 Olympic Games Athens
Events for rowing were scheduled for the first Olympics but were abandoned due to bad weather. Rowing has been in the Olympic programme ever since. The original events planned were single sculls over a 2000 metres straight course, double sculls straight course gigs with outriggers and four oars with coxswain straight course gigs race for naval crews. The races were due to be held in the harbour of Piraeus but for several days, a storm blew and unfortunately, the weather conditions made the course unrowable.
It was reported in The Argus of Melbourne that at the committee meeting of the Victorian Rowing Association held on Monday 14th October 1895 that: "A programme of the Olympic games to be held at Athens in April 1896, was received, with an invitation for the Association to compete in the rowing events". One can only assume that other State Associations then in existence would have received a similar invitation.
No Australian rowing representation.
---
1900 Olympic Games Paris
It was agreed at the Paris Conference of 1894 that Paris would be awarded the Games in recognition of the services of de Coubertin. However, as the Paris World Exhibition was also being conducted, the Olympics took a subordinate role.
The British were the then dominant rowing nation but only sent a single sculler. The racing was therefore perhaps unrepresentative for the time.
There was some controversy over the conduct of the coxed four race which resulted in two Olympic Championships being awarded for the same boat class. It is reported that the competitors and officials could not agree on the rules of racing and two finals were held.
Another matter of interest arose in the coxed pairs. The Dutch crew lost their heat with their named cox, Hermanus Brockmann. For the final they considered him too heavy and used a small French boy who was aged about 7. This cox is considered to be the youngest ever Olympian.
No Australian rowing representation.
Racing
Men's Single Scull
1st Henri Barrelet (France) 7:35.6; 2nd Andre Gaudin (France) 7:41.6; 3rd George St Ashe (Great Britain) 8: 15.6. (10 competitors, 2 nations.)
Men's Coxless Pair
1st Belgium 1 (Van Crombuge and De Sonville), 2nd Belgium 2 (Delattre and Delattre), 3rd France (Tellier and Beauchamps) no times taken.
Men's Coxed Pair
1st Netherlands (Minerva, Amsterdam) 7: 34.2, 2nd France 1 (Societe De la Marne) 7: 34.4, 3rd France 2 (Rowing Club de Castillon) 7: 57.2. (6 crews from 3 nations)
Men's Coxed Four Final 1
1st France I (Cercle d'Aviron de Roubaix) 7:11.0, France 2 (Union Naitique de Lyon) 7:18.0, Germany (R C Favorite Hammonia, Hamburg) 7:18.2.
Men's Coxed Four Final 2
1st Germany (Germania Racing Club of Hamburg, Oskar Gossler, Katzenstein, Tietgens, G Gossler (stroke) C Gossler (cox)) 5:59.0, 2nd Netherlands (Minerva Amsterdam) 6:33.0, 3rd Germany (Ruderverein, Ludwigshafen) 6:35.0. (8 crews from 4 nations)
Men's Eights
1st USA (Vesper BC, Philadelphia) 6:09.8, 2nd Belgium (Club Nautique de Ghent) 6:13.8, 3rd Netherlands (Minerva, Amsterdam) 6:23.0, 4th GER. (4 crews, 4 nations)
---
1904 Olympic Games St. Louis
As the United States had proven to have the best athletes in the first two Olympic Games, it was thought natural that they should be commissioned to organize the third. Due to distance and cost, the only European nations to attend were Britain, France, Germany and Hungary.
Furthermore an internal American dispute as to which city should host the Games further complicated the matter. The result was a poorly organised Games which were even worse than the Paris Games.
Other than a Canadian eight, all competitors were Americans. Accordingly every medal bar one was won by American crews. The Canadians came second in the eights race comprising only two competing crews. There were several other rowing events conducted for intermediate rowers that appear in some Olympic histories.
No Australian rowing representation.
Racing
Men's Single Scull
1st Frank Greer (USA) 10:08.5, James Juvenal (USA) 2 lengths, 3rd Constance Titus (USA) 1 length. (4 competitors, 1 nation)
Men's Double Scull
1st USA (Atalanta Boat Club, NY, John Mulcahy and William Varley) 10:03.2, 2nd USA (Ravenswood Boat Club, Long Island, John Hoben and James McLoughlin), 3rd USA (Independent Rowing Club, New Orleans, John Wells and Joseph Ravanack). (3 crews, 1 nation)
Men's Coxless Pair
1st USA (Seawanhaka Club, NY, Robert Farnam and Joseph Ryan) 10:57.0, 2nd USA (Atalanta Boat Club, NY, John Mulcahy and William Varley), 3rd USA (Western Rowing Club St Louis, John Joachim and Joseph Buerger). (3 crews, 1 nation)
Men's Coxless Four
1st USA (Century Boat Club, St Louis) 9:05.8, 2nd USA (Mount City Rowing Club, St Louis), 3rd USA (Western Rowing Club, St Louis). (3 crews 1 nation)
Men's Eights
1st USA (Vesper Boat Club, Philadelphia) 7:50.0, 2nd Canada (Argonaut Rowing Club, Toronto). (2 crews from 2 nations)
---
1906 Interim Olympic Games Athens
These Games were to mark the 10th anniversary of the Modern Games. Whilst officially sanctioned, they were never an official Olympic Games.
No Australian rowing representation.
Racing
Men's Coxed Pair (1000 metres)
1st Italy (Bucintoro, Venice) 4:23.0, 2nd Italy (Barion) 4:30.0, 3rd France (Societe Nautique de al Basse Seine) (8 crews from 5 nations)
Men's Coxed Pair (1609 meters)
1st Italy (Bucintoro, Venice), 7:32.4, 2nd Belgium (Societe Nautique de Grand) 8:00.0, 3rd France (Societe Nautique de Bayonne) 8:08.6. (7 crews from 5 nations).
Men's Coxed Four
1st Italy (Bucintoro, Venice) 8:13.0, 2nd France (Societe Nautique de la Basses Seine, Paris), 3rd France (Societe Nautique de Bayonne) (8crews from 4 nations).
---
1908 Olympic Games London
After the poorly run Games of Paris and St Louis, the cause of Olympism finally won a victory in London. It was a triumph for the Games. Pierre de Coubertin attended the rowing finals and took part in the medal presentations. Australia and New Zealand competed as Australasia as they also did at Stockholm at the next Olympic Games.
The rowing events were conducted at Henley on Thames near Oxford. The course was lengthened to 2400 metres. Despite the course being a 2 lane course, third place getters are recorded in the single sculls and eights. Each country could enter 2 crews per event. One of the rowing highlights was that Harry Blackstaffe, the winner of the single sculls, was 40 years old and twice the age of the second placed sculler.
Australian national Collier R Cudmore (later knighted) from Adelaide competed for England in the coxless four which won. He was competing in the Magdalen College crew from Oxford University where he was studying. He therefore was Australia's most successful sweep rower at the Olympic Games until gold was again won 1992. Upon his return to Australia, he was a prominent member of the Adelaide Rowing Club.
Another Australian national Frederick S Kelly from Sydney also raced, in his case competing for England in the winning eight from the Leander Club.
The following information is sourced from Wikipedia, some a direct quote.
Kelly was born in Sydney and was educated at Sydney Grammar School, Eton College and Balliol Collge Oxford (BA 1903, MA 1912). He was an outstanding oarsman, musician and composer. He served with distinction in WWI. Kelly was wounded twice at Gallipoli, where he was awarded the Distinguished Service Cross and reached the rank of lieutenant-commander. Kelly survived the Gallipoli slaughter, only to die at Beaucourt-sur-l'Ancre, France, when rushing a German machine gun post in the last days of the Battle of the Somme in November 1916.
Kelly took up sculling while at Oxford and won the Diamond Challenge Sculls at Henley in 1902, beating Raymond Etherington-Smith in the final. He rowed in the four seat for Oxford against Cambridge in the 1903 Boat Race. Oxford lost the race by 6 lengths. Kelly went on to win the Diamond sculls at Henley again that summer, beating Jack Beresford in the final. He also won the Wingfield Sculls, the Amateur Championship of the Thames, beating the holder Arthur Cloutte. This was the only occasion on which he entered.
On leaving Oxford in 1903 he starting rowing at Leander Club and was in the Leander crews which won the Grand Challenge Cup at Henley in 1903, 1904 and 1905 and the Stewards' Challenge Cup in 1906. In 1905 he again won the Diamond sculls, beating Harry Blackstaffe. His time on this occasion 8 min. 10 sec. stood as a record for over 30 years. Kelly's last appearance in a racing boat was in 1908, when he competed at the London Olympic Games. He was a member of the Leander crew in the eights, which won the gold medal for Great Britain rowing at the 1908 Summer Olympics. Contemporary reports of Kelly's oarsmanship were glowing: 'his natural sense of poise and rhythm made his boat a live thing under him'. In his book stating that "Many think [Kelly] the greatest amateur stylist of all time".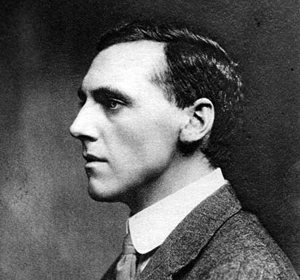 Finally G Eric Fairbairn also competed in the Men's Pair and won a silver medal. Fairbairn was born in Melbourne and was a nephew of Stephen Fairbairn. He was studying at Cambridge University at the time and raced that year in the Boat Race. Stephen Cooper in his book 'The Final Whistle: the Great War in Fifteen Players' provides a chapter on Fairbairn.
Regrettably, Eric Fairbairn died in action in World War I on 21 June 1915 at the age of 27.
No Australian rowing representation although three Australians rowed for the UK
Racing
Men's Single Scull
1st GBR (Harry Blackstaffe) 9:26.0, 2nd GBR (Alexander McCulloch) margin 1.25 lengths, 3rd GER (Bernhard von Gaza). (9 scullers from 6 nations)
Men's Coxless Pair
1st GBR (Leander, J R K Fenning & G L Thomson) 9:41.0, 2nd GBR (Leander 2, G Eric Fairbairn & P Verdon) margin 2.5 lengths. (4 crews from 3 nations).
Men's Coxless Four
1st GBR (Magdelen College, Collier R Cudmore, James Gillan, Duncan McKinnon & John Somers-Smith) 8:34.0, 2nd GBR (Leander) margin 1.5 lengths. (4crews from 3 nations).
Men's Eights
1st GBR (Leander, Albert Gladstone, Frederick Kelly, Banner Johnstone, Guy Nickalls, Charles Burnell, Ronald Sanderson, Raymond Etherington-Smith, Str: Henry Bucknall, Cox: Gilchrist Maclagan) 7:52.0, 2nd BEL (Royal Club Nautique de Gand) margin 2 lengths, 3rd Canada (Argonaut RC). (7 crews from 5 nations).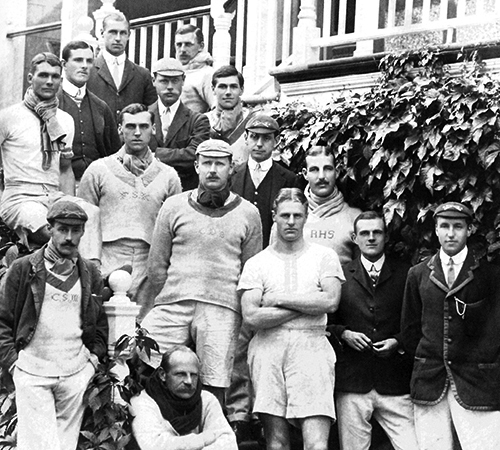 1908 GB (Leander crew) on the steps at Leander.
Photo courtesy of Leander Club.